Buy the Blowoff Bottom in this Grocer
SuperValue is the nation's largest wholesale grocer and also a retailer. The stock has been beaten down on pessimism in the space and the impending arrival of the Amazon and Whole Foods tie-up. Several grocers are dramatically undervalued, SuperValue is one of them. There is likely at least one and possible two strategic transactions coming that will unlock that value.
SuperValue (SVU) will be acquired for its wholesale business in my opinion. I believe it will start selling some retail operations imminently as bolt-on parts to other retailers. Those sales will come with some wholesale service contracts. This company is ripe for strategic transactions. Remember, wholesale can do very, very well as grocery to home delivery takes off.
Here are some interesting charts which show that SuperValue is in a blowoff bottom right now and the knife appears to be settling. I'm not saying jump in with both feet, but I am recommending initial buys for a smaller percentage of your total assets of about 1%. If the bottoming process does signal to be complete in coming weeks, then adding another tranche up to 2% of total assets could be wise.
Selling cash-secured puts vs buying outright can also work, but the options market is thin. If you can sell November $15 puts for .75 or better, go for it. That's a 5% premium for holding cash back for a month to buy SVU if it falls and holds below $15.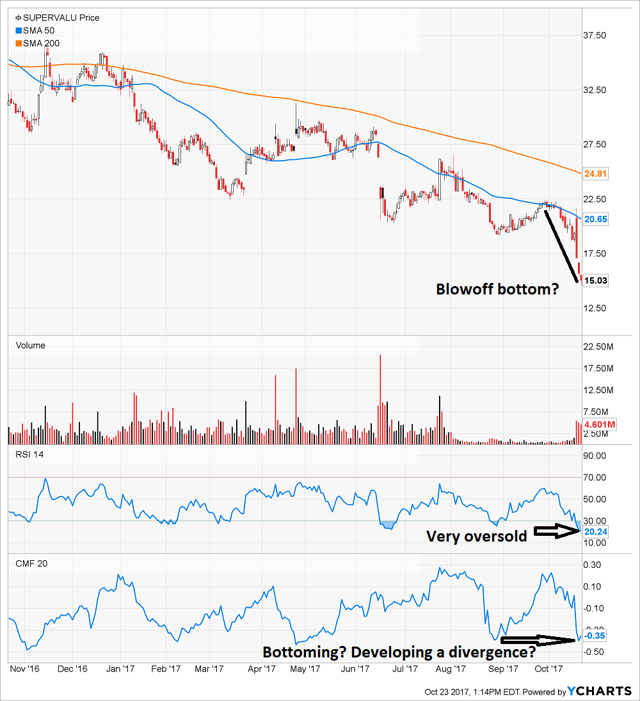 As you see above, while there is no divergence established yet with price heading in the opposite direction of indicators, it does look like RSI and Chaikin are bottoming. If that's the case, a divergence would occur shortly thereafter most likely. Less aggressive investors will wait to see the divergence and buy a bit higher. I am adding a bit here though as I like the fundamentals enough to stomach another punch in the gut if it happens.
The following chart includes multiple quantitative factors and indicate an extreme oversold condition that is likely to reverse soon.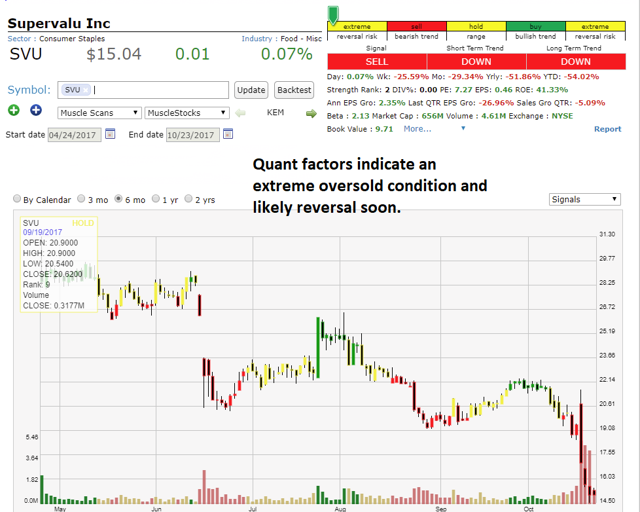 To be sure, no signals are perfect, but in general, these signals get it mostly right most of the time.
Buy SVU and/or sell cash-secured puts.
Disclosure: I am/we are long SVU.
I wrote this article myself, and it expresses my own opinions. I am not receiving compensation for it. I have no business relationship with any company whose stock is mentioned in this article.
Additional disclosure: I own a Registered Investment Advisor, however, publish separately from that entity for self-directed investors. Any information, opinions, research or thoughts presented are not specific advice as I do not have full knowledge of your circumstances. All investors ought to take special care to consider risk, as all investments carry the potential for loss. Consulting an investment advisor might be in your best interest before proceeding on any trade or investment.