This has been one of those weeks, I get a few per quarter, where client demands pile up. As is predictable, it happened the week before I plan to travel. I will be writing on the trip out west.
If anybody is in the Gilbert, AZ area on Sunday the 12th and would like to meet for breakfast, I'll head on down to Gilbert Ave, just direct message me and I'll put something together. Figure 11ish or noonish.
I will be in Las Vegas on the 15th and 16th if anybody would like to get together late AM near the strip. I'm actually staying with my folks in Summerlin, but I have poker tournaments at 1pm both days. Again, direct message me and we'll figure something out.
The Middle East
As you know I have been talking about greater war in the Middle East centered around Saudi Arabia and Iran for a year now. I first talked about it on MarketWatch and was scoffed at. I posted these here on SA:
June – Missing Risk Premium Could Lead To Oil Price Shock
Sept – An Iran War Is Coming – Buy Oil Stocks Now
Sept – President Trump Validates Iran War Thesis And More Expensive Oil
I have also offered the long case on oil without war. The short thesis is that so much long-term investment has been cancelled, particularly deepwater and oil sands due to inevitability of EVs in a decade or so, that in the intermediate term, there will be a plateau where supply and demand tilt in the favor of a sustained period of higher, but not too high prices – think $80-100 per barrel without war.
July – The Coming 'Peak Oil Plateau' And Higher Oil Prices
October – The 'Last Great Secular Oil Bull Market' Has Begun
October – https://seekingalpha.com/article/4113894-oils-technical-path-80-per-barrel
What is going on in the Middle East with the Saudi purge of those who are not supportive of aggression against Iran is a harbinger of coming conflict. Also, remember that Prince Mohammed bin-Salman (MBS) is trying to cull favor with the U.S. in the coming fight. He is using a McKinsey & Co. blueprint for revamping the Saudi economy. He is also using very CIA and authoritarian strategy to secure power during a period of volatility.
To not believe that oil is going higher in such an environment is ludicrous. Dennis Gartman, who I don't understand how he gets on TV he's wrong so often, said oil price might go down if there's conflict in the Middle East. Frankly, that's so stupid I had to put it in print. I mentioned it on Twitter already: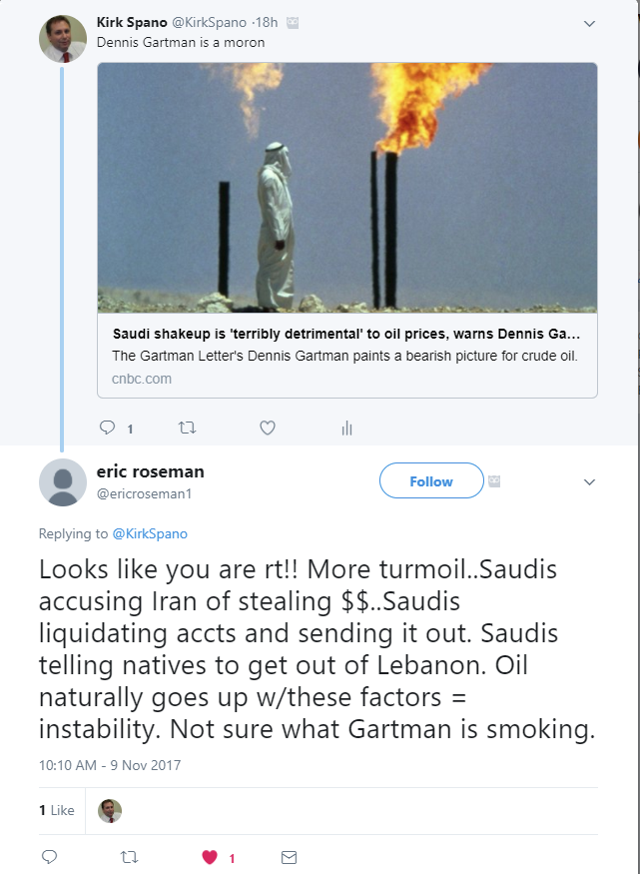 Anyway, not to rehash, but read the articles and you'll see that it is easy for 3mbd to come off of supply for a year or two. There would also be potentially tens of millions off line for a month or two or three which would wipe out inventories.
Oil is going higher or much higher, there is nothing else in my opinion the next several years. It will eventually cause a recession, so we are in the midst of a major macro trade.
You need to sell highly appreciated assets that are too much a percentage of your portfolio and cut losses on anything that you can't put a cogent timeframe and realism on a rebound. Blue chips aren't always blue, right General Electric (GE), AT&T (T), Verizon (VZ), Altria (MO) and on and on:
Sell These 3 Overloved Dividend Stocks Now
3 Supposedly Safe Dividend Stocks To Dump Now
Here's what to add to your portfolio in my opinion as part of a major asset allocation shift. I am at 25% oil and gas holdings now.
Buy XOP: XLE And XOP: Comparing 2 Popular SPDR Oil Stock ETFs
Buy Encana: Buy Encana On Maximum Pessimism
Encana is going into the $20s and might sniff $30 on a takeover.
I'm not buying Google (GOOG) or Exact Sciences (NASDAQ:EXAS) right now, but the sentiment of this article is right. Take it to heart:
3 Simple Steps To Rebalancing Into Winners
The Next 10 Days
I will be out west as noted above. I will spend each money exclusively researching and writing for you. Keep an eye out and shoot me questions to answer. I'll be on the chat from about 8am-10am Pacific.