Summary
GameStop wrongly is compared to Blockbuster, on the contrary, GameStop took the clue and is doing almost everything right.
Technology brands including AT&T, Cricket and Apple, as well as, a thriving high margin collectibles business is diversifying earnings rapidly.
GameStop's balance sheet is strong, and comfortably supports its recently raised 9% dividend yield.
The market is overselling GameStop ahead of its November 21st earnings release and Christmas sales period.
Buy GameStop for the dividend, buyback, value and unacknowledged growth.
Many retail companies have felt the pain of changing consumer tastes, technological disruption and the "Amazon (AMZN) effect." GameStop (GME) stock is down over 70% from its highs a few years ago on that trifecta of change.
The ghost of Blockbuster has been thrown at GameStop due to the rental model similarities, spooking many uninformed investors. GameStop's bargain priced stock presents a unique opportunity to benefit from management's response to change while collecting a heady 9% dividend while you wait for the future.
This Ain't Blockbuster
Numerous comparisons of GameStop to Blockbuster are abound as shorts try to continue their raid. I don't believe the comps hold weight. Blockbuster had stubborn, arrogant and financially irresponsible management that did not understand the changes coming to their industry. As a result, they made several mistakes that ultimately bankrupted them. Part of their problem could certainly been not having had history to examine that would have helped them.
Gamestop has the benefit of knowing what happened to Blockbuster as it was disrupted and ultimately crushed by Netflix (NFLX). As a result, the company has aggressively expanded into a very profitable collectibles business that has an addressable market as big as physical games are now and mobile device sales and service.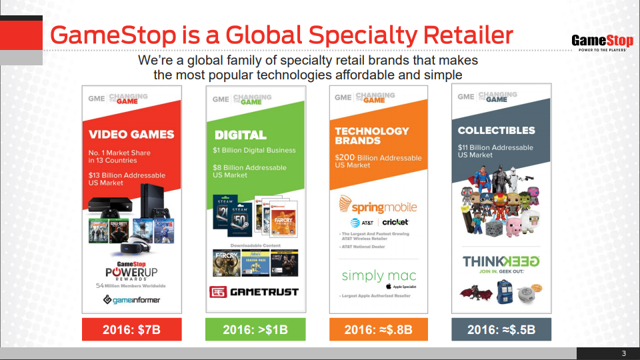 Ultimately, as I cover below, the rapidly occurring diversification of GameStop's revenue streams is a major positive for the company. I believe not only is management executing their strategy far better than Blockbuster's ever even imagined, but they stand to show absolute growth starting imminently, notwithstanding a recession.
To put the Blockbuster argument to rest, I'd like you to read a fun and informative piece by new Seeking Alpha author Douglass Gaking. He did a good job debunking the Gamespot equals Blockbuster theory in only his second piece:
Is GameStop The Next Blockbuster?
The article contains a comparison of Blockbuster, which infamously went bankrupt, to Family Video, which has survived and captured a niche. He also issues a warning to GameStop to remember to focus on customer service. The piece really is worth a read.
Financial Strength To Transition
GameStop is a very strong company financially. The perception is that it is not due to its declining rental business. However, the revenue numbers and recent record margins of 37% tell a different story. As you can see below, revenues, though annually cyclical, are hardly falling off a cliff. The share price is down over 70% since 2013 however.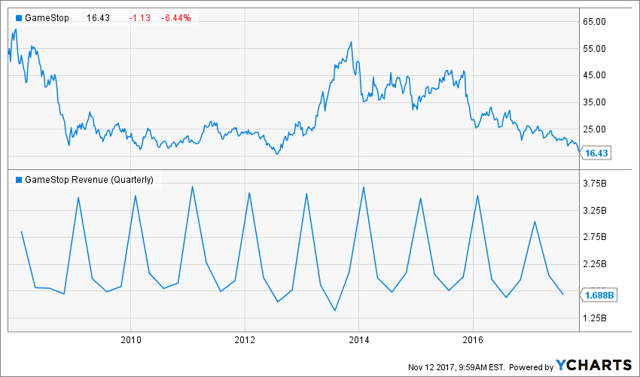 Net income has also remained fairly consistent, again in contrast to the narrative painted by bears, critics and half-clever pundits.

YCharts
It should be noted here that the company has recently been buying back shares at a rapid pace out of free cash flow. In 2017 the expected buyback will be over $75 million. Buybacks are expected to fall a bit next year, and still contribute to earnings.

Free cash flow has also rebounded handily since the company engaged in some makeovers, including the Spring Mobile acquisition.

The rebound in free cash flow occurred despite revenues that fell off nearly a billion dollars since 2014. Notice the most recent revenue trend however.
Gaming and the Omni-Channel
Understanding GameStop certainly does require analysis of the video game business. There is no doubt that streaming is going to catch up to physical games at some point, but, just like with the advent of electric vehicles, the process will be slow until it becomes sudden.
According to GameStop's Q2 earnings, software sales are projected to decline by mid-single digit percentages in coming years. That indicates a potentially terminal decline that could take the better part of a decade.
I think there is good reason to think that the video game business could plateau and become a valuable legacy business for an entire generation. Investors should know that gamers hold onto their consoles a long time. Powerful PS 4's and the new XBox One X could stay in people's homes a very long time. In particular, the XBox One X seems like it will have some major staying power as it has been selling out in Japan and now here in America.
A younger Seeking Alpha contributor, Anthony Breen, recently made some good points about the stickiness of console gaming and why GameStop ain't dead yet. This point caught me, though you would think there is a tech solution coming:
"Console gamers are younger on average than PC gamers, and children still play console games socially in-person. Optical discs can be taken to play on a friend's console, whereas downloaded games cannot."
I hadn't thought of that as I waded through GameStop's corporate documents, website, stores and countless threads online. But something as simple as the social aspect of playing the games for kid gamers on a budget makes sense. Why buy your own Call of Duty: WWII when your friend has it? And why would she buy Assassin's Creed Origins when you have it?
Also consider that veteran gamers, and there are many as recently described here, hold onto their favorites long-term. In addition, more mature gamers can afford to add to their legacy equipment's game collections, as well as, buy the newest hardware too.
Ultimately, there are strong social and physical reasons that discs will survive for a while. The idea of an imminent demise of physical games is likely overstated based on biases developed having watched video streaming. I think GameStop management has a good handle on the trends.
The "Omni-Channel" refers to the cycle of people looking online and buying in a store. This trend has been noticeable and measurable for GameStop. By having both outlets, people can do research and then go to touch and feel at a store before either buying in the store or ordering online. This is a model that I believe works with certain products, including I believe gaming which is very personal by nature.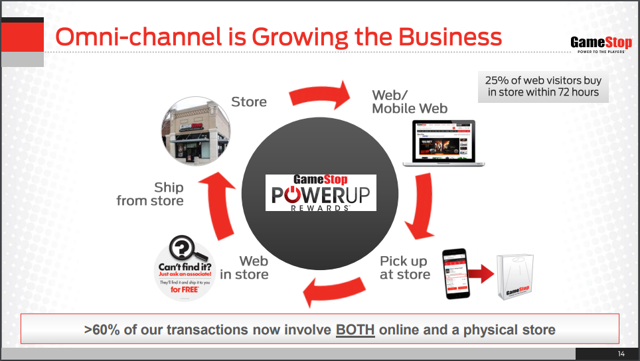 One recent new strategy by GameStop is to offer a six-month "Power Pass" for $60. This pass allows unlimited game rentals and very importantly the customer gets to keep their last game rented.
While Power Pass is a good new source of revenue, especially heading into the Christmas season, I think its true value is to get people into stores and expand GameStop's 50 million person database so that they can offer more online services.
Once people develop multiple loyalties to a business, they become much more sticky. Having both online and physical outlets, like that iPhone company, could help develop very loyal customers for GameStop.
The online gaming business is currently only about a $1-2 billion addressable market, however, as hard drives become bigger without added cost, entertainment becomes smarter and download speeds increase, that could certainly balloon to be as big as the current physical gaming market within a decade or so.
Collectibles
What struck me as the most interesting tidbit I found is that gamers actually spend more on collectibles that gaming. Think about this. You might have a dozen games that you play and more that you used to play, but each one comes with a multitude of characters that you like and some are based on movies.
We know that collectibles do well over time, not only as precious personal mementos, but as investments – at least theoretically. Couples who game might buy each other gifts based on their favorite games. You might totally nerd out at their "Think Geek" stores and build a "Big Bang Theory" like collection.
As you see in the graphic near the top of the article, the addressable market for collectibles is nearly as big as that for games. According to GameStop, the annual growth in collectibles is over 35%. It won't take long for collectibles to reach towards and possibly surpass GameStop's current gaming revenue numbers.
GameStop expects the combination of Collectibles and Technology Brands to be 50% of total revenues by 2019. I think they are right to have moved that estimate up from 2020. There is a lot of room to grow with collectibles and even a recession might not slow that growth as alternative investments often thrive during periods of economic upheaval.
Technology Brands
GameStop acquired Spring Mobile a few years ago, which is the largest AT&T (T) wireless distributor in America with over 1400 stores. Gross margins at the stores approach 50% adding to the bottom line at GameStop.
Possibly one of the biggest advantages of Spring Mobile is its ability to cross sell products. Right now the company can sell DirecTV, home security and connected car service. As I covered in an article about Control4 (CTRL), the smart home market is poised for explosive growth in the 2020s. It makes sense that retailers like Spring could be perfectly positioned in wireless and convenient service oriented retail to exploit that growth.
GameStop also owns some Cricket prepaid wireless locations which piggyback AT&T's network and about 50 Simply Mac stores which are built around Apple (AAPL) products. I am not certain how the Simply Mac acquisition will do as GameStop's known weakness is customer service and Apple might not stand for any disappointments. Simply Mac could also be a homerun if Apple gets a foothold in the smart home and smart car market. We will see, but it does seem to be a low risk, potential high reward arrangement.
International Growth
Gamestop is not a U.S. only business, though 75% of its revenue is. It also is growing its international brand with 17 million people signed up for their Power Up rewards program vs 37 million in the U.S.
As international grows, the company can continue to expand its footprint and offer services in not only local markets, but to the international traveler. Consider the cross marketing opportunities for products like wireless telecom, DirecTV Now and downloadable gaming.
Currency fluctuations will impact earnings to some degree at GameStop they have exposure to the Euro, Australian dollar, New Zealand dollar,
Canadian dollar, Swiss franc, Danish kroner, Swedish krona, and the Norwegian kroner. I take dips in international earnings on currency headwinds as an opportunity as currencies ebb and flow.
With 321 stores in Canada, 467 in Australia and 1270 in Europe, GameStop is well spread across the developed westernized world. That leaves a lot of room for expansion in Asia and emerging markets. As the world becomes more affluent and has time to game, consume entertainment and travel, as well as, evolves into smarter communications and connections, GameStop seems to me to have a chance to thrive in the next decade.
Successfully Managing Transition
As I mentioned above in the comparison to Blockbuster, I feel that management is doing a good job transitioning a financially strong company into new markets. People who like Altria (MO) should have similar feelings about GameStop, which I actually pilloried a while back.
While gaming is not the same type of addiction as smoking, gamers are very tied to their passion for gaming. The stickiness factor for GameStop, if serviced well (an open question), can be an extremely profitable once again as the company moves to their "Omni-channel" experience. As the company replaces in store profits with other in store profits, such as collectibles which are being moved into many GameStop locations, and becoming a leader in Virtual Reality gaming, the gap to fill seems to be closing.
It is my opinion that the company succeeds in reversing revenue trends by about 2019 and once again growing the top line and bottom line. As that occurs, buybacks should pick-up again in a few years accelerating earnings.
A pending recession, or recessions, could stall GameStop, like many other companies, however, I see gaming as less susceptible to a recession, as people need something to do when laid off.
Buy GameStop Ahead of Earnings
I believe that the iPhone 8 and iPhone X rollouts will spur strong growth for Spring in this quarter and the next, possibly even the next as the Apple rollout was deliberately spread out. I also think the Power Pass will be successful enough, along with the XBox One X, to help GameStop beat lowered estimates in the next couple quarters.
The fourth criteria of a my "Core 4" investing model is to look at key technical and quantitative factors. GameStop stock is dramatically oversold and poised for a rebound technically. With an RSI of 22 and a Chaikin Money Flow of -.24, the potential for a sharp reversal soon is very possible.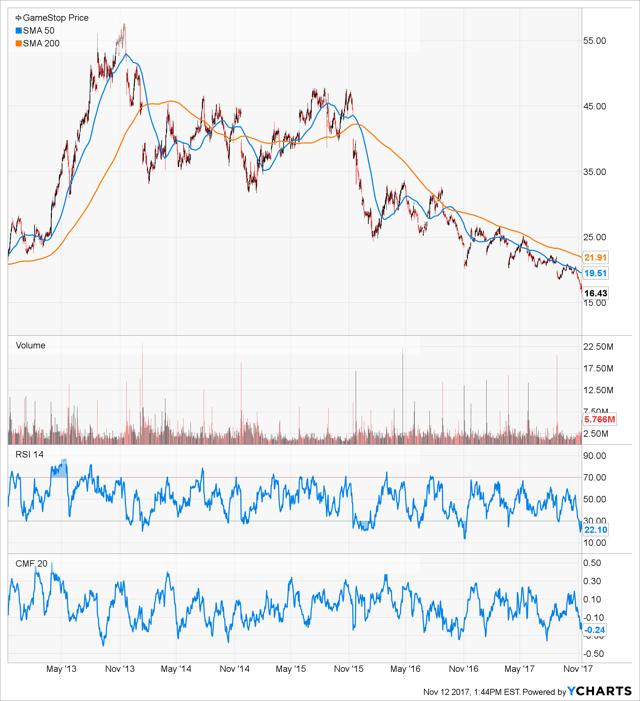 I think that enterprising investors should be buying Gamestock shares ahead of the earnings report. While the company might not turn on a dime, the dividend appears very secure and is worth collecting while waiting for the company to progress through its transition into a more diverse machine.
I do not give my "Very Short List" recommendations from my Margin of Safety Investing letter to the public often, however, believe GameStop is a compelling opportunity to collect a dividend while waiting for growth to resume. For more stock recommendations, ETF analysis and my well-known coverage of the energy sector, please remember to "Follow" me to be notified of my periodic public articles.
Disclosure: I am/we are long GME.
I wrote this article myself, and it expresses my own opinions. I am not receiving compensation for it. I have no business relationship with any company whose stock is mentioned in this article.
Additional disclosure: I own a Registered Investment Advisor (https://BluemoundAssetManagement.com), however, publish separately from that entity for self-directed investors. Any information, opinions, research or thoughts presented are not specific advice as I do not have full knowledge of your circumstances. All investors ought to take special care to consider risk, as all investments carry the potential for loss. Consulting an investment advisor might be in your best interest before proceeding on any trade or investment.