Summary
Intel has some 'splainin to do!
I don't think Intel is a short, but it's damaged goods for a while.
If you have a large position at a profit, I would sell most of the position, and not exceed 1% of NAV.
Use a pullback to the 200-day moving average to buy back in.
Intel has some problems with a security issue. The technical is far above my head, but in short, there's a flaw in processors that allows malicious code access to data that is sensitive. In other words, they can get hacked.
Ok, so, we've heard that a million times that hackers are getting our data. Your bank has been hacked, your credit card company, the stores you shop at, your internet provider, your email account, the list goes on and on. That said, when the hardware has a flaw, that might be a bigger problem because it's a leak that might be able to be plugged.
Here's the "short" side of the story from a Seeking Alpha author.
Intel Security Risk Is Much Worse Than Management Commentary Indicates
I get it. But, I don't like the idea of shorting companies with nearly limitless financial strength. Could Intel head to $38? Yep. Would it likely build a base there and then rebound? In my opinion yes. Of course, I have a bet with MOSI member Eric S where he says Intel will be under $40 in a couple years. We'll see.
Bottom line, I taking some profits now and reducing the size of the holding in a portfolio t 1% is a good idea. I still like it at about $38 though, presuming nothing horrific unfolds, as one of the better dividend growth stories out there for the next ten artificially intelligent years.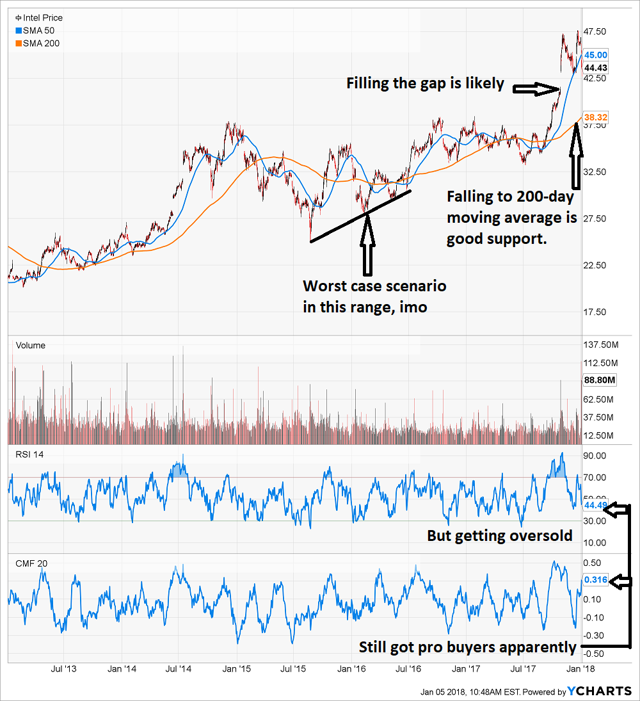 Disclosure: I am/we are long INTC.
I wrote this article myself, and it expresses my own opinions. I am not receiving compensation for it. I have no business relationship with any company whose stock is mentioned in this article.
Additional disclosure: I own a Registered Investment Advisor – https://BluemoundAssetManagement.com – however, publish separately from that entity for self-directed investors. Any information, opinions, research or thoughts presented are not specific advice as I do not have full knowledge of your circumstances. All investors ought to take special care to consider risk, as all investments carry the potential for loss. Consulting an investment advisor might be in your best interest before proceeding on any trade or investment.