I have been watching the drama in Washington D.C. over the budget. I have no real idea whether they cut a deal or not tonight, but it seems the Republicans don't have the Senate nailed down. If they don't get all but one of the Republican Senators, right now they're missing at least 3, then there will be a Government shutdown come Monday if there is no deal by then.
The only way to get Democrats on board for a budget deal is to include a deal on DACA, which seems remote, although it would be a no-brainer to do. Then again, who ever accused politicians of having brains.
So, here's where I am at. I am going to buy a few calls on the iPath S&P 500 VIX ST Futures ETN (VXX) to start a long position on volatility. Remember, this is a high risk move. We can't own VXX for longer than a month or so on options and the actual vehicle is basically a day trading security. So, this is very speculative. However, when it works, it works big usually.
First, understand how dangerous this move is: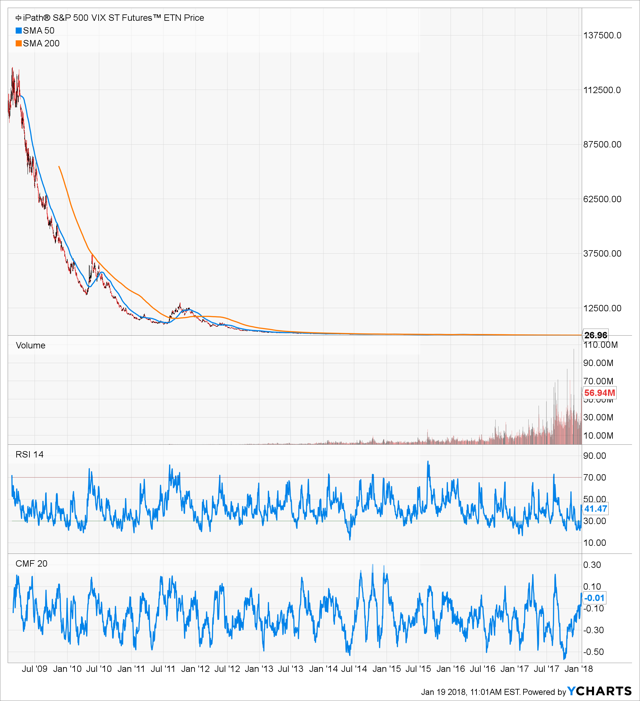 That's not the sort of chart you want to see long-term.
Here's 3 years: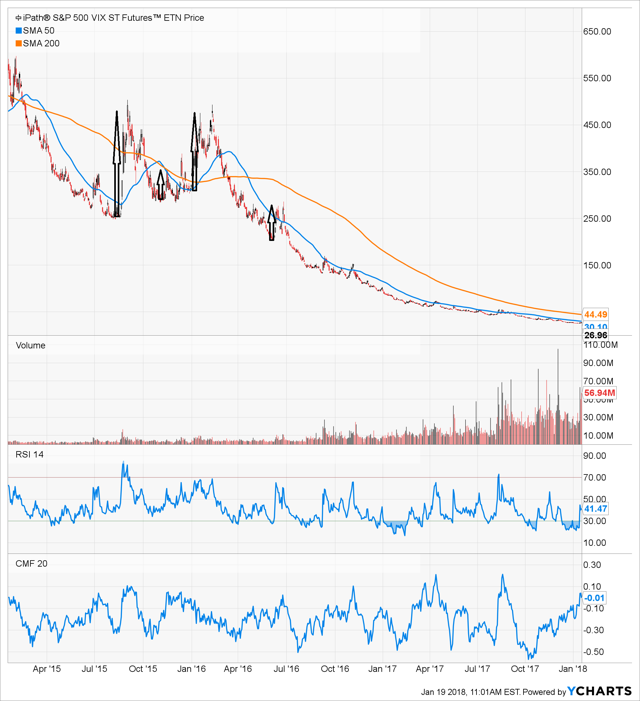 Still pretty bad, but you can see where the pops were. Proportionately, we will be looking for similar. Here's the 1-year VXX.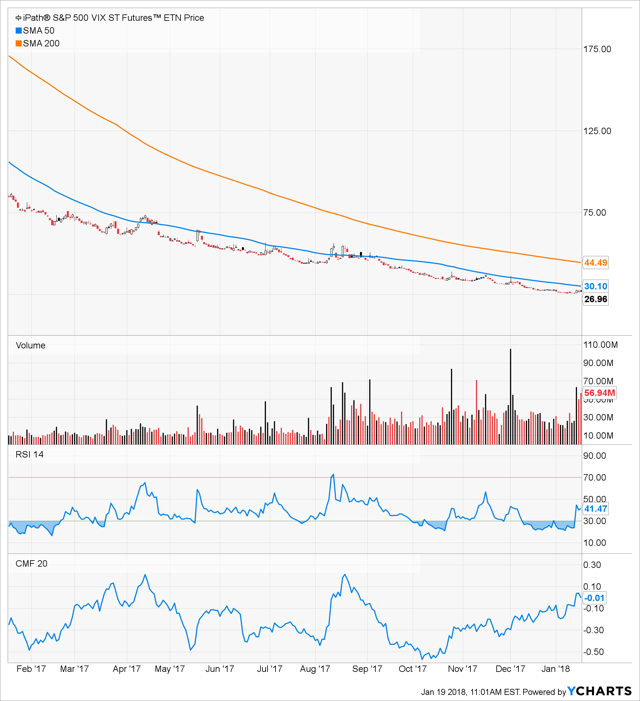 There really has been no volatility in the markets, despite the volatility in our heads, the past year. So the question I ask is this: are we ripe for a return of volatility? I think the answer is: maybe.
Clearly, the budget issue is a potential volatility item. So are the discontent in Iran, the Saudi and Israeli pressure on Iran, North Korea, China introducing oil futures affecting the dollar, very stretched valuations on stocks, uncertain bond markets… In other words, the wall of worry is high right now. Can we continue to scale it? I don't know. The tax cuts help a bit short-term, but are one off events on the positive side, that introduce even greater long-term budget problems for the U.S.
All in all, I think there is no doubt that we are ending the period of QE funded easiness. The Bitcoin crash the past week might be a harbinger. Who knows. The numbers on the volatility trade make some sense right now. If we get an event that drives volatility going into earnings, oh yeah, earnings could do it too, then we can make some money.
Last week, I put on the first leg of a volatility trade. It was to sell cash-secured puts. Today I am buying February 16th (monthly) $27 calls trading for about $2 and the February 16th $32 calls trading for about $1.
Here's where those prices go, not including time-value, if VXX rises:
| | | |
| --- | --- | --- |
| VXX Price | Apprx Price of $27 VXX Feb calls | Apprx Price of $32 VXX Feb calls |
| $27 | $0 | $0 |
| $28 | $1 | $0 |
| $29 | $2 | $0 |
| $30 | $3 | $0 |
| $31 | $4 = double | $0 |
| $32 | $5 | $0 |
| $33 | $6 = triple | $1 |
| $34 | $7 | $2 = double |
| $35 | $8 = quadruple | $3 = triple |
| $36 | $9 | $4 = quadruple |
| $37 | $10 = quintuple | $5 = quintuple |
| $38 | $11 | $6 |
| $39 | $12 = 6 bagger | $7 = 7 bagger |
| $40 | $13 | $8 |
| $45 | $18 = 9 bagger | $13 = 13 bagger |
| $50 | $23 | $18 |
So, easy to see, you make money faster with the $27 calls, but, if there is a spike, you make more on the $32 calls. So, I'm going 2:1 $27 calls to $32 calls with about 2% of my portfolios in the $27s and 1% in the $32s. I could drop a lot of points to the bottom line for the year, and if I do, then I have to remember to protect my winnings, just like in poker. There is a very strong reality I could just lose 3% of my net asset value as well.
Huge Volatility Trader Supports Our VXX Trade
Take a look at this Bloomberg article:
A Huge Player in VIX Options Just Changed Its Buying Behavior
A massive trader did this new trade, he's been active in this for about 9 months now: "… the new position was established by selling 262,500 12 February puts…"
You read that right, 262,500 puts. Anybody who says selling cash-secured puts isn't a great strategy, just doesn't understand it. When we can get high premiums on investments that we'd love to buy at the agreed upon strike price, then this is the ultimate limit order. Why? Because we get paid to set a limit order. Isn't that better than not getting paid???
The trader turns around and uses the put premium to buy calls. So far, the trader is getting crushed, but, if he has enough courage and conviction, he could still end up a big winner.
I haven't gotten on this trade until now, so the 9 months that whale trader has been getting creamed, doesn't matter to us. If nothing else, if that trader is respectable, and with that kind of bankroll I would think he's got some credibility, then we might be closer to the winning end of that trade. We'll see.
Let's talk about this. I'll be around a couple hours.
Disclosure: I am/we are long VXX.
I wrote this article myself, and it expresses my own opinions. I am not receiving compensation for it. I have no business relationship with any company whose stock is mentioned in this article.
Additional disclosure: Long VXX via calls and sold cash-secured puts last week. I own a Registered Investment Advisor – https://BluemoundAssetManagement.com – however, publish separately from that entity for self-directed investors. Any information, opinions, research or thoughts presented are not specific advice as I do not have full knowledge of your circumstances. All investors ought to take special care to consider risk, as all investments carry the potential for loss. Consulting an investment advisor might be in your best interest before proceeding on any trade or investment.