George Soros made some points about Gogglebet (GOOG) and Facebook (FB) at Davos this week. Here is a link to a summary article:
George Soros says Facebook and Google's 'days are numbered'
His main point is that the companies are running out of new users to sustain growth and that could be a harbinger for different types of danger for them and behavior by them.
I am focused on the behavior. Facebook is moving into entertainment. They are likely to suffer slow growth a long-time now as their capital expenses increase and they try to keep their very slow growing audience on their site.
Already I spend much less time on Facebook. To get me back there they have to make it a better environment for me to read what I want to read and view what I want to view. They need multi-channel Facebook. Friends, news, sports, entertainment, etc… That will cost money. Their marketplace to challenge Craigslist is a good one already and I think will expand.
Of course they could just suck it up and make less. Nahhh, the Zuck don't play that. The purchases of WhatsApp and Instagram show that the company has no problems making acquisitions. They will make more. Maybe they'll buy Craigslist. Hmmm.
Googlebet on the other hand, yeah, that's what I call it, will go the other route. They will make some small purchases as they are apt to do, but nothing giant. They are more likely to spin off around ten units the next decade. Most of those companies will be S&P 500 size from day one, $20 billion plus large caps. Solar, cars, etc…
Here's a replay of what I said before. It's even more true now.
Do you remember the breakup of AT&T (T)? I do, my mom was working for them. She worked in the same office building on Broadway Ave in Milwaukee for over three decades, but worked for a whole bunch of companies. If I have this right, she began with AT&T, which spun off Wisconsin Bell, then turned into Ameritech, then bought by SBC, then finally became AT&T again. I'm pretty sure I missed something, but you get the point.

I bring this up because if you've been paying attention to Google (GOOG), then you know that Europe is giving them the business about being a monopoly, which they sort of are. There is mounting pressure on Google to do some splitting up. Here's a link to a Business Insider article with all of their business divisions:
Here are all the companies and divisions within Alphabet, Google's parent company
And here's a report from CBInsights:
Google Strategy Teardown: Betting The Future On AI, Cloud Services, And (Tamed) Moonshots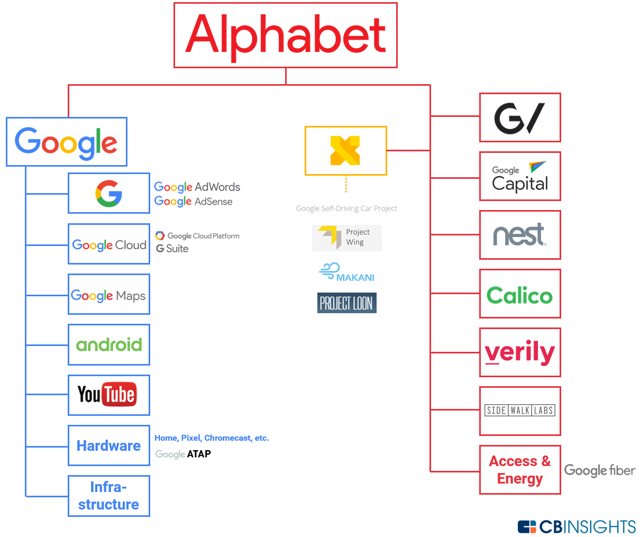 That's a lot of businesses. Now, consider this, the tax bill is about to pass with a 14% income tax on repatriation of loot from overseas. Google has about $100 billion dollars in cash overseas (take a look at the linked article, those are the winners with the low repatriation tax, I'll revisit that soon too). That means it has more than enough capital to do acquisitions, mergers and ultimately spinoffs.
Take a look at the bottom right of the chart above. See Access & Energy with Google Fiber next to it. I think CenturyLink (CTL) would fit in nicely there. I'll discuss that a lot more in an exclusive article to you guys that will then be published on the free side sometime this month.
Look at all those companies waiting to be their own thing. It's like a whole bunch of Kyrie Irving's wanting to get out of the shadow of LeBron.
Google is one of the best companies in the world. It's very hard to get cheap. But, I want to own it. Not only because it's a cash machine, but because it's going to spin off cash machines over the next decade. We need to look for entry points for Google. It might take a correlated correction. Probably will.
Another thing we can look for are companies that Google might buy. That's a tough one though because Google likes to eat mostly organic. If you're in tech and know a rumor, pass it on here. Or if something makes sense, let us know. I honestly could see a YouTube and Netflix (NFLX) merger, but something less big makes even more sense, like LionsGate (LGF.A) which is on the VSL. Look how much attention 21st Century Fox (FOXA) is getting.
We want to own Google shares. I just want them cheaper. I'll have to think about this. I am sure we'll get a chance, we have to make sure to have cash ready to buy when the time comes. It might be a very, very important purchase.