Summary
Sierra Wireless is a growing player in a growing market.
IoT is a major part of the "smart everything" world that is coming.
Sierra is a must own growth stock and a good company to generate cash-secured put income on.
I have been starting my deep dive into Sierra Wireless (SWIR). It's really the second time I've done this. I first did it a couple years ago when I whiffed on buying before a big run up. As luck might have it, technology adoption is sometimes intermittent and investors are fickle, so I'm getting another chance.
Below you will see their more recent investor presentation. Go to page page 11. Take a look at the companies Sierra is doing business with. Notice on the far right is Itron (ITRI), the smart grid and meter company I am high on. There are several other interesting companies on the list as well. I think it's worth looking into some. Companies that are effectively using IoT can improve margins and revenues, a nice earnings surprise and stock surge in the making for some.
Sierra Wireless February Investor Presentation
Sierra Wireless, Inc. Completes Acquisition of Numerex Corp.
Numerex: An Internet Of Things Play
A common theme that pops up around many of the tech companies I either own or follow involves the Internet of Things. The IoT will basically connect physical objects, devices, and sensors and allow them to do things such as communicate and share data.
Cisco (NASDAQ:CSCO) CEO John Chambers recently claimed at CES 2014 in Las Vegas that the Internet of Things would be a $19 trillion market over the next several years. The Washington Post also cited studies predicting the economic impact of the IoT. Gartner estimates $1.9 trillion by 2020 and a report by McKinsey predicts an economic impact of between $14 trillion and $33 trillion a year by 2025.
Money to be made in M2M?
The IoT utilizes machine-to-machine, or M2M, which allows networked devices to exchange information and perform actions without humans. It enables things such as remote monitoring, and is responsible for connecting "smart" devices and allowing them to communicate. A leader in this field is Numerex Corp. (NASDAQ:NMRX).
According to the company's website:
"We provide managed M2M solutions through integrated horizontal platforms that incorporate the key elements of Numerex DNA® (Device, Network, and Application) on a subscription basis, and simplify and speed the delivery of M2M solutions to any enterprise customer in any vertical market."
Machine-to-machine has been referred to as the 'plumbing' of the Internet of Things. It provides the connectivity and capabilities of the IoT. Numerex appears to be perfectly positioned to capture growth from the upcoming boom in 'Big Data' and the IoT, therefore, as a legitimate M2M leader.
Digging deeper into DNA
Numerex's DNA "is a secure solution for the M2M customer seeking simple, quick execution through a single point of contact." The company's vast experience gives it a competitive advantage in building and delivering DNA tools, which includes expert consultation and managed business services.
Devices: The company collaborates with global hardware partners, providing services such as integration of devices, application management, and hosting platforms.
Networks: The company operates one of the most secure and flexible networks in the M2M market. It operates at an ISO 27001-certified security, carrier grade level.
Applications: Software applications delivered through an "advanced, highly scalable platform specifically for M2M application development." Numerex's Foundation Application Software Technology, or FAST, allows customers to choose multiple paths from the "core" application framework.
The company has almost 20 years under its belt in machine-to-machine experience, and its M2M platforms are top notch. Numerex also provides solutions to over 50 vertical markets, serving sectors such as: security, energy, utilities, transportation, government, financial services, healthcare, and supply chain markets.
Growth prospects look favorable
Taking a look at the company's most recent quarter, there's a lot to like. Significant increases in both its hardware sales and services helped the company increase total net sales 28% quarter-over-quarter. Subscription and support revenues were up 22% and recurring revenues from subscriptions were up 24%.
Subscription revenue is specifically important for Numerex's growth, so it was encouraging to see it add 135,000 net new subscribers during its third quarter. The total cumulative base equaled 2.31 million– up from 1.76 million– or a 31% growth rate. This falls in line with management's target of 30%-35%. Revenues from embedded devices and hardware, an IoT-favorable sector, also exceeded the expectations of management, up 39%.
Perhaps one of the most encouraging aspects of the quarter were margins. Numerex CEO Stratton Nicolaides stated that "Gross margins improved across the board during the quarter compared to the first half of the year." Higher margins on increasing revenues are a recipe for good growth down the road. Nicolaides also mentioned that:
…investments made during the year in our M2M platforms supporting supply chain applications and other managed services are beginning to contribute to our performance. In addition, our opportunity funnel has significantly expanded with several projects initiated specifically for enterprise direct and channel partners. The combination of improved margins, the launch of new innovative products and services, and a healthy pipeline of opportunities bodes well for a strong finish to 2013 and for future growth.
This leads me to believe that the company is on track for even more sustainable growth. Valuations, however, need to be taken into consideration.
Valuations and fundamentals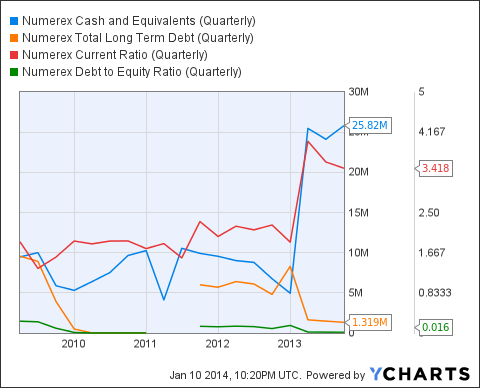 NMRX Cash and Equivalents (Quarterly) data by YCharts
Taking a quick glance at the balance sheet, Numerex appears financially strong, with more cash than debt and an impressive current ratio.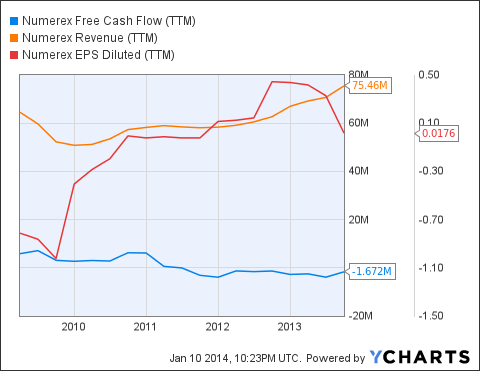 NMRX Free Cash Flow (TTM) data by YCharts
Earnings have dipped a little recently, with free cash flow also declining; but the company has also been heavily investing in its M2M platforms and growing sales aggressively. So what would we be paying for these sales?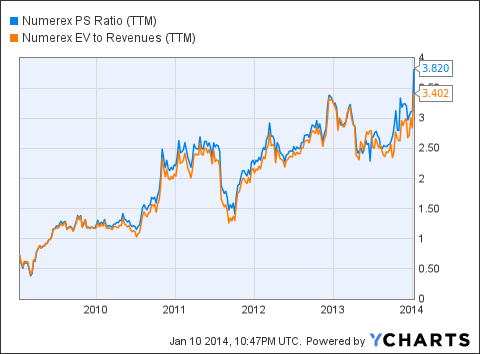 NMRX PS Ratio (TTM) data by YCharts
I think that Numerex has great growth prospects, but it currently looks a little too expensive for my liking.
The bottom line
Numerex is a growth play at this point, rapidly expanding its revenues and subscriber base. The recurring nature of a lot of its revenues is also attractive, especially when coupled with increasing margins. Numerex operates in a somewhat niche market, and I expect machine-to-machine to really take off when the Internet of Things does.
This could be just around the corner. With a market cap of a little under $300 million and great growth prospects, I think it's a good company to add to your watch list. I want to own this company, just not at this price. As a major provider of the IoT's "plumbing", Numerex is more than just a M2M company– it's also an IoT play.
Disclosure: I am long CSCO. I wrote this article myself, and it expresses my own opinions. I am not receiving compensation for it (other than from Seeking Alpha). I have no business relationship with any company whose stock is mentioned in this article.
================================================
Investment Thesis
Sierra is forming a great base. In my quant system it has moved from sell to hold and is a reversal candidate within the next month. I think we can take a chance at catching it now as the basing pattern is very strong, MACD just signaled a change in momentum and Chaikin looks like it bottomed and could be turning – although we need to see follow through funds into the stock.
I would be surprise if there are not big buyers of Sierra right now. Heavy volume marked the low of $15.75 on February 9th and seems to have been the bottom. Take a look at the one month chart. It really is a good base and everything points to a reversal to the upside.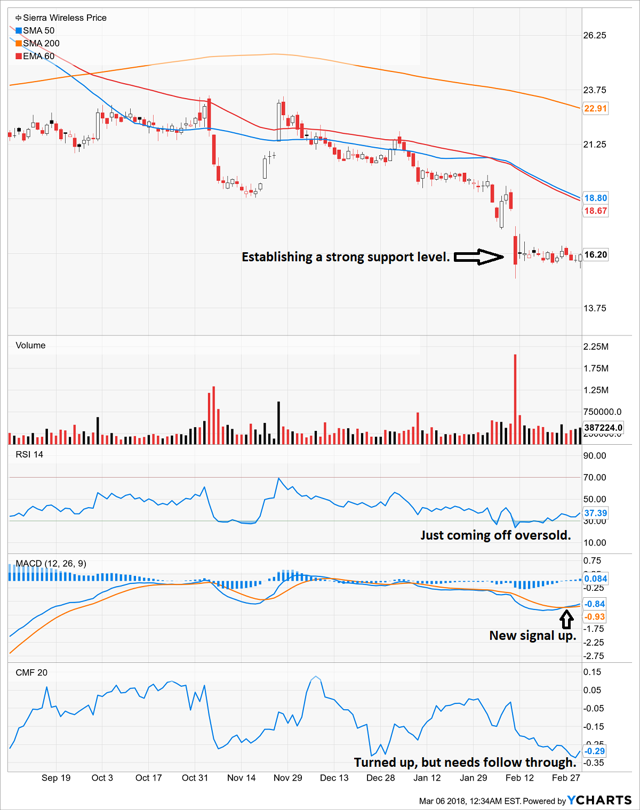 I am buying the stock here and selling cash-secured puts.
I still like selling the June $17.50 put for about $2.50.
I am splitting stock and put selling 50/50 in portfolios, i.e. buying as much stock as I am selling puts. So, 100 shares bought and sell one put. 1% to 2% each to buying stock and selling equivalent puts.
Disclosure: I am/we are long SWIR.
I wrote this article myself, and it expresses my own opinions. I am not receiving compensation for it. I have no business relationship with any company whose stock is mentioned in this article.
Additional disclosure: I have also sold cash-secured puts on Sierra Wireless. I own a Registered Investment Advisor – https://BluemoundAssetManagement.com – however, publish separately from that entity for self-directed investors. Any information, opinions, research or thoughts presented are not specific advice as I do not have full knowledge of your circumstances. All investors ought to take special care to consider risk, as all investments carry the potential for loss. Consulting an investment advisor might be in your best interest before proceeding on any trade or investment.