Stock market corrections are about the only time to buy high quality companies at a discount. Corrections are also the best time to buy potential ten-baggers on a pullback. We were smart to allocate huge percentages to cash recently, now we need to be smart picking great companies for our portfolios.
Below are two lists. The first are very high quality companies with stocks that are approaching rare bargain territory. The second list are companies that have big growth and are potential ten-baggers over the next decade on this pullback.
All "about buy prices" are dependent on if the stock market is crashing at the time. Don't try to catch a falling knife, unless of course, that's really your thing.
Core High Quality Growth Stocks
Alphabet (GOOG) is pulling back and is a buy at about $1050. More cash than Apple (AAPL) now and higher growth, the AI leader, a leader in autonomous vehicle tech, a growing cloud presence and of course, the "baby googles" are coming. Really, there's too much to talk about with Google, but how about this. If they cut their R&D in half, they'd still be an R&D leader and could pay out a dividend. That's not what they'll do, but just making a point. Maybe there's a dividend after a bunch of baby googles are born.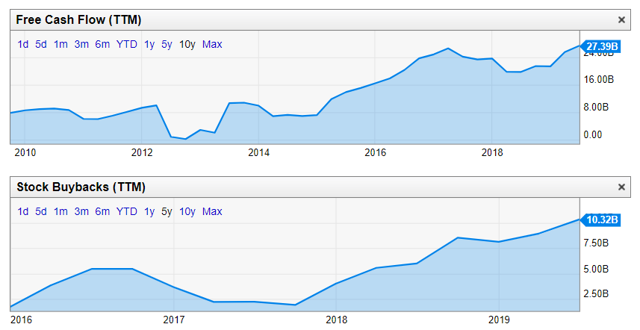 Amazon (AMZN) was just $2000 per share and now it's not. Amazon's cloud is going to continue growing, physical stores are adding revenue, entertainment is making customers sticky, advertising is taking off and oh yeah, they sell a lot of stuff online. I might take a bite at $1625, but I'd love to shove the whole sandwich in my mouth at about $1400.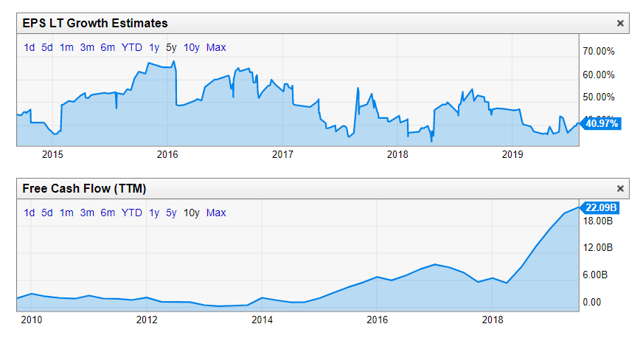 PayPal (PYPL) is a growing revenue rapidly. There is no slowdown in sight at the world financial system goes digital. Venmo is a big deal. My friends made me set up an account. Blockchain lives in PayPal and will grow. Maybe they end up a cryptocurrency wallet company. I still say think Visa ten years ago with these guys. I like it in the middle $90s and again in the middle $80s. This is a must own company in my opinion along with Alphabet and Amazon, so look for entries.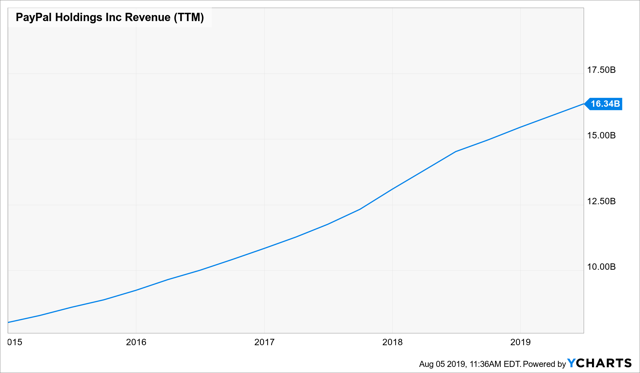 That's a pretty good revenue growth story.
Square (SQ) is new (but really I've followed them a long time) on the VSL. They are basically similar to PayPal. The stock is getting beaten up a bit over a sale of Caviar their food delivery company to DoorDash for $410 million. Some wanted to see a bigger price tag. However, the sale simplifies Square's twin ecosystems of financial services for businesses and individuals. And, they get a piece of the action now at DoorDash which allows them to profit without having to run a delivery service.
Square's cash app is big business likely breaking $540 million in revenue this year. And, guess what, they are pretty big in cryptocurrency. They made $125 million on BitCoin sales the last quarter. I recommend anybody interested in Bitcoin to get a Square account. I think Bitcoin will survive by the way, but we need to see another massive correction to buy any. Square could be that place. Square is at support right now and I plan to buy a starter position tomorrow. I won't back up the truck though unless it gets to about $50.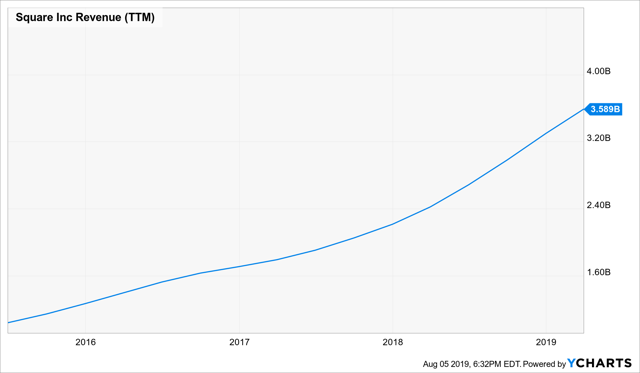 Core High Quality Dividend Growth Stocks
Apple (AAPL) is better than any bank out there. More cash, less risk, higher growth as services take in more dollars. The dividend is only 1.53% now, but it is growing fast. What is the demand for this stock as buybacks and rising payouts push this dividend into the 3% plus range? Higher. Buy the big dips on iPhone fears. $150 looks like a legit bottom fishing price and I think we get there give or take on the anti-Apple hollering.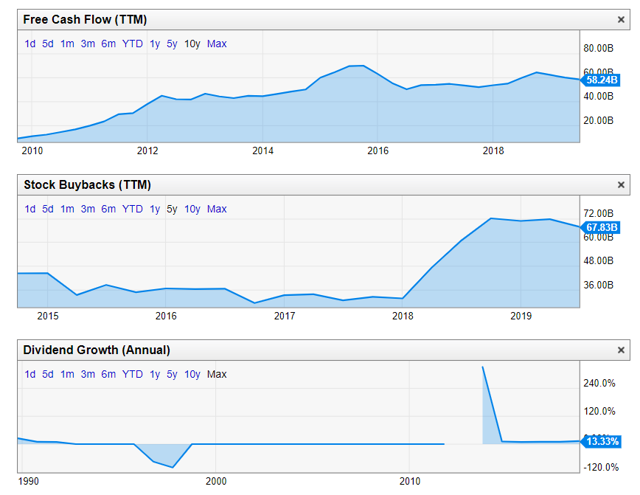 Nutrien (NTR) is coming back again and it's long-term story is either good or great. Consolidation in the space is great for the company. Climate change is good for the company. Lack of new potash supply anywhere on the horizon due to environmental and capital issues makes it very solid for years, if not a decade or two. If you don't have it, nibble, if you do, save a couple bucks for bottom fishing.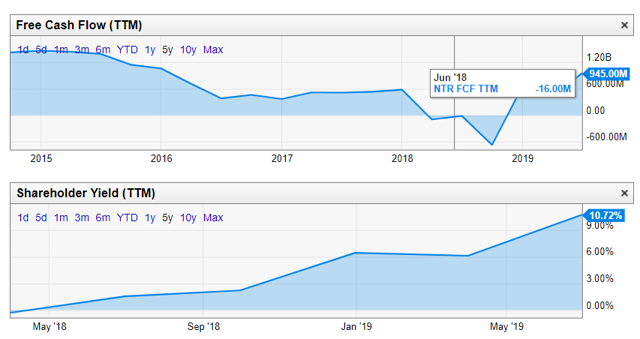 I don't have any other dividend stocks I'm in love with. You could certainly buy Kinder Morgan (KMI) if you don't have it. They're plan is solid as we've covered and they're back to being under $20 per share. I really want Lockheed Martin (LMT) and think it might get to us. We'll see. Dividend stocks are bid up, we have to be patient.
Potential Ten-baggers
Enphase (ENPH) is a company I followed a long time and for a hot minute bottom fished it around $6 per share. I stupidly sold for a double. Their tech for plug & play energy storage is outstanding and a market leader. This is a chance to right a past wrong. I won't bore you with more, just read this industry guy's thoughts:
Enphase Energy Is Headed To Mars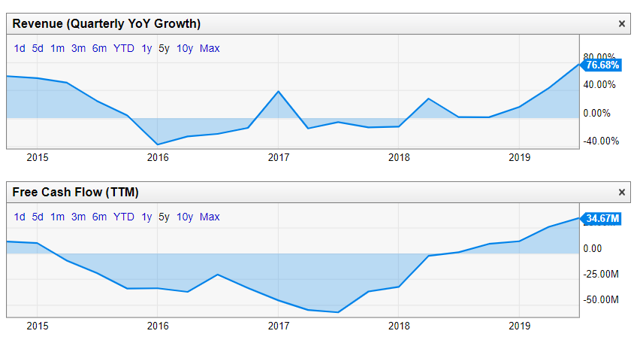 Tesla (TSLA) the ultimate battleground stock. Whitney Tilson recently came out against it. He's the perfect contrary indicator. I battled with him and won on Exact Sciences (EXAS) too. Here's my basic feel on Tesla. There is no shortage of rabbits in the hat. If you disagree, skip it. There's always another opportunity. That said, I think Tesla's technology is in more cars than any other company's within a decade – note, that doesn't mean biggest manufacturer, just most licensed. Did I see Mary Barra in Reno?
Be Careful Out There
I haven't officially increased equity holdings in asset allocations, but I think you can slowly, carefully and very selectively spend a little cash on nibbles from the "A List."
This market will be volatile through the end of next year. I am very sure of that. We'll probably get a chance to buy volatility again on a equity rally. And a chance to bet on calmer markets as well. Be nimble.
Open your mind to a world where selectively trumps broad diversification (diworsification). You want to be diversified in the companies that are not shrinking revenues or highly levered.
And, if in doubt, stick with bottom fishing.
Disclosure: I am/we are long NTR, KMI. I wrote this article myself, and it expresses my own opinions. I am not receiving compensation for it. I have no business relationship with any company whose stock is mentioned in this article.