Summary
In general, I am waiting for a chance to buy our 12 "must own" stocks, Top 10 Growth Stocks & Top Dividend Stocks (articles coming).
However, there are a few stocks that we can sell puts on as we approach the first support levels on high fear.
Also, I am eyeballing oil ETFs – actual physical oil for a couple of reasons as potential replacements for the oil stocks.
As the Coronavirus panic spreads into the markets, let's take a minute to think things through. Here's what we knew months ago: 
The stock market is historically very overvalued, especially for normalized earnings.
The "slow growth forever global economy" is the reality we will live in for at least another decade, and possibly two or three.
Economic indicators across the board have been peaking, flattening or turning over since Q4.
Central bank monetary policy is bumping up against limited effectiveness as there is no shortage of money.
There is little hope for any effective fiscal policy until 2021.
The disrupted stocks have a high probability of losing 50-100% over the next decade and the disruptive stocks, along with some resource stocks, will make all of that money, less the "slow growth forever" factor.
What we should be coming away with is that Coronavirus is not a cause of the markets falling, but merely a match that has lit the tinder.
A Few Puts To Sell
Looking at our VSLs there are several stocks near "bottom fishing" prices. I am inclined to sell some April cash-secured puts. Why April? That seems like a fair guess as to when we should get at least a middling rebound in stocks. A breather in the decline if you will.
These stocks all pay a dividend, so if put to us, we will be getting put premium and then dividends from a very low stock price. Here's the short list:
Remember to always set your GTC order at the ASK or higher when selling a put. With markets volatile, you can set your GTC a bit higher than normal if you like to try to get greedy.
Eyeballing Oil ETFs
Here's what we know about oil. It's dying a long slow death. However, investment in new supplies is falling again as frackers find it hard to finance and the rest of the world has been tapping the breaks for a while now.
We know that if a Democrat wins, U.S. supply growth goes negative within a year or two as drilling on public lands is banned, new offshore permits are denied and EPA regulators get some teeth.
Demand growth, though almost flat and on the peak oil plateau, is still rising a bit and won't roll over until around 2030.
Risk in the Middle East is still extreme, from Libya to Iran.
Venezuela won't be online soon.
Canada doesn't have the pipelines it needs and never will.
The price of oil should rebond smartly from the Coronavirus sell-off and likely head higher, $70s or $80s per barrel, in the early 2020s and stay at whatever price OPEC decides on until EVs really take off after about 2026.
So, I am looking at the U.S. Oil ETF (USO) and Invesco DB Oil ETN (DBO) as a commodity linked holding. These hold actual oil futures, not stocks.
These both suffer in a contango environment, so it is essential we don't buy until oil is on the verge of backwardation or in backwardation. We are flirting with that now:
Oil price structure signals demand surge as virus fears fade
If oil rises to the $70s or $80s then we can do very well. It is worth repeating, if oil heads back to contango, cut bait quick.
I am targeting a price of $8 on DBO and $9 on USO. But, wait for the reds of their eyes. Oil could head lower short-term.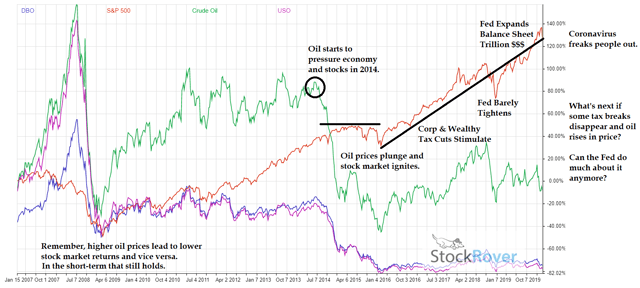 Disclosure: I am/we are long KMI, NTR, IVZ. I wrote this article myself, and it expresses my own opinions. I am not receiving compensation for it. I have no business relationship with any company whose stock is mentioned in this article.
Additional disclosure: I own Bluemound Asset Management, LLC, which is a fiduciary, fee-only Registered Investment Advisor. I publish separately from that entity for self-directed investors. See relevant terms and disclaimers at the website of Bluemound Asset Management, LLC. Any information, opinions, research or thoughts presented are not specific advice as I do not have full knowledge of your circumstances. All investors ought to take special care to consider risk, as all investments carry the potential for loss. Consulting an investment advisor might be in your best interest before proceeding on any trade or investment.