Summary
Research shows that a dozen stocks is a significant first step in reducing systematic risk and gaining the benefits of diversification.
By focusing on the best companies in the best sectors, and doing our best to avoid the worst sectors, that will also mitigate risk.
Here are a dozen market leaders in strong sectors and should be bought whenever they become cheap versus their long-term growth expectations.
These stocks can serve as the core individual holdings for your broader portfolio with the expectation of lower risk and higher returns than the S&P 500.
When building a stock focused portfolio, I have three core things that I fill in over time. Following this step-by-step approach I think can dramatically simplify how you build and maintain your portfolio. These are the tools I use to build portfolios. 
Start with a handful of ETFs that will comprise a 25-50% core portfolio that is rarely traded.
Build a core portfolio of large cap stocks that takes the place of the S&P 500 index. 
Add small and mid cap stocks that have a chance to be big winners (Peter Lynch approach) – dividend investors need not be shy. 
A Word About Diversification & Asset Allocation
Having a dozen core large cap stocks, a few ETFs and a basket of SMID cap stocks can make for a very well diversified portfolio. What is even more important is that the asset allocation, tilted towards the best sectors and away from the worst is proven to be an excellent way to manage risk and improve returns.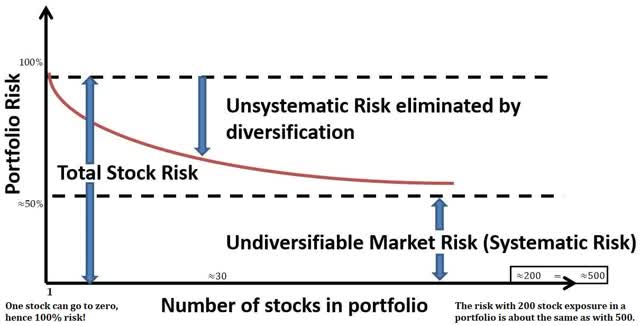 12 Must Own Large Cap Stocks
Below are the dozen large cap stocks I am looking to own when there is an opportunity to buy them near "bottom fishing" prices. When you can near the bottom fishing levels, you will then be able to hold them for years in most cases before having to trim for profits and risk management.
Usually, you have to wait for a correlated correction to buy these stocks on sale. From time to time a company's share price falls for a non-market related reason:
something goes wrong with their businesses in the short-term
analysts & money managers misunderstand the business and rate it wrong
the public retail masses simply do not jump on board for some reason
algos and super computers go crazy
In any of those cases, you can buy a stock once the carnage has ended and you see a sideways movement in the price. You should look to identify the type of consolidation and pick-up in institutional interest that we measure with money flow.
Here are my "must own" core large cap stocks (in rank order) that drive the indexes. When you hear that a small portion of companies are driving the index returns, these are the companies. Looking forward, these companies have among the brightest futures given the development of the "smart everything," mobile and electrified future.
| | | |
| --- | --- | --- |
| Company | 5-year Return | Sector |
| Alphabet (GOOG) | 174% | Technology |
| Amazon (AMZN) | 396% | Technology |
| Nvidia (NVDA) | 1104% | Technology |
| Lam Research (LRCX) | 297% | Technology |
| Apple (AAPL) | 172% | Technology |
| Microsoft (MSFT) | 307% | Technology |
| Boeing (BA) | 118% | Industrials |
| Lockheed Martin (LMT) | 123% | Industrials |
| Northrop Grumman (NOC) | 355% | Industrials |
| Visa (V) | 211% | Financial |
| Mastercard (MA) | 285% | Financial |
| Home Depot (HD) | 113% | Consumer Cyclical / Discretionary |
| Alibaba (BABA) | 143.44% | Technology |
*Bottom Fishing prices are expected to be +/- 5%
Each of these companies has already proven to be a market leader. A few are likely to spin-off pieces that are large enough to be included in the S&P 500 on day one, unlocking billions in value.
Notice that quite a few of these stocks are held in the Invesco QQQ ETF (QQQ). On a correlated correction, buying QQQ as a proxy for the basket of Alphabet, Amazon, Nvidia, Apple, Lam Research, Visa, Mastercard & Microsoft is acceptable. Setting a GTC buy limit for QQQ well underneath the market for "flash crashes" and for trading is an easy tool to use.
I think you "must own" the listed stocks individually long-term as well. Consider the stock holdings your overweighting of those particular companies against the index.
Alibaba is a unique company that has a massive opportunity in the Asian cloud space. It is one of the companies on our international stocks VSL. A fund that you might consider owning instead, if you believe emerging markets make sense in general from a certain price is the Invesco BLDRs Emerging Markets 50 ADR (ADRE) which is roughly 20% invested in Alibaba. For ETF and Sustainable Growth accounts I will be using ADRE for the Alibaba and emerging markets exposure.
In coming months look for more updates on these companies. Each company has something special regarding long-term growth, quality of assets and profitability.