Relief Bill Not Signed & Sealed, But It Will Be Delivered
Summary
The Senate relief bill seems 50/50 to get approved "as is" by the House of Representatives.
"Unanimous Consent" by the House could be used to pass bill, but several Reps do not feel comfortable doing that.
It think it is even money that the House proposed their own bill and takes it to the Senate.
That would delay passage by about a week. There's no doubt something is coming. When is the question.
More dips to come most likely.
The stock market has staged a significant relief rally in the past two days. I am looking for second best positions to exit and long dated covered calls to write, i.e. October and January.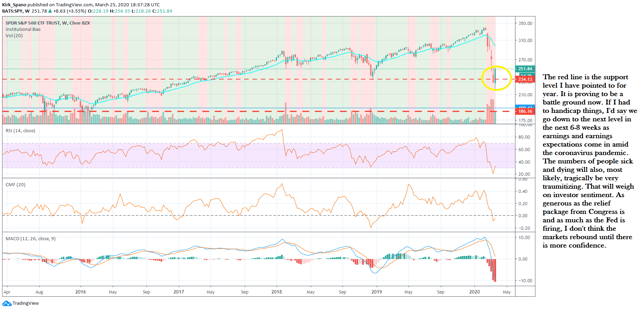 The battleground area I have long identified is in fact the place where the stock market is making a stand. Will it hold? I don't know. I would say more unlikely than likely.
That said, in the chart book out tonight, I will lay out some stock and ETF strategies that you can employ to scale in. I am still 25-50% in cash having invested more in gold miners (GDX) and Solar (TAN) in the past two weeks.
I think buying Ark Innovation (ARKK) makes some sense if Tesla (TSLA) has a pullback. It got down to middle $30s last time. The Nasdaq 100 represented by Invesco QQQ (QQQ) is the blue chip basket we want and it never quite made it to the $130 to $150 range. We might need to take a small nibble in coming days if we feel the world is truly getting better faster.
What would be the signal that the world is getting better faster? Very simple. A significant drop in coronavirus cases, particular deaths.
I think if the White House agreed to a 30-day shutdown of the economy starting from a few days ago, that would inspire huge investor confidence. Why? Because that would signal we are intent on beating this and not letting it recur to cause a double dip.
As always, measure your risk tolerance. If you scale in, take smaller bites than normal. These are not normal times.
Here is last night's webinar if you haven't seen it yet. In the future, these will be on a private URL.
Disclosure: I am/we are long TAN, GDX. I wrote this article myself, and it expresses my own opinions. I am not receiving compensation for it. I have no business relationship with any company whose stock is mentioned in this article.