Summary
Stocks are still on fragile ground and appear ready to retest the March 23rd lows and I think have a strong chance to break lower on bad news.
Using a simply combination of Relative Strength Index (RSI), Chaikin Money Flow (CMF) and MACD across multiple time frames can help you find turning points in the market.
The Invesco QQQ ETF is the top performing diversified blue chip fund and should be in the core of your portfolio – it is also the easiest to buy.
I am adding two ETFs for more aggressive investors to substitute into portfolios for ARKK if they choose.
Heed the support levels, the yellow support is weak in my opinion in a bear market.
ETFs are the easiest way to build an asset allocation that will take part in the growth of the economy. By adding more of our investment dollars to the better parts of the economy and trying to avoid the worse, we can dramatically improve performance while lowering risk.
We must always remember that broad diversification, also known as modern portfolio theory, has failed almost all who use it. About half of investors trail the market averages and another quarter get the market averages. That means one-quarter get all of the excess gains from the bottom half. Being in the top quarter is a big deal.
All The Pretty Colors
I have three different lines on each chart that represent buy areas. Not every line should be bought. You ALWAYS need to look at the technicals before buying.
Yellow line: In a bull market, you can generally buy the yellow lines. However, in bear markets, you need to look lower.
Red hash line: It is generally worth deploying some of your capital at the red hash – somewhere in the 1/3 to 2/3 of dry powder [cash].
Green dotted line: Back up the truck, borrow against whatever you can borrow against or sell things to invest at the green dotted line. Here's the bad news about the green dotted line, if we ever approach one, there is a massive financial collapse going on that might even be worse for civilization than losing money.
The yellow line (as of April 2020) represents a retest of December 2018 and March 23rd, 2020 first coronavirus low pivot. I am fairly certain that line is in for a retest. Generally, third retests fail. I am not going to deploy ETF money at the yellow line. If you think the world is going to get better fast though (I don't), feel free to drip a few bucks in. I might buy some stocks at the yellow level as I can be more selective.
Invesco QQQ (QQQ)
The core blue chip ETF for the 2020s. Top holdings include:
Percentage of total portfolio: 52.86%
As you can see that's a great blue chip core. The rest of the portfolio is excellent as well. Handily beating the S&P 500 over all time frames for total return, even including since the dot.com bust.
And next from the end of the financial crisis:
The major difference between the indexes is that QQQ is tech, consumer discretionary and biotech heavy, while the S&P 500 (SPY) (VOO) is a sprinkle of everything – including zombie companies that are suffering from secular shrinkage and in may cases overbearing debt [zombies are scary, stay away].
QQQ is the ETF to anchor your portfolio. Here are you buy lines: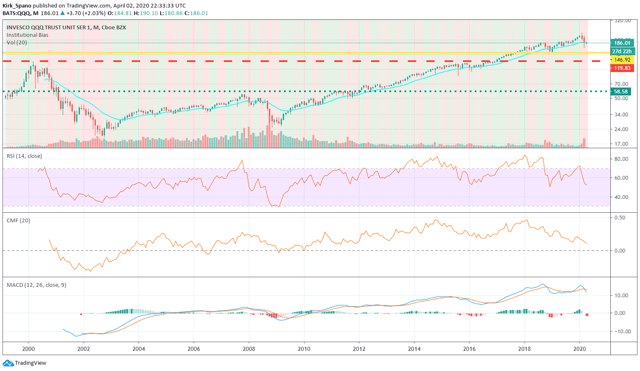 QQQ is one of the exceptions for buying the yellow line. If the downward momentum is slowing or starting to bend back up [MACD daily chart leading the MACD weekly chart] then I would invest about one-third of what I was planning to invest in QQQ in total. That is, if you planned to put 25% of your money in QQQ, then one-third of that or about 8%.
Very unlikely to ever hit the green line.
ARK Innovation (ARKK)
This is one of the best "smart everything world" ETFs out there. It's performance since inception has been exceptional on the back of Cathy Wood's management and the research of her team.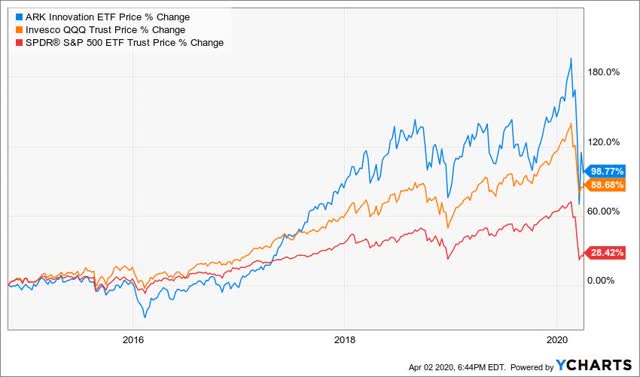 Here's the thing to keep in mind. It is a managed fund. Managers have slumps or get locked into positions from time to time that you have to wait for. Also, this is a concentrated fund, around 40 holdings. That's a good size for making big gains, but it will generally be more volatile.
All that in mind, this is my other "narrowly diversified" ETF. It has an all-cap approach vs the large cap approach of QQQ. The two ETFs together, with some overlap, give us exposure to about 130 companies. In my mind, that's plenty of diversification.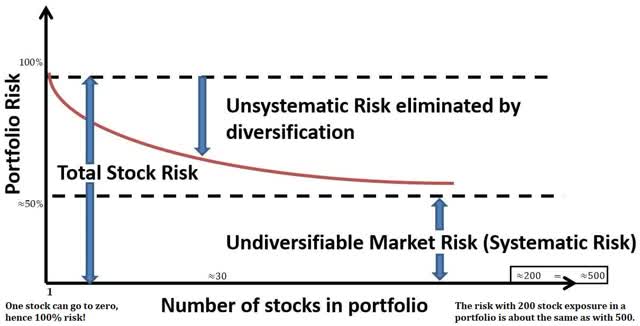 You could legitimately own only QQQ and ARKK to build your portfolio. If you did that, you'd simply trade around the edges. Trimming on oversold signals [daily or weekly depending on how much you want to trade], and buying back on oversold signals.
To trade ARKK a bit you would want to watch the charts of its top holdings, as well as, the ARKK charts. That takes some effort, but this is one of the ETFs I will be tracking closely and trading the weekly charts as needed.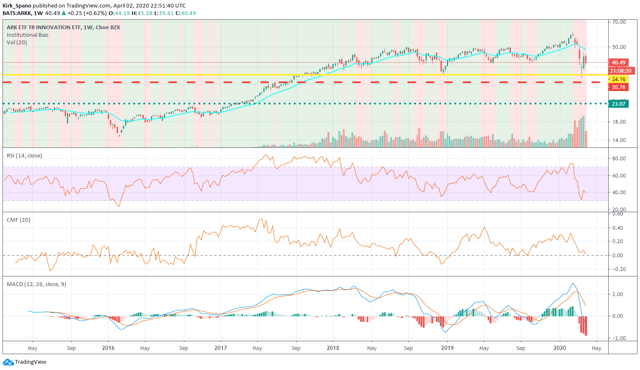 I'm looking to buy near $30 per share. I missed a chance earlier at the yellow line. If we get to yellow line territory, I'm more likely to buy a few stocks from this ETF like Square (SQ), Roku (ROKU) and CRISPR Therapeutics (CRSP), Illumina (ILMN) and Stratasys (SSYS) any of those are at red dash lines – see the VSLs for what I'm watching specifically.
The green line is somewhat in play if the Coronavirus causes longer than a quarter or two recession.
Adding Two ARK ETFs
For those who want a little more juice in your portfolio, after we see downward momentum break [MACD], consider the ARK Next Generation Internet ETF (ARKW) and ARK Genomic Revolution ETF (ARKG).
These two ETFs can be added to take some of the room in the portfolio that QQQ and ARKK would normally take, or add proportionately. I'll add a little chart at the bottom for asset allocation ranges.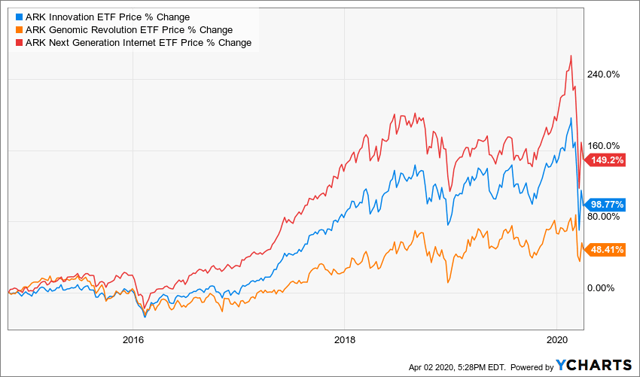 There is overlap between the ARK Innovation fund and each of these two more specialized funds. I am not convinced you need either of these, especially if you are more likely to "set it and forget it." If that's your M.O. then stick with ARK Innovation.
We are likely to do a bit more trading with ARKW and ARKG. Not frequent, but likely 2 to 4 trades per year is my anticipation. Whereas, we might not make a trade in ARKK in a given year.
Here are the target buy levels for ARKW and ARKG: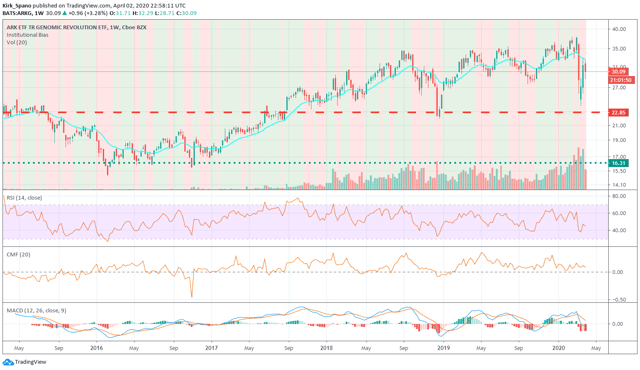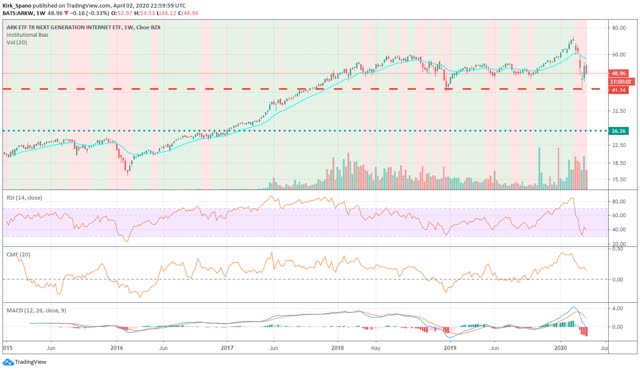 Good, you noticed, no yellow lines. You better watch technicals on these. Same approach as ARKK.
iShares Semiconductor ETF (SOXX)
Semiconductors make the "smart everything world" possible. And, semis have been a great place to invest over the years. That won't change this decade.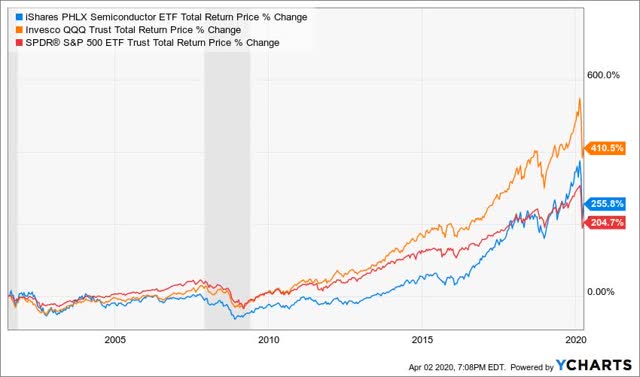 Semiconductors are cyclical, but not as volatile as you'd think. Basic weekly technicals apply. Small chance of green line, but not much. I'm probably nibbling some of the holdings at yellow line, like Micron (MU) or Nvidia (NVDA). Looking to load up somewhere between yellow and red lines.
Invesco Solar ETF (TAN)
Solar is one of the fastest growing industries in the world and will remain so for the next couple of decades. This is the only game in town for pure solar. It is more volatile, but the upside is huge.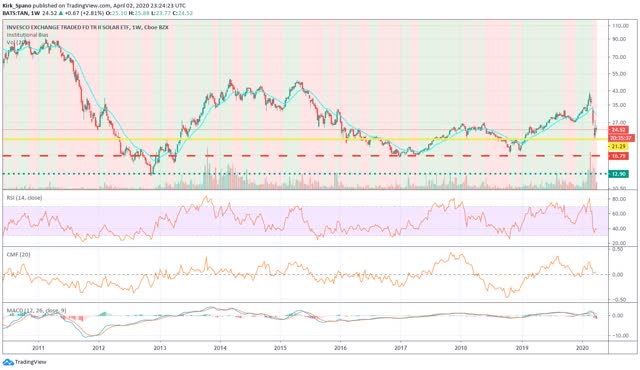 If you want alternative energy, but not solar only, then you can use the iShares Global Clean Energy (ICLN) which is more diversified and pays a bit of a dividend. Splitting between the two is a worthwhile idea as well.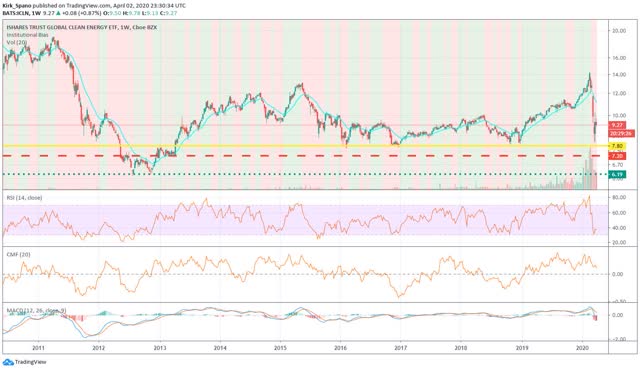 And, in case you don't like solar because of Jimmy Carter or "I've heard about it for decades…" Look at this:
That's 3 years. The trend has clearly begun in my opinion.
VanEck Vectors Gold Miners ETF (GDX)
I wrote a comprehensive article about why gold and gold miners would be in a bull market: Massive 2020s Gold And Gold Stock Bull Market Is Just Beginning
Gold miners have more leverage to the price of gold. So, if gold rises, the gold miners will rise more. If gold falls, the gold miners will fall more. Keep that in mind.
Look at the gold bull market in the 2000s. I think we see something like that: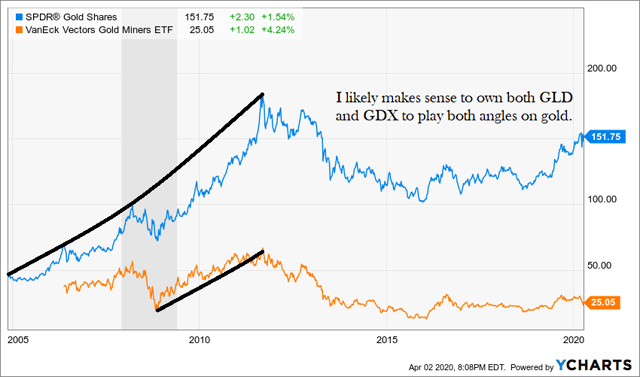 Here's the gold miners buy levels: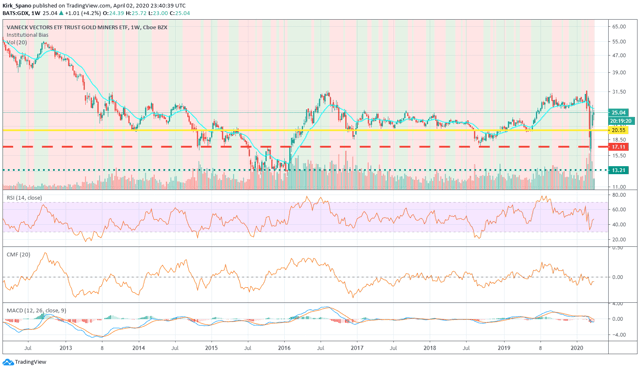 And, here's gold: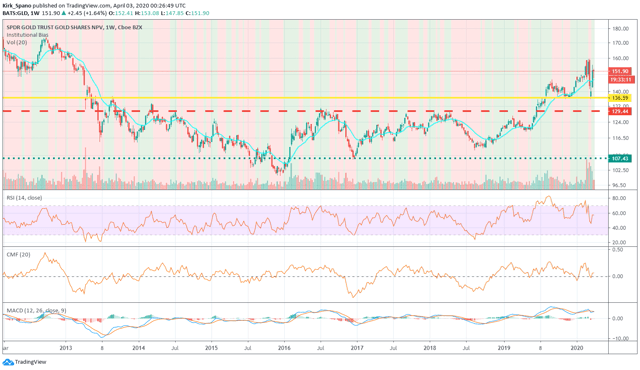 Don't get thrown by folks talking about physical gold are trying to sell stuff on the internet or late night TV. The SPDR Gold ETF is mostly backed by physical gold. They do also trade some futures as well to keep the pricing right.
I think it's a solid strategy for your gold position to be split up in some fashion: 50/50, one-third/two-thirds in either direction. You're more aggressive if you hold the miners.
Asset Allocation
Guidelines, not rules, you have to do you.
| | | | |
| --- | --- | --- | --- |
| ETF | Get Off My Grass* | I'm Pretty Even Keel | Let's Rock! |
| (QQQ) | 12-36% | 12-48% | 12-36% |
| (ARKK) | 4-12% | 6-18% | 6-18% |
| (ARKW) | 0 | 0 | 4-8% |
| (ARKG) | 0 | 0 | 4-8% |
| (SOXX) | 4-8% | 4-12% | 6-12% |
| (TAN)++ | 4-8% | 4-12% | 6-12% |
| (ICLN)++ | 4-12% | 4-12% | 6-12% |
| (GDX)** | 4-8% | 4-12% | 6-12% |
| (GLD)** | 4-12% | 4-12% | 6-12% |
* If you are retired, you need to consider your long run goals and risk tolerance. If you are comfortable and looking to build an inheritance, you'll be more aggressive, probably even keel. If you are looking to make sure you don't take a big hit that could impact your lifestyle, then keep people off your lawn, do about 20% in government bond mutual fund (not ETF) and keep a couple year's fixed expenses in the bank.
++ not to exceed 18% combined (that's as much as you do combined).
** not to exceed 18% combined (that's as much as you do combined).
Disclosure: I am/we are long TAN, GDX. I wrote this article myself, and it expresses my own opinions. I am not receiving compensation for it. I have no business relationship with any company whose stock is mentioned in this article.