Summary
Roku is a company that is benefiting from the long-term trend of cable 'cord cutting'.
The company dominates the streaming market with user-friendly devices/software.
The addition of advertising has been driving gross margin increases.
Roku (ROKU) operates as a leading platform TV company. The company has been benefiting from the increasing trend of streaming TV/movies. Many consumers have been moving away from the traditional cable TV packages to only have internet service (w/ routers) along with TV streaming services such as Sling TV (DISH), Netflix (NFLX), Disney Plus (DIS), Youtube TV (GOOG) (GOOGL), etc. Broadband only households are expected to grow by 11.9% per year by 2023.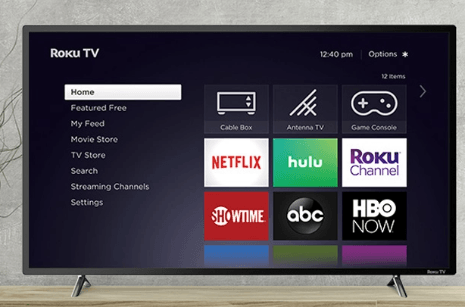 Roku's products/services are currently available in the United States, Canada, Mexico, United Kingdom, Ireland, France, and some Latin American companies.
Roku stands to benefit from this trend as more households are likely to use the company's platform and/or streaming device for various online content. Roku operates two business segments:
1. The Platform segment comprises about 66% of Roku's total revenue and 97% of gross profit. This segment collects fees from content publishers, advertisers, and from licensing Roku's proprietary technology (Roku OS) to others. This segment also makes money from the branded channel buttons placed on the company's remote controls.
2. The Player segment accounts for about 34% of revenue but only 3% of gross profit. The Player segment includes the sales of streaming devices and related accessories. Roku sells these products through its own website and through retailers and distributors.
So, the Platform segment is the real driver of profits for Roku. EMarketer estimates that about 25% of U.S. cable service customers will cancel their cable TV subscriptions by 2022, in favor of having internet only and TV streaming services instead. This trend is positive for Roku as many consumers have been increasingly using the company's platforms to stream TV and movie content.
Strengths
Roku is growing revenue at a strong above-average double-digit pace. This high growth rate puts the company in an elite status for performance which helps attract investors.
Roku has the highest ad market share at 59% for streaming devices. The company achieved this even in the face of competition from large established companies. This sets the company apart as an industry leader.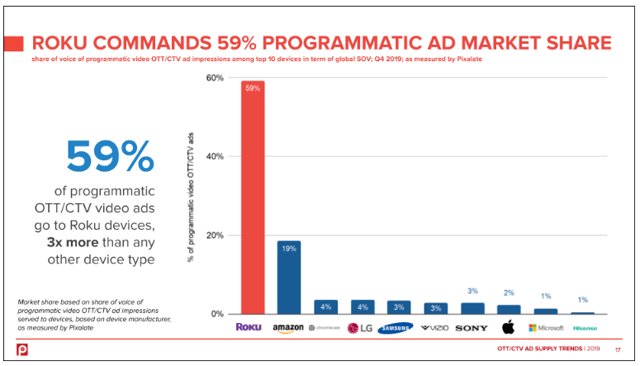 The company is benefitting from the long-term trend of 'cord-cutting' (consumers shifting from traditional cable TV services to streaming formats). This trend is likely to create ongoing growth for Roku.
Roku increased the gross margin into the 40% range over the past 2 years (2018-2019) from the 30% range in 2016-2017. The higher gross margin will help the company turn a profit within a few years.
Strong balance sheet: Roku has 2.6x more current assets than current liabilities and 1.9x more total assets than total liabilities. The company also has $515 million in total cash which exceeds the $419 million in total debt.
Weaknesses
Roku is not yet profitable and is on track for losses in 2020 and 2021. However, with margins increasing, the company is on track to turn a profit in 2022.
High expenses: SG&A expenses comprise about 26% of total revenue. R&D expenses comprise 23.5% of total revenue. Total expenses comprise about 49% of total revenue which exceeds the amount of gross profits. So, the company will need to increase the gross margin and/or reduce expenses to achieve profitability.
Since the company is not yet profitable, Roku has been issuing debt and issuing shares of common stock to grow the business. Issuing more stock can dilute shareholders.
Although Roku may have their own intellectual property, other companies can easily produce similar streaming hardware/software technology.
Opportunities
There are a number of strategies that Roku can employ for long-term growth.
Grow the advertising business: Drive growth in the amount of advertising dollars that other companies spend on Roku's platform. Adding new advertising customers can help drive this growth.
Increase penetration into existing regions where the company operates. This could be accomplished by getting the product into more retail stores and by marketing to potential customers online.
Global expansion: There are plenty of new regions for Roku to expand into. Expanding the footprint can help drive revenue and market share growth.
Strategic Acquisitions: Roku completed the acquisition of dataxu in Q4 2019. Dataxu is a demand-side platform [DSP] that allows marketers to plan & purchase video ads. Roku can seek out other complementary businesses to acquire to help drive growth.
Threats
Roku faces numerous threats that could negatively impact the company.
Competition is probably the largest threat that Roku faces. Large companies such as Apple (AAPL), Amazon (AMZN), and Google (GOOG) (GOOGL) all have streaming devices and services. These large competitors also have plenty of cash to invest. As a result, the threat is that one or more of the large competitors could design a streaming service/platform that resonates with consumers and take market share away from Roku.
Roku also faces competition from game consoles and smartphones which can be used to stream content. Competition also exists from traditional cable and satellite TV services. Traditional services could design attractive content packages to lure customers back or stop the trend of cancellations.
New government regulations could be created that could add costs to Roku's business or make the process of advertising more difficult or less effective. The company faces different regulations in each global region where the company operates.
Roku faces the threat of losing advertising revenue as the economy struggles in the Coronavirus (COVID-19) crisis. Some companies may cut back on ad spending during this time.
Long-Term Outlook for Roku
While a lot of competition exists for streaming platforms even among large companies, Roku still dominates the space with the highest market share. Now that Roku dominates, it is less likely for other companies to change consumers' habits. The competitors would have to offer a more attractive platform/service to have consumers switch.
Roku is on track for continued gross margin increases which can help the company achieve profitability in about 2 years. The GM increases are a result of growing the platform/advertising business. In the meantime, Roku is expected to grow revenue at a strong double-digit annual pace.
The trend of 'cord-cutting' is expected to grow over at least the next two years. Roku has a good chance of continuing their strong growth as the company benefits from this trend. We should keep an eye on the competition to see if other attractive streaming platforms/services are introduced to the market and monitor the industry's sales.
Our SWOT analysis (Strengths, Weaknesses, Opportunities, Threats) is meant to serve as a baseline for doing research on companies that we might invest in at certain prices. As Warren Buffett has repeated many times, only by getting to know a company's business, can we start to understand whether or not to invest our hard-earned money.