Summary
PTC operates as a key player in the technical/system software industry.
The company formed strategic partnerships with large companies which provides a track record of credibility for continued growth.
PTC's customers operate in diverse fields, many of which are not economically sensitive.
PTC Inc. (PTC) is an under-the-radar software and services company that sells to industrial businesses. The company's offerings are designed to increase innovation, operational efficiencies, and productivity. PTC markets a large portion of its products through third-party sellers.
PTC operates globally – here's a breakdown of revenue by region: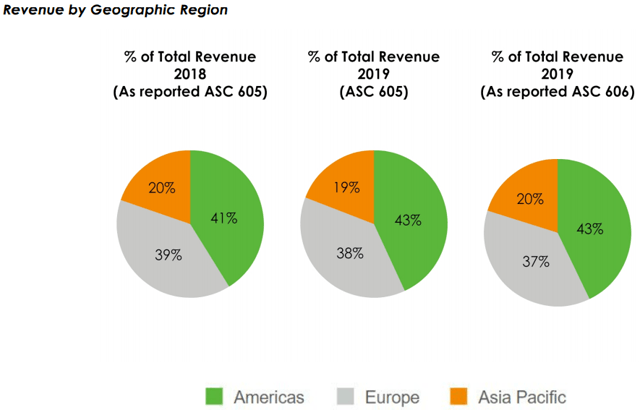 source: PTC 2019 Annual Report
The company operates the following 2 segments:
1. The Software segment comprises about 87% of total revenue. This segment includes PTC's software solutions: Creo, Windchill, ThingWorx, and Vuforia Studio.
Vuforia Studio is PTC's cloud-based tool for creating industrial augmented reality [AR] experiences. Vuforia enables the recording of real-time movements of a person wearing an AR headset by monitoring audio, visual, and spatial movements in 3D. Key applications for Vuforia include hands-on training, step-by-step operating/repair instructions, and other guidance.
Creo is a 3D CAD platform for assembly design, piping/cabling, advanced surfacing, and virtual prototyping. Creo is a scalable platform that incorporates AR and virtual reality [VR] in conjunction with PTC's Vuforia cloud-based AR solution.
Windchill is PTC's product lifecycle management software. Windchill covers the time from design to service. This includes CAD models, documents, technical illustrations, calculations, specs, etc. to help companies make informed decisions throughout the process.
ThingWorx enables industrial automation customers to connect products/devices to the cloud. It allows customers to reduce the risks, time, and costs of producing IoT applications, to manage connected products, and to analyze data.

source: PTC 2019 Annual Report
2. The Professional Services segment accounts for about 13% of total revenue and includes the training, consulting, cloud, and license support services.
The growth of IoT and AR applications in the industrial setting is positive for PTC's growth. The industrial IoT market is projected to grow at an annual rate of 7.4% to 2025. The global AR market is expected to increase at an annual rate of 63% to 2025. PTC has a good chance of capitalizing on these growth trends and adding to what the company accomplished thus far.
Strengths
One of PTC's greatest strengths is high double-digit revenue and earnings growth. This above-average pace of growth is expected to continue for multiple years.
PTC's partnerships with other companies are a strength. PTC combined its ThingWorx industrial IoT platform with Microsoft's (MSFT) Azure cloud technology to drive industrial innovation for the production of smarter products. The company partnered with Rockwell Automation (ROK) to create FactoryTalk Innovation Suite, a system to increase factory productivity by optimizing workers, products, and processes. PTC's partnership with ANSYS (ANSS) for a groundbreaking simulation-driven product design solution known as LiveWorx 18.
The company has a strong gross margin of 73.7% which marked an increase over PTC's 5-yr. average of 72.9%. This is also higher than the sector median of 47.6%.
PTC has positive cash flow: Operating cash flow was $271 million over the past 12 months. This gave PTC the flexibility for multiple investing and financing activities. Over the past 12 months, the company spent $39 million on CapEx, $485 million on acquisitions, repaid $160 million in debt, and repurchased $148 million worth of stock. However, PTC did issue $505 million in new debt and issued $13 million in shares during this time to help accomplish this.
Diverse set of customers in a variety of industries. Customers operate in aerospace, defense, consumer packaged goods, electronics, life sciences, industrial machinery, etc. Some of these industries have protection from economic downturns.
The balance sheet is strong overall with 1.6x more total assets than total liabilities and 1.17x more current assets than current liabilities. This puts the company on solid ground to withstand any unexpected negative financial situations.
Weaknesses
PTC is strong overall – however, the company does have some weaknesses that investors should be aware of.
There are low barriers to entry for PTC's business. Other companies could create software and services to achieve similar outcomes. PTC will have to maintain a cutting edge for their technology and continue to secure additional trusted partnerships.
Although the balance sheet is strong overall, it has $1.35 billion in total debt with just $266 million in total cash. This is 5x more debt than cash. The company will need to improve its debt/cash situation after the recent acquisition to be financially better positioned for acquiring new businesses in the future.
PTC currently has low returns: ROE of -1% and ROIC of 3% for the past 12 months. This is lower than the company's 5-year average ROE of 1.09% and ROIC of 3.94%. Higher double-digit returns are preferable.
Opportunities
PTC can employ a few strategies to position the business for sustainable future growth.
PTC should capitalize on the potential growth for IoT and AR. These areas represent the highest potential for growth over the next decade. One example of PTC's technology in this area is assisting medical device manufacturers to get their products connected through effective mobile apps (ie. remote condition monitoring) to drive better service and patient outcomes.
Drive growth in the product lifecycle [PLM] and CAD (computer-aided design) markets. Although these markets may have less growth than IoT and AR over the next decade, PTC can still drive growth for PLM and CAD. This can help balance PTC's product/service portfolio.
Drive growth in new areas such as the Asia Pacific region, where PTC currently has the lowest percentage of total company revenue.
Improve ROE and ROIC: This can be achieved by investing in high return projects while keeping costs contained.
Acquisitions: PTC closed on the acquisition of Onshape in November 2019. Onshape provides customers with a software as a service [SaaS] model that combines CAD software with data management and collaboration tools. PTC can seek out other complementary companies to acquire when they are financially ready in the future to help drive further growth.
Threats
PTC faces numerous threats that could have a negative impact on the company.
Competition can be a significant threat for PTC in the technical/system software industry. PTC competes with Amazon (AMZN), Oracle (ORCL), IBM (IBM), Siemens (OTCPK:SIEGY), and General Electric (GE) in the industrial IoT and AR markets. Autodesk (ADSK), Dassault (OTCPK:DASTY), and Siemens are the competitors in the CAD and PLM markets. Increased competition could take market share away from PTC or make it challenging for the company to grow at a strong pace.
Since PTC is a software company, security breaches in systems/software remain an ongoing threat. PTC needs to ensure that its software remains secure to reduce this threat.
PTC is a global company. As a result, changes in government regulations, taxes, tariffs, and compliance, etc. could make doing business more expensive in each country where PTC operates.
Long-Term Outlook for PTC
PTC has strong tailwinds from the growth in IoT and AR in the early 2020s. The company offers important software/services for industrial applications covering a variety of areas: life sciences, aerospace, defense, industrial machinery, electronics, consumer packaged goods, etc. Many of these areas are recession-proof, which gives the company some protection during economic slowdowns. PTC has a good chance of thriving and growing at an above-average pace over the next 3 to 5 years with all of these factors in play.