Summary
Enphase's solar products are likely to see increased demand as the industry continues to grow at a strong double-digit annual pace.
Enphase's microinverters have significant advantages over traditional inverters.
The company can capitalize on various opportunities, but there weaknesses and threats to be aware of.
Our SWOT analysis (Strengths, Weaknesses, Opportunities, Threats) is meant to serve as a baseline for doing research on companies that we might invest in at certain prices. As Warren Buffett has repeated many times, only by getting to know a company's business, can we start to understand whether or not to invest our hard earned money.
Enphase Energy (ENPH) is experiencing positive momentum as their energy solutions are seeing increased demand as the solar industry grows. Enphase produces microinverters, AC battery storage products, and networking/software technology to provide energy monitoring and control services to residential and commercial markets.
The company's microinverters convert energy at the solar module level. The microinverters take DC current that is generated from a solar module and converts it into AC current to power homes/businesses. Enphase's microinverters have multiple advantages over standard inverters, which gives the company a competitive advantage.
The seventh generation microinverter, Enphase's IQ7 has 4x more power, is 19% lighter, and is 17% smaller than the previous generation IQ6. The IQ7 also solves many of the issues that are associated with traditional central inverters: output limited by the power of the lowest performing module (a module in shade or covered in dust, snow, bird droppings), reliability issues (poor performance in extreme temperatures), lack of monitoring, and safety issues (fire risks from arcing).
Microinverters are attached to each solar panel so that each panel operates independently. Standard or string inverters are typically attached to a wall while the panels are strung together via a DC cable. The standard systems from other companies operate as one unit, rather than independently, leading to the various issues listed above.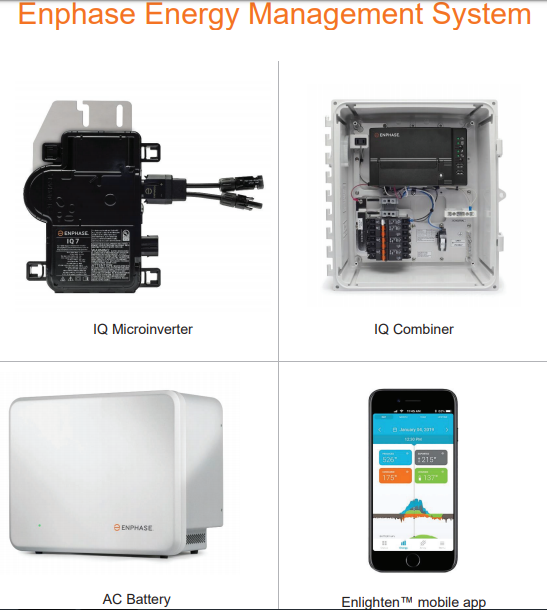 source: Enphase 2018 Annual Report
Strengths
Enphase has multiple strengths that make them standout or differentiate them from competitors.
Enphase's solutions connect solar generation, storage, and management/monitoring in one system. The company's inverters are connected to solar panels and to their AC battery storage along with software for a smart energy system.
Enphase's latest microinverters are the most advanced with high performance, which provides customers with a high return on investment. The microinverters are safer as they process low voltage DC and prevent arcing which mitigates the fire risk associated with traditional string inverters.
Enphase will be launching their newest IQ8 microinverter as part of the Ensemble system. This system has the capability of being grid agnostic (allows the solar energy system to operate independently of the electrical grid). Therefore, those with the system will still have power in the event of a power outage from their utility company. This is expected to be released in mid-2020. This technology is also important for off-grid developing regions.
AC battery advantages: high compatibility with variety of inverters, high reliability, battery longevity due to smarter charge/discharge times, and safety (no DC fire risk).
High returns: Enphase achieves an ROE of 24% and ROIC of 16.9%. This is higher than competitor, SolarEdge (SEDG)'s ROE of 19% and ROIC of 13.6%.
Intellectual property: Enphase has hundreds of patents in the U.S. and abroad to protect their technology. There are also many pending patents from newer technological developments.
Weaknesses
Enphase has some weaknesses that gives the company certain risk characteristics, but these can be improved upon.
High concentration of revenue to one customer: In 2018, one customer accounted for 19% of the company's total revenue.
U.S. revenue represents about 80% of total revenue. So, Enphase is highly dependent on the U.S. market.
Enphase's microinverter systems can be more expensive than competitor's systems. That might deter some cost-conscience consumers from using the company's products without fully understanding the cost/benefit situation.
Opportunities
Enphase can implement strategies to improve upon weaknesses and add to their strengths.
Grow market share in core markets where they currently operate: United States, Canada, Mexico, Central America, Europe, Australia, New Zealand, and India.
Expand into new markets: Enphase identified untapped markets in Europe, Asia Pacific, and Latin America for new international growth. This will help diversify revenue into numerous geographical regions.
Improve & expand the product portfolio: Continue to implement R&D for new innovative products (IQ8/Ensemble and newer 'microgrid' products) to remain on the cutting edge of solar technology. This will help provide customers with good returns on investment (higher efficiency, lower costs per watt) and give them peace of mind for unpredictable weather/power outages.
Acquisitions: Strategic acquisitions for related products. Any companies or product lines to be acquired should have equal or higher margins than the company has now.
Threats
Enphase faces standard threats that could negatively impact the company's future growth.
Competition: Enphase competes with the following companies in the inverter market: SolarEdge, SMA Solar Technology (OTCPK:SMTGF), Huawei, Fronius, ABB (ABB), and others. Increased competition of similar products could take market share away from Enphase and challenge the company's growth.
Government programs: The tax credit for solar installations is being reduced from 30% of the cost of the system in 2019 to 26% in 2020 and 22% in 2021. The tax credit will then be reduced to just 10% of the cost of the system in 2022. The reduced tax credits might reduce demand for Enphase's products. However, this might be offset by reductions in the cost of solar products over time.
Government regulations: New regulations could be implemented for the solar industry from federal or state governments that could add to the company's costs.
Enphase could be negatively impacted by tariffs. The ongoing trade war with China hasn't been resolved. So, the outcome could result in tariffs that could have a negative impact on the cost of Enphase's products.
Long-term Enphase Outlook
Enphase is poised to perform well as the amount of solar installations increases over time. The global solar panel market is expected to grow at a CAGR of 24% through 2024. This is likely to fuel demand for Enphase's microinverters, AC batteries, and monitoring systems.
Enphase's growth has been outpacing the market's growth. This is expected to continue in 2020 as Enphase is expected to grow revenue at 25%. Enphase's higher than average growth shows that their products have significant demand. As a result, the company has the power to command premium prices for their products.
Look for the company to continue innovating over the next 5 years and beyond. The off-grid IQ8 Ensemble system opens up a whole new world of opportunity for new growth beginning in 2020. Enphase will probably build on their expertise in future years to continue to grow at a strong pace.