Summary
Teladoc is a health care business based on convenience with the safety of patients built into the model.
The practice of social distancing and the COVID-19 situation may help accelerate the adoption of virtual health for the long-term.
Teladoc's first mover advantage can help the company continue expansion efforts.
Teladoc (TDOC) is the largest global leader of virtual health services. The company operates on a business-to-business system working with over 50 health plan clients, 70 insurance/financial services companies, 300 hospitals/health system clients, and 50,000 clinicians. Teladoc services are available every hour and every day of the year, providing people with medical care whenever it is needed.
The company earns revenue based on monthly member subscription fees and from fees on a per-visit basis. The insurance companies typically pay the subscription fees, while the patients pay the per-visit fees.
With Teladoc's offerings people who need to see a doctor can do so from the comfort of their home on a smartphone/tablet app. The patient can see the doctor and the doctor can see the patient through the app, like a Facetime call. This helps eliminates the risk of catching what others may have in doctor's waiting rooms. Clients saved an average of $472 per medical visit as compared to other settings/formats.
The company's brands include Teladoc, Advanced Medical, Best Doctors, Better Help, and Healthiest You. The company's services cover 450 medical conditions. There were 4.1 million telehealth visits in 2019 on a global basis. Services are currently offered in over 175 countries in 40 languages.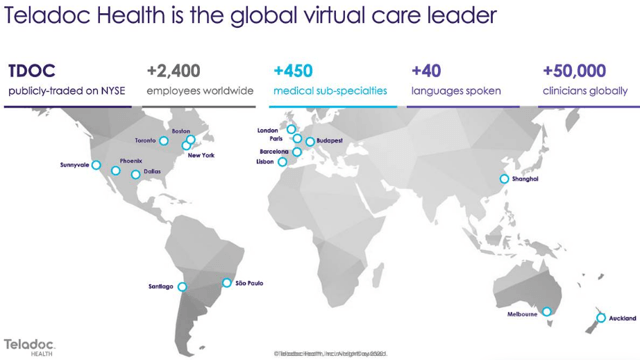 source: Teladoc 2020 Investor Presentation
Strengths
Teladoc has a first-mover advantage since the company is the first comprehensive virtual healthcare provider on a global basis. This allowed Teladoc to develop economies of scale, leading to operational efficiencies.
Strong above-average revenue growth: Teladoc is achieving double-digit revenue growth. Consensus estimates are calling for 29% revenue growth in 2020, 26% in 2021, and 21% in 2022.
The business is essential – therefore patients will need these services regardless of where we are in the economic cycle. The COVID-19 situation actually makes Teladoc's services more attractive since patients can avoid going to waiting rooms with other sick people.
The company's services work with a wide range of patients including those on Medicare and Medicaid in addition to those on standard insurance policies.
Strong research and development: Teladoc spent $64.6 million or 11.7% on R&D in 2019. Teladoc worked with the University of Southern California [USC] and Northwestern University with a grant from the Department of Health and Human Services Agency to study the antibiotic prescribing process for telehealth and virtual health services. Results are to be published in medical literature.
Strong balance sheet: Teladoc has $517 million in total cash with $470 million in total debt. There are 6.5x more current assets than current liabilities and 2.7x more total assets than total liabilities on the latest balance sheet.
Teladoc is ranked highest in customer service by J.D. Power and #1 in telehealth satisfaction by direct to consumer providers.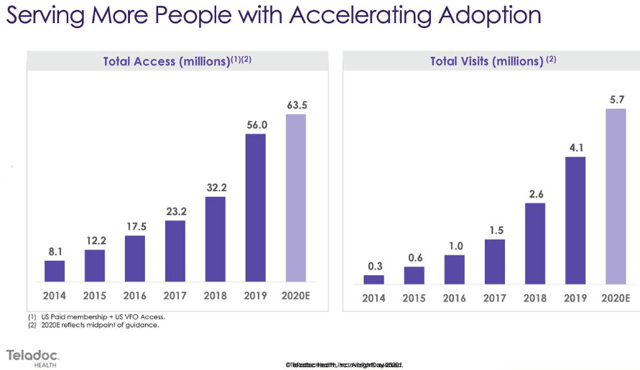 source: Teladoc 2020 Investor Presentation
Weaknesses
Teladoc's biggest weakness is that the company is not yet profitable. This means that Teladoc may need to issue new debt or issue new shares of stock. More debt could weaken the balance sheet while adding shares of stock could dilute shareholders (make existing shares less valuable).
The company's revenue depends on a limited number of clients. The top 10 clients comprised 13.3% of Teladoc's total revenue in 2019.
Teladoc could be a target for medical liability claims. Legal firms might be more inclined to target the company because of the virtual format if negative issues arise regarding patient outcomes.
Securing new client relationships incurs high initial costs for Teladoc. Teladoc needs clients that have access to many potential patients for the relationship to be cost-effective.
Opportunities
Teladoc can implement the following strategies to improve and grow the business:
Expand the business to cover more wellness screenings, primary care, health coaching, and therapy. Technology devices allow patients to monitor their own temperature, blood pressure, heartbeat, glucose, etc. This info can be shared with Teladoc's doctors for treatment recommendations, prescriptions, etc. Virtual physicals can be a reality in the future for some patients.
Expansion of chronic care services: The virtual platform can be used more extensively to manage and help treat various chronic conditions such as alcohol/drug abuse, asthma, arthritis, heart conditions, hypertension, depression, diabetes, etc.
Global expansion: Teladoc can seek out new countries/regions to expand into as a long-term growth strategy.
Teladoc can search for strategic acquisitions to allow the company to scale up. Some recent examples of acquisitions include Vida Health in 2019 and InTouch in 2020). Vida provides access to nurses, therapists, and other health professionals for various conditions. InTouch is another virtual care platform that will be added to Teladoc's portfolio of offerings.
Threats
Competition remains an ongoing threat for Teladoc. Some competitors include MDLive, Doctors on Demand, American Well, and Grand Rounds. These competitors could implement their own growth strategies and take market share away from Teladoc.
Government regulations are an ongoing threat. As a global company, Teladoc has to deal with regulations from many different countries. New regulations for telehealth/virtual care could be created that could increase Teladoc's operating costs.
Changes in taxes and exchange rates could have negative impacts on Teladoc's bottom line.
Changes in employer-sponsored healthcare could cause Teladoc's services to be rendered obsolete. For example, if the United States converted to universal healthcare or Medicare for all, it could lead to major changes in how the business is conducted, a government takeover of the business could occur or the government may not use the company at all.
Long-term Outlook for Teladoc
Teladoc might get a long-term boost from the practice of social distancing and fears of catching COVID-19. Teladoc's virtual health care eliminates the need for patients to schedule appointments, wait for openings, and wait around in waiting rooms that can be filled with germs. The on-demand services that the company provides is a natural fit for certain screenings and treatments for the future.
Although Teladoc is not yet profitable, the company is expected to grow revenue at double-digit rates that exceed 20% annually. As the company continues to grow and gains economies of scale, margins are likely to increase. This can help Teladoc achieve profitability in about 3 to 4 years if the company executes effectively.
Our SWOT analysis (Strengths, Weaknesses, Opportunities, Threats) is meant to serve as a baseline for doing research on companies that we might invest in at certain prices. As Warren Buffett has repeated many times, only by getting to know a company's business, can we start to understand whether or not to invest our hard-earned money.