Today's Decline Not Unexpected, Tomorrow's Webinar Will Be Fun
Summary
Straight up chart.
Bad economics and earnings.
Fed religion.
Alligator jaws always close.
The stock market is still extremely overvalued. The economy is still bad and will be until around next summer or later. Earnings are miserable. Buybacks are getting cut. Dividends are getting cut. A second wave of Coronavirus has begun. Small traders took extreme positions that the market loves to hurt.
But, the Fed was printing. On Reddit, in trading chat rooms and on YouTube, the meme was "the printer goes brrr" referring to the Federal Reserve printing money. That's all it took for Millennials (mostly) to pile into stocks. And, in the last few weeks, they all found call options. Buying a record number of calls betting that "stonks only go up" – their parlance online.
Well, reality is indeed hitting. I asked that question recently:
Apparently the answer was in 8 days.
Nobody knows what happens next, but I have a clue. Here is the equity put to call ratio: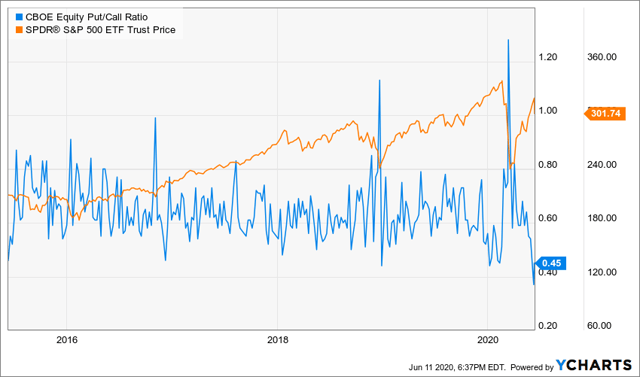 What do we know about alligator jaws? They always close. The chart shows that puts were at a 5 year low relative to calls. The ratio got to .36, which means there were twice as many people buying calls as puts. That's weird with a capital W shaped recovery.
Next Friday is option expiration. My guess is we see a rough week and a half through Monday, June 22nd when margin calls will have to be covered by a lot of people. I could be wrong, but it's as good a guess as any.
Take From The Poor And Inexperienced And…
I signed up for a Robinhood account a week ago. So far it's just telling me about the free stock of Coty Inc (COTY) they gave me for funding my account. I don't know what they do, but they've been up and down over 5% several times this week.
I have gotten a few other alerts about the stock market. I started adding some tickers to see what happens. I'll tell you soon. What I do know is that Robinhood investors are young and piling into some curious stuff in addition to the calls. Bankrupt companies for instance.
Hertz was the second most popular stock on Robinhood the past week: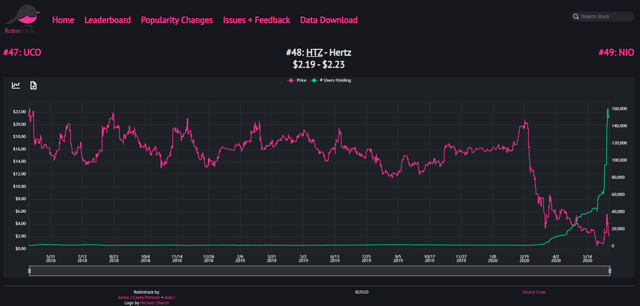 Nikola (NKLA) was first.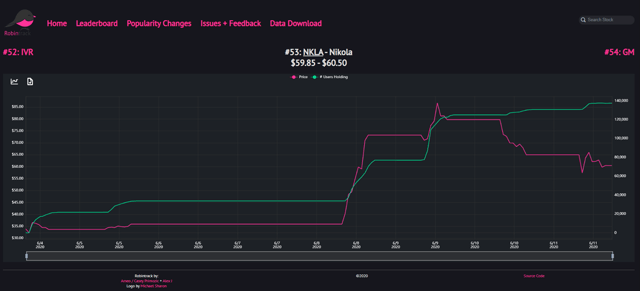 Interestingly, I put Robinhood on our Very Short List back in March when it was trading as a blank check stock for $11 as VTIQ.
I guess we should have put a 100% into it. It is afterall going to have a product in a couple years. A pick-up truck to compete with Tesla (TSLA), the Ford (F) F-150 and everything else out there. I think you can safely short this stock now if the puts are cheap enough. Then again, Tesla (TSLA) another not yet profitable in debt company is trading at all-time highs.
I hate to see it happen, because I don't want to see them scarred for life, but the Millennials are probably about to get a good ass kicking.
What To Do Next
Well, don't get anxious. Just like the rally didn't end right away, neither will the correction. There are a lot of levels to go through and we don't know which level is the lowest the stock market hits.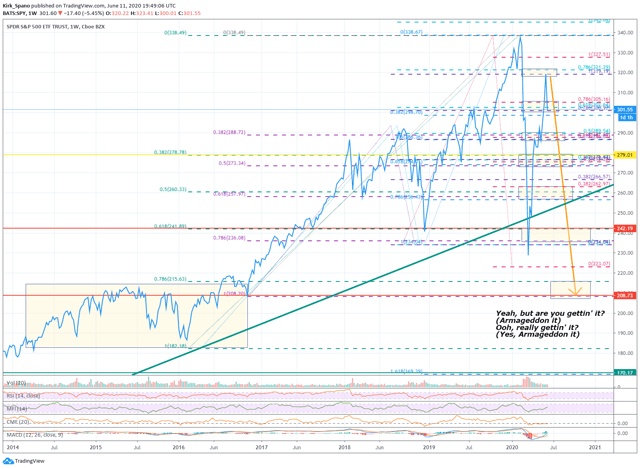 The price zone in the $270s on the SPDR S&P 500 ETF (SPY) seems a near certainty to hit. If you are very short on patience and very risk tolerant, then start nibbling your favorites off of the new "Plug & Play Portfolio Models" that are coming out this weekend. I will probably sell puts in that neighborhood on my favorites.
If the market heads below the $256 level, then there could be a big, big drop from to the lower $200s, so be aware of what is going if SPY gets to the $260s.
For now, just put together your game plan. Tomorrow I'm going to cover some ground in the webinar. Catch up because I will be building off of the last two. The first is up above and here is last week's:
Webinar Details
Our Friday webinars will cover macroeconomic themes and sector investing. We will focus on developing asset allocation opportunities with ETFs.
The Friday webinars are at 10am central time. I will post webinar to YouTube publicly by Saturday morning.
Sign up for a TradingView account to have access to my charts. A free account allows you to view. A paid membership is necessary to manipulate charts and save. If you are swing trading, you will need the paid version of TradingView. If investing longer term, then you can stick with free.
Here are the meeting details:
Join our Cloud HD Video Meeting now
Meeting ID: 992 385 645
Password: TGIF
One tap mobile
+16468769923,,992385645# US (New York)
+13126266799,,992385645# US (Chicago)
Dial by your location
+1 646 876 9923 US (New York)
+1 312 626 6799 US (Chicago)
+1 669 900 6833 US (San Jose)
+1 253 215 8782 US
+1 301 715 8592 US
+1 346 248 7799 US (Houston)
Meeting ID: 992 385 645
Find your local number: https://zoom.us/u/aezb8ZkEPs
Subscribe To The Investing 2020s YouTube Page
You can find my Investing 2020s YouTube page here.
Disclosure: I/we have no positions in any stocks mentioned, and no plans to initiate any positions within the next 72 hours. I wrote this article myself, and it expresses my own opinions. I am not receiving compensation for it. I have no business relationship with any company whose stock is mentioned in this article.