Free Webinar: Barbell Investing Strategy For The 2020s
Summary
Q4 2020 is shaping up to look a lot like Q4 2018.
The Fed spiked punch bowl is almost empty.
You should be killing what's left of your zombie stocks now.
2021 will be either a trickle down stagflationary depression or a growth from the middle recovery.
The stock market will become more bifurcated in either situation with the ends of our barbell profiting as most other stocks suffer.
This week's Friday webinar is being moved to a special Monday night time slot following our stocks and options discussion. Both webinars will be open to the public starting at 6pm central time so make sure to log in early. Here are the log in details:
Kirk Spano is inviting you to a scheduled Zoom meeting.
Topic: Special Barbell WebinarTime: Aug 17, 2020 06:00 PM Central Time (US and Canada)
Join Zoom Meeting
Join our Cloud HD Video Meeting
Meeting ID: 879 5007 5911
Passcode: 486188
One tap mobile
+16468769923,,87950075911#,,,,,,0#,,486188# US (New York)
+13017158592,,87950075911#,,,,,,0#,,486188# US (Germantown)
Dial by your location+1 646 876 9923 US (New York)
+1 301 715 8592 US (Germantown)
+1 312 626 6799 US (Chicago)
+1 669 900 6833 US (San Jose)
+1 253 215 8782 US (Tacoma)
+1 346 248 7799 US (Houston)
Meeting ID: 879 5007 5911
Passcode: 486188
Find your local number: Video Conferencing, Web Conferencing, Webinars, Screen Sharing
Q4 2020 Will Rhyme With Q4 2018
Q4 2020 is shaping up to be a lot like Q4 2018.
The 50% reduction in enhanced unemployment benefits is hitting 20 million households. This is about to lead to reduced consumer spending. In turn, it will lead to more stress on real estate markets and rolling to the banks. People will use the CARES Act to withdraw money from retirement plans causing forced selling in the stock market.
As Fed stimulus fades with Treasury provided backstops being used up, the markets will become even more choppy. Zombie stocks that are still in the red for the year will get sold off again for tax losses. If President Trump loses, the very wealthy will engage in one final surge in selling (they have been net sellers for two years) to lock in low capital gains rates on many highly appreciated assets.
The accumulation of factors will lead to a reset in stock market valuations. 2700 on the S&P 500 (SPY) seems a given. This would be a relatively normal 20% bear market. At these levels forward P/E would still be high.
If a wicked second wave of Coronavirus COVID-19 is occuring, then around 2000 on the S&P 500 is a very real possibility. This would be a severe, but not unprecedented 40% decline in stocks from current levels. Such a sell-off would represent a return to rational valuations for forward 12 month earnings.
My baseline assumption is that we have an emergency use vaccine for Coronavirus COVID-19 around New Years and that we have a broad availability vaccine by Q3 2021. By this winter we will also have much better antivirals.
The Barbell Strategy For 2021 To 2028
The Fed has created a class of "Zombie Stocks." These are companies with no organic growth and heavy debts to pay. The Fed has helped these companies buy time, however, no growth is no growth and debt is debt. These companies will chop for years with many fading away into bankruptcy, takeunders and shrinkage.
The leaders will come in two groups.
The first group will be growth stocks that are tech, communications, consumer and biotech related. They might be tech companies or just use tech well. This group exhibits year-over-year double digit revenue and earnings per share growth with long ramps.
The second group will be investments that are inflation related. The range will include real estate, gold, materials, private equity, currency and cryptocurrency, as well as, other alternative assets.
Alternative energy falls into both categories.
It is important that we understand the dichotomy that is rapidly developing. A couple years ago I told people to start selling their "old man stocks." That is even more important today. The 'Smart Everything' World Can Make You Smart Rich (check out the recs I made then).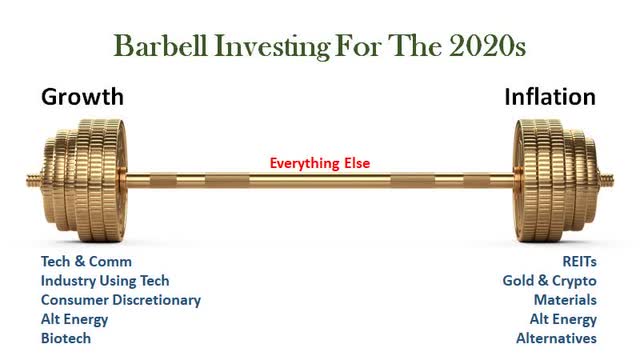 Disclosure: I/we have no positions in any stocks mentioned, and no plans to initiate any positions within the next 72 hours.