Summary
Standout cash-secured puts and covered call ideas.
Some opportunistic hedges.
Screening for ideas.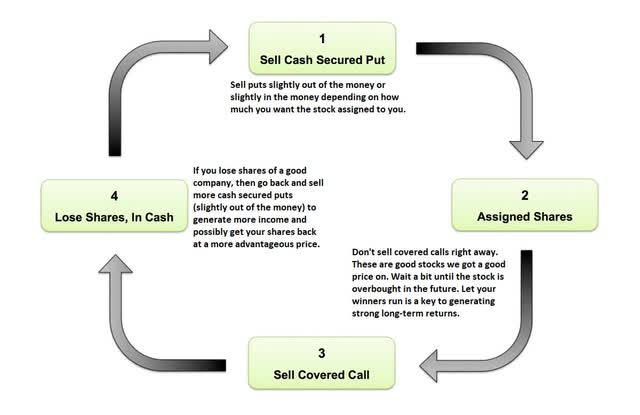 Each Monday (day late this week), I put out lists of covered calls and cash-secured puts using screens at BarCharts and Stock Rover. BarCharts provides option lists using your parameters and Stock Rover allows for easy sorting on financial and technical factors.
I am screening for VSL stocks, as well as, an expanded universe of stocks that used to be on the VSL. Stocks no longer on the VSL should have covered calls written near the money in hopes of getting called away or at least getting a higher premium. Stocks currently on the VSL can be written a bit out of the money to allow for more appreciation, the offset is lower premium.
Below are several of the better ideas that I found this week.
Covered Calls
In general, you want to sell covered calls whenever your stocks are overbought on the daily charts and approaching oversold on the weekly charts. If you are neutral to bearish, covered calls are a great idea.
Stocks that are on parabolic rises and dramatically overvalued should just be sold and bought back after corrections.
Today the stock market features a lot of stocks that are overbought on the daily charts and are approaching overbought on weekly charts.
Here is a list of dividend stocks that are all overbought or nearly overbought. I would look to sell covered calls on near the money for December or January:
It is not a terrible idea to trim out some profits instead of or in addition to selling covered calls if you are looking to cut risk further or raise more cash. Always remember, scale in, scale out, you do not have to trade full positions.
Cash-Secured Puts
In general, you want to sell cash-secured puts when stocks you want to accumulate are oversold on the daily charts and there is not big downside risk on the weekly charts. You ONLY sell cash-secured puts on stocks that you are bullish on.
Stocks that have gone straight down be careful with as there is often a reason. Investigate the reason or event for any straight down moves before selling a cash-secured put.
Today there are not many oversold stocks of high quality or high potential.
Here is a list of stocks that are oversold or approaching oversold. See the Plug & Play stock lists for ideas on which companies to sell cash-secured puts on soon.
I addition to the companies above, I think selling cash-secured puts on the Gold ETF (GLD) is worthwhile. Gold is having a consolidation here. If you can get a net buy price in the lower $170s, I think that is a good deal.
I am looking at selling December and January puts on GLD in the $175-180 range at premiums that bring my net price down quite a bit. If the price of GLD falls just a bit more, then GTC limit orders for GLD should hit.
Sample: Sell GLD January put $180 at GTC limit $10
Hedges
The stock market is overvalued in general and on a run up that is fueled by the Federal Reserve. We know that the Fed has leveled off on asset purchases holding its balance sheet steady for over a month. We don't know what they will do next.
Consider our 4-step process for evaluating stocks when looking for hedges.
We want secular trends, policy, fundamentals and technicals all on our side.
In the case of oil stocks we know that:
secular trends is against oil.
policy is against oil, even if a bit easier in U.S. under President Trump.
fundamentals are terrible due to debt.
technicals are bad due to divestiture movement.
The recent rally in oil stocks that stopped at overhead resistance is likely over or has only a little left. I think you can start scaling into puts on several oil stocks as hedges against the long side of your portfolio or to speculate.
I am buying more puts on Exxon (XOM), new puts on Occidental (OXY), Devon Energy (DVN) and Continental Energy (CLR). It's a basket of companies with different but similar problems.
Exxon will have to cut their dividend and restructure soon enough.
Occidental, Devon and Continental all have more debt than they can ever repay.
All are vulnerable intermediate term and could be vulnerable short-term with a Biden win.
I like buying January puts near the money and rolling out or starting to close about a month before expiration.
Closing Quick Thoughts
The market is teetering more and more as it inches upwards. The Fed has money to spend, but with short positions at 20-year lows and withdrawals high, there's little other fuel for the stock market. I believe we are getting very close to a significant correction followed by a more significant correction.
Disclosure: I am/we are short XOM.
I wrote this article myself, and it expresses my own opinions. I am not receiving compensation for it. I have no business relationship with any company whose stock is mentioned in this article.
Additional disclosure: I own puts on XOM