Summary
Dividend investors naturally consider utility companies for an income portfolio, particularly investors in or near retirement.
Investors in regulated utilities receive a measure of dividend safety but usually give up the potential for explosive growth.
Here are brief snapshots of six utilities, one of which is being added to one of our Watchlists (aka Very Small Lists).
Utilities Are A Natural For A Retiree Income Portfolio
Dividend investors often consider utility companies even though utilities are a relatively small part of the total stock market's value. As of November 30, the market cap of utilities in the S&P 500 Dow Jones Indices represented just 2.90% of the total S&P 500 Index market capitalization.
However, as of December 2, the four utilities in my retirement income portfolio represented 15.6% of the portfolio market value and 20.2% of the portfolio income. This sector allocation is at the top of my target range, but significant utility exposure is not unusual for investors in or near retirement.
Regulated utilities give investors an added measure of dividend safety as regulators "allow" investors to receive a target return on their investment. This puts a limit on growth. The utility sector is changing due to distributed energy (such as solar panels on roofs) and the emergence of non-regulated utilities.
Snapshots Of 6 Utilities
Here are brief snapshots of six utilities from our Watchlists (aka Very Small Lists), presented in alphabetical order.
American Electric Power Company, Inc (AEP) is being added to our watchlists this week. AEP serves 5.5 million customers in 11 states. They have developed a greatly improved transmission line technology. The current yield is 3.45%. The high yield for the past 6 years reached 4.1% in 2015.
AEP's payout ratio for 2017-2019 averaged 65.4%. Electric capacity is 45% coal, 28% natural gas, 17% renewables, and 7% nuclear. Nick Akins has been CEO since 2010. His parents were friends of mine and I met him a few years ago. He's 59 and an effective leader.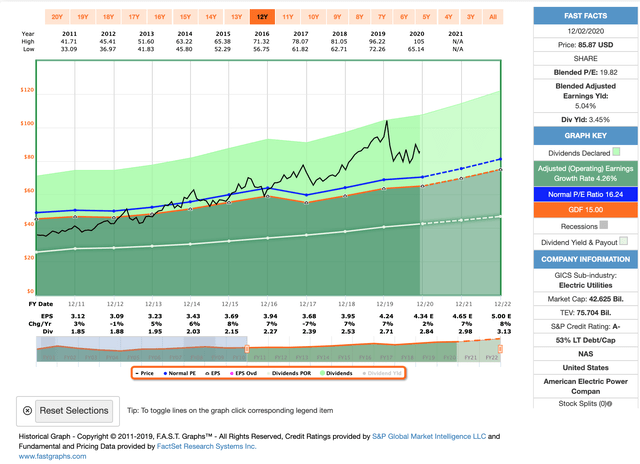 From F.A.S.T. Graphs
Brookfield Renewable Partners LP (BEP) is the only non-regulated utility on this list and a subsidiary of Brookfield Asset Management (BAM). Like each component of the Brookfield family of companies, BEP seeks a 12%-15% long-term annualized total returns by "prudently acquiring, building and financing assets, and actively managing its operations."
BEP seeks to increase its annual distribution by 5%-9% from organic cash flow growth and project development. 64% of its international portfolio is hydroelectric power, with the remainder in wind, solar, distributed generation and storage. The current yield is 2.90%. The high yield for the past 6 years reached 10.9% in 2016. As the late Keith Jackson used to say, "Whoa, Nellie!"
Duke Energy Corporation (DUK) serves 7 million electricity and gas customers in 6 states, with 3.4 million of those in North Carolina. Duke's non-regulated division, Duke Energy Renewables, operates wind and solar power facilities in 14 states. The current yield is 4.11%. The high yield for the past 6 years reached 5.1% in 2018.
The average payout ratio for 2015-2019 was 84.5%. Per DUK's 2019 Annual Report, the percent owned capacity for electric production is 42% natural gas/fuel oil, 33% coal, 18% nuclear and 7% hydro and solar. Duke's stock price received a boost on September 30 when news broke of an offer from NextEra Energy (NEE) to buy Duke.
NextEra Energy operates two regulated utilities. Florida Power & Light distributes power to over 5 million customers in Florida and contributes over 60% of the company's operating earnings. Gulf Power distributes power to 470,000 customers in the Florida panhandle.
NEE's renewable energy generates and sells power throughout the U.S. and Canada. NEE describes itself as the world's largest producer of wind and solar energy and "one of America's largest capital investors in infrastructure."
The current yield is 1.88%. The high yield for the past 6 years reached 3.4% in 2016 and 2017. The average payout ratio for 2015-2019 was 47.5%.
NextEra seeks to be an ESG leader in sustainability and renewable energy, indicating that in 2019, "97% of the power produced by NextEra Energy's facilities was generated from a diverse mix of clean or renewable sources, including wind, solar, natural gas and nuclear."
WEC Energy Group (WEC) serves 4.5 million customers through electricity and gas operations in Illinois, Michigan, Minnesota and Wisconsin. WEC also owns 60% of American Transmission Company. The company's asset mix is 52% electric generation and distribution, 33% gas distribution, 13% electric transmission and 2% unregulated renewable generation.
The current yield is 2.64%. Over the past 13 years, the high yield reached was 3.9%. The market consistently awards this utility a premium valuation. The average payout ratio for 2015-2019 was 63.9%, slightly below WEC's target payout ratio of 65%-70%.
Each of these companies has a strong ESG profile with ambitious goals for reducing their carbon footprint. WEC's November "Investor Book" provides a detailed description of their environmental efforts, as well as this graph of their history of dividend growth: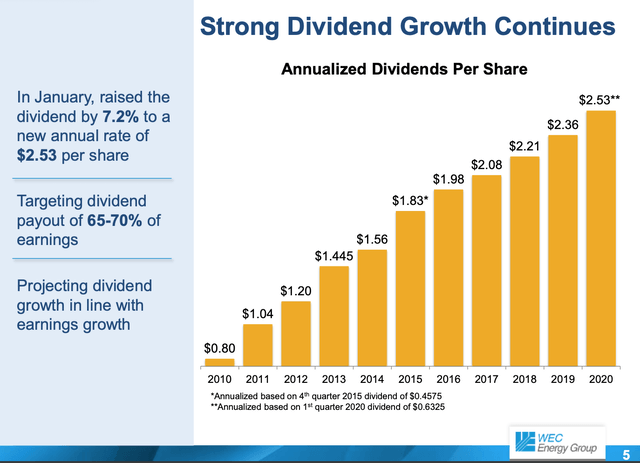 From WEC Energy "Investor Book"
Xcel Energy (XEL) serves 3.7 million electric customers and 2.1 million natural gas customers in 8 states from Michigan to New Mexico through three regulated utilities: Northern States Power, Public Service Company of Colorado and Southwestern Public Service Company.
XEL is one of the largest renewable energy providers in the U.S., with 28% of its electricity sales generated by renewable sources. Over the past 6 years, the high yield reached was 4.0% in 2015. The average payout ratio for 2015-2019 was 62.9%.
In the table below, Price is the 12/2 closing price, S&P is the Standard & Poor's credit rating, and CCC is the number of consecutive years of dividend increases.
At A Glance
| | | | | | |
| --- | --- | --- | --- | --- | --- |
| Utility | Price | Yield | S&P | CCC | 52-Week Range |
| AEP | 85.87 | 3.45% | A- | 11 | 65.14-104.97 |
| BEP | 59.89 | 2.90% | BBB+ | 11 | 24.06-64.94 |
| DUK | 93.87 | 4.11% | A- | 16 | 62.13-103.79 |
| NEE | 74.31 | 1.88% | A- | 26 | 43.70-83.34 |
| WEC | 95.76 | 2.64% | A- | 17 | 68.01-109.53 |
| XEL | 68.68 | 2.50% | A- | 17 | 46.58-76.44 |
Kirk Quick Thought
I've added a chart to show comparatively how these companies compare, along with Avangrid (AGR) which a subscriber mentioned. Clearly NEE and BEP are the leaders. And, they are indeed the clean energy leaders as well.
A good point is made in comments that those that catch up could fetch a premium at some point. I think that's worth considering. However, I would be inclined to buy NEE and BEP on pullbacks as they don't have the legacy problems that will become expenses to change.

Disclosure: I am/we are long Retirement acct: JNJ, ADP, PG, CL, MRK, CSCO, NWN, MMM, PEP, UL, TXN, PFE, BMY, GPC, FRT, CDUAF, ED, O, DUK, CPT, PLD, VZ, T, WPC Other: MSFT, AAPL, WMT.