Summary
Read "Using Plug & Play ETFs" before you do any buying or selling.
Determine the appropriate cash level for the type of investor you are and where you think we are in the investment cycle.
QQQ belongs in your asset allocation.
Remember to scale in so that you can scale out later.
The 2020s will be marked by huge technological and social change. The 4th Industrial Revolution is underway. The move to a sustainable economy is now being led by business, investors, government and the general population. Your selection of ETFs for your core asset allocation will be greatly influenced by these realities.
Our Plug & Play ETFs are my preferred ETFs for building asset allocations. If you can find close substitutes, feel free to use.
We offer a slow handed tactical approach to upgrading your portfolio each month by taking into account valuation and momentum of market sectors.
Read Using Plug & Play ETFs to minimize your risk and maximize your profit potential.
Also read Using ETF Trends for shorter-term opportunties to deploy cash into rising trends or make swing trades with ETFs.
Current Cash Levels
| | | | |
| --- | --- | --- | --- |
| Investor Category | Defensive | Cautiously Optimistic | Pedal To The Metal |
| Current Cash % | 50-40 | 35-20 | 15-10 |
| Long-term Cash % | 12-4 | 4-2 | 2-1 |
Plug & Play vs ETF Trends
Plug & Play is the STRATEGIC long-term part of your portfolio. It can be all of your portfolio. ETF Trends is for the TACTICAL portion of your overall portfolio. You do not have to use ETF Trends.
If you do use ETF Trends, then set a percentage of your overall portfolio that will be more short-term in nature, for example, 10%, 20%, 25%, 40% or 50%. If you use ETF Trends, then reduce the P&P percentages proportionately based on the amount you allocated to ETF Trends tactical portion of your portfolio.
QQQ In Your Core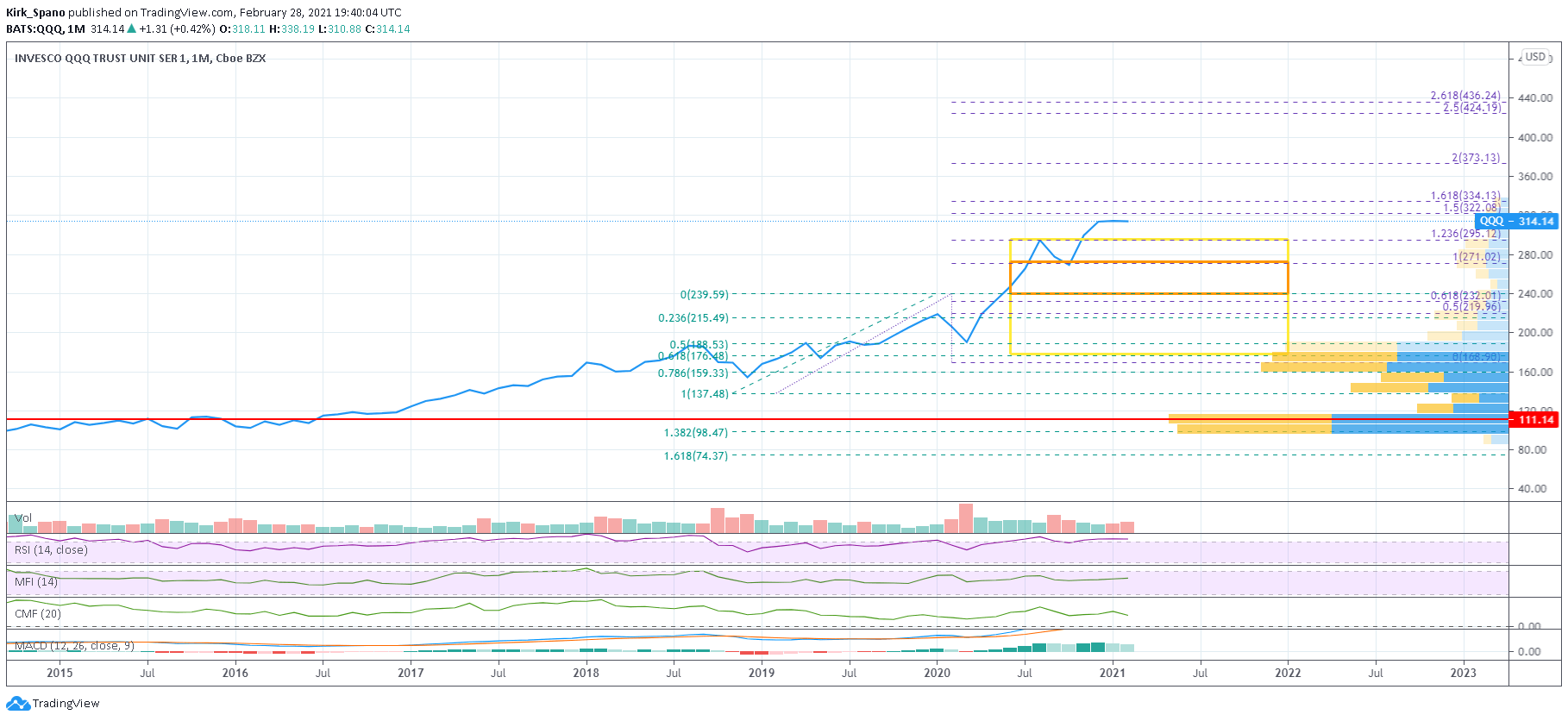 Global Trends ETF
Designed to be 80% equity and 20% alternative STRATEGICALLY over time. For long-term growth investors.
Global Trends ETF Quick Thoughts
It certainly can't hurt to have income flowing into an account if you're not giving up appreciation. I am adding two CEFs (Closed End Funds) for the sectors they are involved in and to add income flow to growth portfolios for purpose of accumulating cash to have to buy opportunities.
See below for more on the Blackrock and Cushing CEFs.
The SPAC & New Issue ETF is run by a manager that I knew a long time ago. Interestingly, he saw what I did on SPACs, that is, buy as close to the IPO price as possible and let the hype cycle play out. This is exactly what we are doing with picking out a basket of near-the-IPO priced SPACs to speculate on. This is a systematic way to play a bigger part of the space if you don't want to pick out a basket yourself or you want to diversify your picks a bit.
Retirement Trends ETF
Designed to be 60% equity, 20% alternative and 20% fixed income (CEFs) STRATEGICALLY over time. For balanced investors, often retirees or near retirees.
| | | | |
| --- | --- | --- | --- |
| ETF Equities | Symbol | Buy Zone | % |
| Invesco QQQ | (QQQ) | $296-177 | 12 |
| Black Rock Science & Technology Trust | (BST) | $49-29 | 12 |
| ARK Innovation | (ARKK) | $104-63 | 6 |
| Invesco Wilderhill Clean Energy | (PBW) | $88-47 | 6 |
| Cushing Next Gen Infrastructure | (SZC) | $40-23 | 12 |
| Utilities Select Sector SPDR | (XLU) | $60-53 | 6 |
| Berkshire Hathaway | (BRK.B) | $233-186 | 6 |
| Build Your Own REIT basket. | — | — | 12 |
| VanEck Gold Miners | (GDX) | $37-21 | 16 |
| WisdomTree Int'l Hedged Quality Dividend | (IHDG) | $38-27 | 6 |
| Emerging Markets Internet & Ecommerce | (EMQQ) | $55-29 | 6 |
Retirement Trends ETF Quick Thoughts
Technology is still King, but having exposure in income generating ways is difficult. Previously, we have been using the First Trust NASDAQ Technology ETF (TDIC), however, it's returns are lacking. You can certainly still use it, but I am recommending switching to the BlackRock Science & Technology Trust closed-end fund (BST) [there is another of similar name with slightly different stocks of slightly smaller capitalizations].
I was working in the brokerage industry in the 1990s and early 2000s when closed end funds were the rage. In general, CEFs carry high expenses, convoluted distribution strategies that disguise true value and mediocre or worse long-term performance. If we use a CEF, it is going to be as similar to an ETF as possible, with some of the real benefits that CEFs offer, such as, fixed number of shares and ability to sell options for enhanced income. In general, I want CEFs with leverage lower than 35% to avoid excessive risk taking.
Here are the basics of BTW. I will be writing a broader "CEF File" on it soon, however the bullet points are:
similar risk as TDIV
better returns than TDIV and even QQQ
high quality stocks
about 20-30% global for good diversification
uses an option selling overlay (like Retirement Income Options) to increase income and manage risk
pays monthly distribution about double that of S&P 500
The chart below shows that the premium has narrowed dramatically recently. While you want to click on the technical chart linked above for buy zone, trying to get this as close to par as possible is also a goal.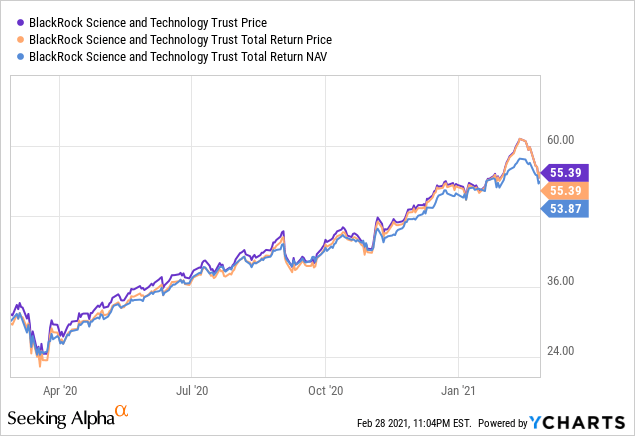 [object HTMLElement]
Other notes:
There is major consolidation coming in the utility space. See what happened in Texas recently. There needs to be scale built and synergies utilized to handle the electrification of transportation and incorporation of clean energy. Expect half as many utility companies to exist by the end of the decade due to mergers. Consolidation, and some government loan guarantees for building transmission, will drive a rally in utilities at some point. XLU is in the buy zone, though could trade a few dollars lower yet.
I want to own real estate, but there isn't a fund I would invest in. Not an ETF, not a CEF, not in a box, not with a fox, I will not buy a real estate fund, not here, not there, not anywhere. So, we have to build our own basket of REITs to get real estate exposure with income. Of note, the Cushing CEF has some REIT exposure, in particular (AMT) and (CCI), so we can skip those in our "build your own REIT basket" sleeve.
I screened the entire bond universe of ETFs and CEFs, there is nothing that has any lower risk than equities at this point. Anywhere I look, fixed income risk is as high as equity risk, so, what's the point. Buy alternatives instead, i.e. gold stocks and REITs with some value.
I'll be doing a piece on the Cushing CEF, for now visit their website and read this:
Factsheet-December-2020

Disclosure: I am/we are long several ETFs. Positions can change at any time.