Summary
If you want to ride an upward trend, use these price levels as a guide to scaling in and scaling out.
We will NEVER buy on an overbought weekly or daily chart.
Many times riding an upward trend results in owning overvalued positions, daily due diligence is required.
Always use a trailing stop for at least half of your position.
Ride your winners as long as you can.
The ETF Trends weekly update is a simple approach to buying into an upward trend in our Plug & Play ETFs or to catch a pivot. We will not buy ETFs overbought on weekly charts.
All of the Plug & Play ETFs are on this list to help you build those positions.
Also included are ETFavorites that have met screening criteria to indicate the ETF might be tradable in the 1-6 month time frame.
Signals and levels are generated using a 2 year qualifying period for quant data and shorter term technical indicators.
Make sure to read Using ETF Trends before starting.
ETF Technical Data Dump
Here is this week's TradingView ETF technical screening using daily charts for the entire ETF Favorites VSL (and maybe a few extras):
ETF Trends Weekly 3/1/2021
Plug & Play ETFs
| | | |
| --- | --- | --- |
| ETF Symbol | Top Of Buy Zone | Notes |
| (QQQ) | 296 | upside and downside of about 100 pts in either direction. Coming off a decent correction with indicators turning up. If it breaks above $335 can have a quick ride to $373 and potentially $436. https://www.tradingview.com/x/LqOxmTzN/ |
| (BST) | 49 | Similar to QQQ, if it holds $56, can rally to $60 then $67ish. Danger below $55 with downside to $48. Indicators suggest rally to $60, but signals are weak. |
| (ARKK) | 104 | Has hit confluence of first level supports around $130. If it holds that level, can rally to a double top to about $157. Can breakdown to $105 quickly on market weakness. |
| (PBW) | 88 | I think PBW tells the story of the market. It looks poised to either breakdown to encourage a massive consolidation or make one last rally back to about $137 for a double top. Indicators are suggesting the double top scenario, but weakly. https://www.tradingview.com/x/kGWbkulj/ |
| (BRK.B) | 233 | Probably the safest equity in the market to buy. Could rally to $286 on its own buybacks. Any correction would be mild and set-up buying opportunity for Berkshire's massive cash war chest.https://www.tradingview.com/x/lQlXpvv9/ |
| (SOXX) | 379 | Probably most upside if a rally continues due to tight semiconductor market. Could definitely rally to $500 on bullish market.https://www.tradingview.com/x/E4fneV9X/ |
| (SZC) | 40 | Newish portfolio has roughly tripled since March. Needs a breather, but could rally 20% on final innings of a bull market. Indicators again seem like last gasp rally if nothing bad happens.https://www.tradingview.com/x/BJqBXeEg/ |
| (SPCX) | 31 | SPAC IPO strategy, buy any 5-10% dip. |
| (GDX) | 37 | Needs to hold current levels, if it does, could be off to races again towards highs. If not, has another 10% or so of downside. Hard not to be in this one here given limited downside. For those already with full positions, hold your nose. |
| (XLU) | 60 | Consolidation is setting this up for a big rally when consolidation announcements come. Already Texas ute declared bankruptcy today. Almost oversold on daily. At about $57 I start scooping this up. Can sell puts on it now.https://www.tradingview.com/x/g94zxQOR/ |
| (IHDG) | 38 | If dollar strengthens as I expect, this could go from consolidation to correction quickly. Caution. |
| (EMQQ) | 55 | If dollar strengthens as I expect, this could go from consolidation to correction quickly. Caution. |
Technical Setups
Here are some higher conviction setups that you can use this week or next if things continue to play out. When trading using daily charts, you must monitor these positions daily, usually at least pre, mid and post market.
Select Sector SPDR Utilities (XLU) has is hitting strong support on a multi-month consolidation pattern. It has limited downside at this point and looks to be setting up to pivot higher. I think $56-57 is a buy. I think selling $57 April puts for over a buck is also a good move.
https://www.tradingview.com/x/fDIlAymT/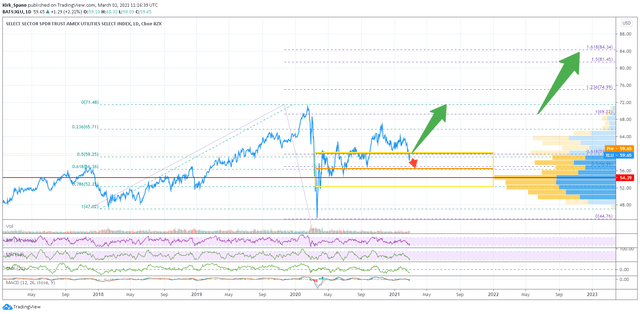 Van Eck Gold Miners (GDX) has all the fundamentals going for it, but sentiment has been weighing it down during the Bitcoin mania. It's hard to predict when Bitcoin will get Yellen'd, but it's a matter of when, not if, in my opinion. In addition, while I don't have high expectations for inflation, I have some definite reflation expectations. The rest of the market will narrate that as inflation at some point when we have a hot quarter.
Gold has little downside from here short of an overall economic meltdown. The Bollinger bands are setting up for rebound. The weekly RSI is almost oversold. So long as $28-31 region holds, GDX is setting up for another leg higher, possibly new highs. Earnings will be catalysts soon.
I think buy in the $28-31 range if your asset allocation allows for it, or sell puts in that range that make sense for your asset allocation if assigned.
Weekly:
https://www.tradingview.com/x/trnvIrH0/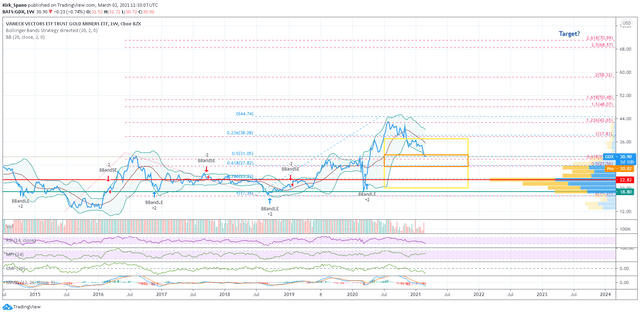 Daily:
https://www.tradingview.com/x/5z90jh8I/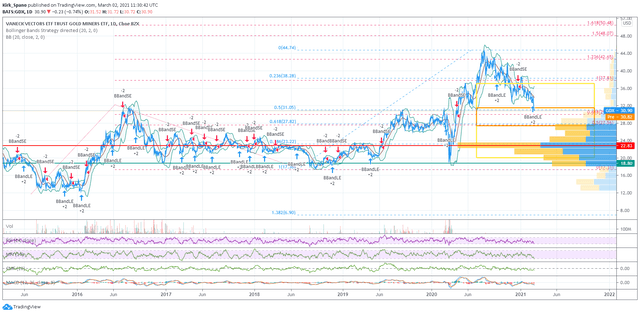 Invesco Agriculture (DBA) is just breaking out after a multiyear decline. This is a buy the dips fund and could arguably be in the Plug & Play, except that it's outside of may people's comfort zone. It's a hedge on food inflation, which I think we're going to get given fertilizer market being tightened into impact of climate change and water issues.
Weekly:
https://www.tradingview.com/x/LHCmtWJb/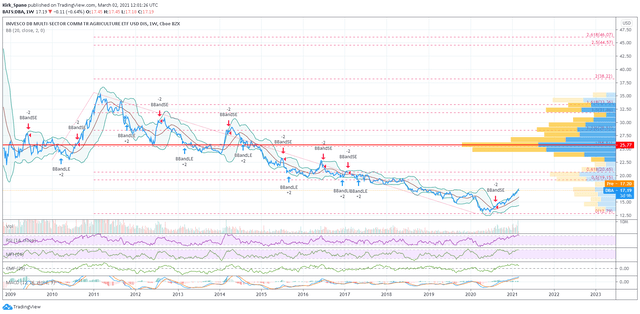 Daily:
https://www.tradingview.com/x/3km7DyaZ/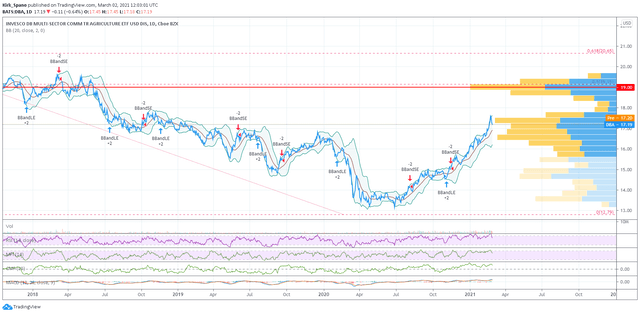 I think you can buy it at the Bollinger center line, about $17 and ride it to breakout past $19 to around $20-21.
Investment Quick Thoughts
There are a lot of coin flips out there. Valuations are beyond stretched, but money keeps finding its way into stocks. Lately, the market has jitter bugged and the uptrends are either breaking down, or taking a break to refresh to the upside. As always, consider your real risk tolerance first.
Here's an example of an ETF with mixed signals. The Select Sector SPDR Materials ETF (XLB).

If the uptrend holds, then XLB could breakout to the 3.618 Fib around $88/share. If the trends breaks down, it's a pretty quick trip to around $65 where it would need to hold to avoid a larger correction.
Disclosure: I am/we are long QQQ.
I wrote this article myself, and it expresses my own opinions. I am not receiving compensation for it. I have no business relationship with any company whose stock is mentioned in this article.
Additional disclosure: Positions subject to change.