A Game Plan For A Correction
Summary
Several of our P&P stocks are now in the top of their buy zones.
It's time to prioritize what you want to own and start to enter GTC limit orders to buy stocks.
Here's the priority list as I see it with prices to try to get.
The stock market has gotten choppy as expected. Here's some thoughts on what to do about it.
First, remember, wait for extreme downward momentum to break before buying more than starter positions.
Second, don't fall for head fakes. Let weekly RSI get close to oversold on your favorites. The daily oversolds will pop for several days before resuming downward corrections.
The Big Market (SPY) (VOO)
The broad S&P 500 is taking a bit of a digger after just missing the 1.618 Fib level. Will this be a full rejection or does it just mean hitting the shiny round object, 4000 on S&P 500, is a bit delayed. I suspect a bit delayed.
The 1.236 Fib level is serving as the first firm support at 341 on SPY. That's the top of our buy zone. The correction could certainly stop around 359 which is a weaker support level.
As the S&P 500 gets in that 359-341 range, you should get very serious about cherry picking stocks. The S&P in that range is your first buy signal if it isn't crashing at that point.
The daily RSI would be oversold in that price range sometime next week.
Here is the daily SPY chart. A sell signal based on Bollinger Bands already happened, so, this downtrend is not unusual in any way, especially with valuations high.
https://www.tradingview.com/x/7MAoe73q/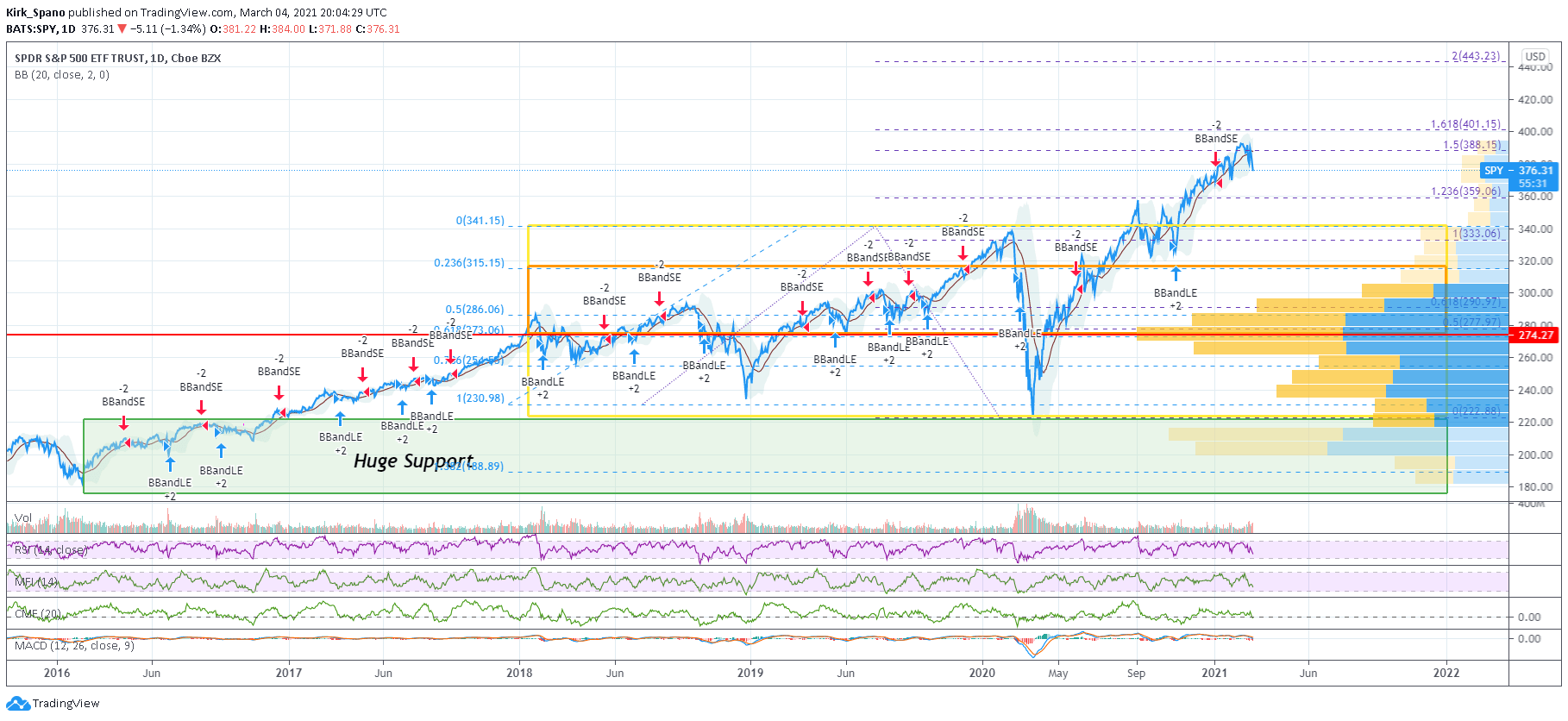 That said, if interest rates go past 2% on the 10-year Treasury, then we could be in for a bigger correction vs the 2015-16 rotating corrections I think is more likely by a hair.
The weekly chart shows a different story. It's not impossible that we get the bigger short-term correction. But if we do, it's clearly a broad buying opportunity ahead of a reopening of the economy over the summer (except states run by stupid governors who are repeating their mistakes and political rhetoric from a year ago).
Here's the weekly chart which clearly shows room below that the market could go.
https://www.tradingview.com/x/FYgEcDdm/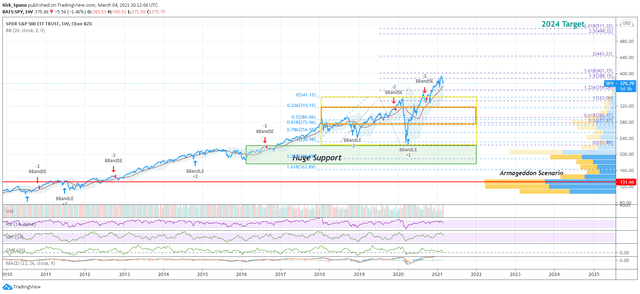 SPY is not oversold on the weekly chart and it could get there. But, things aren't usually that easy. If we get weekly oversold, then back up the truck. I think an RSI in the 40s is probably as bad as it gets. But, again, we'll see.
Technology Is Still King
(QQQ) is pulling back and might not be done yet. It's "THE" quality index. It's not quite where I'd want to buy it, which is somewhere between $270 and $240, but it seems to be getting there. And, remember, there's room to head to $200 if there's hiccups in the economy, but with the stimulus about to be passed and the Fed not letting up during the rest of Powell's term, I'd be pretty surprised to see QQQ below $240 at this point, but we'll see.
https://www.tradingview.com/x/LHONywsP/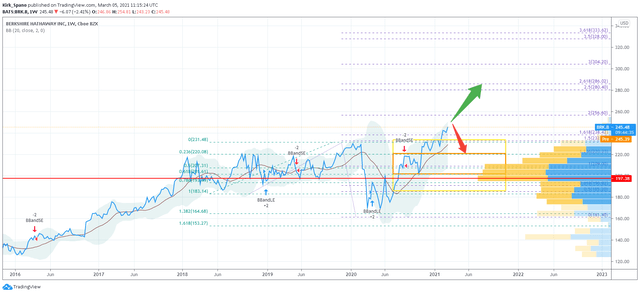 Closed-end fund BlackRock Science & Technology (BST) is the divendy way to play big tech.
https://www.tradingview.com/x/xvfbBsYW/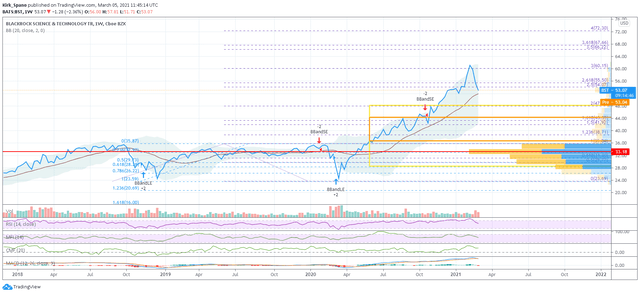 (SOXX) Semiconductors are the King of Kings. Essential to modern technology, tight on supply and subject to tradewars. Not the super risky cyclical investment people thought a decade ago. Semiconductors are part of the secular trend that will last a long time. Under $300 would be a gift.
https://www.tradingview.com/x/vej70V5E/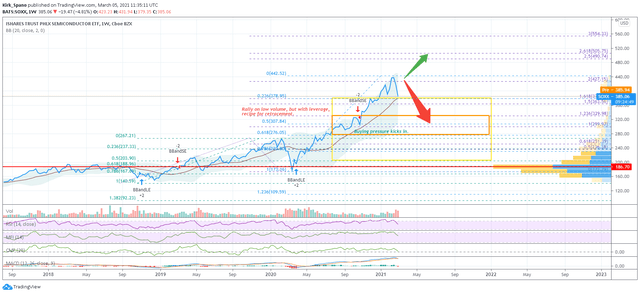 Sustainability Is Still Prince
(PBW) I absolutely want to own this and it's looking like it might give me a redo. It's quickly coming off of the weekly overbought and is under $100 per share already. Hmmm, it was in the $130s a couple weeks ago, who woulda thought? Would love it around $70.
https://www.tradingview.com/x/AaCqv8aG/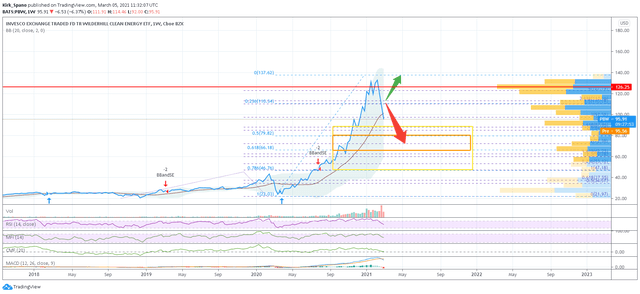 I love a good (TAN) too, but PBW is the more diversified way to play sustainability and has done well compared to other ETFs.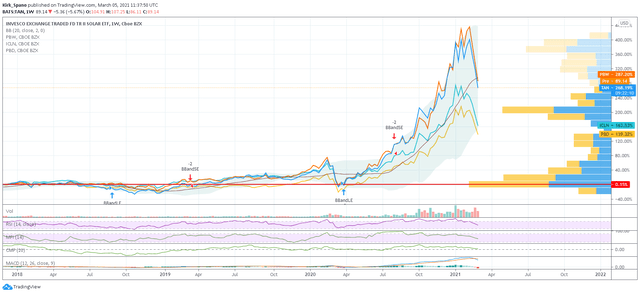 Let's Rebuild The World
The only way to fix the economy is to rebuild the world even though we never finished in the first place in 75 years since WWII. Here's the old, new way to play it. This is an old ETF repurposed. Almost all new holdings since spring 2020.
(SZC) Cushing Next Gen Infrastructure love to get this one in the lower $30s.
https://www.tradingview.com/x/xjq0Fok6/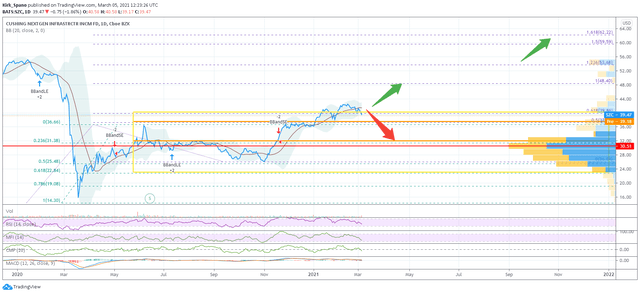 International Travel
My absolute favorite international ETF is the Concepts Emerging Markets Internet & ECommerce ETF. It's loaded with secular leaders in emerging markets, including Chinese names like Alibaba (BABA) and TenCent (OTCPK:TCEHY). With China warning about bubbles and rattling cages, this might be a great chance to buy the basket on a bit more pullback. A price in the $50s would be great.
https://www.tradingview.com/x/6cIY8jBq/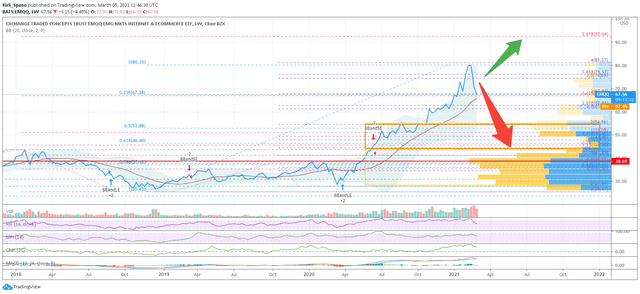 (IHDG) is the boring international divi payer we all need a little bit of if we're retired. Under $35 is when to shop. I think we need to build an international basket of dividend stock favorites though. The diversified international ETFs, and mutual funds, are weirdly mediocre.
https://www.tradingview.com/x/lE9oSeaf/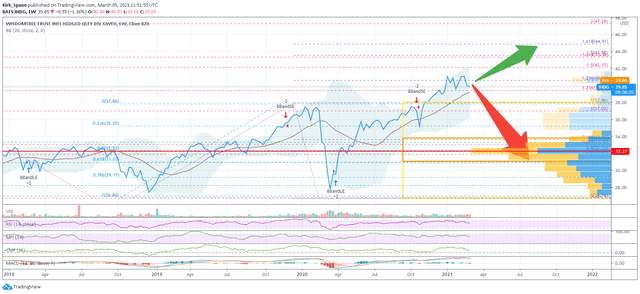 Focus On Quality Stocks
During corrections you want to focus on quality. You don't get a lot of chances to buy the known great stocks for cheaper than a year ago. If we get those chances, then we want to take them.
Here are 10 stocks I am focused on in order of preference:
(AAPL) duh, it's only a matter of time before it runs to $200/share. If we can get Apple in the $80s we want to do that. We even have to think about it anywhere below $100 I think.
I'm setting a GTC buy limit at $86 for 2% of NAV (net asset value: the value of all your holdings across all accounts). I can move it up if I want later on.
https://www.tradingview.com/x/7W2lQbjR/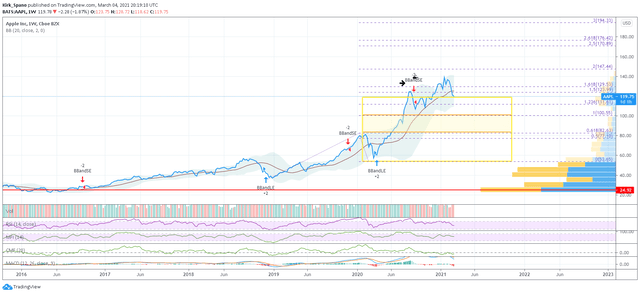 (MSFT) other duh. Microsoft is a beast. If you can get it under $200, you have to think about it if making 20 something percent on your money on average is worth your time.
(GOOG) this would be a triple duh, but it's so far away from me, so far I just can't see, you're so far way from me, oh, sorry, started singing. I need GOOG down in the $1600s or lower to start feeling good about it.
(AMZN) it's so far away too. I need it below $2400.
So, it just might worthwhile playing QQQ and nibbling some Apple.
(BRK.B) Probably the safest stock in the market. Who else could buy a $100 billion of shares back if they wanted. Oh, yeah, Apple. In any case, expect the next rally to include Berkshire to $300.
https://www.tradingview.com/x/LHONywsP/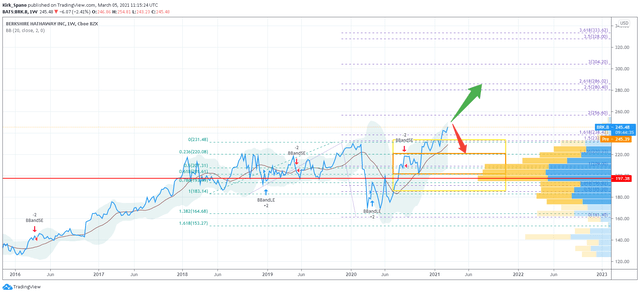 Plug & Play Growth
Quite a few are getting interesting. For the semiconductors, I'm very likely to just do (SOXX), but you can cherry pick the names on P&P if you like.
My focus is on SunPower (SPWR). I think it'll have a redux rally after this correction and I still think it's a $10b member of the S&P 500 soon with a share price over $70. It's basically a double or triple from here already.
https://www.tradingview.com/x/FzmKDvPF/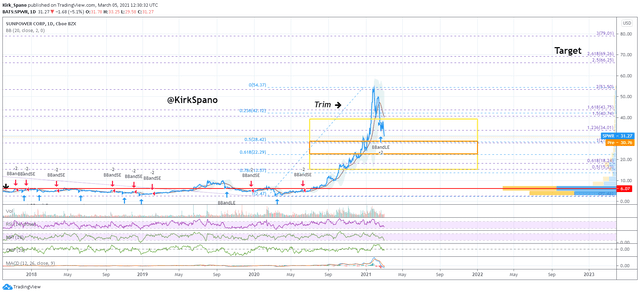 Square (SQ) is also on my short list. So good with small biz and they have the infrastructure for whatever the crypto future looks like (digital dollar).
I've traveled (TA) a few times and think I will go for another ride soon. Originally an idea because I thought buying a couple truck stops made sense. I still do. Highway charging is going to be a thing. Oh, and trucks. And food. And walking the dog. Stuff. Get's pretty attractive under $20.
https://www.tradingview.com/x/rl0CEgIk/
Plug & Play Dividends
Lockheed Martin (LMT) is a powerhouse, I want it for the long haul. One my biggest regrets not buying in 2018.
https://www.tradingview.com/x/jdab3qwZ/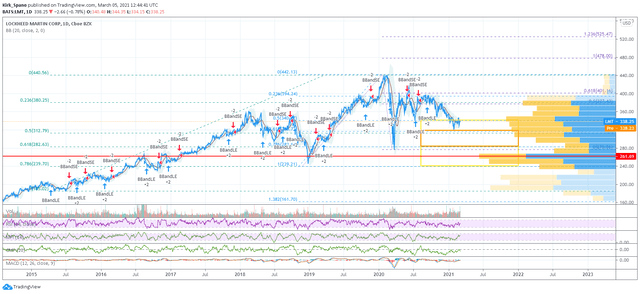 After Lockheed, I'm focused on the REITs on our list, in particular (STAG) for the industrial rebound and supply chains moving back to America, and (OTC:VICI) for the entertainment rebound (and that Venetian purchase is amazing).
https://www.tradingview.com/x/1ZHry8uy/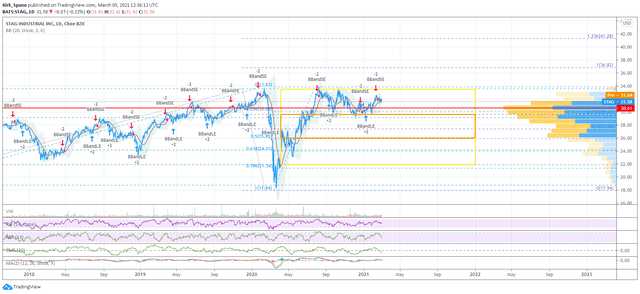 https://www.tradingview.com/x/E8cU4SAf/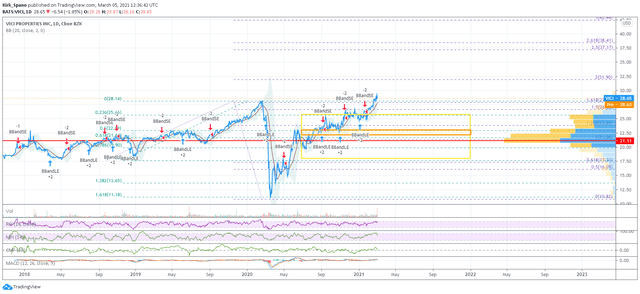 The telecoms are still good buys too with fat dividends.
(T) HBOMax prepared for lift-off and phones getting satellite enabled. On a Bollinger buy signal.
https://www.tradingview.com/x/3DWUWWPy/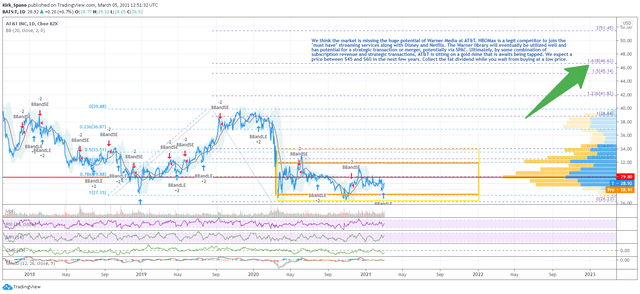 (LUMN) is preparing for a deal, maybe similar to AT&T's DirecTV deal. Maybe part of it.
https://www.tradingview.com/x/rTZNI0Wm/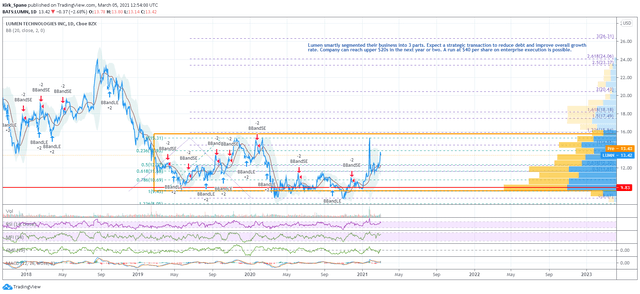 (KMI) is the last fossil fuel play and it's a good one. Irreplaceable gas pipelines, backdoor on hydrogen, dividends, high insider ownership, suitors.
https://www.tradingview.com/x/rIhRgkS2/
A Chance To Add SPACs
While this will seem like a contradiction to the "focus on quality" it's not. Since when has been owning a cash rich company not been quality. The pre-deal SPACs are loaded with cash. So, if you haven't added the high quality management, big cash pile, focused on growth sectors IPO priced SPACs I've listed here they are again. I'm rounding my starter positions up to 2% as many have dipped substantially.
| | |
| --- | --- |
| Company | Apprx Purchase Price |
| Ares Acquisition Corp (AAC.U) | 10.50 |
| Ajax I (AJAXU) | 13.50 |
| Apollo Strategic Growth (APSGU) | 10.75 |
| Cohn Robbins Holdings (CRHCU) | 12 |
| Fortress Capital Acquisition (FCAXU) | 10.75 |
| Liberty Media Acquisition (LMACU) | 13.50 |
| Spartan Acquisition Corp III (SPAQU) | 10.75 |
| Soaring Eagle Acquisition Corp (NASDAQ:SRNGU) | 10.75 |
Here's a nightly summary report on SPACs. It's a good site, at least visit it from time to time just for the summaries.
Made A Deal SPACs
(MP) remains volatile. We got our rally off of the descending triangle, now its' coming back. I'll stick by saying buy MP around $30 or sell cash-secured puts around there. Still think it's an S&P 500 component eventually on rare earth metals processing.
https://www.tradingview.com/x/zHwCSaIX/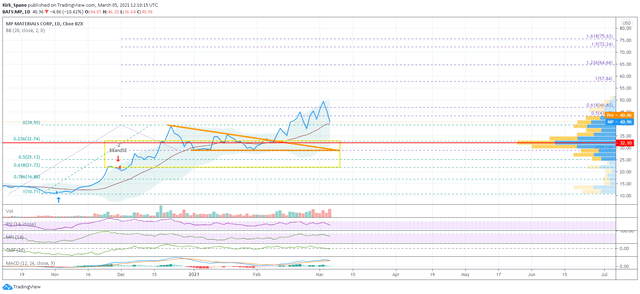 (FST) is looking very good to me on reopening. Downtown Vegas, online gaming, hundreds of restaurants…
https://www.tradingview.com/x/o2nfxwTl/
New Providence / SpaceMobile (NPA) is going to change the world with its low earth satellites freeing AT&T (T) and Vodafone (VOD) from needing to build rural infrastructure.
Disclosure: I am/we are long T, LUMN, KMI, MP.
I wrote this article myself, and it expresses my own opinions. I am not receiving compensation for it. I have no business relationship with any company whose stock is mentioned in this article.
Additional disclosure: I own all the SPACs and several other stocks and ETFs.