Summary
Cathie Wood's Ark Innovation ETf has been one of the most successful funds over the past 5 years.
We first suggested this fund to members back in late 2018.
ARKK's rally since the depths of the Covid Crash through January was breathtakingly amazing.
In the past month however, the now popular ETF has come crashing to earth. Where will it land?
Taking a look at the underlying holdings yields a clue.
ARK Innovation (ARKK) has been a world beater with a focus on new tech leaders. Combined with a great thesis, good trading, tailwinds from Fed policy and the meme investor generation, ARKK has grown from a few billion in assets to around $30 billion.
The fund is undergoing a deep correction right now and could be a target for investors to jump back into soon. By breaking down the technical fortunes of the top ARKK holdings, we can find some clues.
ARK Chart
For most ETFs, a simple set of technical charts and indicators can give a good idea of where a bottoming zone might be found. ARK Innovation though is very focused and it's fortunes rest on its top holdings even more so than other funds. Here's ARK's daily chart.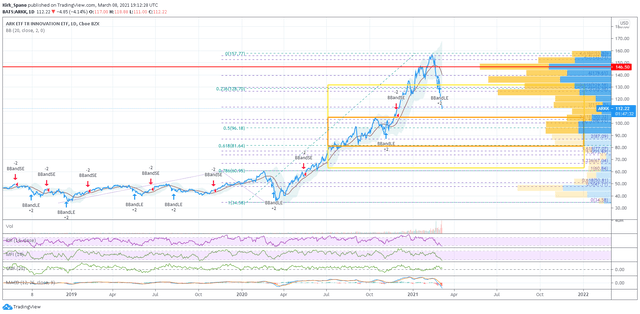 As members will notice, ARK crested right at a .618 Fibonacci line. In this case, the 4.618 which was a screaming anomaly of a breakout.
We use "Fibs" as one of our charting devices given the weirdness that these lines are approached from both directions over and over. Who knows why? Nature. So many people using the lines in their trading. Who cares. It happens.
In ARK's case a 4.618 blows away the more normal 1.618 and 2.618 more typical targets. You'll also notice in the chart that the 2.618 line held as resistance a couple times before a breakout, with barely a sniffle near 3.618.
The takeaway was that this was a historic rally. Now, we are seeing a deep correction. Price is heading towards the 2.618 extension line again and possibly towards the .618 retracement line which would be a fairly typical correction. I would expect the correction to end somewhere in the orange box.
ARK Holdings
Looking at ARK's biggest holdings can also give us some clues. Tesla (TSLA) is ARKK's biggest holding at 9.99%. Square (SQ) is in second place at 6.28%. Both companies have something in common: Bitcoin (BTC-USD).
Tesla of course has a new $1.5 billion exposure to Bitcoin. This position was taken in between January 2021 and February 5th, 2021 after they updated their investment policy to allow that they "may invest a portion of such cash (not required to maintain adequate operating liquidity) in certain alternative reserve assets including digital assets, gold bullion, gold exchange-traded funds and other assets as specified in the future. Thereafter, we invested an aggregate $1.50 billion in bitcoin…"
Square announced it had added $170 million in Bitcoin in February to go along with its $50 million purchase in 2020 at a substantially lower price. The initial $50 million was worth $136.5 million as of December 31st, 2020. Square's position amounts to about 5% of their cash reserves.
So, it is easy to see that there are two layers to consider with ARK's two largest holdings: corporate performance and the value of Bitcoin.
As members know, I believe that Tesla is a spectacular company, but we haven't been interested in investing in it in a while. Competition is mounting and the company has still never been consistently profitable on its automotive sales.
Square I am totally impressed with as an operating company and expect it to continue to grow. However, it's valuation ratios far exceed their likely growth at this point.
Both companies have the Bitcoin wildcard impacting them in addition to business execution risks. Due to that, the technicals might be the only tool we have to help us in the short run with either stock.
Tesla Charts
Here's Tesla's daily chart: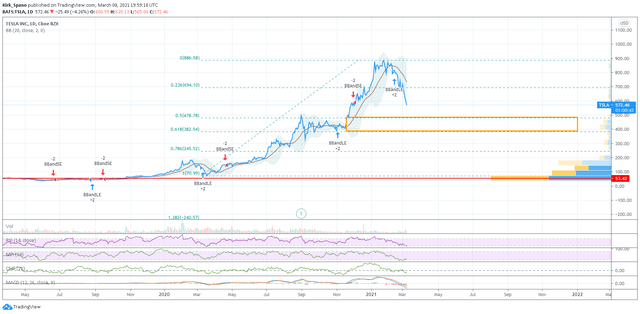 The stock seems headed towards the orange box bounded by two key Fibonacci levels. We also see that the stock flirting with oversold on the daily chart. On the weekly it's not quite there yet. Here is the weekly RSI: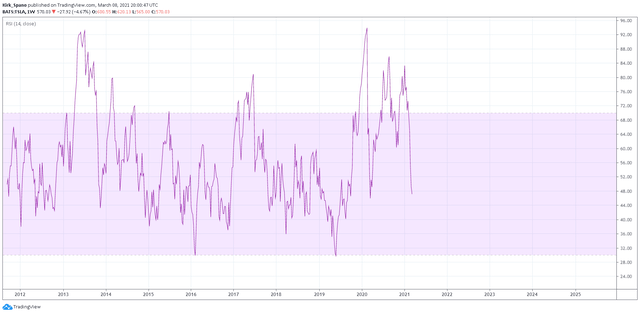 This implies that a few days up relief rally could be met with another wave of selling and pull the stock down well below $500. That would be another full percentage point off of ARKK's price, as about every 10% down on Tesla, a point is shaved off of ARKK's value.
Square Charts
Here is Square's daily chart: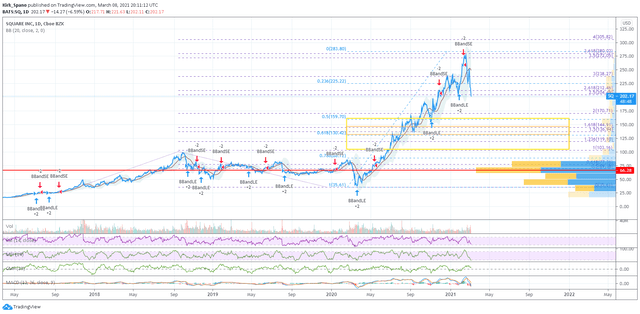 SQ reversed right at the 3.618 extension which implies a rather historic breakout that's not hard to see. This would seem to coincide with a few things.
Hitting a key technical resistance.
Bitcoin's choppiness.
Growth and earnings projections not likely to keep up with valuation ratios.
As I suggested to members a few weeks ago when Square was substantially higher, we should expect Square under $200 at some point. That point appears to now be imminent. We are looking for buy points under $160.
Another 20% fall from Square would imply another 1.3% decline in ARKK.
Back To ARKK
Many of ARKK's other holdings are in similar boats to Tesla and Square in that valuations are out of whack. The difference is most of the others don't have significant, or any, exposure to Bitcoin.
If Roku (ROKU) and Teledoc (TDOC) both roughly 5-6% holdings, dropped 20% from here that would be another 2 percentage points of off ARKK.
Baidu (BIDU), Zillow (Z), Spotify (SPOT), Shopify (SHOP), Zoom (ZM), CRISPR (CRSP), Invitae (NVTA) and Exact Sciences (EXAS) are all between 2.5% and 3.5% positions in ARKK for a total of about 25% of ARKK's value. If that basked dropped 20%, which is entirely possible with market liquidity seemingly done expanding, that would save 4% more off of ARKK.
What we covered is roughly 40% of the ARKK portfolio. At roughly 10% more downside for Tesla and 20% drops across the rest, that means ARKK has clear downside of at least 7% from here. Add on 10% losses across the remaining 60% of the portfolio for another 6% and you're looking at 13% or more downside for ARKK.
How does that jive with the weekly chart?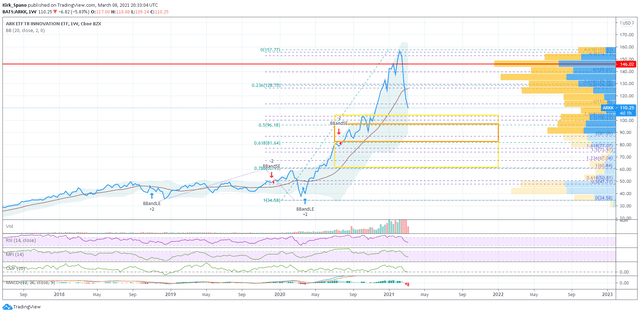 A 13% drop would put ARKK just at the top of our primary buy zone (orange box). Would that be "the bottom?" That's hard to say. But in glancing at the RSI and MFI, there is clear downside yet. Let those be your guide.
I am targeting a price in the $90s or $80s on ARKK for Global Trends ETF accounts as the vast majority of the companies in the portfolio are great or could be great, which is of course our criteria for buying stocks, i.e. we don't bother with things we think could merely be good.
Cherry Picking Stocks
I think it's hard not to look at Square as a stock to pick up if it drops more. Others are Teledoc (TDOC), PayPal (PYPL) and Docusign (DOCU) which are all on our Plug & Play Stock lists.
Teledoc Chart: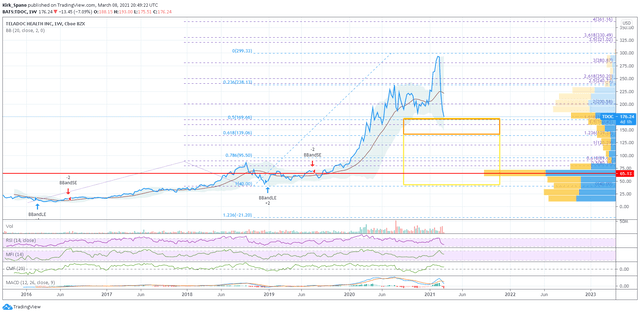 That $140 area looks pretty juicy (coincidentally about 20% lower).
PayPal Chart: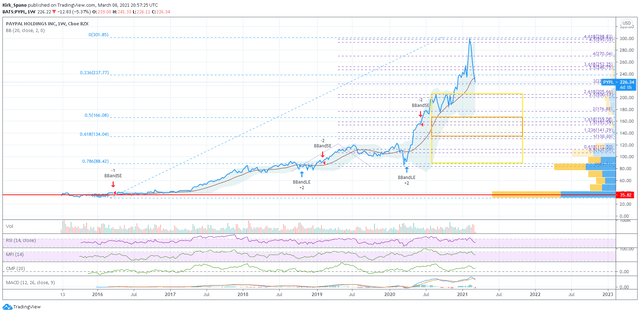 Notice how PayPal blasted to a 4.618 Fib line as well. A buy price from $166 to $135 appears to make some sense.
Docusign Chart:
https://www.tradingview.com/x/apZAypa3/
The levels we drew a couple weeks ago seem to be playing out. I'd look for a price under $152 that suddenly doesn't seem that far away.