Pultegroup, Inc. (PHM), aka Pulte Homes, is the third largest home builder in the U.S., with 24,624 closings in 2020, compared to 71,168 by D.R. Horton (DHI) and 52,925 by Lennar Corp. (LEN). PulteGroup was founded in 1954 and is headquartered in Atlanta.
PulteGroup operates in 40 markets across 23 states under several brand names. Detached single-family homes make up 85% of sales, including entry-level (29%), move-up (45%), and active-adult (26%) categories. PHM's financial services segment offers mortgage financing and title agency services.
The 2020 Annual Report (10-K, p. 5) indicated a 12/31/20 backlog of 15,158 homes. The Q4 Earnings Release showed full year 2020 revenue of $11.0 billion, up 8.1% from $10.2 billion in 2019. Net income for 2020 was $1.407 billion, up 38.4% from $1.017 billion in 2019. Diluted EPS was $5.18, up 41.5% from $3.66 in 2019.
In the Q4 earnings call, CEO Ryan Marshall said 2020 started strong, was slammed to a halt by COVID-19, "and then accelerated into the strongest demand environment this industry has experienced in more than a decade."
PulteGroup has maintained a BB+ S&P credit rating since March 2014. S&P raised the outlook from stable to positive in October 2020 when S&P realized PHM would not be hurt by COVID-19 as much as S&P expected: "The positive outlook reflects the possibility that we will upgrade the company over the next year if it maintains its solid credit ratios, including S&P Global Ratings-adjusted debt to EBITDA below 3x and a debt-to-capital ratio below 45%."
PulteGroup's vision is "to be considered the most respected homebuilder in America." PHM's goals are "inspired employees, exceptional customer experience, superior operational execution, and foresight for the future." The company's guiding principles are "do the right thing, compassion for the customer, care about quality, and team-first mentality."
Pulte's efforts at diversity, inclusion and sustainability are described at its PulteCares website section. The company's "Built to Honor" program has provided interest-free homes to eligible veterans and their families who are living with service-related disabilities.
F.A.S.T. Graph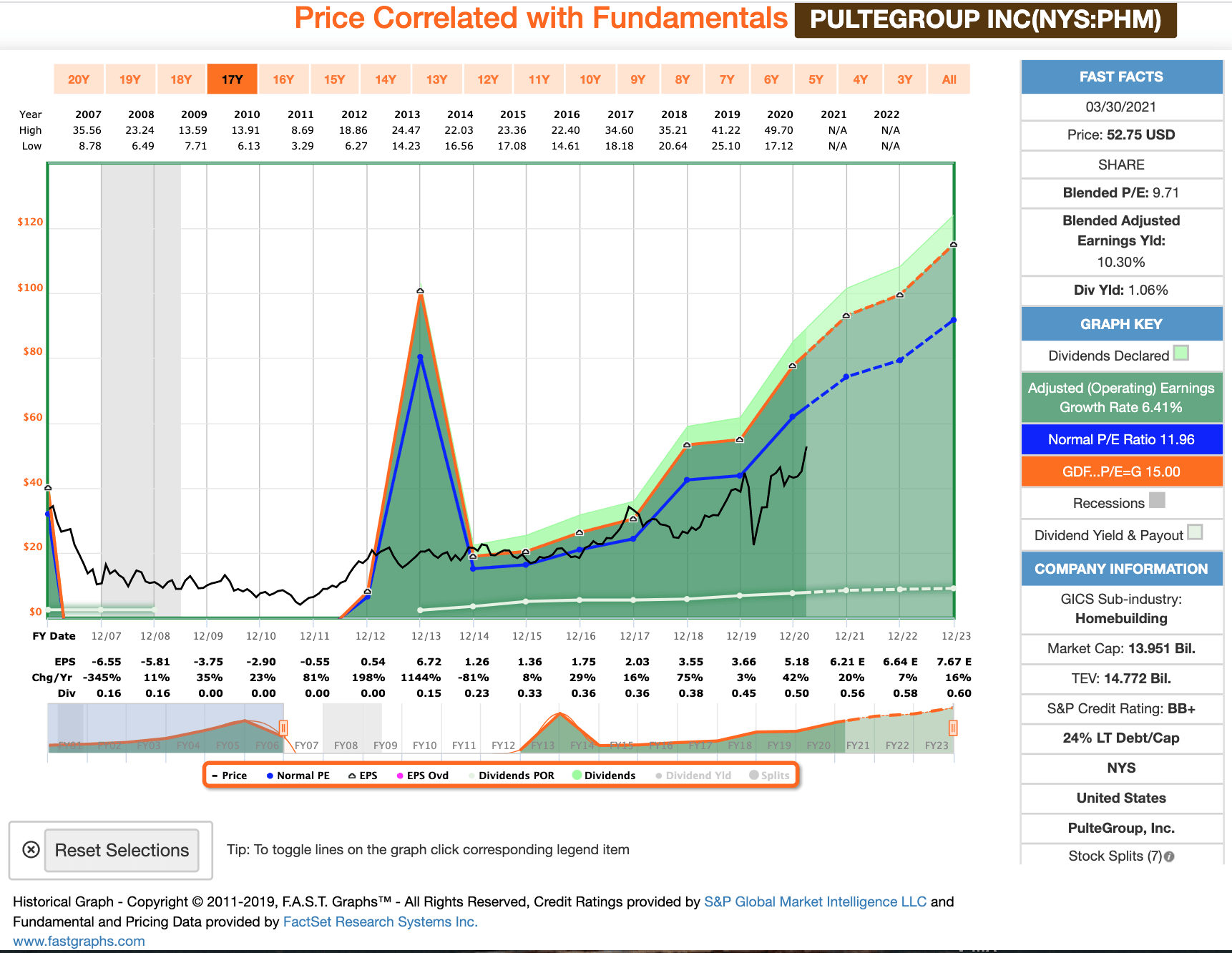 The graph below reflects an uninspiring price history (black line), indicating the deep price decline in March 2020 and the rapid rebound. The graph projects strong earnings (orange line and dark green area). The dividend (honeydew colored line) shows a low payout ratio, though PHM's dividend has had relatively solid absolute growth.
From F.A.S.T. Graphs
SWOT
One of Pulte's strengths is the diversity of its home styles. This gives PHM the ability to build through various economies. The US will continue to need to replace its aging housing stock. Though somewhat smaller than its two larger competitors, Pulte has a broad footprint in key markets.
A weakness is PulteGroup's position in a highly competitive business that is subject to economic cycles. Its largest competitor, D.R. Horton, has a BBB S&P credit rating. It shares a BB+ credit rating with another larger competitor, Lennar. In spite of Pulte's relatively low credit rating, S&P commends PHM's conservative strategy and its ability to prosper during the pandemic.
PHM's current momentum, the continued injection of liquidity into the economy by the federal government, and a possible economic boom could provide an opportunity for PHM to continue to strengthen its balance sheet. A credit rating upgrade to BBB- from S&P is possible, which would put PHM at the minimum "investment grade" rating.
Threats include the potential for higher inflation, which make home financing more difficult for home buyers, a pullback of government financial intervention into the economy, and strong competition from existing and new entrants into the construction market.
The current quarterly dividend is $.14, annualized to $.56. PHM has raised the dividend for 8 of the last 9 years. The 5-year dividend growth rate is 8.9%.
The current payout ratio is 10.8%. The 5-year average payout ratio was 15.7%. The average P/E was 10.5. The current P/E is 10.2, based on a trailing twelve month EPS of $5.18 and the March 31 closing price of $52.44.
At $52.44, the dividend yield is 1.06%. The average high yield for the past 5 years was 2.2%, with the highest yield of 2.9% reached in 2020.
PulteGroup's 2021 Q1 earnings call is scheduled for April 27 at 8:30 am ET.
Summary
PulteGroup, Inc. offers dividend investors a more speculative opportunity to participate in the US housing market, which needs to grow in order to replace older housing stock. PHM has a low current yield but it has grown its dividend at a relatively strong pace in the past decade. The company has a strong commitment to community involvement and environmental stewardship.