Summary
Markets are back to being historically overvalued, ala, January 2020, but even more so. Only easy cheap money from central banks justifies the lofty valuations, but for how long?
If you gravitated away from higher cash percentages to take part in the rallies, it is time to gravitate back towards your high-end cash asset allocation range.
The biggest secular trend that is a change from the recent past is the shift to clean energy. You're entire investment mindset should consider this.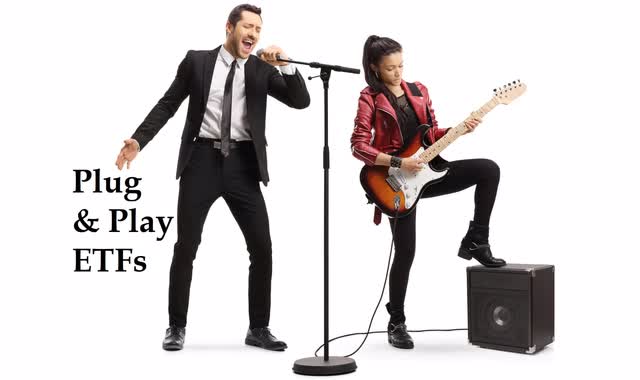 The 2020s will be marked by huge technological and social change. The 4th Industrial Revolution is underway. The move to a sustainable economy is now being led by business, investors, government and the general population. Your selection of ETFs for your core asset allocation will be greatly influenced by these realities.
Our Plug & Play ETFs are my preferred ETFs for building asset allocations. If you can find close substitutes, feel free to use.
We offer a slow handed tactical approach to upgrading your portfolio each month by taking into account valuation and momentum of market sectors.
Read Using Plug & Play ETFs to minimize your risk and maximize your profit potential.
Also read Using Global Trends ETF Updates for shorter-term opportunities to deploy cash into rising trends or make swing trades with ETFs.
Current Cash Levels
Cash is your best hedge. Buying puts or using margin to hedge is very difficult. For short periods of time, cash can be a great asset allocation tool to avoid short-term risk.
| | | | |
| --- | --- | --- | --- |
| Investor Category | Defensive | Cautiously Optimistic | Pedal To The Metal |
| Current Cash % (Tactical) | 60-40 | 40-20 | 20-10 |
| Long-term Cash % (Strategic) | 12-4 | 4-2 | 2-1 |
I expect 2021 to be a choppy year, thus the high tactical cash levels versus long-term strategic levels. Here are my broad thoughts:
Plug & Play vs ETF Trends
Plug & Play is the STRATEGIC long-term part of your portfolio. It can be all of your portfolio. ETF Trends is for the TACTICAL portion of your overall portfolio. You do not have to use ETF Trends.
If you do use ETF Trends, then set a percentage of your overall portfolio that will be more short-term in nature, for example, 10%, 20%, 25%, 40% or 50%. If you use ETF Trends, then reduce the P&P percentages proportionately based on the amount you allocated to ETF Trends tactical portion of your portfolio.
Global Trends ETF
Designed to be 80% equity and 20% alternative STRATEGICALLY over time. For long-term growth investors. This is tilted to be aggressive, see the notes.
Global Trends ETF Quick Thoughts
I believe the next wave of growth will be driven by transition. Smaller becoming bigger. Cleaner becoming normalized. Rebuilding the world.
* can use 10% of QQQ or BST if preferred.
** can use 20% of ARKK or QQQJ if preferred.
If you prefer a more large/megacap core portfolio, can flip QQQ/BST percentage asset allocation with ARKK/QQQJ percentage asset allocation.
Gold miners and REITs are important for lowering correlation to the broader stock market which is extremely highly correlated. I have slightly reduced my gold miners exposure as gold appears range bound and miners have had the early part of their run up. They will continue to buy back shares at the large cap end, i.e. Newmont (NEM) and Barrick (GOLD), which is supportive.
Removed Cushing Renaissance (SZC) due to valuation in their energy allocation which is over a quarter of the fund.
Added Amplify Alt Plant Economy because the cannabis market has begun to normalize and there is still massive growth ahead. This particular fund is run by Tim Seymour (from CNBC) who I think is deep in the weeds here. There will be volatility, so pay attention to Shooter's shorter term charts for entries.
Added Van Eck Rare Earth Metals because these support the high tech and clean energy industries.
Upped percentage in Emerging Markets Internet & Ecommerce as this is the most attractive international space in my opinion. This is the only way to own a few commie stocks too, in my opinion. Emerging markets are vital to long-term growth. Those markets are skipping economic steps and going straight to online commerce.
Retirement Trends ETF
Designed to have similar risk that a 60/40 equity/fixed income portfolio has had in the past. Given ultra low interest rates however, we must use alternatives to bonds. I am using some closed end funds with option selling overlays to that end. I will add in some bonds where we can if the risk profile is favorable (which is rare right now). For balanced investors, often retirees or near retirees.
| | | | |
| --- | --- | --- | --- |
| ETF Equities | Symbol | My Buy Zone(Orange Box) | % |
| Black Rock Science & Technology Trust | (BST) | 38-43 | 25 |
| WisdomTree Int'l Hedged Quality Dividend | (IHDG) | 34-39 | 12 |
| Invesco Wilderhill Clean Energy | (PBW) | 66-80 | 12 |
| ARK Innovation | (ARKK) | 82-94 | 5 |
| Invesco Next Gen 100 | (QQQJ) | 28-30 | 5 |
| Utilities Select Sector SPDR | (XLU) | 57-60 | 5 |
| Communications Select Sector SPDR | (XLC) | 62-69 | 5 |
| Berkshire Hathaway | (BRK.B) | $233-186 | 5 |
| Build Your Own REIT basket. | — | — | 10 |
| VanEck Gold Miners | (GDX) | $37-21 | 10 |
| Emerging Markets Internet & Ecommerce | (EMQQ) | 41-50 | 6 |
Retirement Trends ETF Quick Thoughts
The BlackRock Science and Tech Trust is the top holding as it participates in a large secular trend and incorporates an option selling strategy to mitigate risk and throw off income. It has performed similarly to QQQ and has similar holdings. BST will slightly outperform in choppy and down markets, but trail a bit in straight up markets.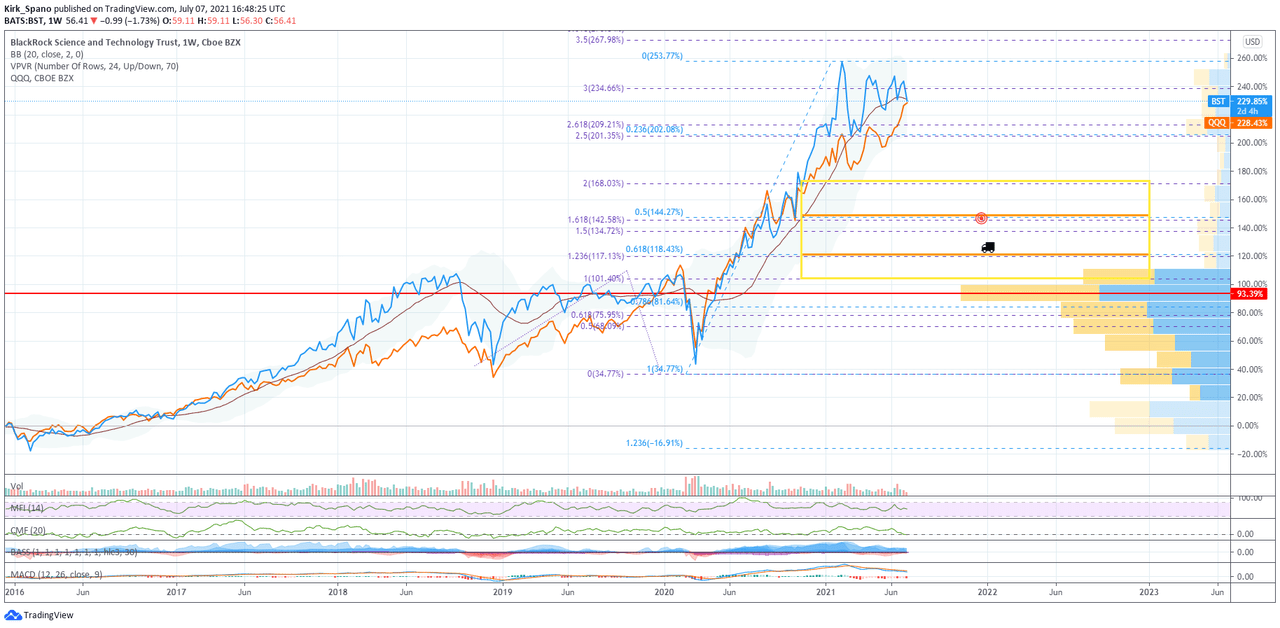 International quality dividends are a great diversifier.
Clean energy, as stated above, is a core idea and PBW pays a dividend.
Utilities will continue to be slow growth, but have a lot of government aid to help them move us to a clean energy system. Fat dividends and low risk. Buy the dips.
XLC is essentially Google (GOOG) and Facebook (FB), buoyed by undervalued dividend payers like AT&T (T), Comcast (CMCSA) & Lumen Tech (LUMN), plus companies transitioning to or already streaming like Netflix (NFLX), Disney (DIS), Viacom (VIAC) and Discovery (DISCA). Notice anything familiar about those XLC holdings? Remember, recurring subscription revenue is good, and streaming creates recurring revenue.
Emerging markets are vital to long-term growth. Those markets are skipping economic steps and going straight to online commerce. Emerging Markets Internet & Ecommerce as this is the most attractive international space in my opinion. This is the only way to own a few commie stocks too, in my opinion.
Disclosure: I/we have a beneficial long position in the shares of BST, PBW, GDX, REMX either through stock ownership, options, or other derivatives.
I wrote this article myself, and it expresses my own opinions. I am not receiving compensation for it. I have no business relationship with any company whose stock is mentioned in this article.