Summary
9 SPACs, now companies, you should absolutely own a starter position in for potential multi-baggers.
2 biotechs with big upside that remind me of Exact Sciences at different stages.
A dig into carbon capture & sequestration.
An old pharma with new tech jumps back into the Dividend Collector list.
Retirement Income Options coming Wednesday before rescheduled Q&A call.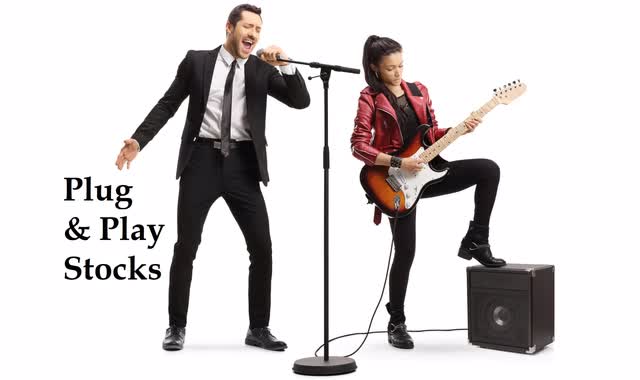 Webinar conflicts with Brewers.
The Brewers are going to be in the MLB playoffs, so expect some webinars to be moved to different times. Generally, the Tuesday evening Quick Take with AMAA Q&A will be moved to 10am on Tuesdays of Brewers game days in September and hopefully into the first week of November. 1 championship down, 2 to go.
================================================
My "Plug & Play Stocks" present focus investment ideas from our "Very Short List" (I've added back bottom fishing) that are near buy zones as of the first week of the new quarter.
These are NOT model portfolios to be jumped into right now! There is no such thing. Anybody who offers a "buy all of these now" model portfolio is telling you to walk through a field of bulls.
Monitor these stocks weekly. When they get close to buy points, then monitor daily until you have built your position. As always, remember to scale in, so you can scale out later. And, mind your asset allocation.
I STRONGLY recommend that you have a system of price and technical alerts that work for you, including:
Please read Using Plug & Play Stocks before you start buying.
Current Cash Levels
Cash is your best hedge. Buying puts or using margin to hedge is very difficult. For short periods of time, cash can be a great asset allocation tool to avoid short-term risk.
| | | | |
| --- | --- | --- | --- |
| Investor Category | Defensive | Cautiously Optimistic | Pedal To The Metal |
| Current Cash % (Tactical) | 60-40 | 40-20 | 20-10 |
| Long-term Cash % (Strategic) | 12-4 | 4-2 | 2-1 |
I expect 2021, and possibly 2022, to be choppy. Therefore, we have continue to have high tactical cash levels versus long-term strategic levels. You can be more fully invested with trailing stops on part of your portfolio. I generally recommend 12% trailing stop on stocks and 7% on ETFs.
MAAA + Berkshire
Microsoft, Alphabet, Apple, Amazon (MAAA in honor of my grandmother who we all call Maaa) and Berkshire are 5 of the most important companies in the stock market. Every portfolio should have exposure to these companies either directly or via ETFs.
Sustainable Growth
The primary goal of the Sustainable Growth portfolio model is maximum long-term total return.
Seeking triples or better in a 3-5 year time frame.
The primary focus is on growth that "buy and holders" could own for years.
$500 million market cap minimum, but generally $2b+.
You can certainly swing trade a portion of these positions with either stock or call options.
I like to sell cash-secured puts on corrective down waves (small corrections usually on consolidation) and just take premium or add to my position which I might then sell covered calls on near the end of impulsive waves up (cyclical rallies).
New Stocks in bold.
* MP and OPEN were SPACs that merged in 2020 and now have their own symbols and options trading, so I have included in the base list.
Recent SPAC Mergers To Own:
High business potential and low floats mean all of these could rise quickly with any attention from institutions, hedge funds or the Reddit Army.
All are buyable under about $18/share, but very buyable around $9-11.
| | | | | |
| --- | --- | --- | --- | --- |
| Company | Symbol | Top Of Buy Zone | Begin Bottom Fishing | Charts |
| WeWork [BowX] | (BOWX) | 12.50 | 8 | https://www.tradingview.com/x/d5zmrgWu/ |
| Cazoo [Ajax] | (CZOO) | 12.50 | 8 | Not Enough Chartable Time |
| Fertitta Entertainment [Fast] | (FST) | 15 | 11.25 |  https://www.tradingview.com/x/mjTl8xPi/ |
| Ginko Bioworks [Soaring Eagle] | (SRNG) | 12.50 | 8 | Not Enough Chartable Time |
| AST Spacemobile | (ASTS) | 12.50 | 8 | Not Enough Chartable Time |
| Satellogic [CF Acq] * | (CFV) | 12.50 | 8 | Not Enough Chartable Time |
| Planet Labs [DMY Tech] * | (DMYQ) | 12.50 | 8 | Not Enough Chartable Time |
| Spire Global [Navsight] * | (NSH) | 12.50 | 8 | Not Enough Chartable Time |
| BlackSky [Osprey] * | (SFTW) | 12.50 | 8 | Not Enough Chartable Time |
*Satellite-as-a-Service stocks. Compare to Software-as-a-Service, but with a massive new data and imagery source.
See this recent webinar re the SPACs: https://seekingalpha.com/embed/15687
Removed From Last Quarter
| | | |
| --- | --- | --- |
| Company | Symbol | Reasoning |
| Delta | (DAL) | valuation & debt, but lean structure and 4IR tech means it's the only airline to own. Needs a major correction again to justify risk inherent in debt. |
| Micron | (MU) | valuation but next correction is chance to reload |
| Nvidia | (NVDA) | valuation but next correction is chance to reload |
| Paycom | (PAYC) | I like, but don't love it. I can see a double, but hard to see a triple. Just friends. |
| Spectrum | (SPB) | valuation & to Divi list |
| Square | (SQ) | valuation & short-term crypto risk |
| TravelCenters Of America | (TA) | valuation but I really want to own on next big correction as rest of decade and 2030s looks fat |
Delta, Micron, Nvidia, Square and TravelCenters of America are all likely to be added back on a correction.
Spectrum would be added to the Dividend Collector list on a correction.
Moved EPR to dividend list on pending reinstatement of dividend.
Why I Added…
Aemetis (AMTX) is a renewable fuels and carbon capture company with first mover advantage in California (equivalent to the 6th biggest national economy in the world), but also active with India and I expect will move into other states rapidly. They are a leader in "below zero" carbon intensity fuels that use agriculture waste products for fuels. Remember that I have talked about a company called Newlight that captures carbon from dairy farms and utilities to produce plastics. This company does the same to produce fuel that replaces diesel. They are also exploiting tax breaks for financing which have a long-term runway. The company already generates over $230m/year in revenues and is growing at over 35% per year on its way to a billion plus in revenues by 2025. It's going to hit the hockey stick sometime in the next 5 or so years, could be a little sooner or later in that time frame, so the 2025 revenue number could be quite a bit higher if it's sooner. Margins are strong with EBITDA growing at over 100% per year for the next several years. Clearly poised for M&A activity and could be a takeover target for a large utility. Aemetis also owns a 20% equity stake in Nevo Motors which specializes in replacing diesel engines with hybrid drivetrains. Consider this a wildcard that adds potential big upside. The fall back to single digit prices after a Reddit rally is an opportunity.
Heron Therapeutics (HRTX) is a stock I mentioned about 6 months ago. They're drug for pain management got approved and they are just beginning distribution. Why is this a big deal? It is a non-narcotic that replaces opioid pain killers. This is a focus of the Biden administration and a clear U.S. epidemic. 2 retired doctors I know who have made millions on investing in companies at FDA approval are putting a lot of money into this one. It's getting accumulated right now. Add some to your portfolio. I am making it a 2% position and trying to sell $13 August puts into a thin market. If you follow on the put selling, ask for at least a $1 on the August $13s, $2 for the $14s. I am sure we'll have swing trades in the calls soon. I want to make this very clear here since I haven't written a piece on this yet, I think this could be as big as Exact Sciences (EXAS) was for me when I bought it in single digits.
Quidel Corp (QDEL) is a diagnostics company. I first read up on it when I was heavy in Exact Sciences (EXAS). They reemerged as a leader in Covid-19 testing (Exact does that too). Like Exact, they are facing a rapidly growing market, but also more competition. Like Exact, they are looking at M&A activities. In fact, I think they might be an exact match for Exact to merge with. If no merger, they might get bought outright. The stock has been basing for a few months since I first mentioned it to folks who sell cash-secured puts. It's been a big winner for folks who sold puts a couple times already. I think you get one last chance to buy it around $100 before it either resumes upward next year or does another strategic deal that is more merger or buyout than acquisition. Remember, I tell you to know your companies, this is an industry sub-segment I know. This cash rich company will do another deal eventually and it'll be accretive. I can see a price over $200 pretty easily within a few years, but a breakout to new highs would take it much higher.
Dividend Collector
The primary goal of the Dividend Collector portfolio model is long-term total return that beats the S&P 500, but with 20-30% less volatility and risk.
Seeking total return doubles in 5 year time frame.
The primary focus is on dividend growth and lower volatility dividend payers. We try to find stocks that offer both qualities that "buy and holders" could own for years.
$2 billion market cap minimum.
I like to sell cash-secured puts on corrective down waves (small corrections usually on consolidation) and just take premium or add to my position which I might then sell covered calls on near the end of impulsive waves up (cyclical rallies).
Top 20
Removed From Last Quarter
| | | |
| --- | --- | --- |
| Company | Stock Symbol | Quick Thoughts |
| EPR Properties (EPR) | (EPR) | AMC riskTechnical resistance |
| MGM Growth Properties | (MGP) | Bought by Vici |
| Urstadt Biddle Properties | (UBA) | Low growth, fully valued. |
| | | |
Why I Added
EPR Properties (EPR) has closed much of the Covid shutdown gap and expects to reinstate their dividend in the next year or two. With Covid surging again among the unvaccinated, I expect a buying opportunity soon. Once that correction plays out and more people become vaccinated on fear of dying from Covid (and rationalizing their decisions while cloaking in their flavor of rhetoric), EPR should have a very sustainable rebound.
Pfizer (PFE) their mRNA technology is a bigger deal than I thought. We might see years of growth at Pfizer like they haven't had in a couple decades. For dividend investors, this is an easy buy the dips.
Screening For & Monitoring Your Investments
All of the charts I use are on TradingView. The technical screener alone is worth the price of admission. It allows you to sort based on multiple time frame charts which is essential for entries, exits and using options.
If you do your own fundamental screening and basic technical screening, but want to leave the charting to me, then Stock Rover is an excellent solution. It's hands down the best screening and data comparison service for investors that I have found. I use Premium Plus and have the Reports add-on.
Just one of the neat and useful things at Stock Rover is correlations on ETFs to each other and the broader stock market (SPY) (QQQ):
I also use it for volume alerts on stocks and ETFs which let me know when interest in a particular holding has shot up.
Disclosure: I/we have a beneficial long position in the shares of LUMN either through stock ownership, options, or other derivatives.
I wrote this article myself, and it expresses my own opinions. I am not receiving compensation for it. I have no business relationship with any company whose stock is mentioned in this article.
Additional disclosure: I own a lot of these. See my monthly position statement the week after regular monthly options expiration.