A quick note before we start: Make sure to use the follow.it links to set up notifications by email or your favorite method of new articles. You can also set your browser to notify you. I strongly recommend that you subscribe to notifications.
=============================================================
Each week I cover stocks on this quarter's Plug & Play Stocks list, and anything new, that we can consider buying now or soon. We also cover the stocks to trim on profits. Read Using Plug & Play Stocks and Technical Trading Basics: Using Overbought And Oversold Signals To Buy And Sell before buying or selling.
For your own screening, tracking and understanding, I highly recommend:
TradingView for technical analysis, technical screening and charts.
Stock Rover for fundamental screening, tracking and comparisons.
Make sure to view the VSL every week.
This Week's Stocks To Watch
OnTrack (OTRK) was covered last week when I said "Ontrack continues to plum it's buy zone." Since then, it circled the drain and got sucked under.
I can't help but think that this company, which has been getting deals with the government, corporation and all but a few giant insurance providers is onto something. Make sure to read the OnTrack investor presentation and then get into their documents.
In short, the company lost a big contract again, this time Cigna (CI), while shorts were targeting the company. This was their payoff. Why did Aetna and Cigna walk away from OnTrack? Having worked in insurance there are only three answers:
A new provider.
Going in house.
Claim avoidance.
In Cigna's case it's a bit of all of the above. Cigna is moving to work with Ginger, a company they invested in early 2020. So, while not "in house" per se, it's close. It also gives Cigna the ability to have more control and influence over claims. In short, Cigna has the capital to create a "related party" company to do what OnTrack does. Most insurance companies can't do that.
So, the question becomes what is OnTrack's future and is this an even better price to buy in at?
First off, the annual mental health market is around $30 billion, but growing rapidly. People with behavioral health issues tend to not get other health conditions treated. This leads to even more negative outcomes and healthcare claims. OnTrack's record is over reducing costs per patient about 40%.
OnTrack had hoped to capture 20% of market. They are priced as if they will capture almost nothing. That's unlikely. But so is 20% despite a growth rate around 100% even with lost clients.
Gross margin appears likely to settle in the middle 40%s with operating margin going positive in 2022. It would take a virtually all business momentum to cease and the pipeline to disappear for those things not to happen. The company has twice as much cash as debt and is on the verge of profitability – which is often a time a stock takes off.
The MEME run comparing OTRK to Teledoc (TDOC) changed time lines, expectations and investor behavior. It opened a chance to short the stock to below fair value, where it is now. A relief rally seems likely to me in coming quarters. That's not an unusual thing.
OnTrack still works with Humana (HUM) which used both inhouse and outsourced AI and other tech. Maybe that relationship lasts, maybe not. Maybe Humana buys OnTrack. [Anthem (ANTM) also combines in house with outsourced. United Health (UNH) is going mostly in house as the largest player.]
Of note, new CEO Jonathan Mayhew worked at both Aetna and Cigna, the contracts that OnTrack lost. He most recently comes over from CVS (CVS) where he was an Executive VP. His job is to scale OnTrack now that it has a foothold in a rapidly expanding market.
Someone asked why the Chairman and founder Terren Peizer selling shares? "Isn't that insider trading?" The answer is no. He still owns 49% of the company and sells shares to pay taxes. In reviewing his pay, as always, I think executives are overpaid. However, the compensation committee appears to be holding the line and in 2019 Peizer got no share bonus. There are only a few hundred thousand shares left in the existing compensation pool for executives, but of course, that will be expanded at some point. If Peizer were to stop selling shares, I think the stock would pop pretty quick.
Interestingly, Microsoft (MSFT) is a player in this game (pay attention when I say "interestingly") working with a range of insurance companies and healthcare systems. Think about their motivations. Enterprise systems, cloud, AI and IoT solutions is their thing. Healthcare is a huge market they have moved aggressively into. OnTrack has some government contracts already and is an aggregator of smaller healthcare systems, i.e. lots of small contracts.
So, here's my bottom line in quick thoughts style. I don't think OnTrack is headed back to $100, that was as irrational as the current market cap dive.
A lesson I have learned in 25 years is that companies priced for oblivion merely need to stay in business to see a rebound when shorts cover. OnTrack has no going concern risk.
At these prices around $10-15, I think OnTrack is a buy for the rebound on short covering, future growth and is clearly a potential takeover target. The weekly RSI is at 25 right now. It can't sell off much more.
I understand psychologically, people find it hard to invest here: "what if it goes down more?" That's an emotional response. Ask is the thesis wrong? Ask if the market conditions just allowed for the shorts to push it down? Don't be flighty.
At some point there is a bottom and we're close to it is all I can say. I have made OnTrack a full position now and will continue rolling my puts. My anticipation is that there is a rebound to $20-30, at that point I'll bring this back to a half position or hold on if business momentum is impressive.
Shooter's chart shows a bottoming and rebound as well:
AJAX (AJAX) is a SPAC that is merging with Cazoo in Europe. Everyone hates SPACs, but I would suggest that you look at close comparison Carvana (CVNA) in the United States: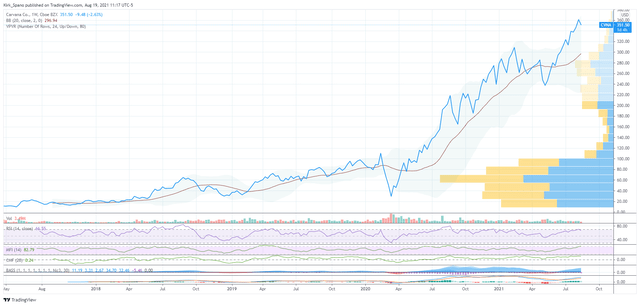 That's a pretty good run and Cazoo's runway is bigger than Carvana's. I expect Cazoo to be a ten-bagger this decade. When does that start? I think in the next year or two or three. Do you have the patience?
AJAX just fell off a cliff with the approval of the Carvana deal which is not atypical for SPACs as some investors cash out their shares at a premium with their redemption rights that allow them to keep their warrants. This is a unique opportunity that won't last long in my opinion which is based on watching dozens of SPACs and my interviews with SPAC ETF money manager Matt Tuttle and "SPAC King" Juilan Klymochko:
All Eyes On SPACs: Matt Tuttle Of SPCX ETF (Podcast) (NYSE:SPCX)
Talking SPACs With Julian "The SPAC King" Klymochko
I rate AJAX shares a buy at these prices.
Sell the AJAX $10 November puts for $2.50 using a GTC order.
This another time to sell in the money puts because you really want to own this stock. You're trying to capture some volatility, not the out of the money premium. if price keeps falling on the stock, raise the premium price on your put. Always ask for at least a little more than the ASK and you can move down if you need to.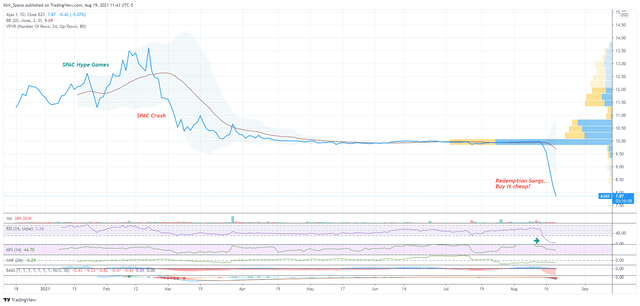 New Fortress Energy (NFE) is extremely sold off with a weekly RSI of 35.
The stock was recently upgraded by Credit Suisse and is coming off a double bottom from its IPO of 3 years ago. As I've said before, clean energy, in all of its forms, are the biggest theme of the next decade, alongside, the perfect technology marriage of 5G-AI-IoT (hey, no threesome jokes).
New Fortress is using acquisitions and joint ventures to move fast into clean energy, in particular hydrogen and reducing the fossil fuel footprint in the LNG landscape.
A couple things here. LNG for electricity is advancing quickly. NFE Is already a leader. Why LNG, or natural gas in particular? Because, again, as I've covered many times, it is a bridge fuel, in abundance and can be tied to carbon capture.
What is most exciting is the Zero Parks project. Zero Parks will be clean energy hubs centered around low-cost production of blue hydrogen and renewable fuels. They are starting with renewable diesel and jet fuel.
From the EIA: Renewable diesel fuel, sometimes called green diesel, is a biofuel that is chemically the same as petroleum diesel fuel. Renewable diesel meets the American Society for Testing and Materials (ASTM) specification ASTM D975 for petroleum diesel and may be used in existing petroleum pipelines, storage tanks, and diesel engines. It can be produced from cellulosic biomass materials such as crop residues, wood and sawdust, and switchgrass, and it qualifies as an advanced biofuel under the Renewable Fuel Standard (RFS) Program…
… California uses nearly all of U.S. produced renewable diesel and imported renewable diesel mainly because of the economic benefits for its use under California's Low Carbon Fuel Standard.
(That last part should make you think of Aemitis (AMTX) too.)
In the next couple years, NFE plans to spinoff non-core assets to fund their green transition. it will take several years for the company to execute, but it's very cheap right now and in a huge transitioning market.
This is a Fortress Investments venture run by Bucks owner Wesley Edens – one of the rich dudes who has helped rebuild downtown Milwaukee and brought you Giannis. He mints money. Eventually, I think NFE is merged into something else or sold outright to an Oil Major that needs a change.
It's time to start scaling into this and the options market is just picking up, so there are puts to be sold too. I'll probably sell some $30 October puts to capture a little time value. If it's not put to me, I'll find a way in on volatility. Taking a starter position is also viable on any down day.
Additions To VSL
I added Palantir (PLTR) to the VSL. It's omission was an oversight. I had it on there at the start of the year and removed it until I was more certain of it's business momentum. I have a starter position in it.
I am adding Coinbase (COIN) to the VSL. I'm not done with my research, but I've been diving head first in to crypto and NFTs all year, and it's a part of my new real estate development company that I'm incorporating in January and looking for investor into.
I don't know what Coinbase's role will be in the crypto world because that world is still developing. There will be a lot of uncertainty about crypto in the next couple years as Congress and the Treasury right the rules and introduce the Digital Dollar. But companies like Coinbase, PayPal (PYPL) and Square (SQ) will have a major role no matter how things turn out. I'm currently trying to figure out a way into all three. A nice correlated stock market correction would be nice. Or at least a Bitcoin (BTC-USD) blow up.
Disclosure: I/we have a beneficial long position in the shares of AJAX, OTRK either through stock ownership, options, or other derivatives.
I wrote this article myself, and it expresses my own opinions. I am not receiving compensation for it. I have no business relationship with any company whose stock is mentioned in this article.
Additional disclosure: I plan to take a position in NFE imminently.