Retirement Income Options focuses on our Plug & Play lists for simplicity. If you have other stocks or ETFs that you have a question about, i.e. looking covered call or cash-secured put opportunities, please ask a question in the comments and I will post an answer and/or include in next week's article.
Please read Using Retirement Income Options
Where Are We Now?
I have been warning that corrections are inevitable when valuations are historically high. It's simple reversion to mean.
Low interest rates and massive Covid QE was able to hold the stock market up longer than ever before on overvalued conditions. So much so, as I covered a few days ago, we have seen the longest period of no reversion to mean from an overbought condition.
Are Large Caps Going To Run One More Time?
And to that question, the answer is yes, but the time frame is unknown.
As I type, the stock market is down almost 5% from its ATH (all-time high).
Here's the SPDR S&P 500 (SPY) plunging to unimaginable depths!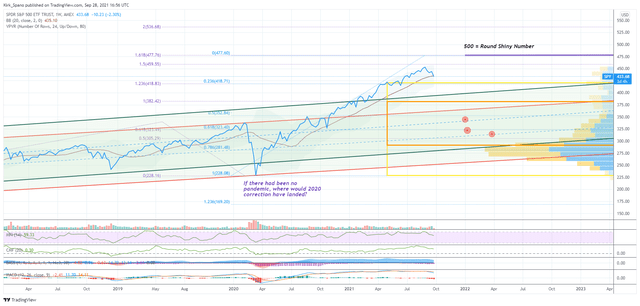 Cue the panic!
There is a nearly 100% correlation between the Fed's QE and the S&P 500. Remember, there was already "don't fight the Fed" for decades before QE was a thing. The impact of the Fed on markets, intentional or not, is massive.
Sure, there's some time lags in how long it takes for markets to catch on that other analysts use to "prove" that the correlation doesn't exist. Frankly, I don't listen to technical guys who don't care about or study fundamentals or economics in the first place – yeah, I'm looking at you Avi.
This chart from: Stock Market Correction Is Due And It Could Be Deep should scream at you:

I just don't know how much more clear it can get.
If the Fed follows through on its promise to reduce QE, then valuations in the stock market, particularly large caps where the overvaluations are concentrated will contract a bit. It's just how things work. Maybe investors react a little slower, or faster, more or less, but valuations will come in a bit.
Where To For SPY & QQQ?
An S&P 500 around 3500 is a pretty good target.
That doesn't mean every single stock will get beaten up though. There are plenty of small caps already off their highs 30% or more. And, around 90% of all S&P 500 stocks are at least 10% off their highs.
The rolling corrections I talked about around New Year have been happening. And that means, as I've said, there are bargains if you look.
So, when these biggest stocks that have been holding the averages up, finally come back almost normal – Microsoft (MSFT), Tesla (TSLA), Alphabet (GOOG), Facebook (FB), Amazon (AMZN) and Apple AAPL) which represent a quarter of the S&P 500, the correction will be over, not beginning.
Those stocks falling would also impact the Invesco QQQ (QQQ) as they are the biggest holdings in that smaller bucket. A target around 300 on QQQ jumps out at me.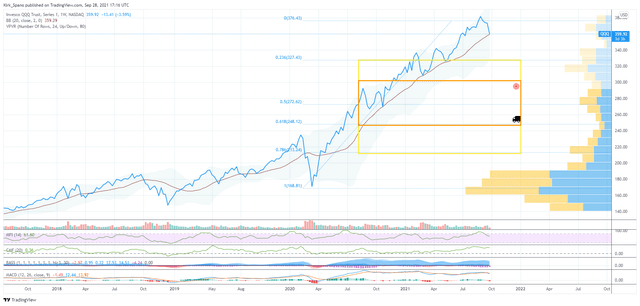 Remember, if you read my articles you know I don't think inflation will last long, just a whiff of stagflation for a quarter or two next year, then back to go.
Long-Term Deflation Vs. Inflationary Policy
And, if you listen to my Investing 2020s webinars or follow me on Twitter, then you know I think this: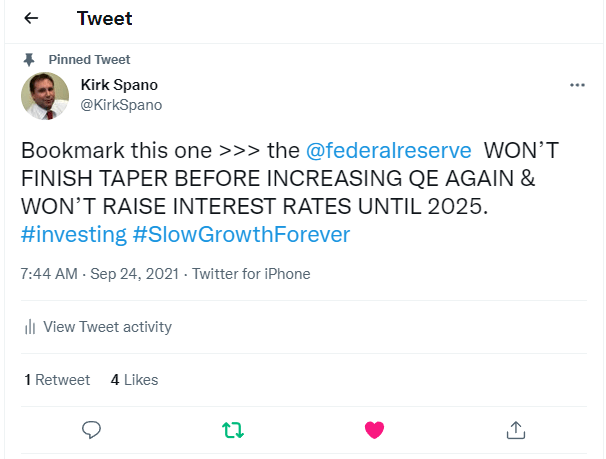 Come to think of it, if you followed me on Twitter, you would have also got this early last year: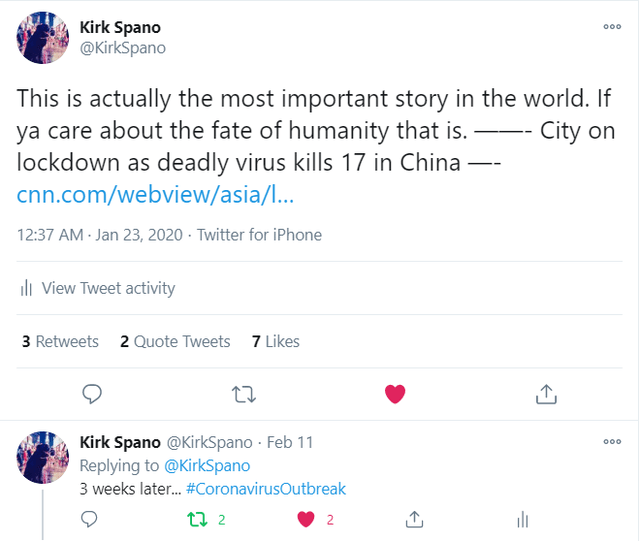 I say the darnedest things on the throne or when watching TV while playing online poker.
Anyway, get your bucket ready, in the next 2 or 3 months as we get through earnings season, which is going to mediocre, and finally do the taper, you're going to have a chance to use a lot of cash on intermediate to long-term investments.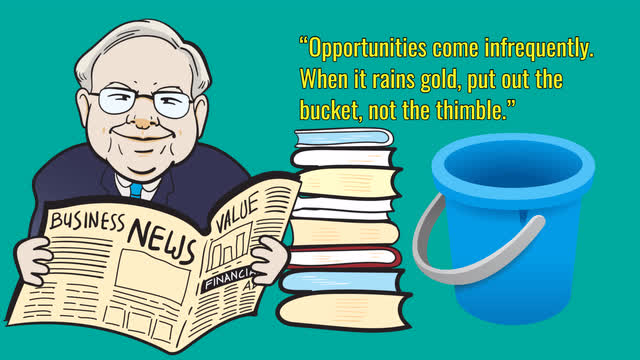 Puts To Sell On Volatility
I correctly told you to rotate to small caps and covered a gazillion covered calls to sell a month ago here:
Retirement Income Options: Small Cap Opportunities, Large Cap Risks
If you're not trimming your positions and/or selling covered calls against a part of your stock positions when they get overbought on the weekly RSI, then please don't ask me about risk management, because you don't really care – in which case, change your approach.
At this point, there are almost no covered calls worth writing anymore. So many stocks have come off of their overbought signals and we're just waiting for the behemoths to settle back now.
In the meantime, volatility is high. That means option premiums are high.
Take a look at this piece again:
Retirement Income Options: Plug & Play Coverage
Push all the October strikes to November.
A few that jump out at me today:
Growth Stocks
Growth Stocks
Discovery (DISCA) is priced as if we're going to stop watching TV and movies. It's stupid cheap. Meaning, folks who are bypassing this are being stupid. The company's content library post merger with Warner and global distribution are worth at least 3x the going share price and I think this will be a $100 stock in a few years.
Because AT&T (T) is a holding and we'll get spin off shares of Discovery later, I think many are not buying this. Buy it and sell a cash-secured put. You can always managed the AT&T position with really long-term covered calls to squeeze more out. I have a double position in T and will have a full position in DISCA when put to me.
The January $30 puts look super juicy at over $5 if you are light on T and DISCA. If you already have a slug, then use the $25 strike.
Also on the entertainment front, gambling in particular, I am trying really hard to get to a full position in Fast Acquisition (FST). Their DraftKings (DKNG) deal is big and there's more consolidation coming. I can see some MGM (MGM) in Fertitta's future. Remember, he tried to do a deal with Caesars (CZR) before they got bought. Let me make this clear: I think Fast Acquisition, aka Golden Nugget, aka Fertitta Entertainment which includes all sorts of restaurants, is the MOST UNDERVALUED GAMING STOCK IN THE WORLD. I'm trying to sell November $12.50 puts at the ASK, but might come down a nickel at a time until filled, but won't take under a buck.
I am keeping a close eye on Aemetis (AMTX) as I don't have as much as I'd like right now. If I can get a November $12.50 put for around $1.50 I'll take it. Their revenues are set to explode next year.
Palantir Technologies (PLTR) their deal with BlackSky (BKSY) makes me love this unlovable spy company a little more. This company's upside is pretty huge as it penetrates the Fortune 500 companies and globally. I am actively trying to sell December $25 puts right now.
A new addition to the Plug & Play next week will be Stone Co (STNE) which I mentioned here: SOTW & RIO: So You Say You Wanted A "Do-Over." The options are thin, but I am trying to sell $35 November puts for over $2.
There are a lot of "re-do" chances developing. I'm highlighting a few. Look at the Retirement Income Options: Plug & Play Coverage list and pick a few to sell cash-secured puts on. Slowly for now, but have a plan.
Dividend Stocks
New Fortress Energy (NFE) is calling out to us. I forgot all about their dividend before because I'm so excited about the growth potential. The current energy market conditions are great for their business plan. Depending on how aggressive you want to be, I think you can sell either the December $30 or $25 puts, right now, or a bit of both.
Kinder Morgan (KMI) is also on the right side of the energy transition. You can sell the December $17 put for about the same as their annual dividend and then collect a higher dividend next year if it's put to you. I have 2%+ position in KMI and am selling a few puts.
Someone in the chat beat me to the punch again, and I am adding Bristol Myers (BMY) back to the Plug & Play on its correction. It's not super cheap by valuation yet. And, it's price is just high enough to be tough to sell puts on, but, the correction makes it a nice dividend play again for those looking specifically for dividends. They also have a good pipeline and the money to make good acquisitions. In the $50s it's hard to not like as I don't see it having much downside below $50-something. You can take a starter and sell a December $57.50 put for $2 which is as much as its full year dividend.
Pfizer (PFE) and their mRNA platform are a big deal. This is actually the only pharma I'm really stoked about. Yeah, BMY is nice and I'd buy that in the low $50s, but Pfizer, they're going to make bookoo bucks this decade. The November $44 puts are ready to go, but I've changed my focus to December $43 for $3, which is a little lower net cost and a $3 premium is double Pfizer's annual dividend.
Viacom (VIAC) is still yelling at you. So is AT&T (T) if you're not in that somehow. You should have at least starters on both and can sell December at the money puts on both. If my November VIAC puts are put to me, I'll have a full position there, currently half (2%). I'm already a double position in T, so I defer.
Disclosure: I/we have no stock, option or similar derivative position in any of the companies mentioned, and no plans to initiate any such positions within the next 72 hours.
I wrote this article myself, and it expresses my own opinions. I am not receiving compensation for it. I have no business relationship with any company whose stock is mentioned in this article.
Additional disclosure: I have a bunch of these.