Summary
Our quarterly updated focus growth stocks and focus dividend stocks.
Several new additions made primarily for price performance reasons.
See the updated buy zones, risk levels and 5-year X-Factors from the VSL which I am updating.
Note Re VSL: I update those charts roughly quarterly as they are long-term charts. I will provide shorter-term charts in articles.
Come back to this piece several times during the quarter. This is our primary stock shopping list.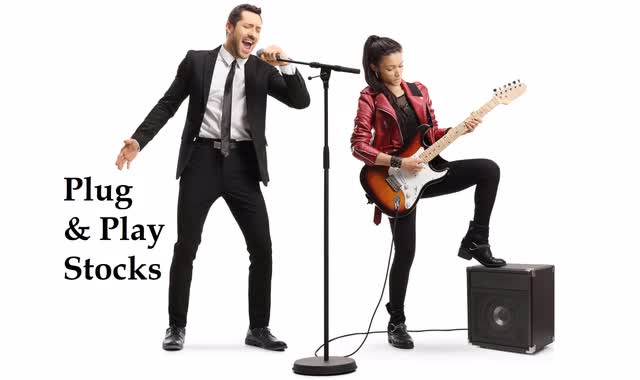 "Plug & Play Stocks" present my top investment ideas for stocks this quarter. Most are at or near their buy zone. Those that are not are worth holding space for.
These are NOT model portfolios to be jumped into right now! Each of your risk tolerances and investment goals are different, so, these are stocks that can appeal to a great many different types of investors.
Monitor these stocks weekly. When they get close to buy points (oversold RSI), then monitor more closely until you have built your position. As always, scale in slowly and mind your asset allocation.
Please read Using Plug & Play Stocks to get started.
See charts, bottom fishing price, buy zone and ratings on the VSL.
Current Cash Levels
In the short-term, cash is your best hedge. Buying puts or using margin to hedge is very difficult because of how precise you must be. For short periods of time, cash can be a great asset allocation tool to avoid short-term risk.
I expect 2022 to see at least one, and more likely two, corrections of over 10%. In 2021 we already saw rotating corrections across multiple sectors, industries and small caps.
2022 could be a lot like 2018 on the large caps. Therefore, we continue to have high tactical cash levels.
You can be more fully invested with trailing stop if you do not want to hold as much cash as me. I generally recommend 12% trailing stop on stocks and 7% on ETFs.
Low Risk Stocks
These are stocks with very little intermediate price risk. While they can suffer corrections, the drawdowns are usually shallower and shorter, while the rebounds are usually quicker.
These stocks are good core holdings for any type of investor:
For the "MAAA" tech contingent of Microsoft, Apple, Alphabet and Amazon using an ETF is a great solution if you want broad exposure to the group, along with other similar stocks. Here are two lower cost ETFs, you can use, that track closely most of the time with their approximate exposure to MAAA: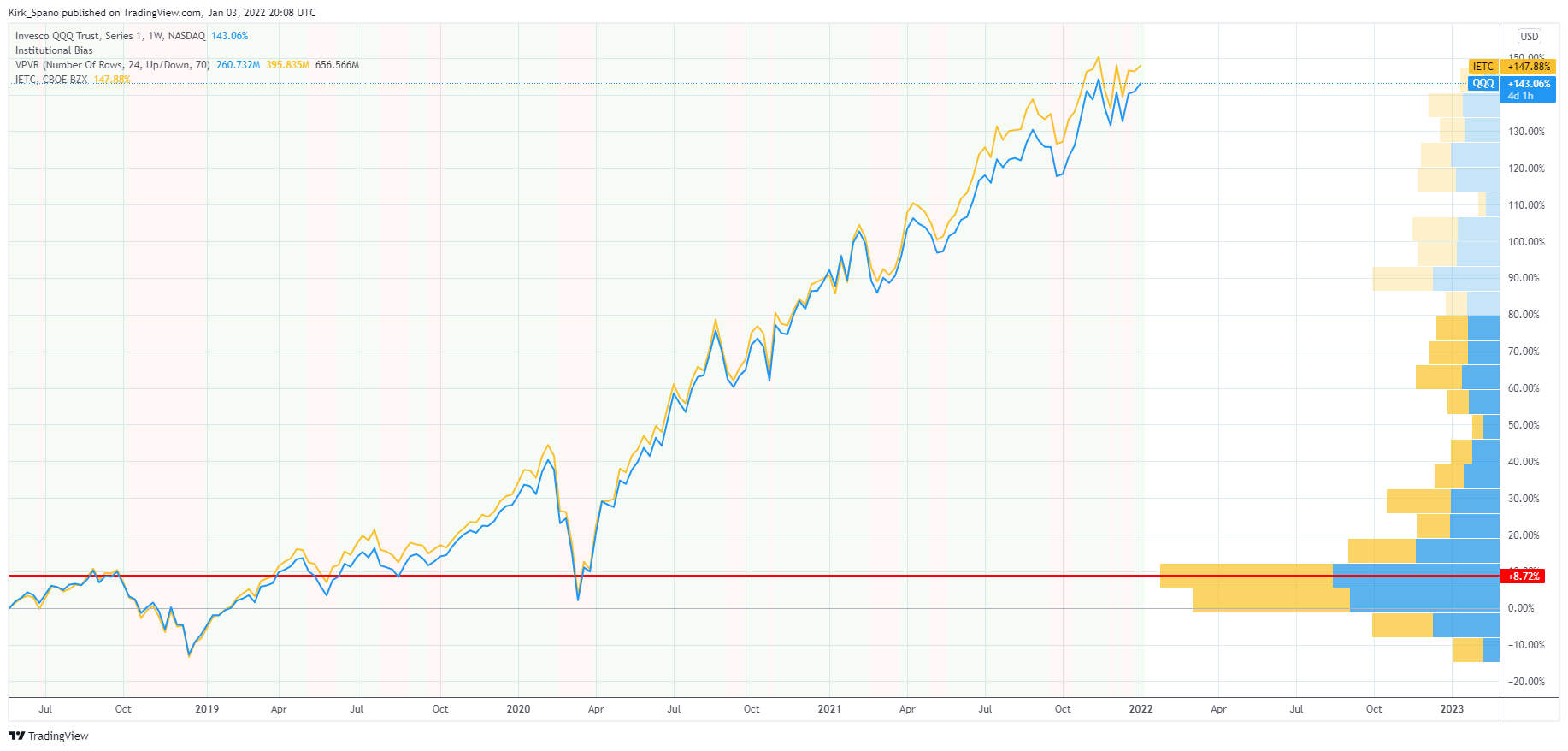 I recommend starting any portfolio with one of the funds listed and building out from there. QQQ is exclusively the NASDAQ 100. IETC offers more diversification by including NYSE stocks (total 240 holdings) and might be slightly more suitable to retired investors.
Sustainable Growth Stocks
These stocks can be found across secular growth trends with long upward runways. Clean energy, cloud, IoT, AI, fintech, space, biotech, consumer discretionary and almost anything platform tech will be common here.
Market Level Risk Growth Stocks
This first batch have market levels of risk and are appropriate for people who do not want to take the risk of long-term or permanent losses. A basket of around 20 of these stocks are appropriate for growth investors who do not want to take substantial long-term risk. I only include Nasdaq 100 (QQQ) stocks when I think overweighting versus the ETF makes sense as QQQ is a our core large cap ETF.
High Risk & Speculative Growth Stocks
These stocks can have long-term or permanent levels of loss and carry greater barriers to long-term success. Most of these companies are not profitable at this time.
Don't buy these if you can't take the time to learn the companies, follow them quarter to quarter and have years of patience. If you don't have the time to learn and manage this type of basket, buy the ARK Innovation ETF (ARKK) or something similar for your aggressive sleeve.
That said, to be on my list, they also must have a 5-year X-Factors of 10 or higher (i.e. potential 10-baggers+). Think of this basket as your high risk, high reward personal ETF (if you want one of those).
Measure how much of your asset allocation you put into these types of stocks. You need a basket of about a dozen to manage the risk properly. Build to 10-20% of an aggressive portfolio incrementally over at least 2 quarters and more likely 2 years. Scale in slow and small: 1/4% to 1/2% to 1% to 2% (at the profitability tipping point) as the companies execute and move to a lower risk level.
These stocks can also be traded due to the higher volatility.
What I Subtracted
WeWork (WE) Market risk but not enough upside for me with X-Factor of 3. If you own it, look to trim it somewhere in the $20s or if you really need the room for something else.
Ford (F) moved to dividend list with reinstatement of dividend. One of my favorites, just a list switch.
Dividend Stocks
Primarily dividend growth stocks and companies that can reduce share count with free cash flow. Shareholder Yield is the key measure.
High Yield Dividend Stocks
By nature, high yield dividend stocks are higher risk or more cyclical. There are a few exceptions that can still beat the S&P 500 without taking on greater risk than the broad market. These should not compromise more than half of your dividend basket due to risks and slower growth.
On this list, I am looking for 4%+ dividend yields that can beat the S&P 500 by at least 4% without taking greater risk than that index.
Cautionary Note: Do not buy partnerships with a K-1 in an IRA.
What I Removed
Spectrum Brands: Great rally, recent divestment to become more consumer staples driven is a meh to me. Great ride. Time to get off.
Sample Stock Rover Reports
I can't include all of Stock Rover's reports, but here are some samples. As you know, I use Stock Rover extensively to screen for stocks and ETFs, including some basic quant factors.