Summary
Unity is triple bottoming and has little downside from here, but huge upside, so I'm taking a starter.
PayPal and Square are testing bottoms, look to start building your positions imminently or continue building.
We have several dividend payers retesting bottoms as well, round your positions up or open if you don't have them.
Be a contrarian with all the "bad news" and look to opportunistically deploy some of your cash pile.
Below I am combining the Stocks Of The Week with Retirement Income Options to give different buying strategies that can be used by different types of investors.
Please read my recent pieces on Ukraine and the economy to understand why I see this phase of the correction reversing soon. I believe we can see a substantial rally for certain stocks, industries and resource producing nations from here.
That doesn't mean we are "all clear." We will have to watch the Fed, which is probably as dovish as they can while raising rates next week, throughout the year.
We can still see another leg down in markets, either from events, or the Fed tightening liquidity. Although, I subscribe to the school of thought that oil and supply chains caused inflation, not Fed policy.
If that's the case, and the Fed does seem to be on the same page, then they won't be aggressive with raising rates. Businesses are more likely to solve resource and supply chain issues with cheaper money to finance projects. In other words, we need the lower rates to promote production on the supply side.
Valuations have also largely gotten to within a year or two of "fair value" on most stocks. The exception is certain large caps. So, at least in small caps, midcaps and certain industries in large cap, there are some buying opportunities.
So, the rest of this month, we are looking to deploy SOME of our cash into good long-term investments. We might trim those for profits in several months, but, we'll cross that bridge when we get there.
Here are some of my thoughts on being a contrarian here with some thoughts on the reflexivity involved.https://seekingalpha.com/embed/19240
ETFs To Allocate To
Remember, scale in, so you can scale out later. Small positions, spaced by 20-30% in price before buying more. For example, if you buy something at $30, you would not buy more above $24 unless it started to breakout, in which case you could "pyramid" by adding to a winning position.
Emerging Markets
Earlier this week in the Global Trends ETF Report I abandoned EMQQ due to China risk. I am going to use nation ETFs, as well as, the Next Frontier Internet & Ecommerce ETF (FMQQ).
Here is a list of emerging markets ETFs per Seeking Alpha Premium. I like the way it's laid out, but if you don't have SA Premium, you can find plenty of info at ETF.com and ETFdb.com. The ETFs are also in the ETFavorites VSL (I'll update when I'm back from Arizona).
Although it is new and small, I believe inflows to FMQQ will be substantial. I very much like the theme. Currently, there's only 5-10% penetration in emerging markets for Ecommerce. Compare that to over 25% in China and well over half in the developed world. McKinsey called this "the biggest growth opportunity in the history of capitalism."
(Note: If you find an emerging markets tech fund, ex-China, that I missed, please bring it to my attention.)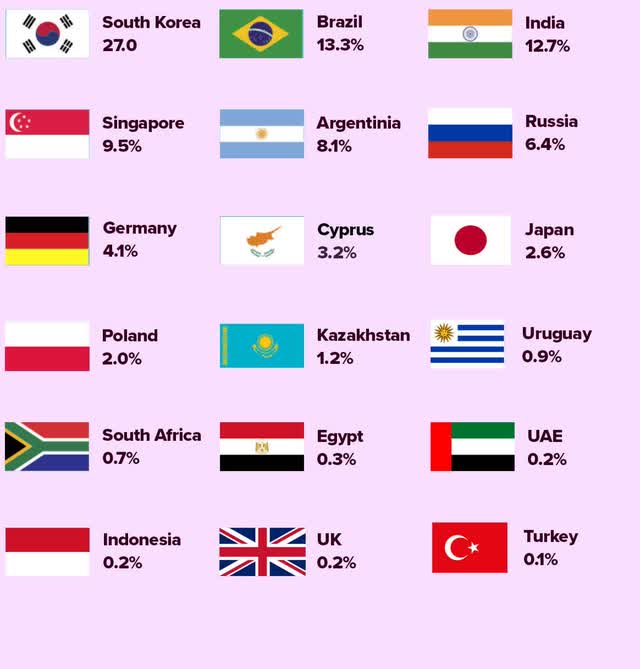 Prices are beaten up across the board on top holdings, so, for now, I am taking a 2% starter position in FMQQ this week. This is the very beginning of scaling up to 6-8% for all of my accounts. For those who are more aggressive, I will be doing some trading of nation ETFs.
Clean Energy
Today's announcement by President Biden to stop Russian oil and gas imports is a few things.
First, sure, it means we have to find 3% of our energy elsewhere. That's not a lot, but at the margin it matters.
It's really a message to the public that we are going to get that 3% from alternatives, not more oil and U.S. gas pumping. Remember what I've told you for weeks now about more Permian oil and gas coming over the next year. That won't change much.
Finally, we need to recognize that government is using a crisis to advance policy. That policy is to move towards EVs and cleaner energy. Both of which are good for long-term energy security.
There's a lot to invest in for clean energy. The Invesco Clean Energy ETF (PBW) and First Trust NASDAQ Clean Edge Green Energy (QCLN) both popped today. So did Invesco Solar (TAN).
We need to see some back filling on those, but I am so far into PBW a shade under $60 on a dip last week that triggered an old limit order. Look for a chance to get into PBW somewhere in the low to middle $50s on volatility. I'll put up a good chart on the weekend after we see how things close the week.
For now, look to sell a $60 April put on PBW with an $8 GTC order. It won't hit today, but will on a pullback. That gets a net price of $52 if put to you later. We can roll if need be should PBW correct further.
Buying Our Top Mid & Large Cap Growth Stocks
My limit orders for growth stocks are:
Unity (U) under $85 (BUY TRADE ALERT) – first scale of about 1% as this is a bounce spot.
Paypal (PYPL) GTC $90 which is where it was headed before today's pop. Be patient, we'll get it. Shooter thinks we might get a price in $70s. – first scale of 1/2% to 1%. If you sold puts, roll those out a month to capture some more premium. You might have to do that a few times if you were up at $125. You'll still want a starter when it gets to $90, or, if you are very cautious, look for a price in $70s knowing you'll get put to you higher someday.
Square (SQ) GTC $95 which is where it was for a minute this week. It can for sure head to $70s if markets get more pressure from Powell or if crypto rules sound more severe. Hard to know if puts expire or are put to us, so, consider that if you have them. You might want to wait until after next Friday depending on your asset allocation.
Zoom (ZM) is a grower, margin improver and takeout target. Zoom is oversold across all time frames. It's closing in our bottom fishing price. GTC $90 for a starter.
Discovery (DISCA) isn't necessary if you're loaded up on T, however, if you're not, buy Discovery GTC $25.
Buying Top Dividend Stocks
Dividend stocks to buy:
AT&T (T) if you don't own it. It's a double position for me. Buy at market (BUY TRADE ALERT).
Comcast (CMCSA) GTC $40 for a starter or to round up to a full 1-2%. You can also sell $40 puts instead.
Paramount (PARA) GTC $25 for a starter or to round up to a full 1-2%. You can also sell $25 puts instead.
Ford (F) touched $16. If you have none, use a $16 GTC, otherwise, sell $16 cash secured puts for over a buck. I'm targeting a full position by year-end.
Buying Top Small Caps
I have a full article coming out, so will only touch on Aemetis here.
Aemetis (AMTX) has rallied, but it's on low volume. Expect a retrace to about $10. With the company unlikely to add earnings until next year, I like selling puts a month or two out over and over at $10. You can also take a starter with a $10 GTC.
Disclosure: I/we have a beneficial long position in the shares of T, DISCA, pARA, CMCSA, U, AMTX, PYPL, SQ, PBW either through stock ownership, options, or other derivatives.
I wrote this article myself, and it expresses my own opinions. I am not receiving compensation for it. I have no business relationship with any company whose stock is mentioned in this article.
Additional disclosure: I own stocks or have sold puts on all of those listed. I also own PBW and have sold puts on it.
Sales Pitch: If you are a member of Global Trends ETF, this is a free peak, consider upgrading to Sustainable Growth or RARE Investing.