Invest In A MANBAG And Small Caps
Summary
People still view the stock market as one large correlated market rather than a market of stocks.
While different industries and market cap strata my crash in a somewhat correlated fashion, new leadership generally emerges afterwards.
The Great Divergence I speak of is real and will crush a lot of portfolios.
Low and no growth companies, and those shrinking outright, that also need financing are in big trouble in the stronger dollar era that is emerging.
The S&P 500 is going to go through years of change that keep it range bound as the Zombies are killed and replaced by better companies.
I know it is hard to wrap our heads around change. Any change. We find it disruptive to not only our plans, but to our rationalized understanding of the world. We have to be very introspective to come to acceptance of a changing world. Once we accept change, we can deal with it much better.
The biggest changes in the world have to do with:
aging demographics which is deflationary
global debt which is deflationary
decarbonization which is short-term inflationary and long-term deflationary
4IR technology which is deflationary
emerging markets growth which is inflationary
shifting geopolitics which are a wild card and currently inflationary
As we wrap our minds around the interplay between each secular trend we can anticipate the future impact on the economy. That in turn will lead markets and the companies in the markets that adapt to change.
As investors, we have to look forward several years. Markets adjust years ahead of time. What we are seeing now is likely a paradigm shift from "old man" stocks to "new economy" companies.
We need to follow the money. Insiders are buying small cap stocks. Family offices are engaging private equity and now a quarter are in Bitcoin. Hedge funds are short the stock market but already starting to accumulate small cap stocks. Institutions are divesting fossil fuel investments and investing in private equity which is generally investing in small caps.
In that environment, what happens to the S&P 500? It goes through a massive shift. The Great Divergence over the balance of this decade will see over 100 zombie companies booted from the S&P 500. Some are large right now and will fall 50% and more. Some are household names. This creative destruction happens throughout history. It's happening again.
Oversold Rebound Rallies
In 1932 the stock market was down over 39% at this point in the year. The chart below shows how big of a rebound ensued the rest of the year.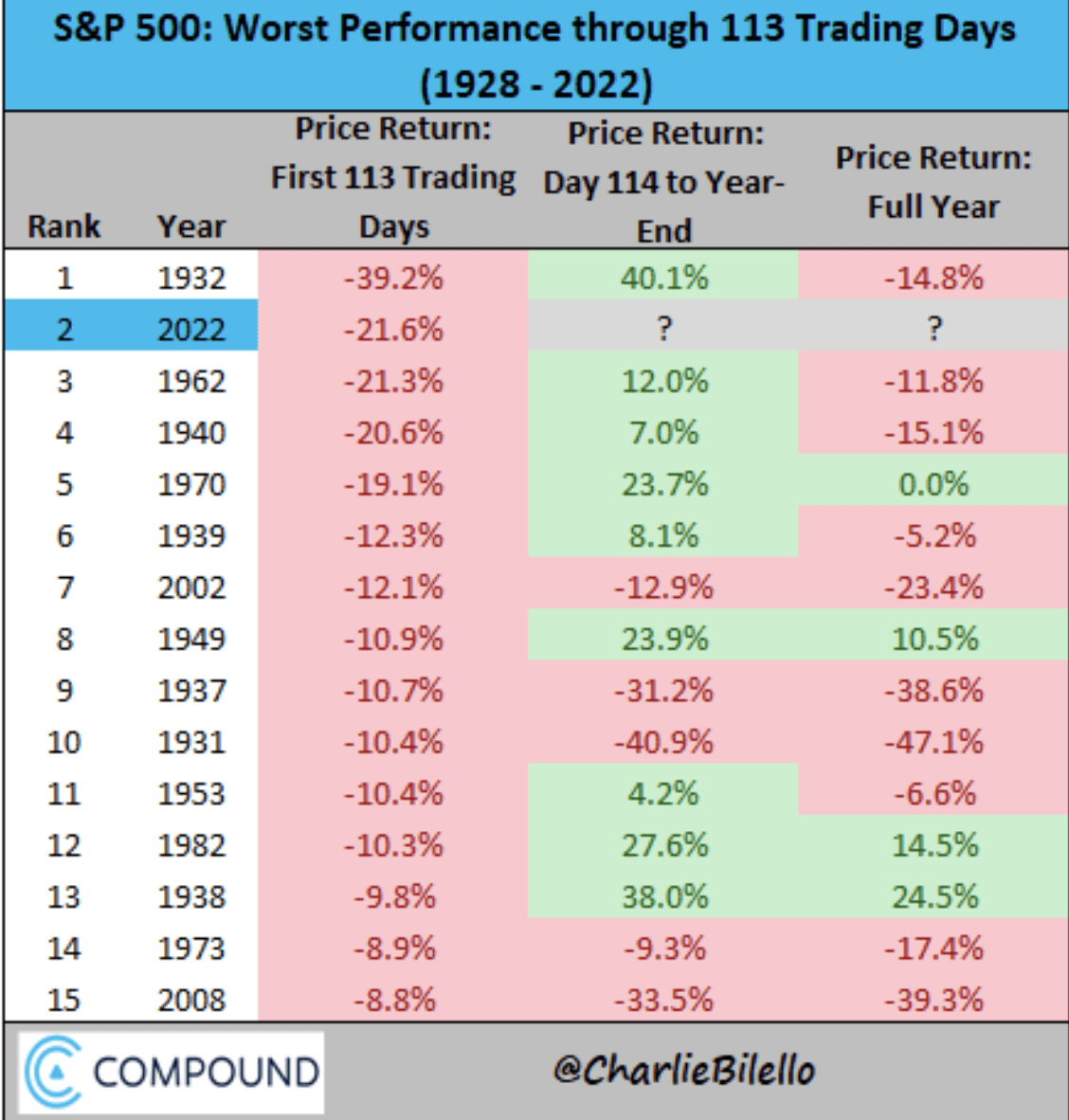 I think that chart gives a good degree of false hope on how the S&P 500 might do going forward. Why?
Simply put, the stock market had a massive rally since April 2020 through year-end 2021 and needs a similar correction as 1932 which had a similar massive rebound rally from the 1929 crash.
So, I do expect a rebound, but large caps have further to fall. Will there be a small rebound for a month or two first? Maybe. Hard to know. The Fed largely is in charge of liquidity and if history is a guide, they'll need to at least stop tightening for large caps to put in an ultimate bottom.
There's no accounting for time lags. Sentiment is a driver in the short-term, think over 3-6 month periods. As the calendar turns, value wins out.
Insiders Aren't Selling Anymore
It is very instructive to know what the big insider money is buying. What we know is that while insiders were large sellers in 2021, that has roughly ended.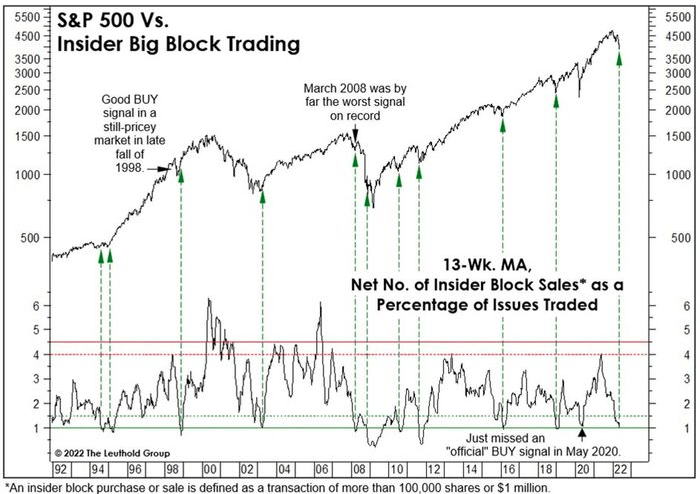 What you see on the bottom of that chart is that insider selling was massive in 2021, but has fallen. The insiders were ahead in the game. Now, they are about done selling.
According to Verity which tracks insider buy and sell data found that in May there were 1371 insider buyers and 1483 insider sellers. The sellers number was a record low.
Here's the number that jumped out at me and plays into what I have been telling you about small caps being a generational buying opportunity.
According to Verity, there were 607 buyers at Russell 2000 companies. That's the 3rd most ever behind only August 2011 and March 2020.
With so many zombies in the S&P 500, in my opinion, there is no point owning SPY and we have to be extremely careful to assign value to companies based on dividend yield. Weakening dividend payers will be the companies that get hit the worst falling in lumpy fashion.
Right now is a moment to focus on filling out your small and mid cap positions. I am making my portfolio nearly 60% small and mid caps. While that's not in line with what most investors do, most investors don't beat the S&P 500 which is where they pluck most of their stock picks from.
Inside the S&P 500 we will get a chance to buy soon. This year sometime. We will want to focus on the most cash rich and cash generating companies as large companies grow slower. It is those cash flow machines that will generate strong total returns. Most of those stocks are in the Invesco QQQ (QQQ), not SPY. For large caps, I am focusing on:
Henceforth, those six companies will be known as MANBAG. Because that's where you carry your money.
There's a few other S&P 500 stocks on our Plug & Play, but for most folks, you'll want to shift towards mid caps and if you have the intestinal fortitude, more small caps that you would otherwise have.
Webinar Note
I am going to do a quick walk and talk recording talking about the Plug & Play stocks. It'll all be from memory and probably very stream of consciousness. I'll post it first thing Monday morning.
Disclosure: I/we have a beneficial long position in the shares of BRK.B, MSFT either through stock ownership, options, or other derivatives.
I wrote this article myself, and it expresses my own opinions. I am not receiving compensation for it. I have no business relationship with any company whose stock is mentioned in this article.
Additional disclosure: One foriegn client bought some MSFT recently. I anticipate buying more soon.