Retirement Income Options offers my top option selling ideas for the week. The stocks and ETFs are from the quarterly "Plug & Play" lists and Global Trends ETF.
Make sure to read "Using Retirement Income Options" and "Technical Trading Basics" in the Getting Started area so you can follow my methodology and reasoning.
The following trades are generally for six and seven figure accounts. Remember to check out the noon Monday Retirement Income Options webinars live or on YouTube.
Investment Quick Thoughts
The narrative is shifting to inflation for longer. We'll see how long that lasts. Remember this: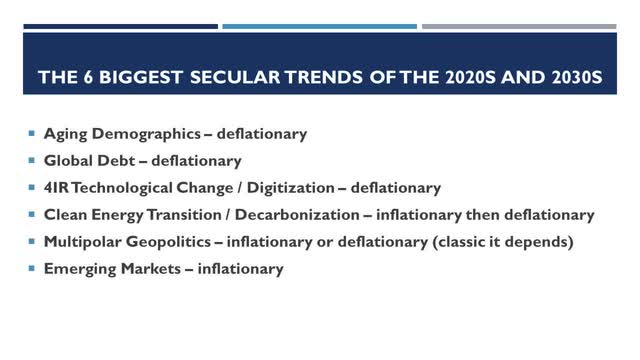 Right now, firms like PIMCO and Capital Group are spouting that low inflation is gone for good. They are pointing to geopolitics and the lasting impact of Covid shock.
The problem with their view is that demographics, global debt and technology point the other way. Tech will point decidedly deflationary once the new semiconductor fabs start to come online next year. And, the clean energy transition, inflationary now, will be deflationary within 5 years.
Also, something I have talked about all year is happening as well. Housing inflation has pretty much stopped in its tracks for two reasons: new apartments and continuing rising home completions.
New Apartments at 50-Year High May Ease Pressure on US Rents

What happens as Boomers age and leave their homes for condos and senior living? I see a long slow grind down on housing in the upper middle income range. I've already been seeing houses in the $600k to $1m range getting 5-10% reductions in prices.
And, then there's this: Putin will be dead eventually and China can't turn its back on international trade or they'll collapse. What does that mean. Eventually, as with all things that make sense, the geopolitics will solve itself out and stop being inflationary. If it doesn't and we have World War III, well, it's been nice knowing you, I ain't planning for the end of the world.
Now, I do agree, inflation is a little stickier than I thought. Probably not down to around 3% until late next summer or autumn. But, unless there is an international shock, our inflation has likely peaked. That's not the case for Europe where it's still getting worse due to energy.
I am 20-30% cash holdings right now. I am going to be very slow handed about deploying that money, but still expect to be nearly fully invested by the end of the year.
Remember, the market impacts ETFs a lot more than individual company stock prices. We can sift the wreckage for the companies that are setting up for big upward runs in coming years.
Cash-secured Puts
Here are some repeat cash-secured puts to sell. Adjust the premium prices up if you can.
Semiconductors have been under a bit of pressure of late, but Intel's future building designs for other companies got the money from the government that wanted. There'll be hiccups along the way, but Intel doesn't get this oversold often and I think it is also undervalued by 30-50% right now.
Intel this oversold on RSI has always been a buy signal.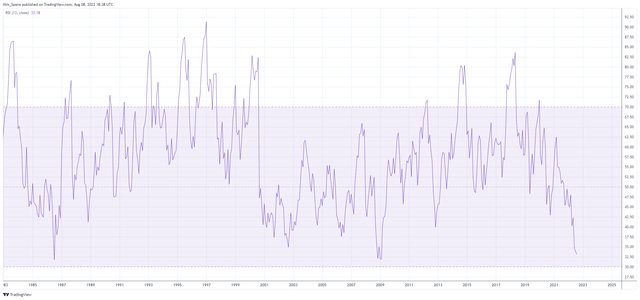 I'm selling the INTC $35 December puts for $2.50+
Make sure to have at least a starter position on this dividend payer with fortress balance sheet and government aid.
Palantir (PLTR)
People don't understand Palantir yet. Maybe they never will, but Millennials and Gen Z are buying in. In short, Palantir is an AI driven software-as-a-service business serving governments and business. You can get a good glimpse by looking at Palantir's announcements.
The wildcard, which I believe offers substantial additional growth, that the market completely ignores now, is Palantir's ownership in other companies. That ownership resulted in a write down this quarter that caused EPS to come in at -1¢ versus estimates of 4¢. BlackSky (BKSY) is one of those companies and since the end of Q2, when the write down was made, BKSY is up.
I am selling the PLTR $9 November puts for $1+
I already own a half position in PLTR and if assigned would become a full (3-4%) position. You should have or take at least a starter position at these prices, which I believe will be very temporary.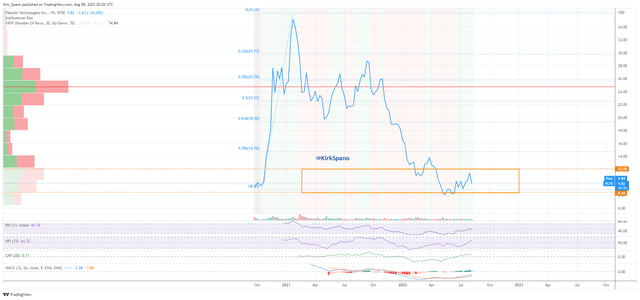 Warner Brothers Discovery (WBD)
I read through the changes being made at the company and they are in line with what I expected a year ago. Watch for the Batgirl movie to be resurrected for the big screen with December 2023 premier. And, watch for the stock to also be resurrected as costs and debt fall as global revenue increases in 2023.
I already own a bit more than a full position in WBD, but am once again selling puts to reduce my net cost.
I am selling the WBD $12.50 December puts for $1+.
These are unlikely to be put to me, but if they are, fine, I'll take'em.
I also like the same puts I recommended in the July 25th RIO piece if you do not have any WBD yet.
Sell WBD $15 November puts for $2+.
Weekly Technicals: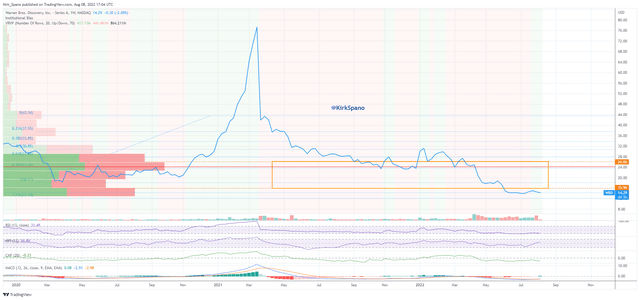 RSI is crushed. It's also beaten oversold on the monthly chart indicating a long-term bottom is near.
If you're very conservative and don't have a position you can use the $12.50 puts to try to be more perfect, but, I'd really take a starter at least here.
Van Eck Digital Transformation ETF (DAPP)
Bitcoin has about 25% adoption by institutions and family offices so far and only tiny pieces yet. But, last week, BlackRock (BLK) but a deal with Coinbase (COIN) to bring investing services to institutional investors. Kevin O'Leary, "Mr. Wonderful" from Shark Tank, is also pounding the table on this theme. Finally, Dr. Sean Stein Smith, who I interviewed around New Year's, is chronicling the adoption theme at Forbes.
Crypto Adoption Is Accelerating – What Should CPAs Discuss With Clients?
DAPP is off of its bottom and if it retraces, it won't stay down long. Rules on crypto are coming slowly but surely. The stock sin DAPP are low for now. I like this entire basket: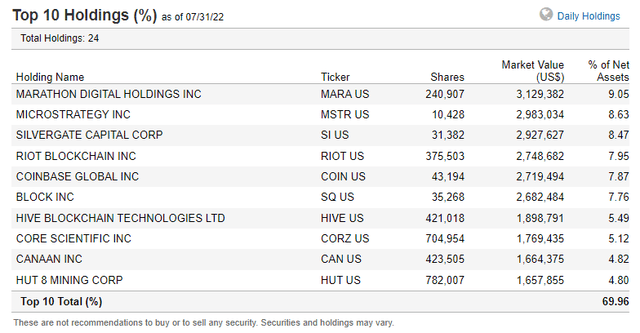 That's a great basket of stocks and is concentrated enough that we don't have to take individual stock risk (though I do own Marathon and sold the SQ November $70 puts per July 25th RIO piece)
Here's the technical look: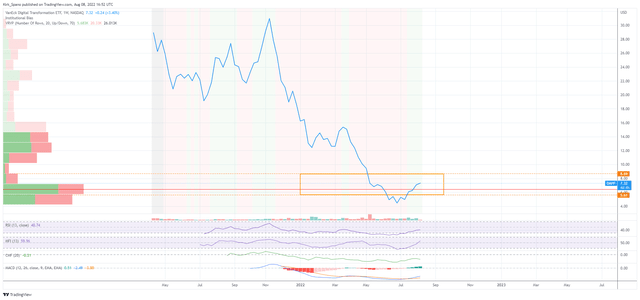 Pretty much nailed that bottom. A small retrace is likely, so puts are a nice play to try to catch year-end selling. I would also have at least a small position per the August Global Trends ETF report.
Sell DAPP $7 December puts for $1+.
Disclosure: I/we have a beneficial long position in the shares of PLTR, WBD, INTC, PLTR either through stock ownership, options, or other derivatives.