Tech Trends Unveiled At CES & My Special Reports On AI, EVs, Space, Healthcare…
Summary
The Consumer Electronics Show, aka, CES, dramatically expanded upon what we saw as transformational technology trends back in 2020.
This year the "S-curve" became more apparent for AI, EVs, Space and other industries.
In late January, CES will provide me with a White Paper on the most important technology trends analyzed and discussed at CES.
I will be releasing a series of special reports – available for free with sign-up – on various topics including AI, EVs, Space, healthcare and more.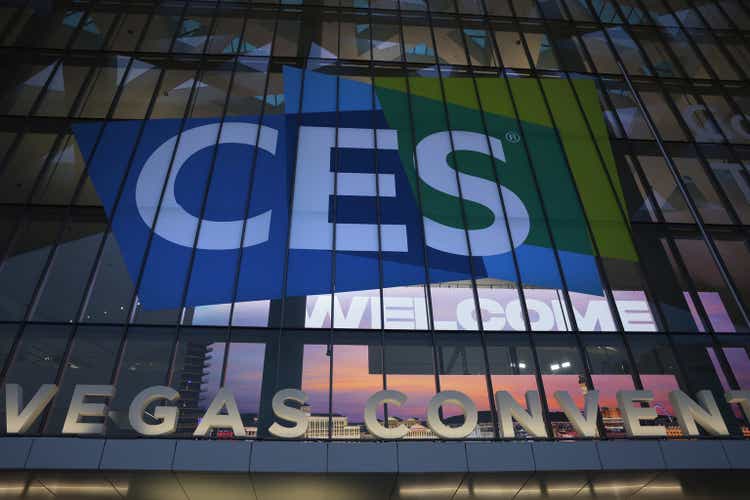 The annual Consumer Electronics Show presents much of the core to our investing thesis is the 4th Industrial Revolution technology and its impact on Digitization, Decarbonization and Decentralization. CES is where today's and tomorrow's technology is explained and unveiled.
CES 2023 IS THE GLOBAL STAGE FOR INNOVATION
CES® is the most influential tech event in the world — the proving ground for breakthrough technologies and global innovators.
This is where the world's biggest brands do business and meet new partners, and the sharpest innovators hit the stage. Owned and produced by the Consumer Technology Association (CTA)®, CES features every aspect of the tech sector.
CES White Paper
At the end of January, CES will provide me a white paper that captures the essence of CES this year. I will be turning that into a series of topical reports from AI to Space. Sign up for our Free Special Reports Library to get those reports. Become a paying member to Sustainable Growth Trends to get our best stock picks based on our analysis of the information CES covers and our own research.
Some CES Highlights
CES included dozens of presentations by panels and companies. Here are some of the highlights:
TECH DEV IN LOW EARTH ORBIT – 2 ASTRONAUT'S PERSPECTIVE FROM SPACE – Join a NASA astronaut for a discussion from the International Space Station and learn how space-based R&D is enabling discoveries benefitting humanity.
CES 2023 Tech Trends To Watch – CTA's highly anticipated annual presentation, open exclusively to registered media, will highlight the latest research and preview the tech trends to watch during CES and throughout 2023. Attendees will get early access into Unveiled Las Vegas.
Consumer Technology Association State of the Industry & Keynote with John Deere – CTA's State of the Industry Address will shine a spotlight on how technology helps people tackle the world's most pressing problems. John Deere CEO John May will share how purpose-driven sustainability and advancements in technology are addressing one of the world's greatest challenges – feeding a growing global population. This will be the first time in CES history that an agriculture technology company executive will take the mainstage for a keynote at CES. Presenters: John May, CEO, John Deere Gary Shapiro, president and CEO, Consumer Technology Association Dr. Carmichael Roberts, Founder and Managing Partner Material Impact, Kinsey Fabrizio, SVP, Sales, Marketing and Membership John T. Kelley, VP and acting Show Director
3pm: AMD Keynote – AMD CEO Dr. Lisa Su will share AMD's vision on how high-performance and adaptive computing transforms lives by addressing the world's toughest problems.
AI New Rules & Tools – New rules for AI applications are coming, along with new tools for AI governance. What are the impacts for consumers and companies?
Digital Disruptors – Key players for disruptive technologies that are or could change the connected car space in the future. This panel will explore the diversity of Artificial Intelligence (AI) and Machine Learning (ML) applications and attempt to understand how they can disrupt to develop a better class of transportation.
Banking In The Age Of AI – Our machines are learning about how we spend and save. Can they really help us?
Fintech's Push towards Inclusivity – Our banking systems have not served the underbanked well. How is FinTech helping cast a wider net? What are the obstacles to serving more people?
Mass Inclusion Enabled By Tech – India's government has taken advantage of FinTech to provide 465 million citizens access to finance. Hear from inspiring entrepreneurs who have used tech to drive mass inclusion.
Powering The Clean Energy Future – Secretary Granholm will preview some of the most promising clean energy innovations under development across the Department of Energy and the Biden-Harris administration's efforts to commercialize and deploy them.
Renewable Energy, Renewable World
New Era Of Home Energy: EVs, Solar, Storage – This session highlights the growth of energy management solutions including energy devices, systems, and analytics in the home.
BMW Keynote – BMW AG Chairman of the Board of Management and CEO Oliver Zipse will showcase how the future of mobility can merge the real and virtual worlds, and present BMW's vision of the 'ultimate digital driving machine.
Stellantis Keynote – Presented by Carlos Tavares, CEO, the Stellantis keynote address will feature the global unveiling of the Ram 1500 Revolution Battery Electric Vehicle Concept and the Peugeot Inception Concept. The presentation will chronicle Stellantis' vision for making mobility clean, safe and affordable for all.