Theresa's Chat Magazine – EV Adoption, Cannabis And Space
Each week we publish a summary of a few of the articles, topics and ideas found in the chat. We encourage you to visit chat to read about updates to our investments, share ideas and ask questions. See you in chat (aka investment group feeds).
The pace of electric car adoption
On Aug 28, Intern Carl posted a chart that shows how 23 countries have already reached the 5% tipping point of electric vehicle adoption. Margin of Safety's preferred car company has a piece of that potential plus a whole lot more.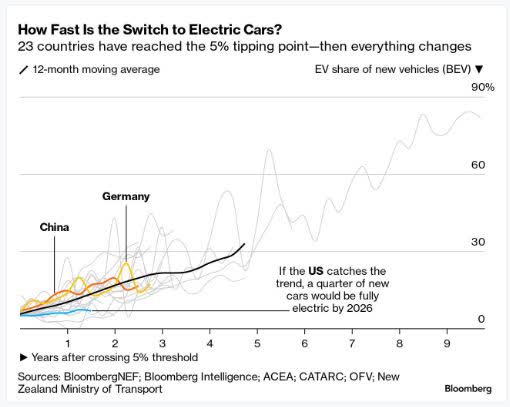 Cannabis found favor this past week
Shepferg2 posted this article on Aug 30:
Republican support for marijuana legalization rises – Gallup (OTCMKTS:TCNNF)
Here's what folks had to say:
Hsaraf1987, Aug 30
Do you think cannabis stocks are a buy?
Shepferg2, Aug 30
If the law is going to change, then yes. Today's bounce was based on the recommendation to classify it as a lower risk drug. I own the cannabis ETFs IN CASE the Feds take action to move toward banking and legalization. If that happens, the values will soar.
Kirk Spano, Aug 31
the news on reclassification was a big deal, been waiting years for that. I'd say the bottom is in on cannabis. I plan to start accumulating.
Hsaraf1987, Aug 31
Which stocks?
Kirk Spano, Aug 31
The one on the Plug & Play.
Spire Global (SPIR)
Spire Global (SPIR) price climbed this week. Besides being an awesome space company, they announced a nice contract with NASA, and effected an 1-for-8 reverse split.
Spire Global awarded $4.6M NASA contract to develop NOAA sounder (NYSE:SPIR)
Spire Global effects 1-for-8 reverse stock split (NYSE:SPIR)
Here's what folks had to say:
Shepferg2, Aug 30
SPIR Wall St. Analysts Rating Buy to Strong Buy
wolfemp, Aug 31
Nice to see SPIR up following the reverse spit. Makes sense, but so often the market doesn't.
Kirk Spano, Sep 1
so clearly some institutions were dying to buy SPIR after the reverse split satisfied the continued listing requirements on NYSE.
Discussed in this week's webinars
This week we talked about Innovative Industrials Property REIT (IIPR) which is a specialty REIT focusing on cannabis.
Analyst's Disclosure: I/we have no stock, option or similar derivative position in any of the companies mentioned, and no plans to initiate any such positions within the next 72 hours.