Summary
Create a universe of stocks and ETFs to follow and learn about – introducing the Very Short Lists.
Use an online service to monitor and screen for stocks and ETFs – introducing Stock Rover.
Learn technical trading basics and have a charting website for tracking your portfolio and watch lists – introducing TradingView.
One of the hardest things to do as an investor is staying organized and having a process. Here are the three steps I use to stay clean and focused.
Creating An Investment Universe
Every investor is different, so there is no one size fits all approach. This is why I have created the "Very Short Lists." I have multiple categories of stocks and a master list of ETFavorites that I can use for different types of accounts.
You should use the Very Short Lists and your own stock screening to find investments that, at the right price, could fit your portfolio nicely.
I think Google Sheets is the easiest way to keep track of your watch lists. It is very similar to Microsoft Excel, but is hosted online and can be signed in with your Google account.
Monitoring Company Financials & Technical Indicators
Keeping track of your companies and ETFs requires constantly filtering a constantly changing flow of information. The easiest way to do this is to plug your portfolio into an online service. Many people use Yahoo Finance for basic tracking of their portfolio. I do not find this robust enough.
I spent years using YCharts and a few other services that investment advisors use. YCharts is expensive for what it does. Other services only do half the job.
After a fairly exhaustive search, I have switched to is a website called Stock Rover. This site, has combined screening with stock monitoring. What do I mean by that?
First off, the site has multiple preloaded screens for you to use to search and compare stock fundamentals and technicals.

In the image above, you can see on the far left hand menu, different tools that you can use. In this example I am using the screener. You can see dozens of screens in the second column. I am simply showing the S&P 500 here.
Across the top, you can see quite a few presets for ways to look at the screened list. This can also be applied to watch lists. I am looking at technicals in this screen and have ranked by Money Flow Index to find stocks that are overbought. I can rank by almost anything. There is also robust ETF tools.
You will notice that I have color coded some companies for my own monitoring needs. The yellow are companies I follow. The orange is a company I want to read up on because it keeps showing up on different screens.
Stock Rover allows me to keep things in one place for all the fundamental and technical information I need. I have not found anything this functional for this cheap anywhere else.
Like anything, there is some learning curve with Stock Rover, but as a tool that can streamline my process, I can't recommend it enough. The free version is good, but the low price paid versions are even better.
I think you should try Stock Rover for a few months and see if it helps you with your investing. I would be shocked if it doesn't.
Technical Analysis
For me, technical analysis incorporates several methods, including some quantitative analysis. I am a big fan of money flow measures. I use both the Money Flow Index and Chaikin Money Flow extensively.
In a future update, I will have a couple of basic classes that you can take for technical analysis. I am taking a few right now to see which is best. This paragraph will change in a future update.
Tracking technicals with charts is a vital skill that everybody managing their own money should have at least a basic understanding of. And, of course, you will need a tool to track your stocks over time.
There are quite a few websites for charting. Most of your brokerages will have decent charting tools. I use TradingView because of its built in tools and like Stock Rover, it's dirt cheap. I am a fan of not having to build things from scratch and TradingView has done a lot of the heavy lifting for me.
You have all seen my S&P 500 ETF (SPY) chart. Here it is using a weekly view with some additional tools being used: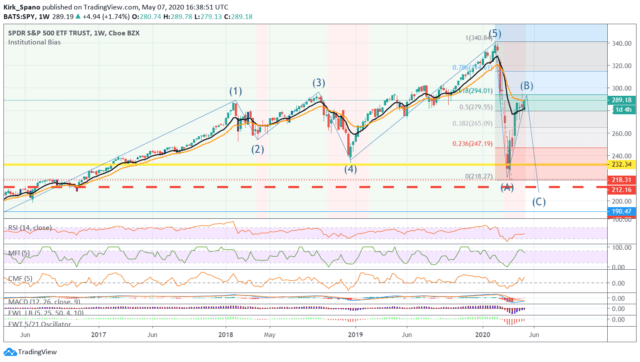 What we see in this example on the weekly chart is that Relative Strength Index is in the middle with no clear direction. Money Flow Index is turning over from an overbought condition. Chaikin Money Flow is slightly improving, but has little upside left despite the choppy nature of the market for a few weeks on this chart. MACD has improved, but is still not attractive. The Oscillators at the bottom have improved from overbought conditions, but have slowed down lately.
You are also looking at indicators of institutional sentiment which is negative and Fibonacci levels which the market is bumping up against a regular support line at .618.
What is the overall picture? In general I'd say intermediate term bearish, but with the potential for a last small leg in a rally. The likely upside is to about 294 on the SPY, but it could rally a bit longer in the absence of bad news to about 314.
The link to see it is: https://www.tradingview.com/x/oiReMgR4/
And, here is the S&P 500 ETF on the daily view.
You can see on the daily chart that RSI is not overbought, but is trending up towards overbought. What is really important to note is that MFI looks like it has a rally left in it. CMF is indicating chop though. MACD seems to be turning over. The Oscillators are no longer improving.
In this case, the daily chart, when considering the back round of the weekly chart is telling us that there could be one more short small rally.
Here is the link to the daily chart: https://www.tradingview.com/x/cMO7MQ0k/
You can see the value of using technical indicators to give yourself a bit of a road map. I generally use the weekly charts, but when we get close to a trade, I add the daily chart for more precision.
Again, several of the brokerage technical charting tools are very good, but, if you want to follow along with what I am doing, I strongly suggest that you try TradingView. The Basic membership is free and that's all you need to follow along. The Pro is enough for position traders (long-term). If you are swing trading, then you need the Pro+ (what I have).
You can sign up to TradingView by clicking here.
Streamlining And Systematizing Quick Thoughts
A process is a necessary component of investing well. The disorganized gut it out approach that most investors have will kill you in the long run. Investing takes effort and tools.
The simple approach I have laid out, with some tools that I use, I think will help you a lot in being able to learn, screen and track what you are doing. Ultimately, this is about making money and not losing sleep. A well tooled process will help with both.
Disclosure: I/we have no positions in any stocks mentioned, and no plans to initiate any positions within the next 72 hours. I wrote this article myself, and it expresses my own opinions. I am not receiving compensation for it. I have no business relationship with any company whose stock is mentioned in this article.