Summary
ETF Trends is our weekly update of ETFs for swing trading or trend following using daily technical charts vs our the weekly charts used for Plug & Play.
These ETFs will be held at least until they are overbought on the daily technical charts; shortcut is RSI.
More active traders can begin to trim once the daily technical charts are overbought, i.e. scale out.
A portion of an upward trending position should be held until the weekly technical chart is overbought, i.e. ride your winners.
The ETF Trends weekly update is for finding spots to enter positions in longer term rising trends. It can be used for trading, or simply adding to positions when you are holding more cash than you want to hold.
The ETFs in ETFs trends include all of the Plug & Play ETFs for the quarter and any others that screen into the list on a weekly basis from the broader ETFavorites VSL.
Make sure to read Technical Trading Basics: Using Overbought And Oversold Signals To Buy And Sell before using ETF Trends.
Weekly Vs Daily Charts
The Plug & Play is based on weekly technical charts for entering our fundamentally screened ETFs. Using weekly charts gives us perspective on the longer-term trends that can last for many quarters.
The ETF Trends is based on daily charts. We use these to find spots to enter into the longer term trends, i.e. looking for spots to put cash to work.
We can also use daily charts for swing trading. In these cases we generally also want to find some catalyst that will help use crystalize a pivot opportunity, i.e. earnings, revenue, customer, deal or merger announcements.
Weekly chart of QQQ: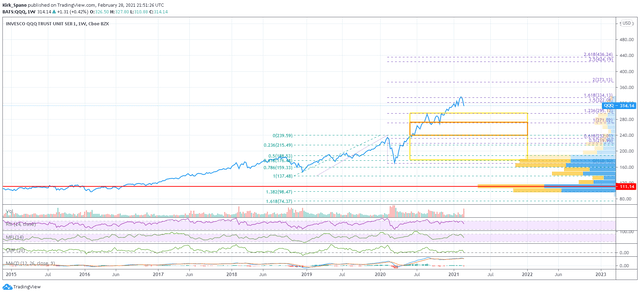 As you can see, the weekly chart offers a great view of the longer term trend. On the weekly, the RSI is just coming off of overbought and likely has a bit more corrective action to come. There is a possibility of a more substantial correction as well.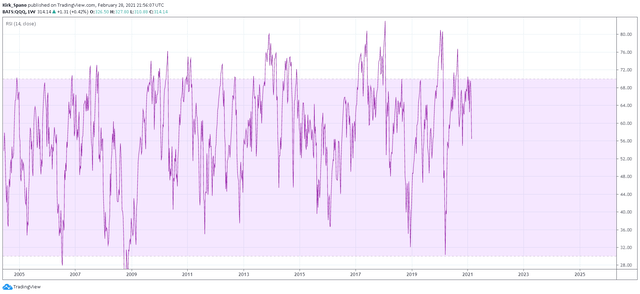 Daily chart of QQQ: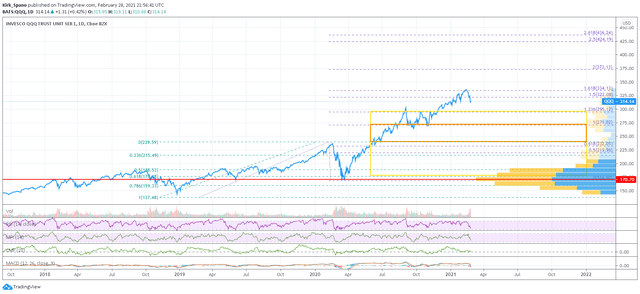 Here you can see that price action is heading down in the very short term. Remember, it can become very oversold for a period, especially, in cases where the weekly RSI and other technical indicators are overbought or just coming off of overbought.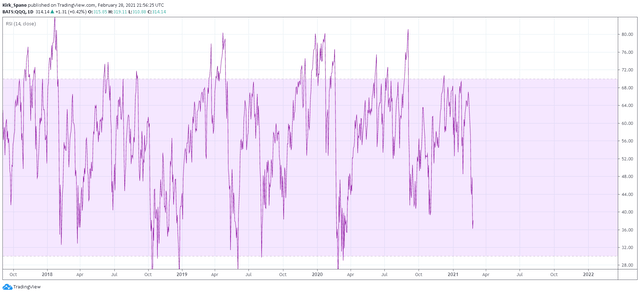 The daily RSI is not oversold yet in this example. Given the nearly overbought status of the weekly, we would want to wait until the daily is all the way to oversold.
In situations where the weekly is more in the middle, but stable, or coming off of a near oversold or oversold condition, we could be more aggressive buyers on a daily oversold.
Ultimately, what we are doing for ETF Trends is comparing weekly and daily time frame technical charts to find spots to deploy cash. It is not always so easy as investing on a big correction.
Buying the dips on rising trends is a viable strategy though. However, we must be diligent not to overextend on risk prior to big downturns. This is another reason that scaling in is so important.
Make sure to read Technical Trading Basics: Using Overbought And Oversold Signals To Buy And Sell before using ETF Trends.
I also recommend this book:
Getting Started in Technical Analysis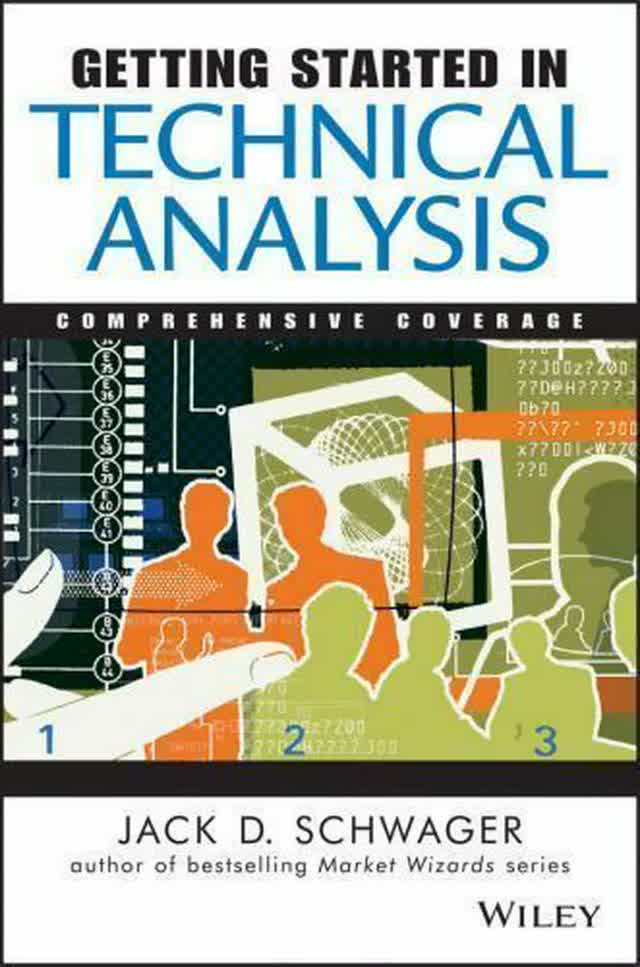 Using The ETF Trends Chart
Each week there will be a chart with the Plug & Play ETFs and select others from the ETFavorites VSL.
You can use the "Top of the Buy Zone" to consider spots to scale in. Make sure to look at the linked TradingView charts for Buy Zone boxes so that you can build a plan for where to scale in.
Sample ETF Trends chart:
Remember, it's not the top of the buy zone that is sacrosanct, it's the technical indicators. We want to buy a weekly uptrend chart when the daily goes oversold, but there is little risk of a larger correction, i.e. buy the dips.
In the examples on this page, the QQQ is still very close to overbought on the weekly charts, that is why we are cautious with the daily chart as a signal for buying the dip, i.e. the dip can get bigger.
If the weekly RSI for QQQ wasn't just off an overbought condition, then we could be more aggressive. As it stands, we are looking for a price in the $270s vs $290s.
For scaling into QQQ in this situation, I'm looking at the two orange lines and holding a little dry powder in case we see around $200 again on bad news of some sort.
Investing Quick Thoughts
There are no absolutes with investing. There are no secret formulas. There is no fool proof system. But, by using our 4-step process which uses secular trends, government & central bank policy, fundamentals and then finishes with technical analysis, we can mitigate many risks and find many opportunities over time.
So long as we manage risk, there is in fact an endless stream of opportunities. That is why FOMO – fear of missing out – makes no sense.
We want to err on the side of being invested vs being heavy in cash most of the time. The simple reason is that the stock market rises over time. Even in bad times, the government and central banks ride to the rescue at some point.
There is always some asset class or sector in an uptrend or poised to rise soon, i.e. pivot higher. Our goal is to invest in those places.
Disclosure: I am/we are long QQQ.