In late 1998 I was watching CNBC in the early days when legendary bow tied investor Jim Rogers made an appearance. During the interview he announced that the talking heads wouldn't see him for a while as he was taking off for a drive around the world. They asked who would manage his investments. His reply shocked them.
Rogers said that stocks were in a bubble, so he sold them all and would find resource investments as he traveled. The talking heads that day laughed at Rogers as he just sat and smiled as if to say, "boys, you have no idea."
About 15 months later a wicked bear market began. As stocks cratered, Jim Rogers was enjoying his Millennium Adventure. (I recommend the book).
The Dot-com Tech Wreck And Me
I was "lucky" that I sold about half of my long equity investments into year-end 1999. I got made fun of by other brokers who accused me of being afraid of the Y2K nonsense. Another literally told me that the internet made it "different this time." Even then, I knew that phrase was trouble.
I loaded up on cash, zero-coupon bonds, even though I wasn't experienced with them because I had read Warren Buffett was buying them, added a few gold stocks and Occidental Petroleum (OXY) plus bought a Gabelli family mutual fund called the Comstock Capital Value Fund (COMVX) which was one of the first inverse funds.
I ended up about even in both 2000 and 2001. In 2002, I lost about 6% as I started to accumulate beaten down stocks.
I could have probably made a few more bucks in 2001 and 2002, but after President Bush asked the financial industry to take their short positions off, which I think almost everyone did, I sold the Comstock fund which went on to have a pretty good 2002. That's alright, somethings are more important than a few dollars.
What I learned in my first bear market was that adjusting your asset allocation, particularly selling "good stocks" that were likely to go down, was a fine idea. I could have executed better, but came out of things intact, which was a lot more than a lot of people could say.
The Financial Crisis
By 2007, I was writing annual letters to clients. Here's an excerpt of my letter written in January 2008: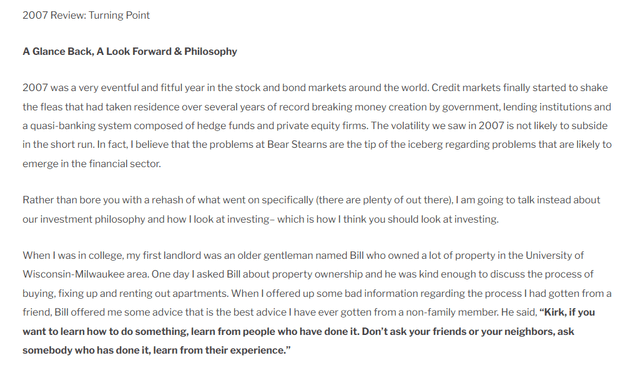 It was my belief after the Bear Stearns events of summer 2007 that the stock market was on thin ice.
I started buying steak dinners at one restaurant and Italian dinners at another trying to pitch people on why they needed to sell equities and leveraged real estate investments while shifting to treasuries and GNMAs. I had clients bring friends. More clients fired me than their friends hired me.
By spring of 2008 I was liquidating mutual funds and holding cash. My brokerage contacted me and asked what I was doing. I told them I expected a major correction and they told me that holding cash was not an investment.
They told me to buy something. I'm pretty sure they didn't really like that my trading commissions had dropped. (Have you heard me rant about how about 80% of the financial industry is a scam and a skim?)
So, I started buying U.S. Treasury and GNMA mutual funds. It didn't cross my mind to just by the iShares 20+ Year Treasury Bond ETF (TLT) at the time.
I wasn't really using ETFs until a bit later when I discovered the ProShares Ultrashort Financials ETF (SKF) in August 2008. I made a couple mediocre trades in that ETF and gave up trying to trade such wicked volatility.
In January 2009, my firm was a year or two into using TD Ameritrade as a clearing firm. We had a meeting where some new features were laid out on the overhead (yep, the overhead) and started running through screens.
One of the screens was all the brokers performance for 2008. It was meant to show we were all in the same horrible boat, except, when it got to my name, which was about fifth to last in the firm of around 65 brokers, I showed a positive 12% return for 2012.
You would think it was because I discovered the short ETF, but it was almost entirely due to holding more cash than I did in the Dot-com multiyear meltdown. Asset allocation mattered more than trading prowess.
Sell Almost Everything Before The Coronavirus Crash
Before the Coronavirus Crash I was ahead in the game. I already thought 2020 would be a rough year due to valuations and middle of the road Federal Reserve policy (merely trickling in some Repo money). But, this is what really gave me an edge: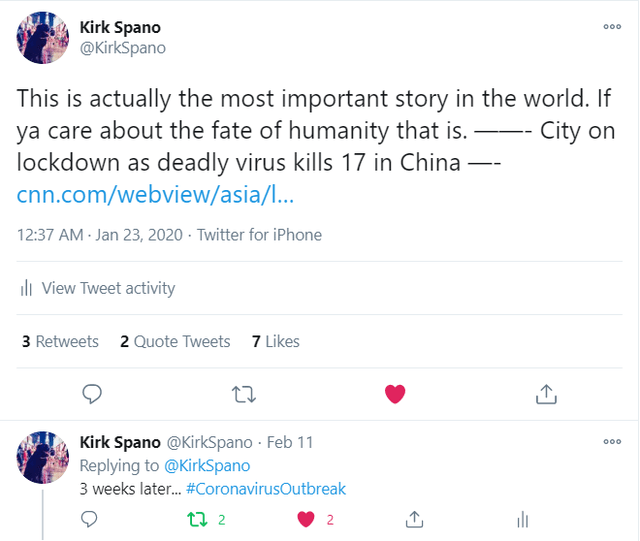 On my Investing 2020s webinars, I twice headlined with "Sell Almost Everything" before the carnage began. This article on Seeking Alpha pulled the valuation and Coronvirus ideas together:
Coronavirus Is A Match That Lit The Overvaluation Tinder
So, going into the remarkably fast and deep correction, I was about 75% in cash. I lost almost nothing and made it back fast with picks like these: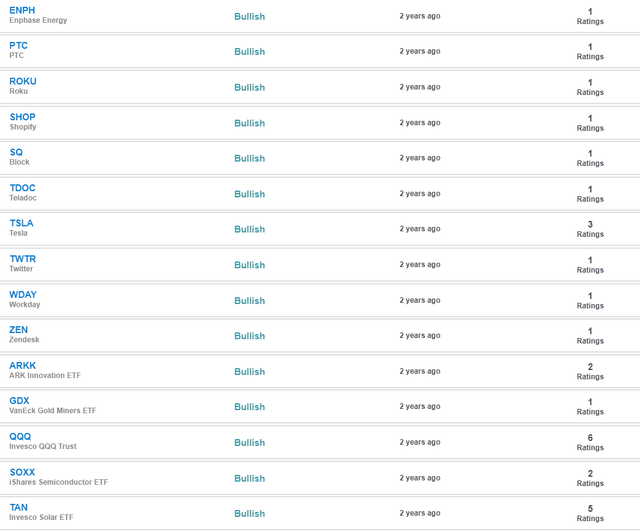 Those are posted on TipRanks. There were also favorite REITs: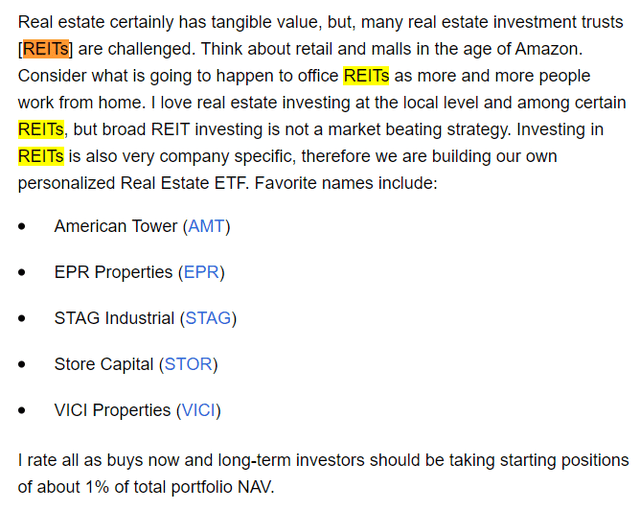 All of those picks were posted in my investment letter Margin of Safety Investing on April 14, 2020. Some things I got right, some I got wrong or less right. Take a look. View as PDF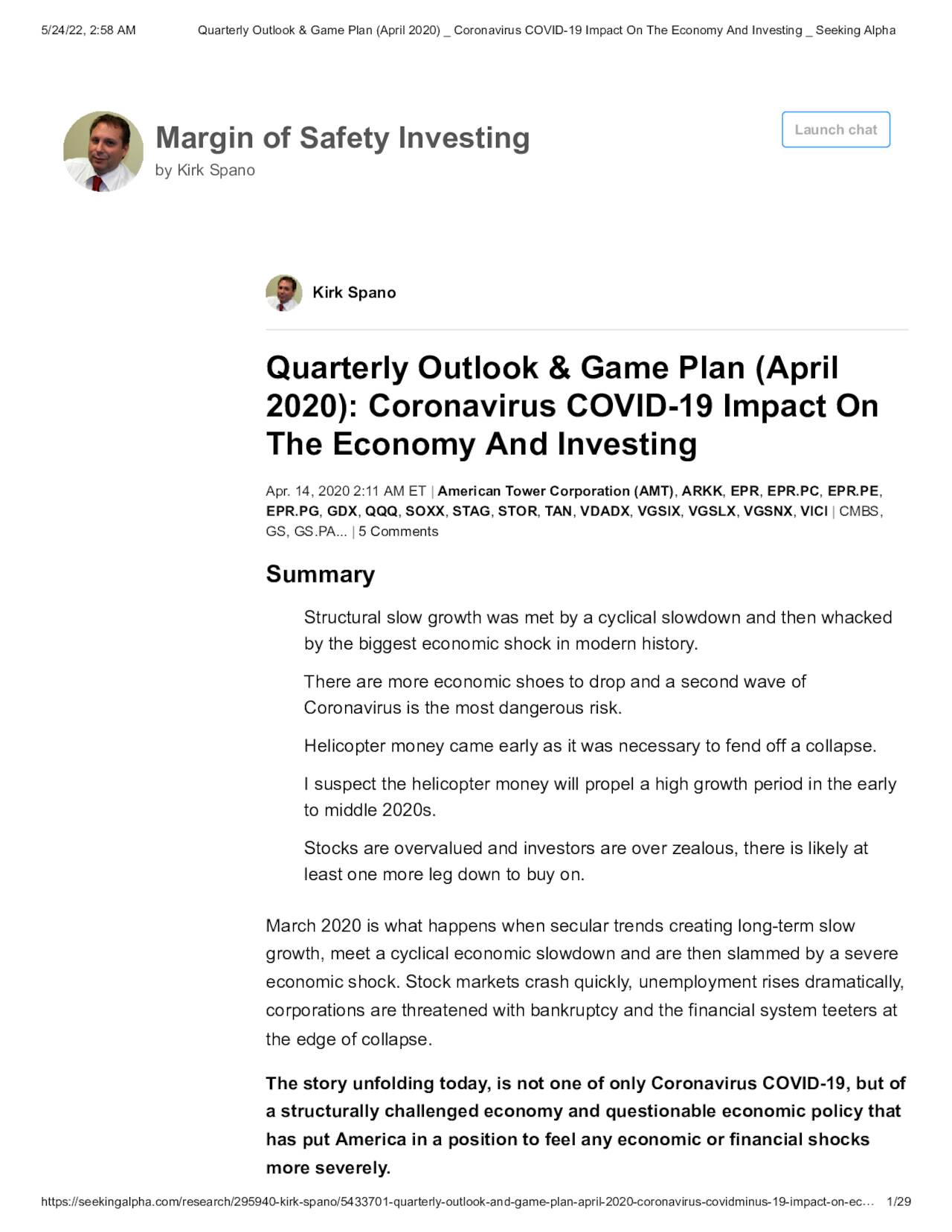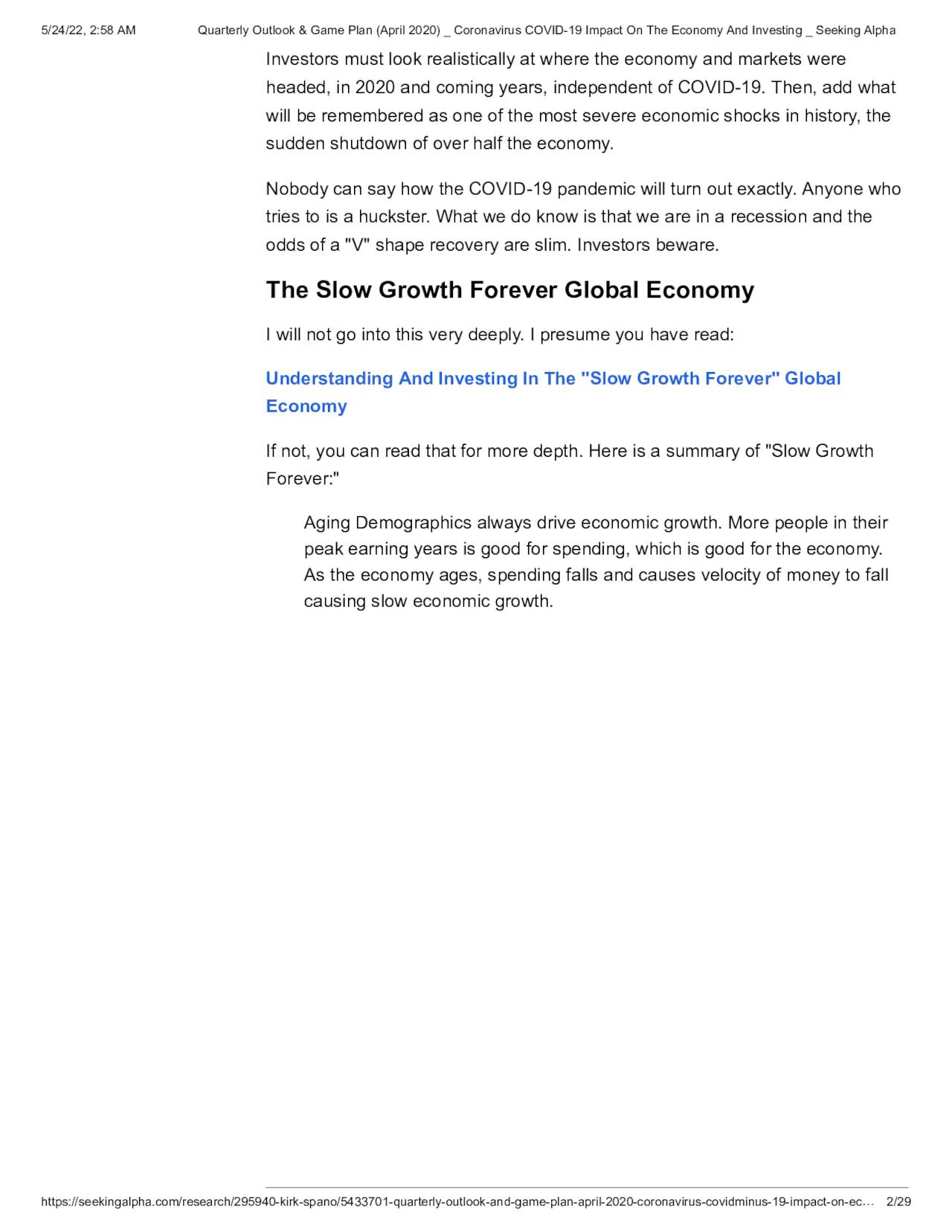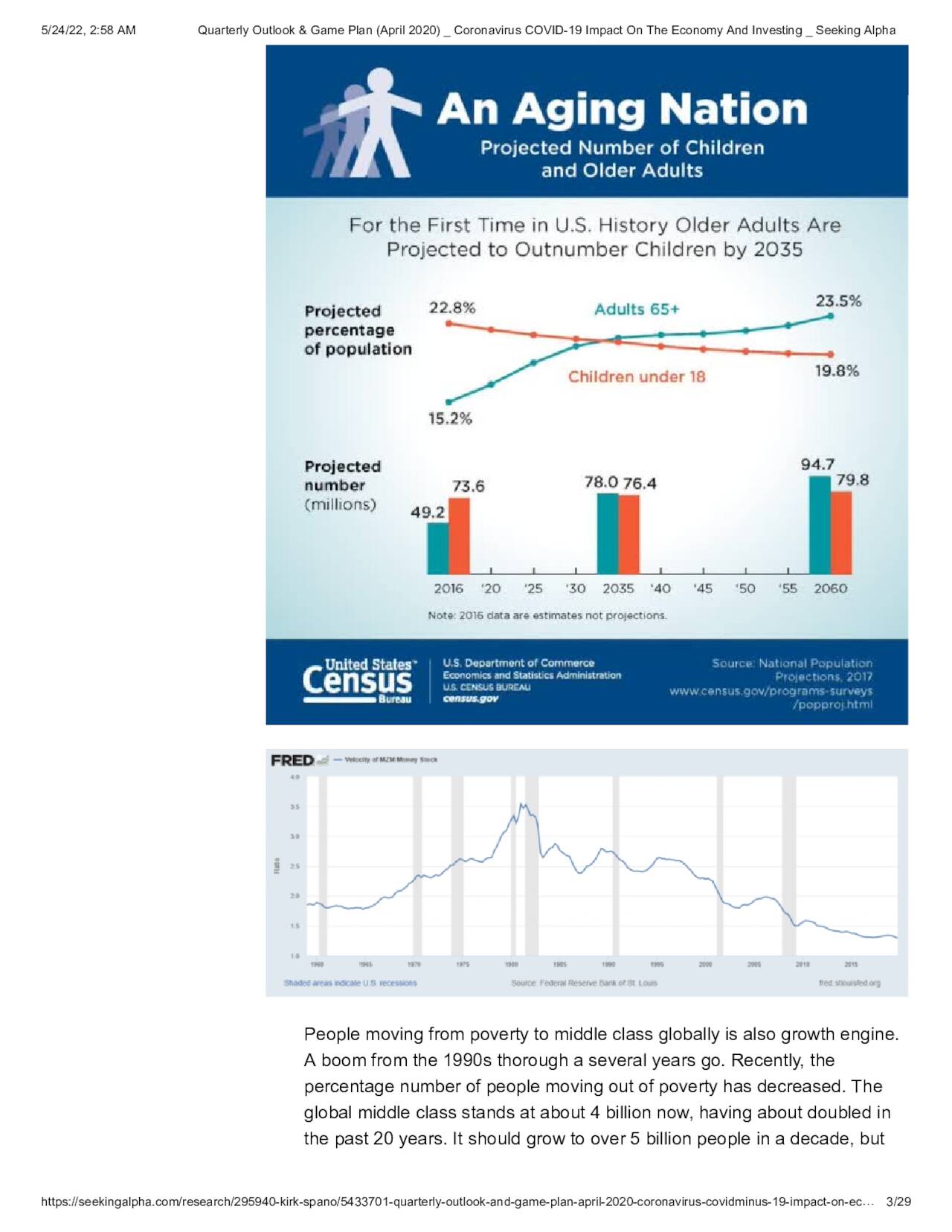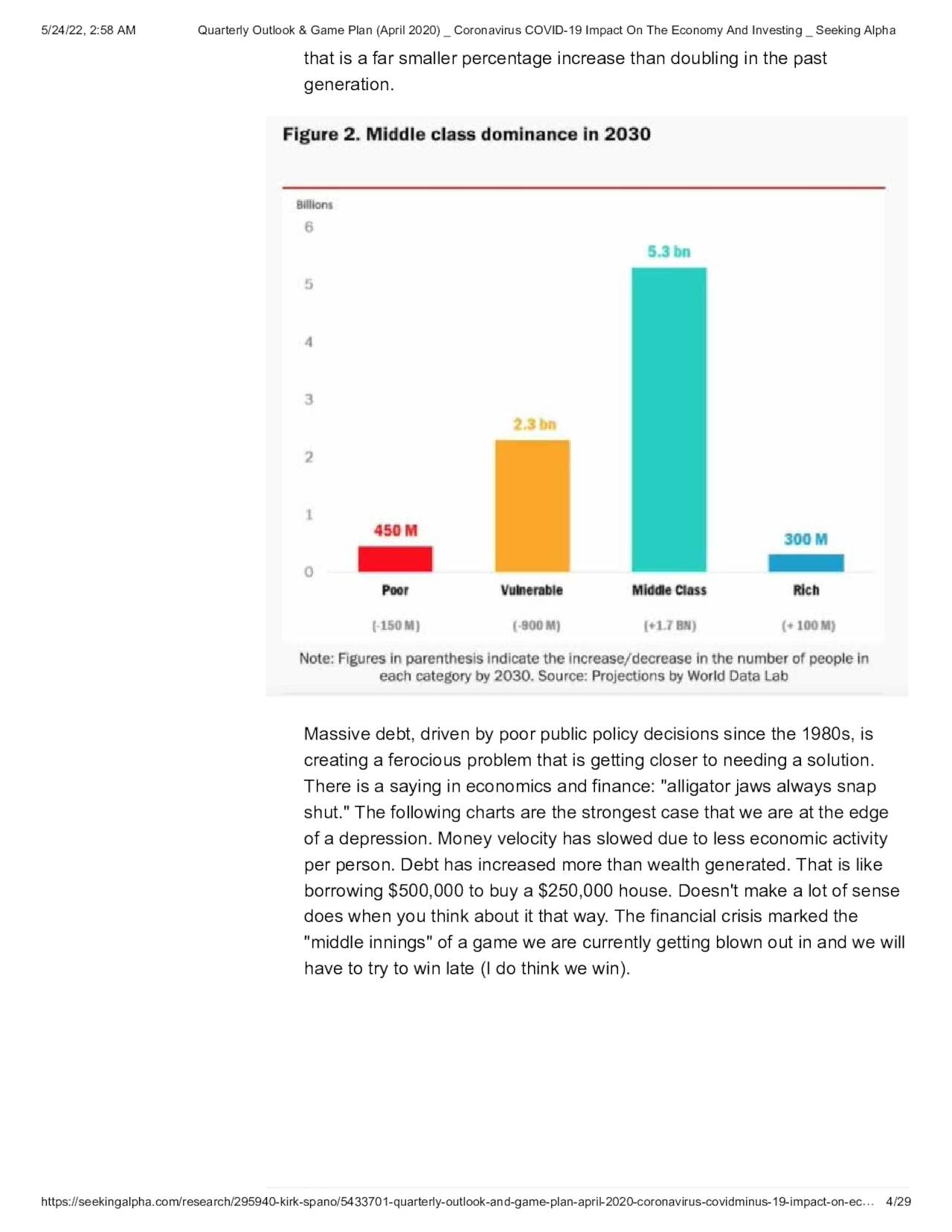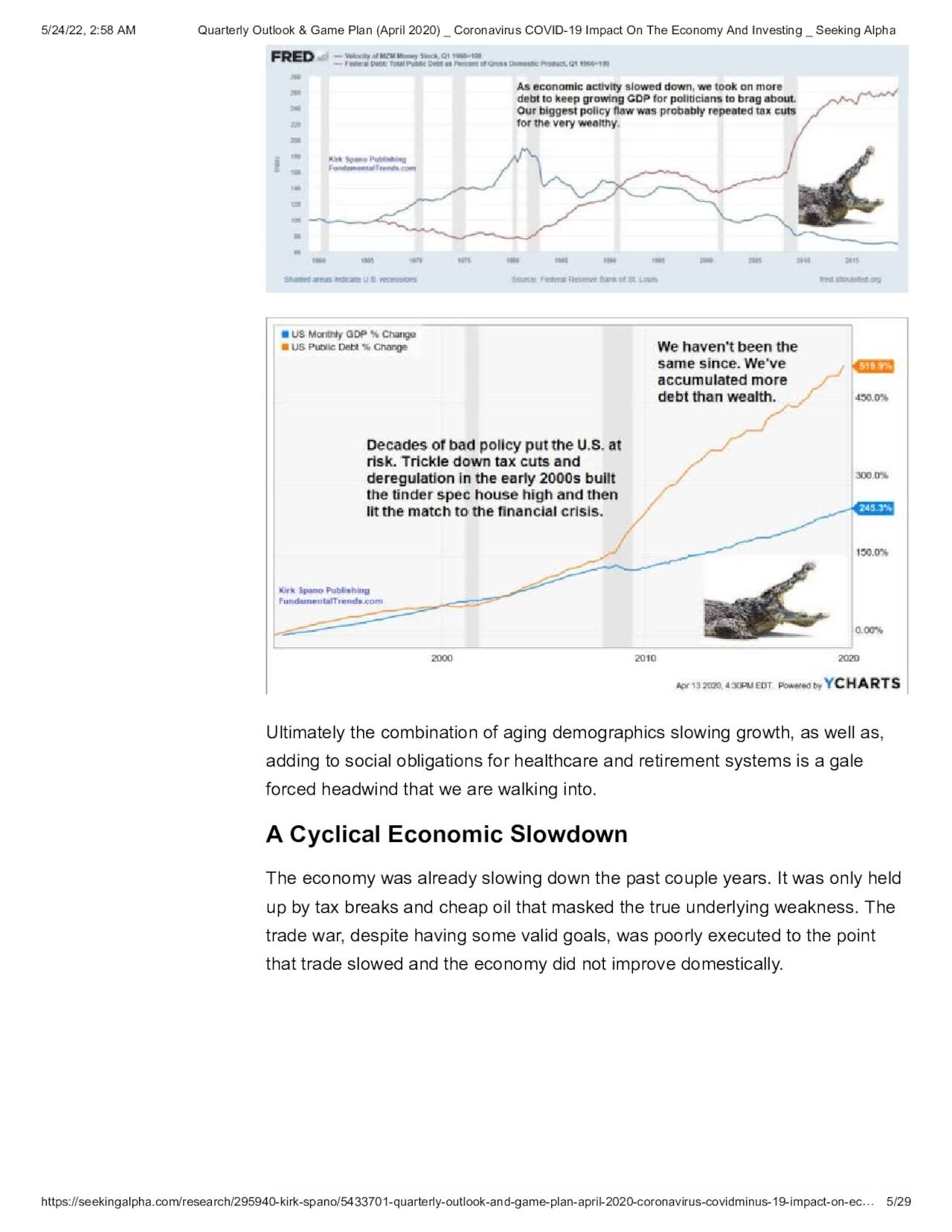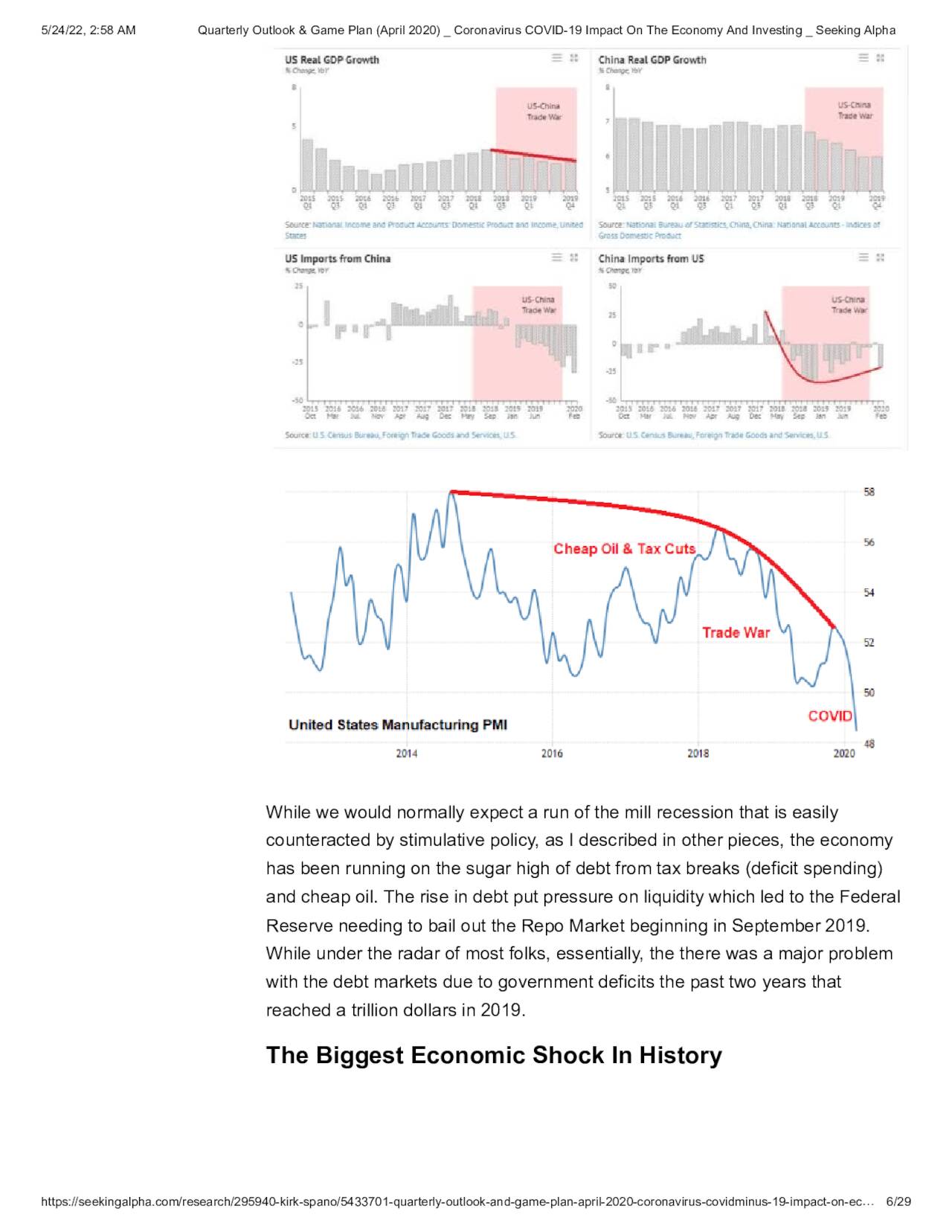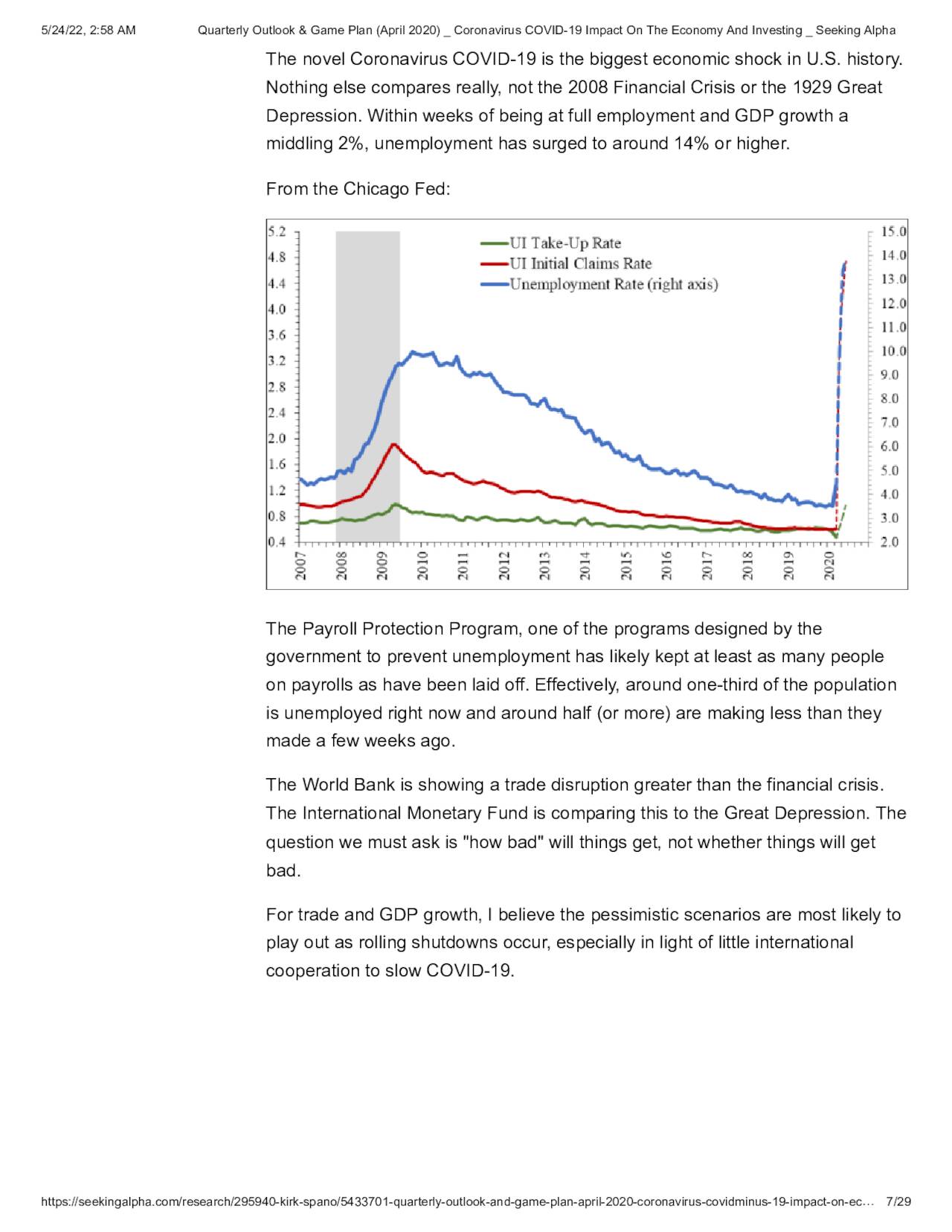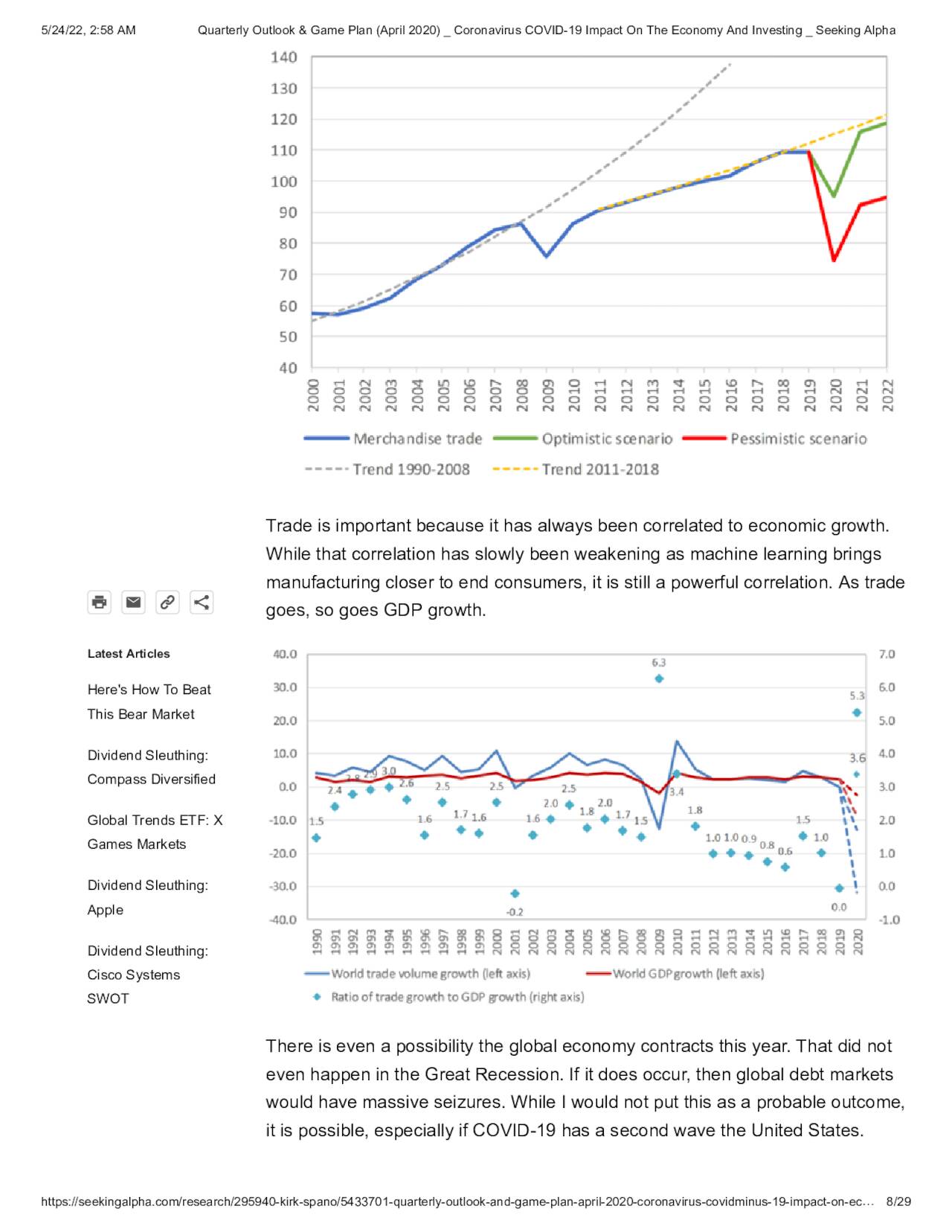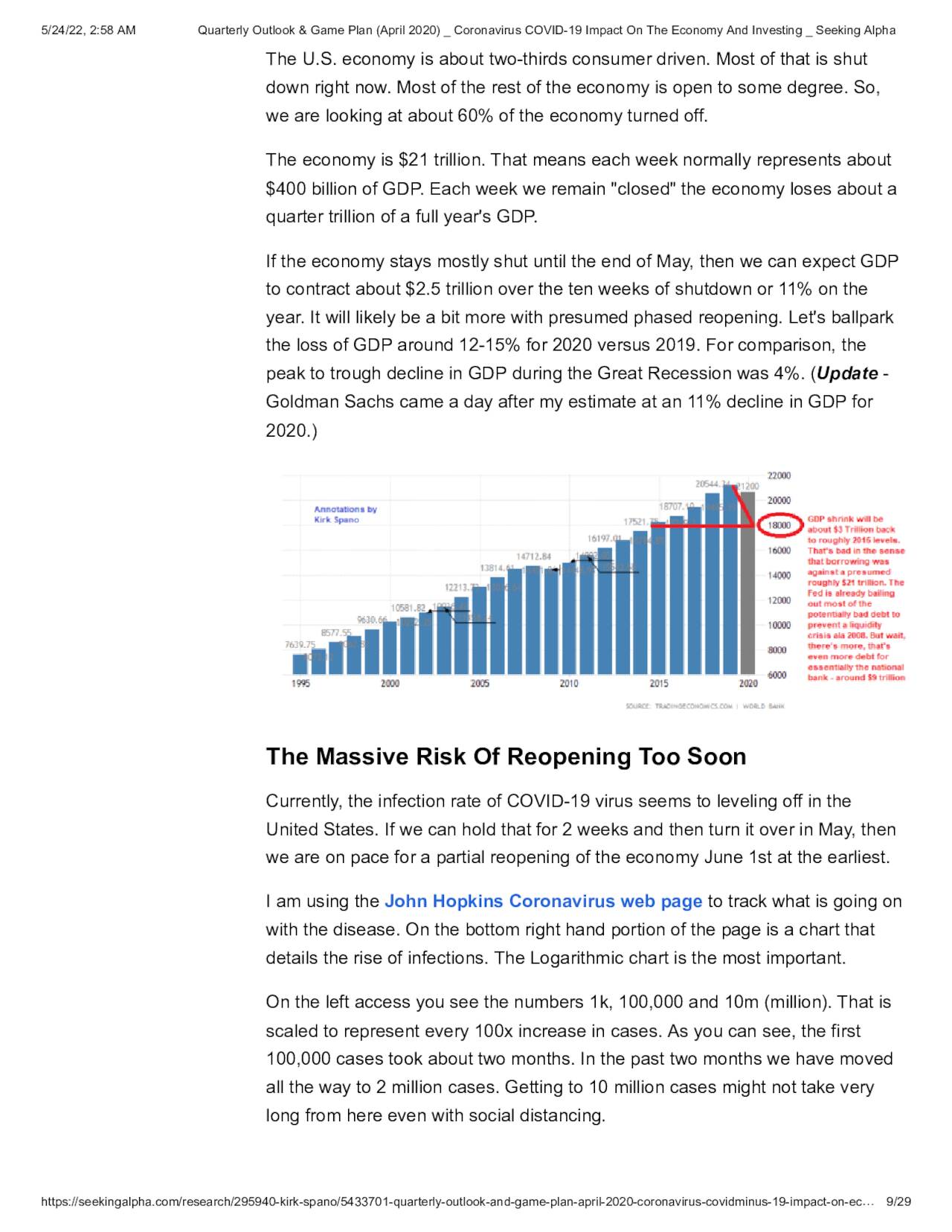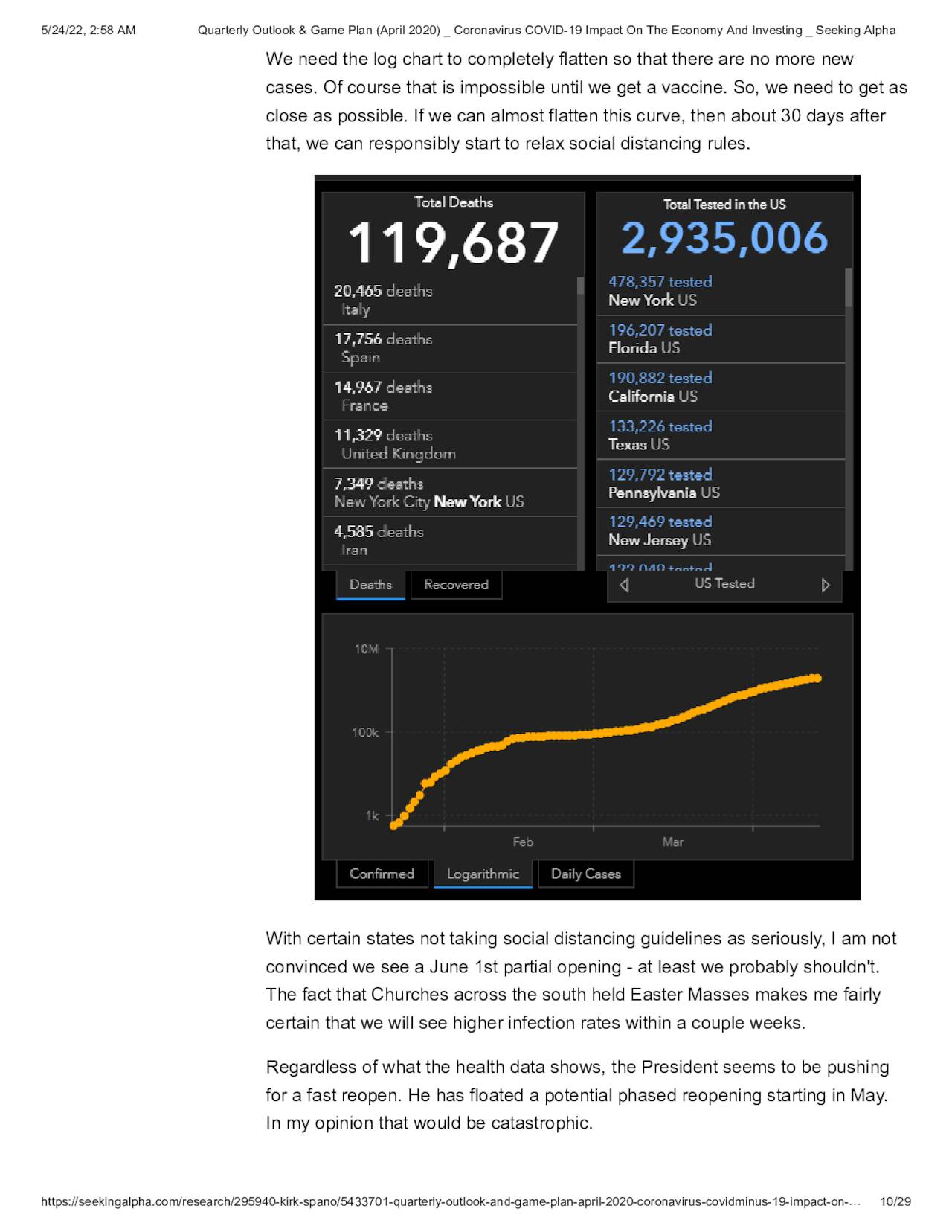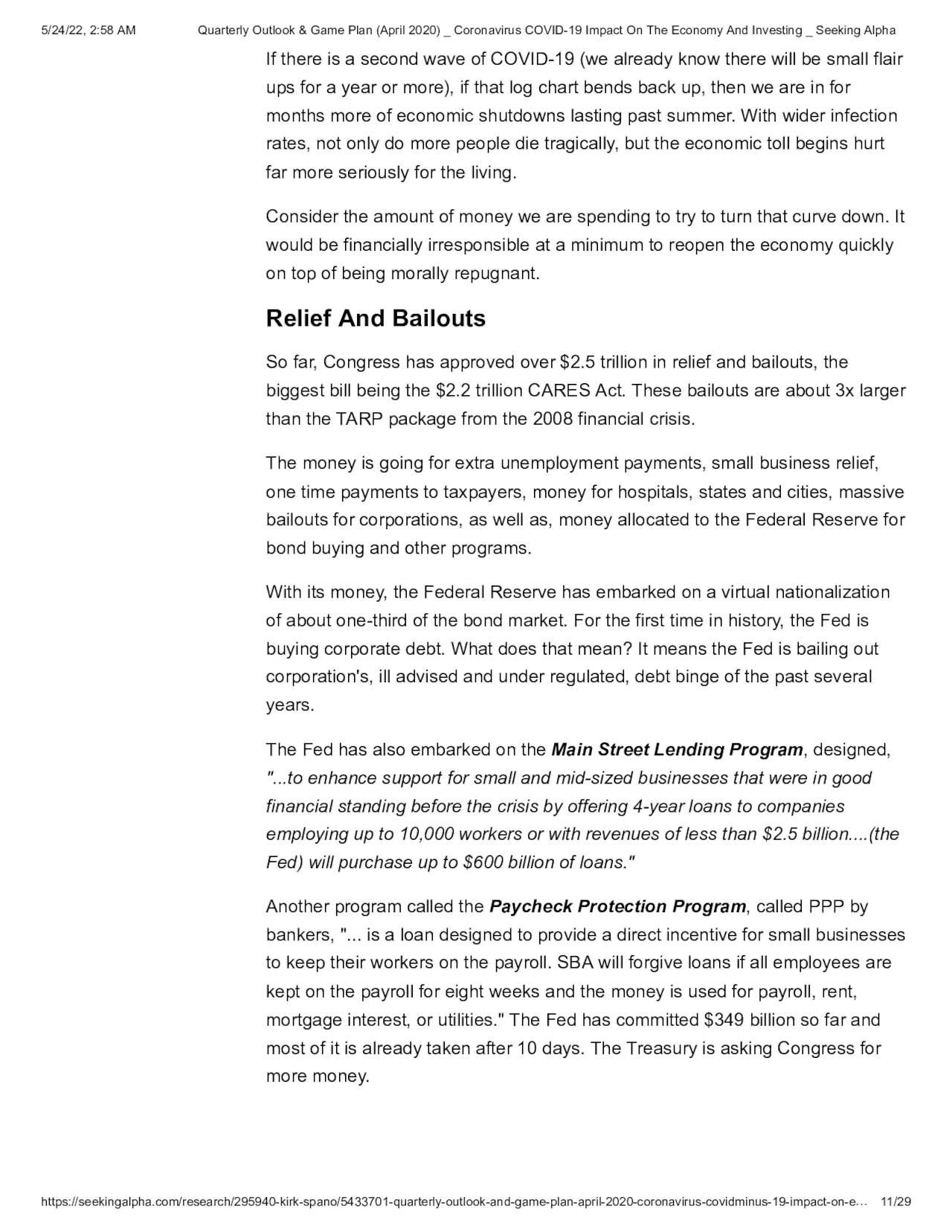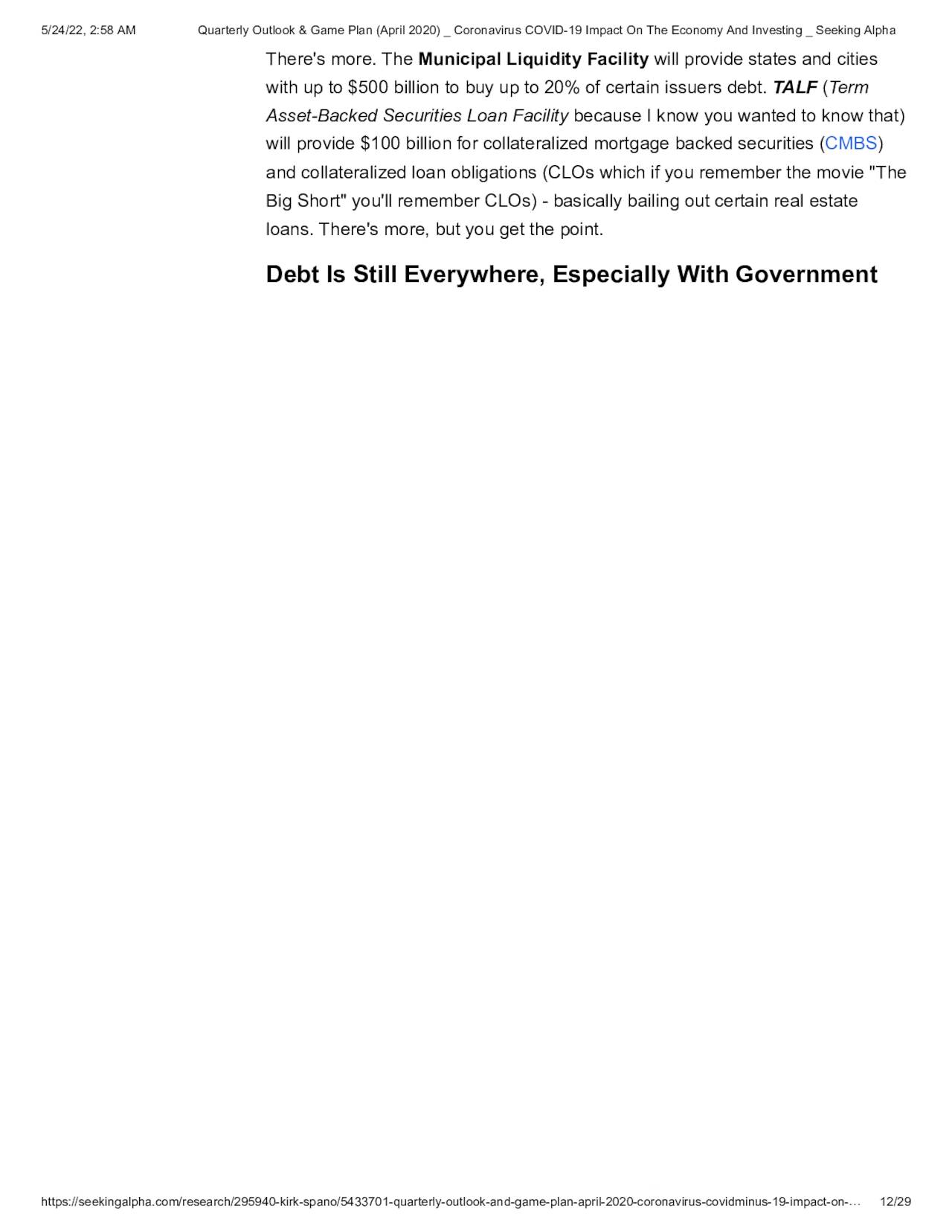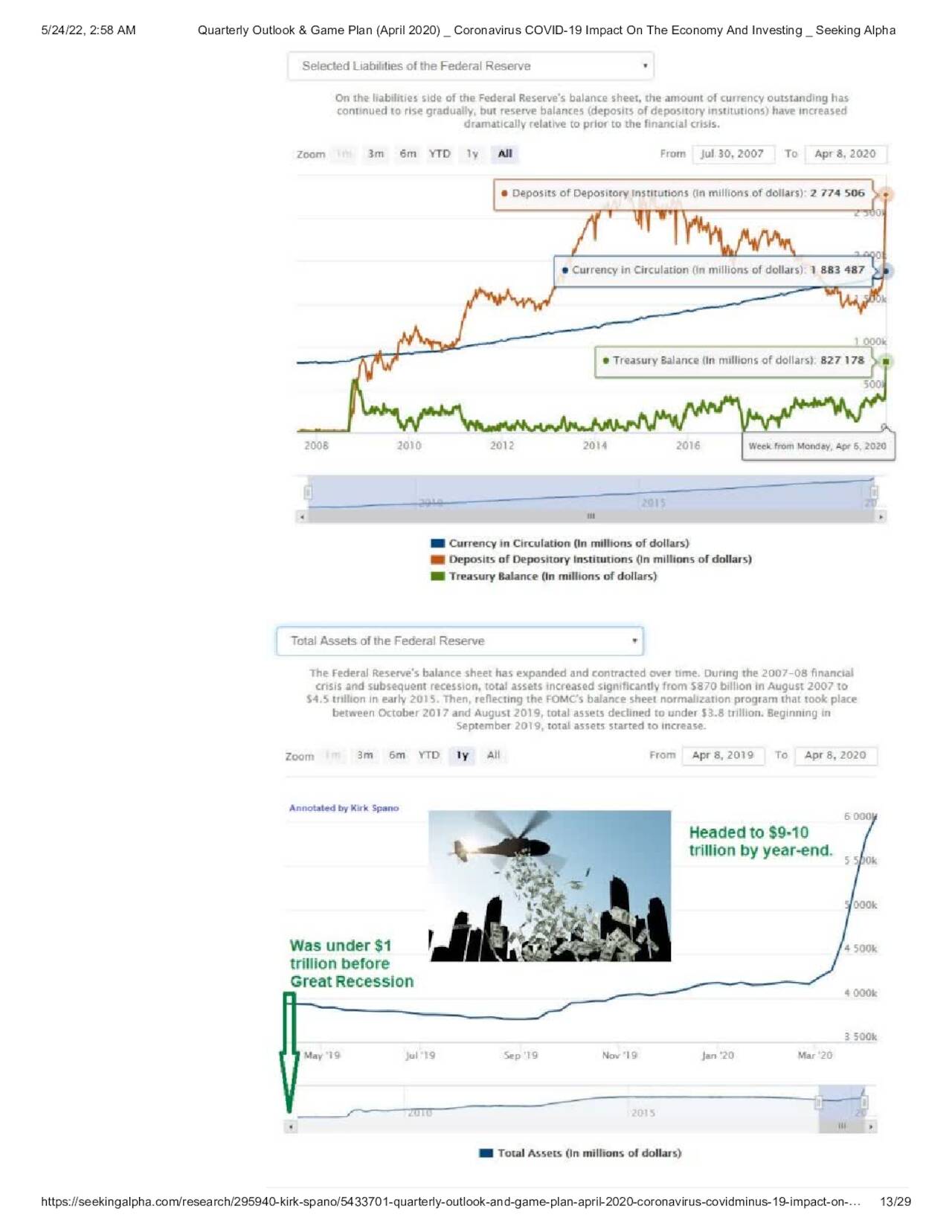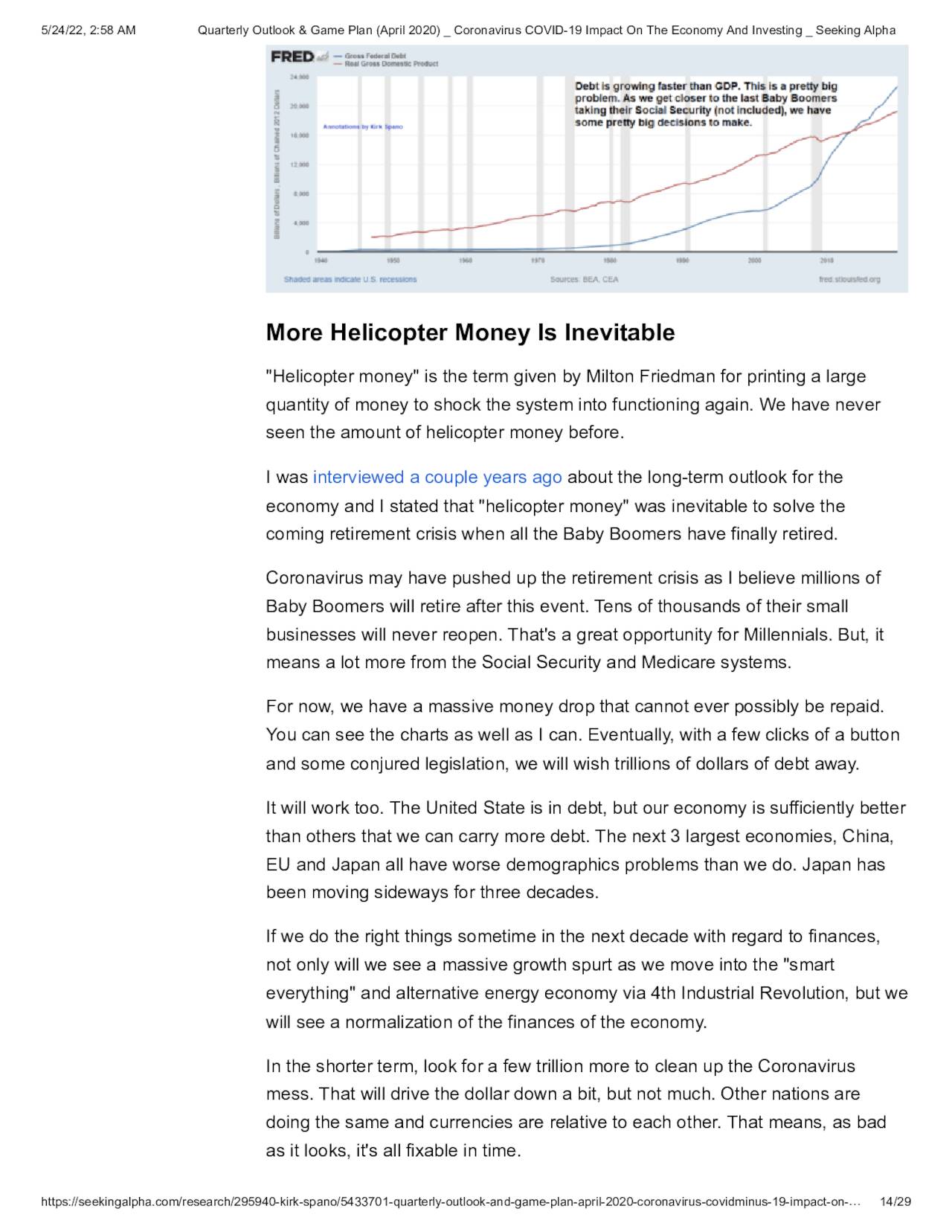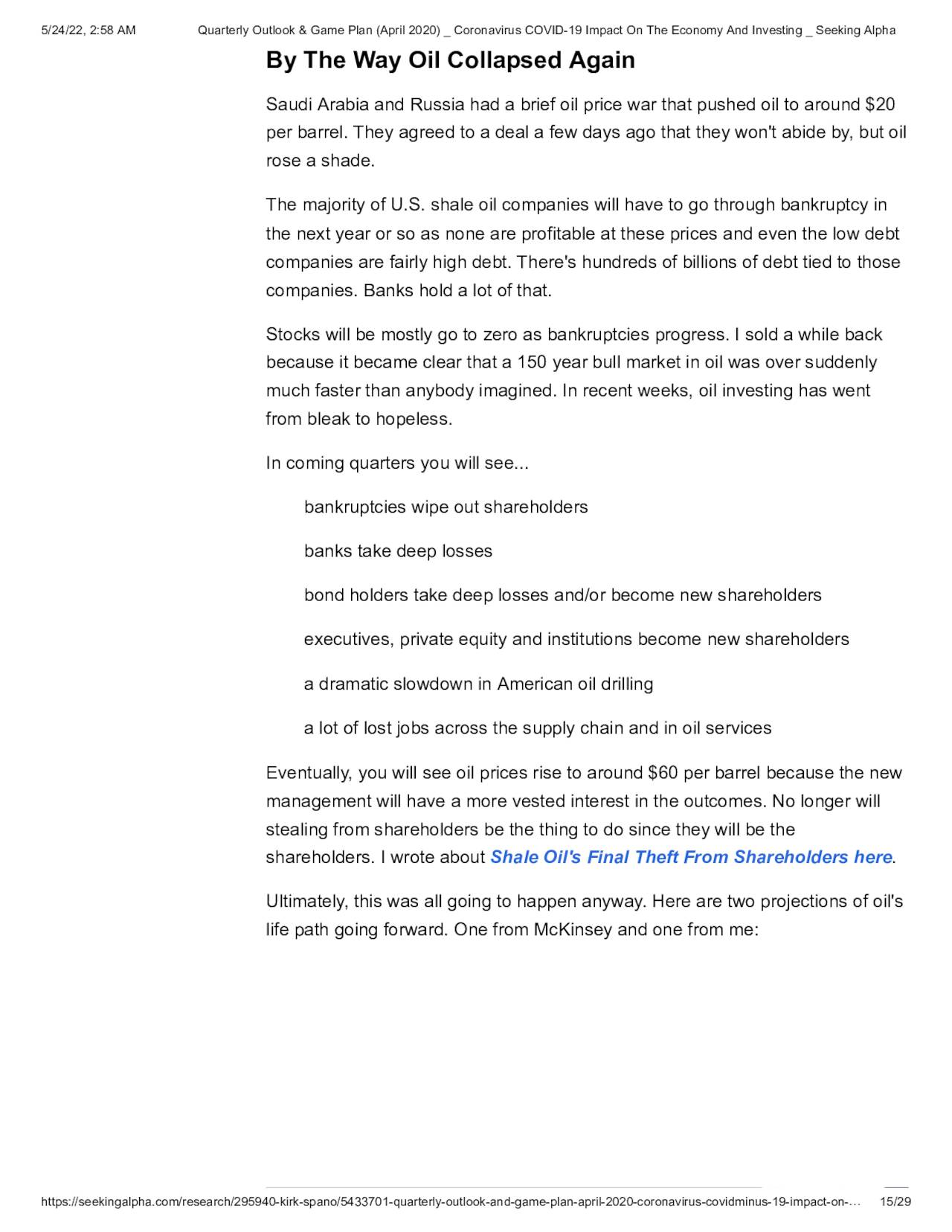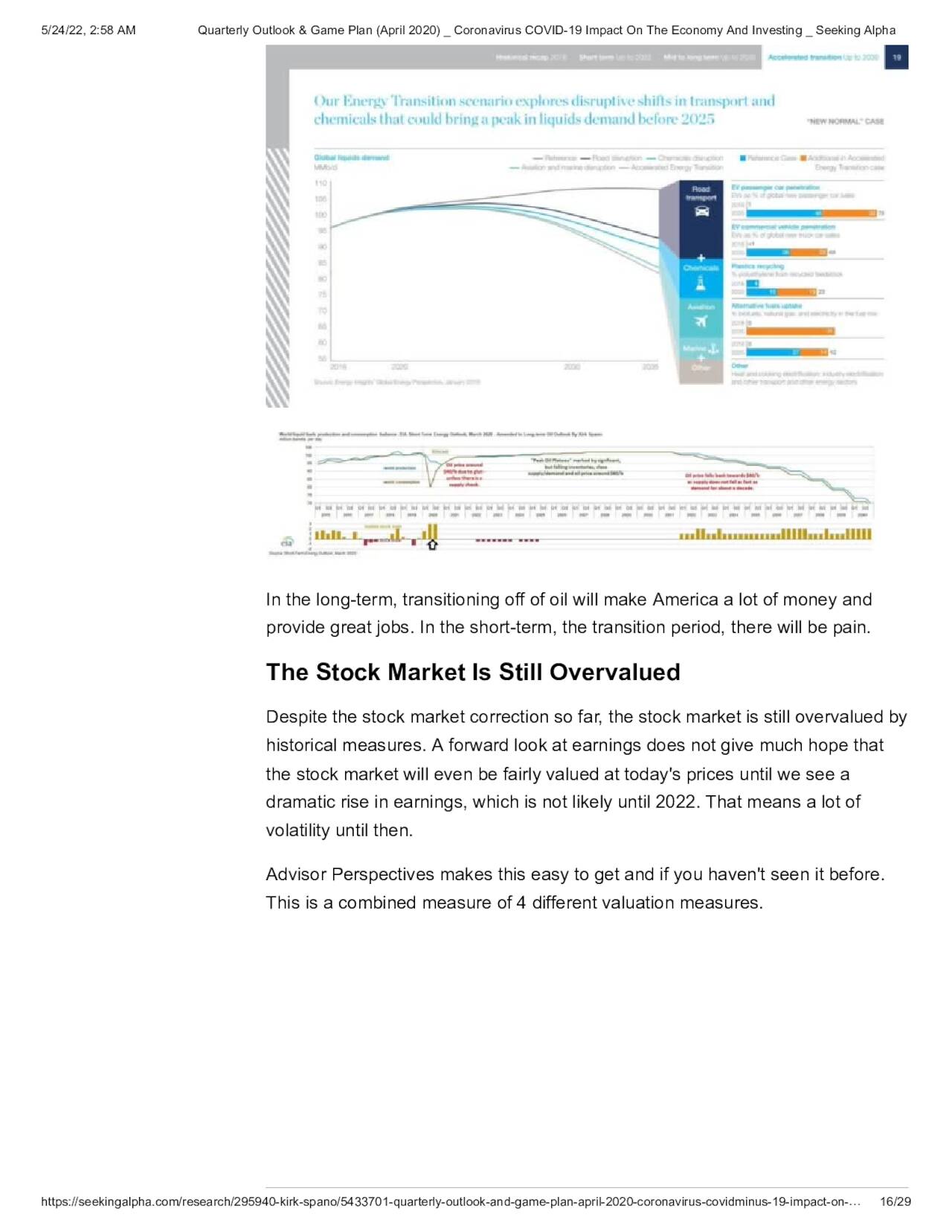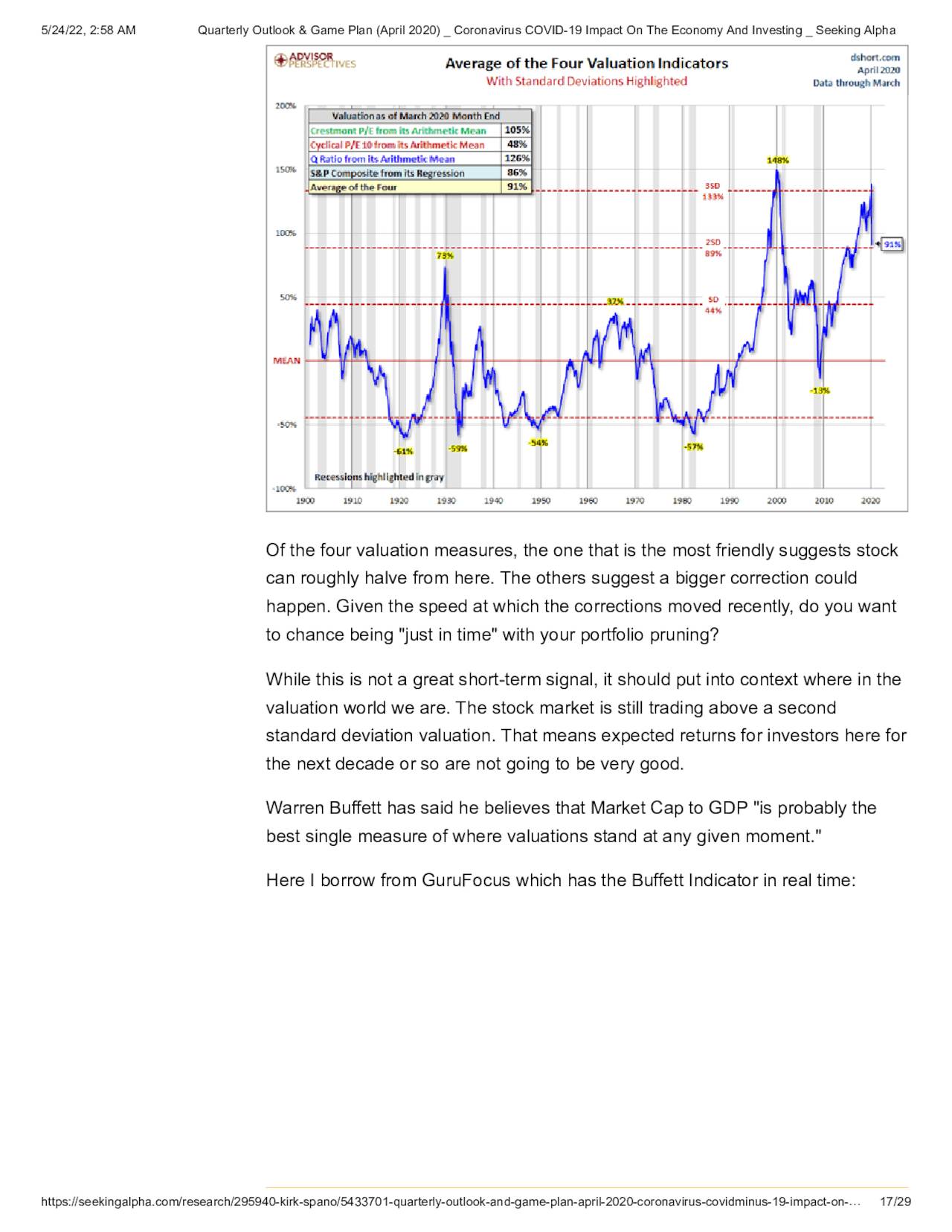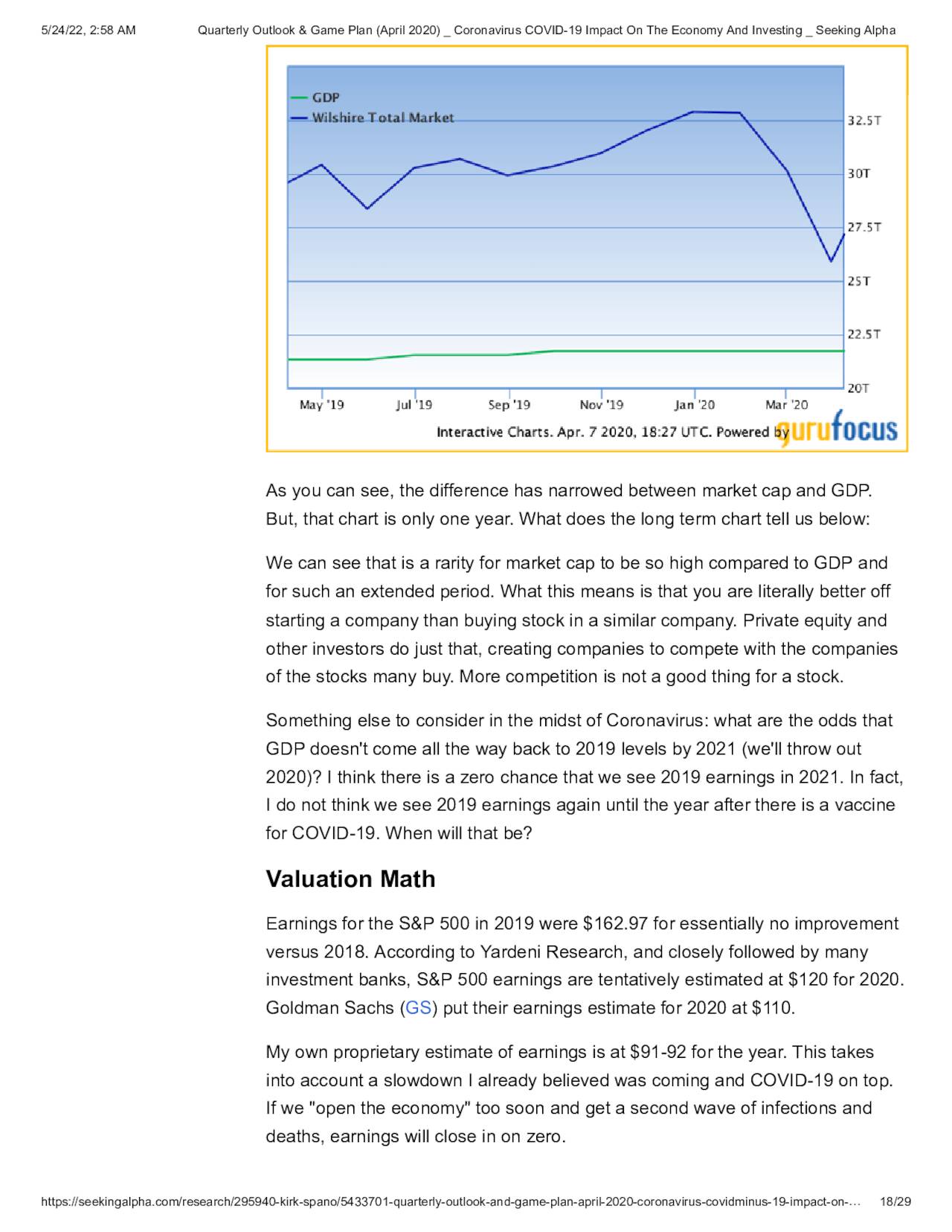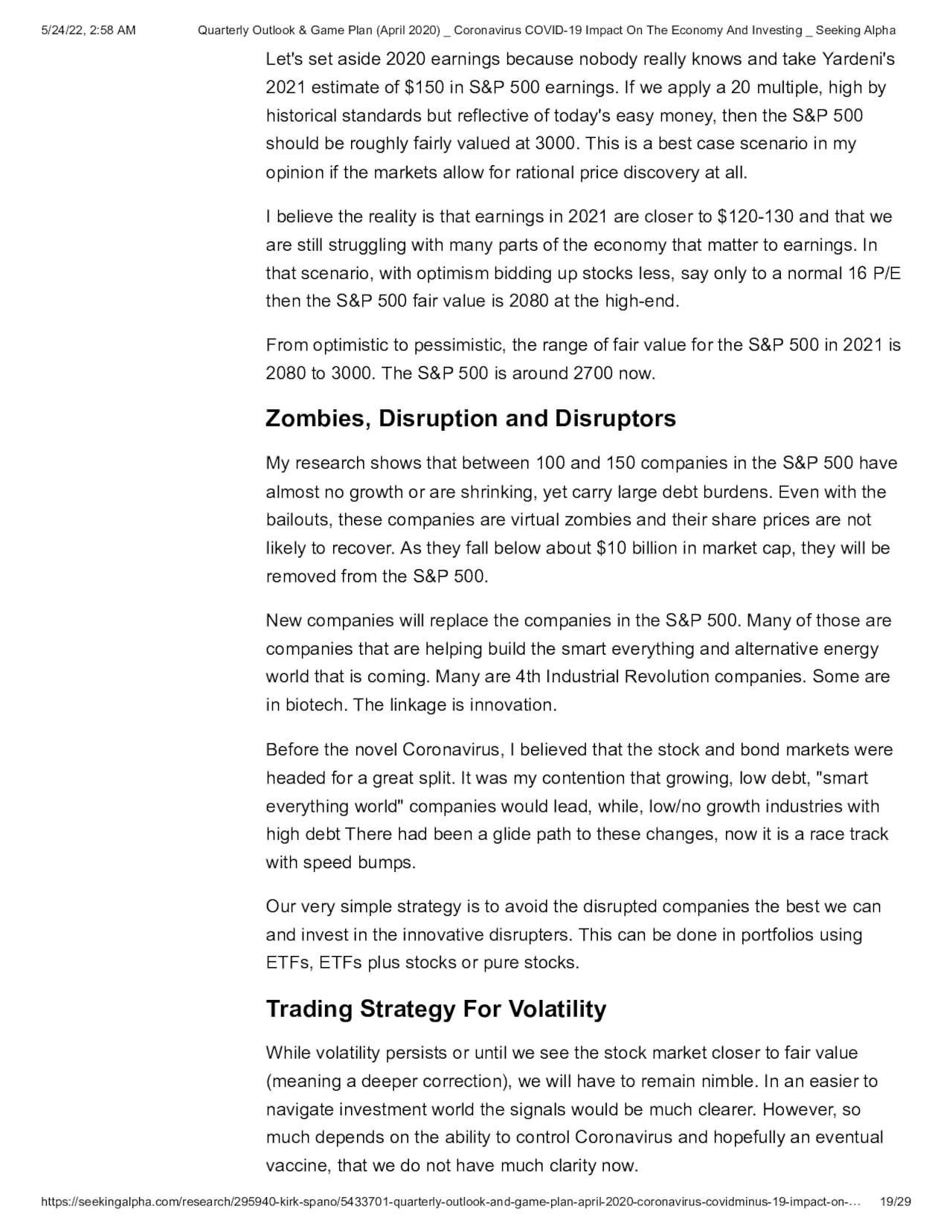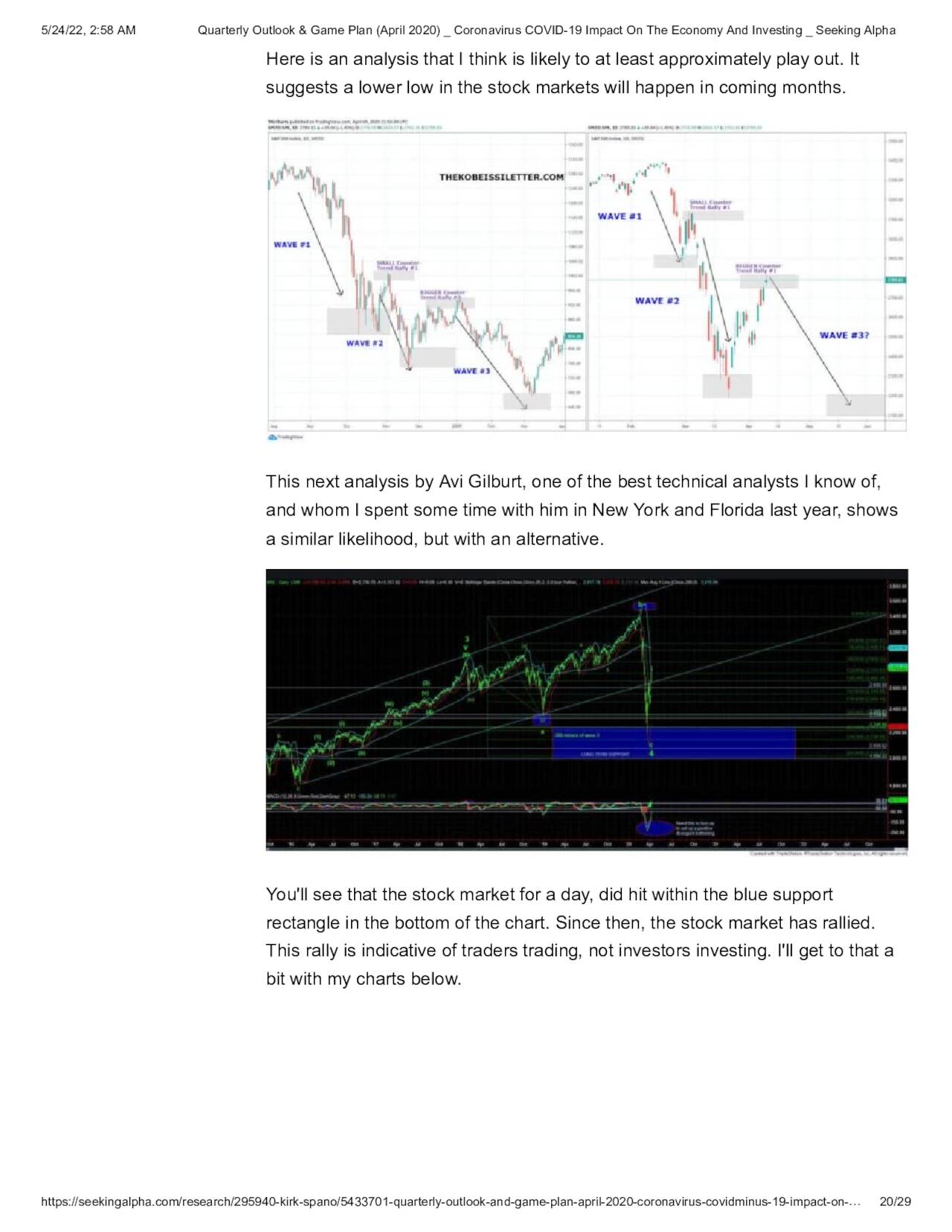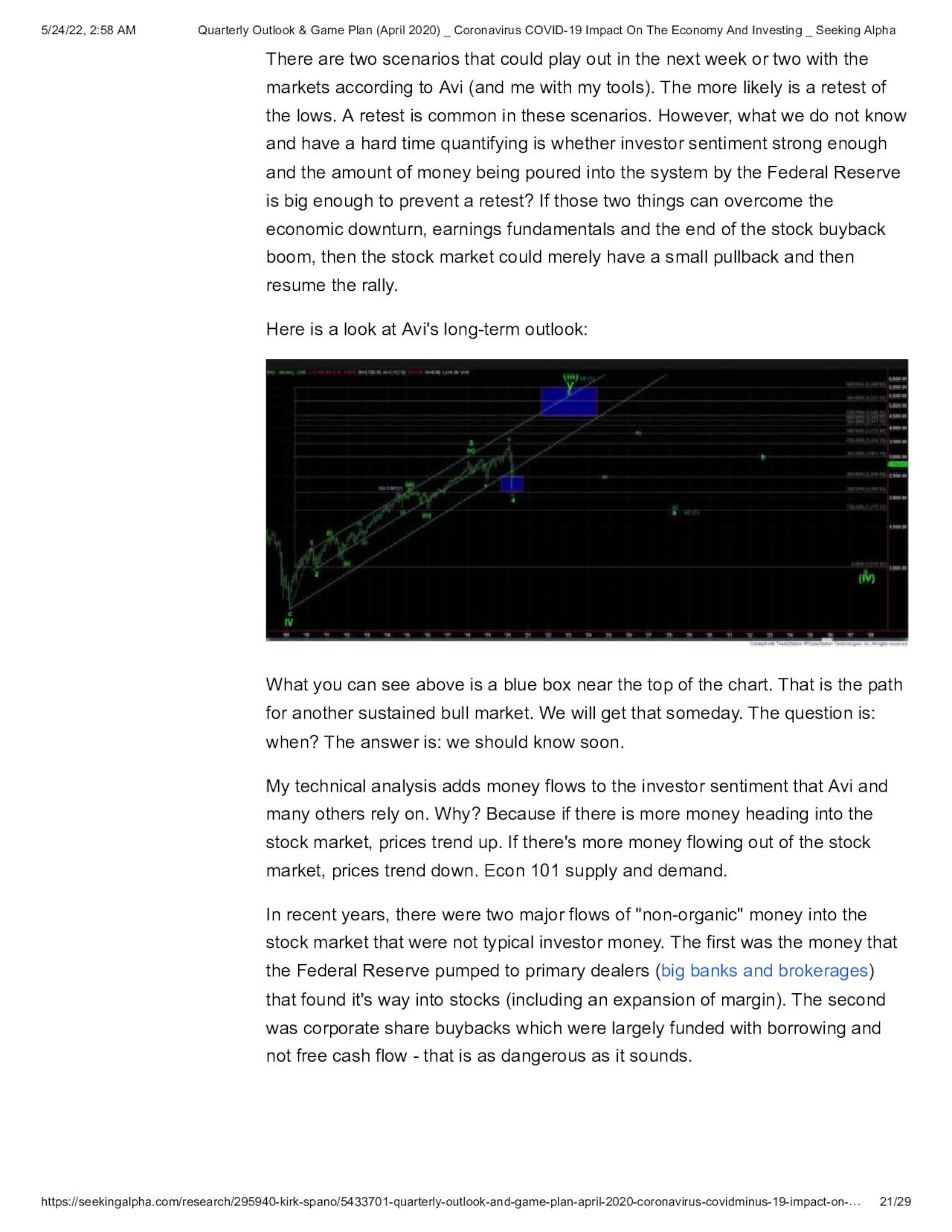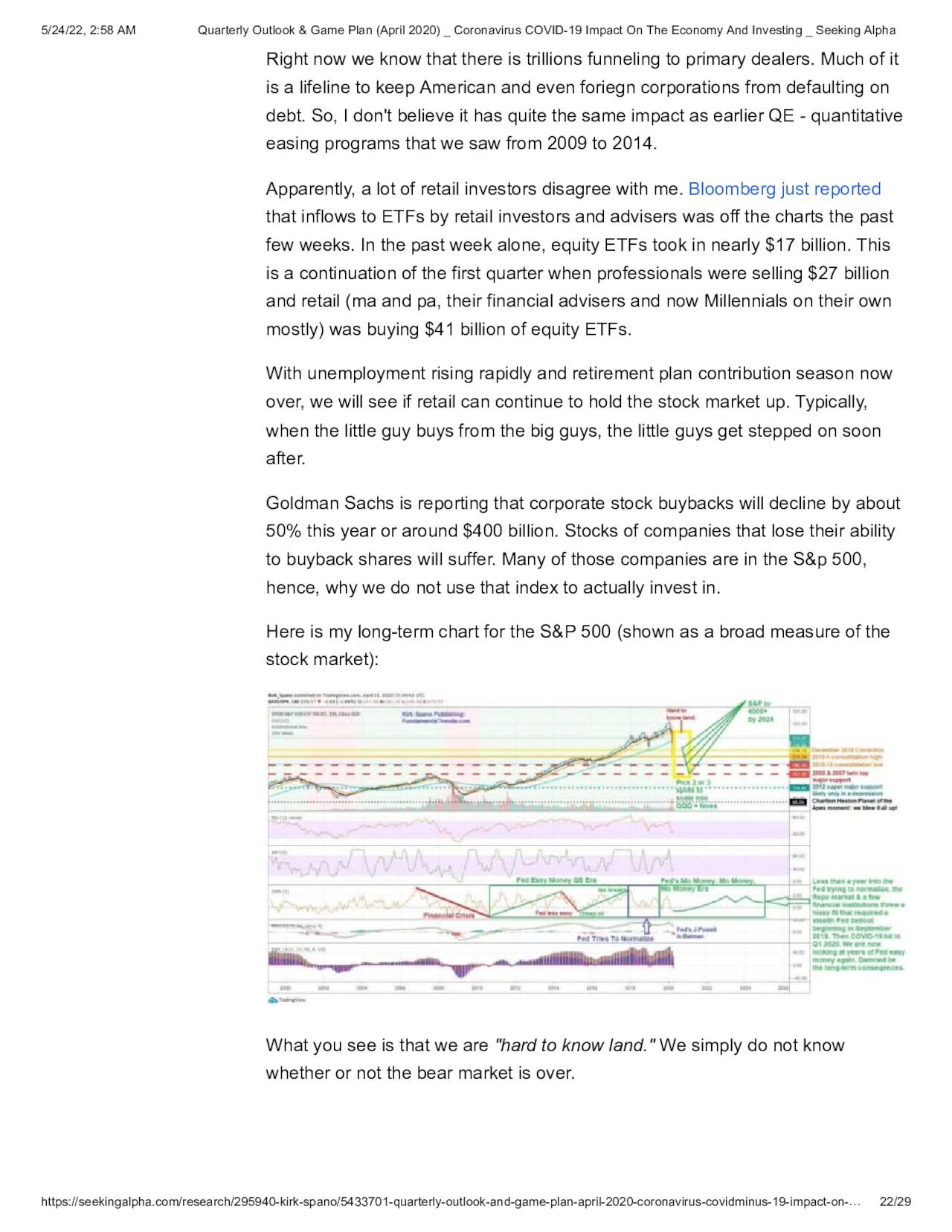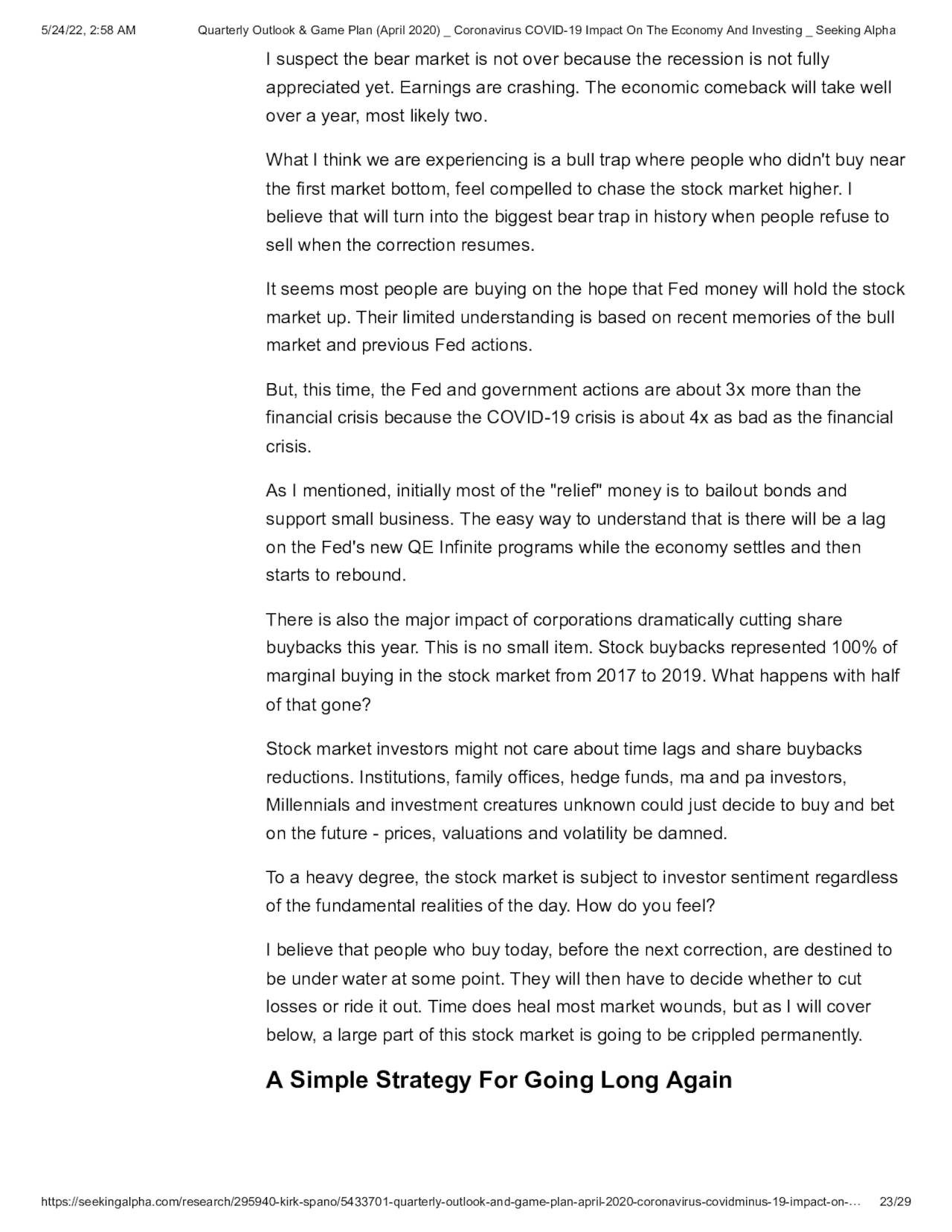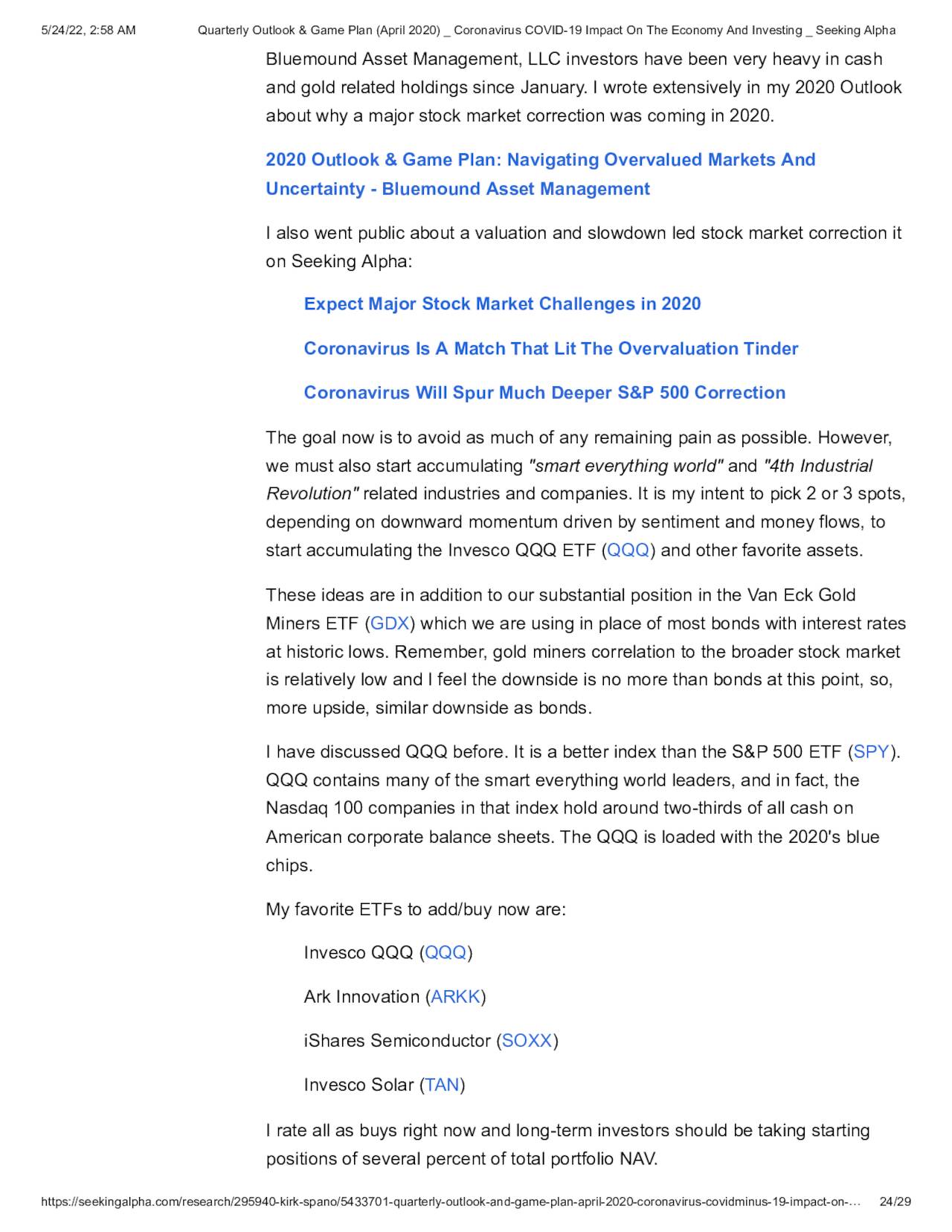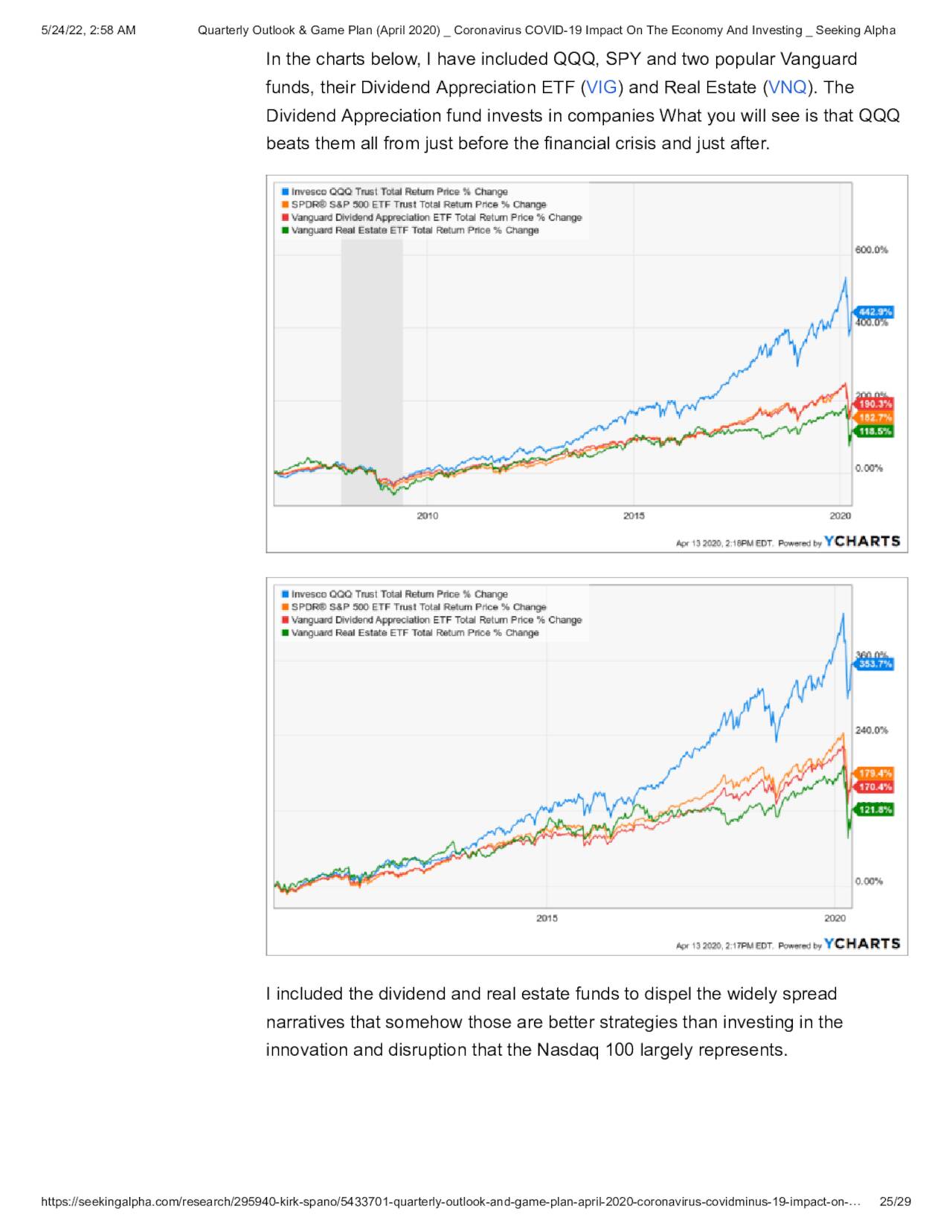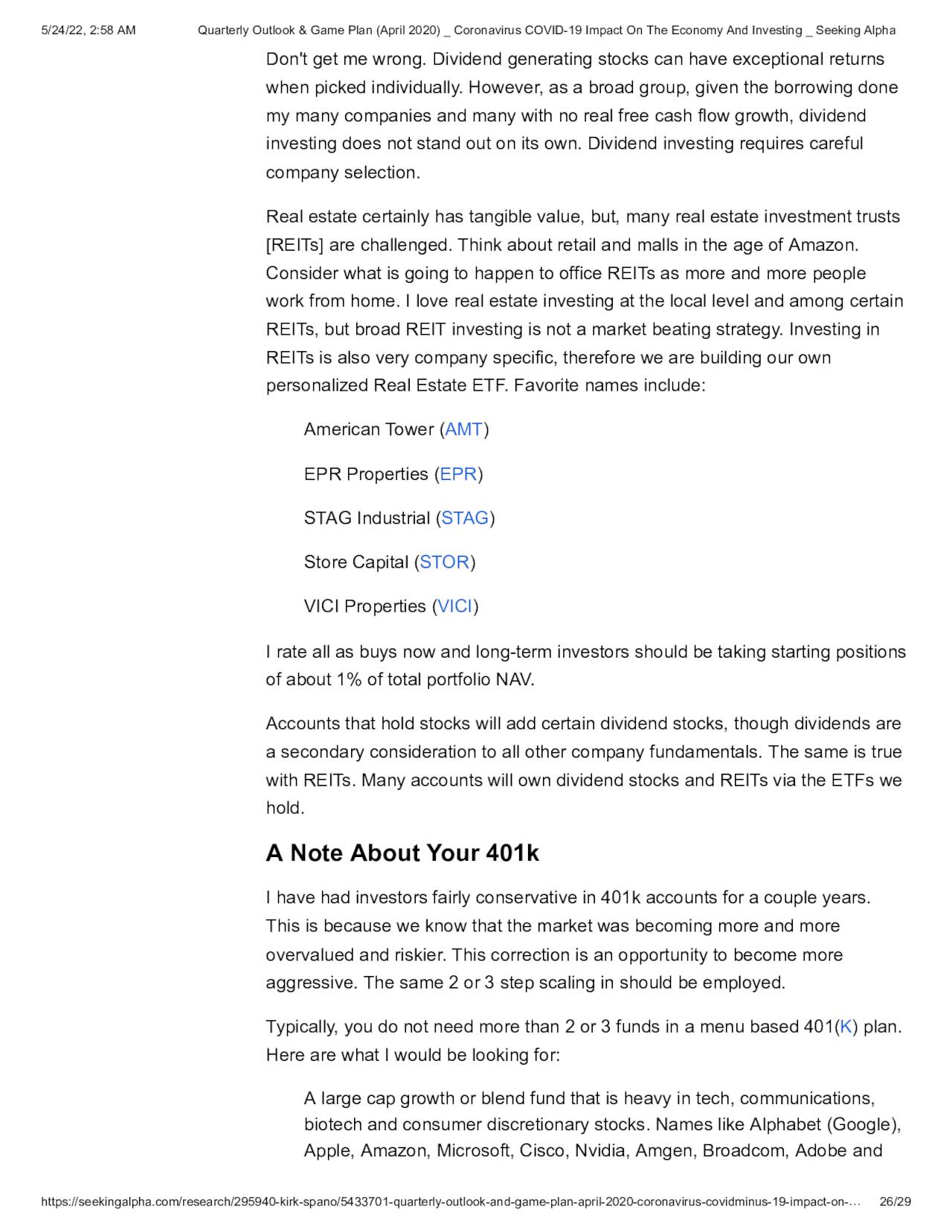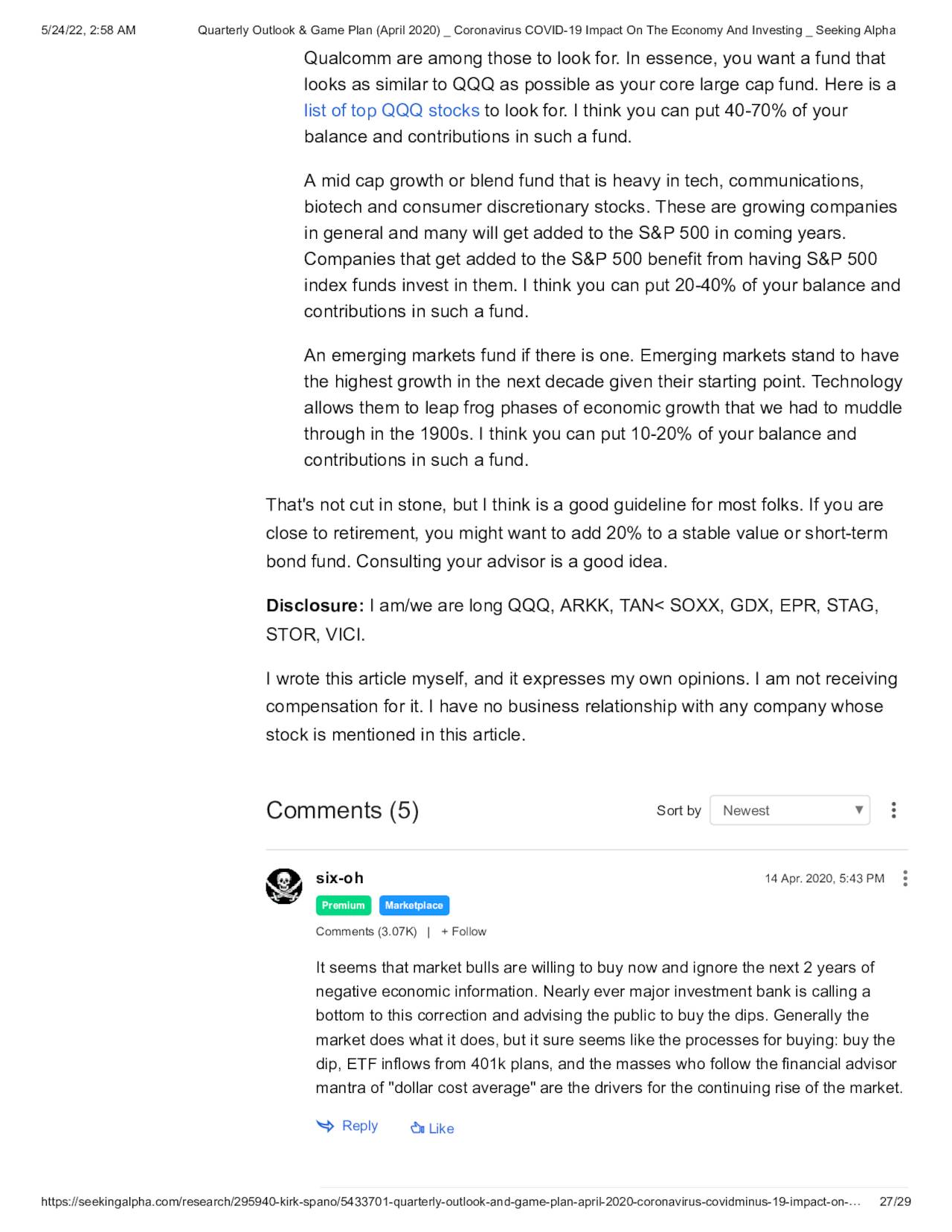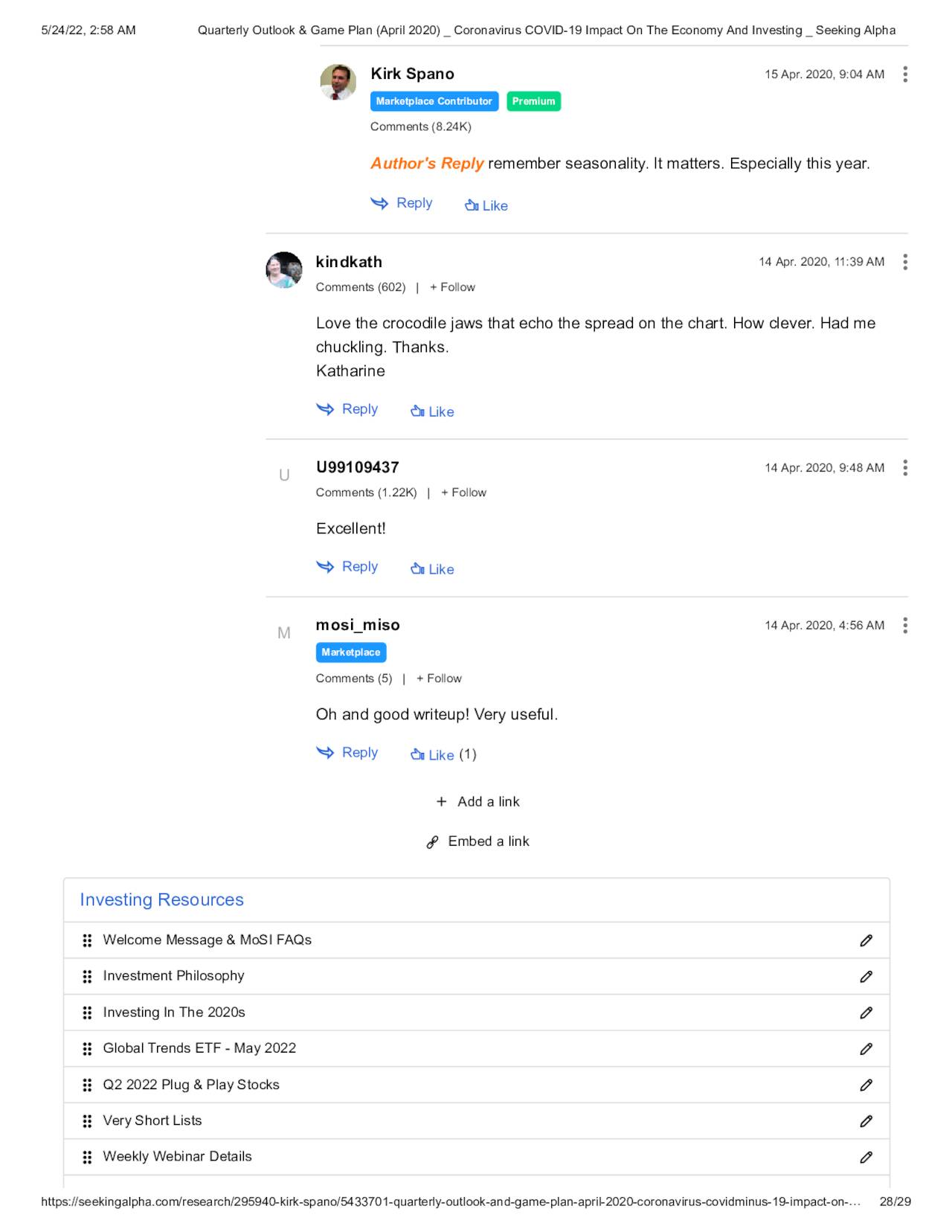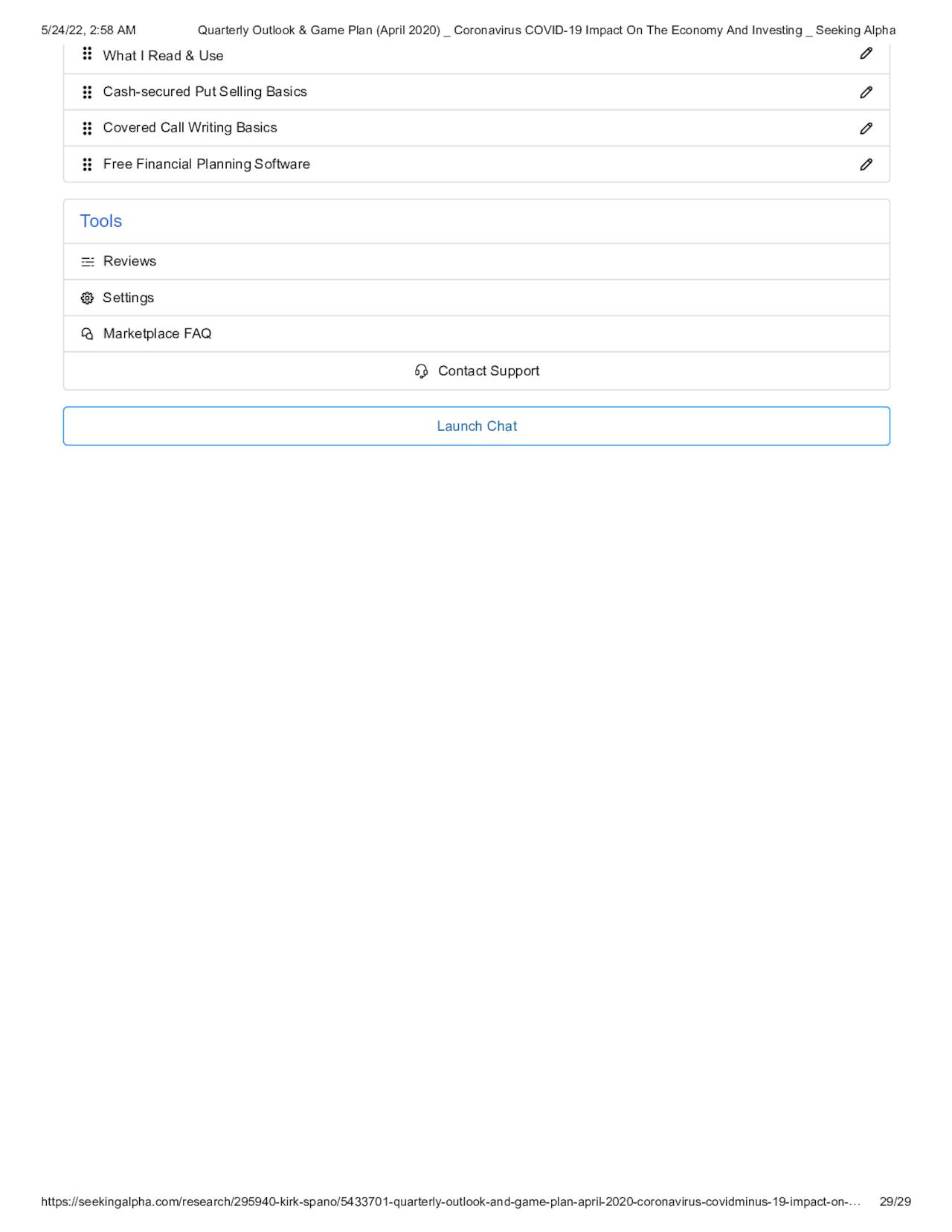 Click to Enlarge129
In that very same letter I warned that the market never did become undervalued and was in fact still overvalued, just less so than a few months ago.
In fact, I warned about stock valuations all the way up. That got me a lot of trolls and even a few writers here taking shots at me that were quite self-serving and disingenuous.
I took my time getting reinvested. I didn't reach an 80% equity allocation, which is my target in most portfolios, until the September mini-correction.
Over the summer, in my webinars, I also suggested taking a single digit percentage of savings and putting it into Bitcoin (BTC-USD) when it was between about $7k and $14k. This is when I realized how the adoption of Bitcoin was going to develop even as most other cryptos eventually blew up.
I ended making about what the indexes did in 2020, but did it despite never really being fully invested. Again, the power of asset allocation, paired with some pretty good stock picking which was enabled by the cash position.
Thoughts On Today's Bear Market
As I laid out in this article Monday:
Major Markets Technical Tracker: A Long Way Down Or Further
…I think we could see a rebound rally in coming weeks. However, I am very concerned with the breakdowns in the charts and the main reason for the shift in markets.
In my career, I've seen two bear markets that were largely driven by the Federal Reserve draining liquidity from markets. The other bear was from an economic heart attack that we only overcame quickly because of massive Federal Reserve liquidity.
The 2014-16 sideways market was also largely due to the Fed being less accommodating, as was the volatility of 2018.
All sorts of big time investors talk about the relationship of Fed driven liquidity with stocks. I am not going to argue with small timers in the blogosphere. If you want to discuss how impactful the Fed is on market liquidity and stock market returns, take it up with billionaires Stanley Druckenmiller and Jeff Gundlach.
I have been holding around 40% cash since December per my annual forecast and a pair of January warnings:
My 2022 Futile Forecast: The Dollar, Stocks, REITs, Crypto, Inflation
S&P 500: Historic Overvaluation Is Tinder Under Stock Market
Bear Markets, Liquidity And How Low Stocks Can Go
I have been selling cash-secured puts on small caps and mid caps that I want to own. Many have been crushed the past year (the real bear market began last year) and I am getting some great valuations on those put to me and great income on those that hold up enough to expire.
If it wasn't for the timing element of small and midcaps already being decimated in many cases, I would probably be 60% cash. With the rotation of the puts I have been down to 20% cash for a hot minute, but last Friday I raised cash based on some of the rebound trades I had made and talked about on these pages.
Here's my biggest fear with this bear market. The Fed has largely committed to raise rates a half point in June and July, as well as, starting quantitative tightening. The pace of tightening is fast and heavy, the Fed "kick in the junk" I warned about a few times in my mildly entertaining webinars.
Stocks can drop really fast and heavy until the Fed eases up. But, we also definitely know they want to see a correction:

I think the stock market could really get ahead of the Fed being married to some level of relief from inflation. I think we could see what I am calling the "Jeremy Grantham Zone" in the S&P 500.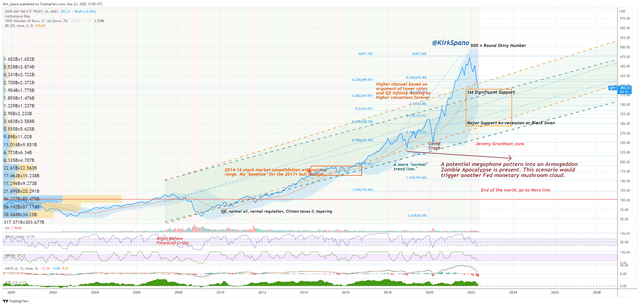 That means an S&P 500 approaching the lower 2000s is in play. My base scenario is an S&P 500 around 3000 as a bottom, but, again, the lower scenario, as I mentioned in the Major Markets piece, has an unusually high chance of happening.
Interestingly, that would be about fair value in my view as I don't expect Q3 or Q4 earnings to be as high as projected. I also don't see value outperforming after such a correction.
I read one analyst say he expects value to outperform growth for the next 20 years. I wish I could short him as that's going to turn out to be spectacularly bad advice.
I see cash rich growth stocks going right back to their groove from the past 20 years. Microsoft (MSFT), Apple (AAPL), Google (GOOG) and Amazon (AMZN) are beasts. Give me all of them over any bank in the S&P 500.
I also see dozens of midcaps growing to be replacements for no growth and outright shrinking S&P 500 constituents the next 5-10 years. And, with my cash pile, I am going to buy them cheap.
Think about the post-Coronavirus Crash rally for a moment now. The Fed, in essence, bailed out hundreds of companies that were able to extend their debt for 5 or more years at very low rates.
Think that through. I am saying that there are a lot of large cap companies, that once they correct, won't come back anytime soon, if ever. The zombie hunting is about to begin.
If the market does rally between now and then, I will use it as an opportunity to raise a bit more cash. I think you need to think about your asset allocation and really look to see if you own any zombie companies in hiding.