Summary
MP Materials supplies key rare earth minerals for use in electric vehicle motors.
The global rare earth mineral market is expected to increase by a double-digit annual pace, driving demand for the company's products.
MP Materials can achieve strong above-average growth over multiple years as demand for its products continue to grow.
This is a follow-up to the SWOT analysis (strengths, weaknesses, opportunities, threats) that was previously written about the company. Refer to that article for additional company information.
MP Materials (MP) owns and operates the Mountain Pass rare earth mining and processing facility in California where the company supplies 15% of the world's rare earth minerals. The company mines for the elements, neodymium [Nd] and praseodymium [Pr], which are used to make the magnets for electric motors. These elements are poised to see increased demand as the electric vehicle [EV] market continues to grow through this decade.
MP Materials is the only rare earth mining and processing facility in North America.
The global EV market is projected to increase by about 27% annually to reach over 34,000 vehicle sales in 2030. As a result, the global rare earth elements market is expected to grow by about 12% annually through 2026. If these growth projections turn out to be close to accurate or higher, MP Materials is likely to experience strong growth for Nd and Pr to be used in EV motors. This should provide steady revenue and earnings growth for MP Materials through the decade.
MP Materials Accomplishments
MP Materials has numerous accomplishments that demonstrate the company's ability to improve and scale up operations. The company took over the idle Mountain Pass facility in 2017 to turn it into a productive mine and processing operation. The company turned the location into a best-in-class globally competitive rare earth producer. MP Materials produced almost 39,000 metric tons of rare earth oxides in concentrate over the past 12 months.
During Q1 2021, MP Materials achieved record production and sales volume where revenue almost tripled year-over-year to $60 million. Adjusted EBITDA increased over 6x in Q1 to $33 million. Adjusted EBITDA margin increased 32pts. y-o-y and 14 pts. sequentially to 57%. This demonstrates the company's ability to drive success on both the top and bottom lines. The efforts toward low cost production helped drive the EBITDA margin higher.
The company's challenge is to compete in a market where China currently dominates. At the same time, the company has to comply with California's strict environmental standards.
MP Materials stated that they are positioned to be the lowest cost producer with its state-of-the-art facility that reduces transportation, shipping, and environmental costs. The company also believes that it has advantages because of scale, time-to-market, and scarcity value.
Strong Outlook for NdPr
The NdPr combination which is used to make magnets in electric motors is expected to see growing demand. The global NdPr oxide market is projected to increase by 13% annually to $12.7 billion by 2030. The total global market size for NdPr was only $3.9 billion in 2018.
MP Materials is positioned well to benefit from the direct demand growth of NdPr through this decade. The company has a mission to restore the rare earth supply chain to the United States. Currently, China dominates the rare earth market with 80% of worldwide production.
MP Materials completed Stage 1 of its 3-stage plan to improve the company's position in the market. Stage 1 involved reactivating the mining, milling, and flotation processes to produce a high-quality rare earth concentrate which is sold to Asia. Stage 2 is in progress and expected to be complete by 2022. Stage 2 involves improving the existing processing facility to make separated rare earth oxides more reliably, with a lower environmental impact, at lower costs. Stage 3 involves expanding the business to be involved in producing magnets. The successful implementation of Stage 3 would reduce the world's reliance on China as a single source for the supply chain. Stage 3 is expected to be completed in 2025 or later.
The company has ambitious plans included in its three stages. Becoming vertically integrated by getting involved with producing magnets would be a smart long-term move. This can be done through acquisition, expansion of the business, or through a joint venture. It is positive to see how MP Materials has a vision for the long-term growth of its business. The company can capture significantly more market share with this mindset and focus.
Valuation
MP Materials is trading with a PEG ratio of just 1.15. I felt that it was appropriate to use the PEG ratio because it takes the company's 3 – 5 year projected earnings growth into consideration. The company is expected to achieve strong double-digit earnings growth averaging about 54% per year over the next 3 to 5 years.
MP Materials is trading attractively below 2 which tends to be a good valuation for the growth stocks that I cover. The stocks of these growth companies tend to increase approximately in line with earnings growth over the long-term when the PEG is below 2. Of course, there is no guarantee that this will happen, but the stocks that I've covered with similar valuations tend to trend higher in this way.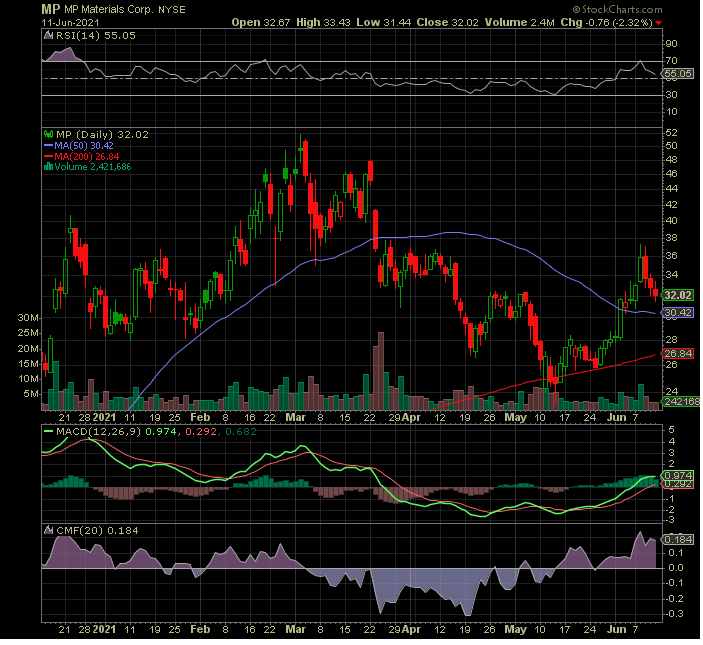 The daily chart above shows the stock dropping from an overbought condition on the RSI. However, the green MACD line did not yet drop below the red signal line. So, a change in trend from positive to negative has not been confirmed. The money flow [CMF] has been positive for about a month, but it is not clear where it will go next in the near term.
MP Materials Long-Term Investment Outlook
MP Materials is poised to achieve strong growth over the next decade as the demand for EV motors continues to grow. The rare earth magnets used in electric motors are not just for electric and hybrid vehicles. They are also used in robotics, wind turbines, consumer electronics, and defense systems. The projected growth for EVs suggests that will probably be the biggest market for MP Materials' rare earth elements.
One of the main risks for the company are government policies that could make doing business more expensive or challenging. The strict environmental regulations in California is a great example of this. Another example is the U.S. government's recent decision to look outside the country for the raw materials to build EVs.
Despite the challenges, MP Materials implemented smart technology to comply with California's environmental demands while keeping costs low. The company also sells its final product to China. So, the company's business hasn't changed despite the recent government decision. The company's products are likely to make their way back into the U.S. indirectly after the magnets for motors are produced. MP Materials can eventually get into the magnet producing business, which may help the company sell its products in the United States directly.
Overall, MP Materials is likely to achieve above average stock gains over the next decade as it grows revenue and earnings at a strong pace from an attractive valuation level.
Bottom fishing price= $22 Top of buy zone = $40 Current price = $32
Disclosure: I/we have no positions in any stocks mentioned, and no plans to initiate any positions within the next 72 hours.
Business relationship disclosure: The article was written by David Zanoni for Kirk Spano's Margin of Safety Investing service [MoSI].
Additional disclosure: The article is for informational purposes only (not a solicitation or recommendation to buy or sell stocks). David is not a registered investment adviser. Kirk Spano is an RIA. Investors should do their own research or consult a financial adviser to determine what investments are appropriate for their individual situation. This article expresses my opinions and I cannot guarantee that the information/results will be accurate. Investing in stocks involves risk and could result in losses.