Summary
PayPal is an option again as it plumbs its double bottom.
Azure selling is close to exhausting and their capex/revenue equation improvements are in sight a few years out, which means the market will react on next India rally.
Clean Energy ETF PBW is a must own long-term holding, we're in the buy zone and not far from bottom fishing prices.
YOLO is a great long-term growth basket that is finding a bottom soon and you should be actively scaling in.
BLOK is at the heart of fintech and blockchain which is "known" for Bitcoin, but will end up being the backbone of digital contracts – so, huge role in the global economy.
Retirement Income Options is a weekly piece that offers my top option selling ideas for the week. These ideas are primarily from the quarterly "Plug & Play" lists, but will sometimes come from the broader Very Short Lists (watchlists).
Make sure to read "Using Retirement Income Options" and "Technical Trading Basics" in the Getting Started area so you can follow my methodology and reasoning.
The following trades are generally for six and seven figure accounts. Remember to check out the noon Monday Retirement Income Options webinars live or on YouTube.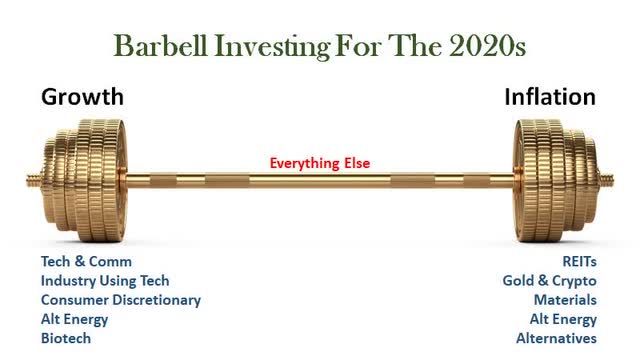 Cash-Secured Puts To Sell This Week
There are a lot of stocks close to being great candidates for selling puts, but only a few that are ready. There are also three ETFs that are making eyes at us right now. Each should be major secular winners in the next decade.
I'd normally be looking at June puts right now, but with higher volatility and the Fed in play for at least a few months this summer, I am collecting more premium by going out to July and August. Remember, I think the Fed is forced to back off by autumn, so, we do want to be substantial buyers again sometime in H2 this year.
(In my continuing quest to simplify, here is an even easier format to digest – I think, let me know in the comments.)
PayPal (PYPL) has come back to us again and is in the buy zone. It could head down to the lower $70s on a more correlated stock market correction, but it is plumbing the depths.

Sell $80 July puts for $8 or more. Max Pain is currently $125 so there is some price pull in that direction.

Azure (AZRE) is a major renewable energy company in India that is making a double bottom most likely. It has another potential leg down and I'd add more there, but roughly $11 looks like "the" bottom. The options are thinly traded, so make sure to use GTC limits. I'd take a starter around $11 too.

Sell $12.50 July puts for $1 or more. Max Pain is currently at $17.50 so there is some price pull in that direction.

Aemetis (AMTX) is on the dip worthy of a starter or add of the stock outright under $10 – consider your other put positions (if you have them) which might be in the money. Their cleaner biofuel and carbon capture virtuous cycle is getting noticed with a string of recent announcements.

Sell $10 July puts for $2 or more. Max Pain is currently at $12.50 so there is some price pull in that direction.
(YOLO) AdvisorShares Pure Cannabis ETF which doesn't need Federal legalization of whacky tobaccy (likely to remain a state's rights issue) to do very well, merely integration into the financial system. That's coming and it could be this year as a bill is pending. An absolute hard bottom is hard to pinpoint, but both Shooter and I think it's around $7.

Sell $8.49 August puts for $1 or more (I have no idea where $8.49 comes from). Max Pain is at $8.49 but is thinly traded, so hard to tell where the price pull is.

(PBW) Invesco WilderHill Clean Energy ETF which benefits if oil and gas rise in price, but continues to do well as a government supported disruptor even if energy prices fall back to more normal levels. Cleaner energy is also the most viable path to energy security and Russia just accelerated the path to more renewables – this will be the topic of a 2-hour seminar I am giving to The Money Show for literally tens of thousands of people in June. (QCLN) and (TAN) are related funds I will cover in a Global Trends ETF article this week. PBW could get to around $40, but I don't want to miss it as the upside is explosive. Find a comfortable way to scale in. I'm starting by selling puts. I'd pile in if it gets to lower $40s.

Sell $50 June puts for $3 or more. Scale in using this put and the September in my opinion. Max Pain is $75.
Sell $50 September puts for $5 or more. You'll see the big $56 open position, that's a lot of mine for my clients and self. You can do better. Not enough data on Max Pain, but looks like it'll be around $70.

(BLOK) Amplify Transformational Data Sharing sounds like a blockchain and crypto play, and it is, but it's more than that. If you have listened to my ideas about developing real estate using NFTs the past couple years and the emergence of digital contracting throughout the global economy, then this fund makes sense. With top holdings like MicroStrategy (MSTR) and Marathon Digital (MARA), you get leverage into Bitcoin without having to put the token into your IRA more directly. In addition, there's Paypal (PYPL) and Square (SQ) with their deep digital finance integration from online transactions to small business. While clean energy is more apparent to folks in an inflationary period, and we can smell the ganja, the digitalization of finance and contracts is truly a paradigm shift that is going to shake the economy as we know it. Make no mistake, blockchain, with all of its fintech goodness, could have an even more massive impact on the world: it could save and improve globalization in a way that promotes peace. BLOK looks like a big support in the lower $20s as many of the underlying stocks are already down 50% or more. Sell a put soon and look for a starter as well on a dip.

Sell $25 August puts for over a $1. Not enough data for Max Pain but looks like it'll be around $40-45, so it has some good upside.
Covered Calls To Write This Week
Due to the ongoing correction, there really aren't any left to write. However, I did write some Ford (F) $15 June covered calls against about half my position as it was "upsized" last month when I had some puts assigned to me. If I'm called away, I make a small profit, if not, I lower my cost basis. I did this with the idea that if Ford rises short-term, I can roll the calls and sell more puts. I'll have to monitor the volatility to manage the position.
Disclosure: I/we have a beneficial long position in the shares of PYPL, F, AMTX, YOLO, PBW either through stock ownership, options, or other derivatives.
I wrote this article myself, and it expresses my own opinions. I am not receiving compensation for it. I have no business relationship with any company whose stock is mentioned in this article.