Summary
The Very Short Lists aren't so short anymore. It's time to prune the trees.
I just broke the VSL into 2 parts, a growth stock VSL and a dividend stock VSL, so you can focus where you want to focus.
A small handful of mostly tech stocks found their way onto both lists, i.e. Microsoft, Apple, Intel.
In the end, relative performance is the most important long-term thing we are looking for. That is, performance against the market and other stocks we could buy.
This week I cover several stocks removed from the VSL and the thinking behind it. Over the rest of the month we will cover new additions for Q1 2022.
Welcome to Stocks Of The Week. Here I will cover several of our companies and what to look for as an investor. Make sure to read the past few SOTW to keep up to date. Please read "Using Plug & Play Stocks" if you haven't already.
Growth Stocks Removed From VSL
I am going to tell a longer version of the first company than the others because everyone knows Exact Sciences is where I made most of my first million. I really dive deep into companies I invest in. I know these companies better than 90% of the other people involved. With Exact, I probably knew it better than 99%.
Even knowing something that well doesn't guarantee success though. It just puts the odds massively on your side. Over time, putting the odds on our side over and over again leads to an overall winning experience. But, you have to be patient.
Investing should be thought of in rolling periods of 3-5 years. That's what Valueline and many other investment research firms use for the quantitative analysis. Year over year means nothing. Most of what we have been buying in 2021 will be worth the wait, just like what we buy in 2022 will be.
Exact Sciences (EXAS)
Back in the day on the Yahoo message boards, myself going by "kirkydu" and "sailingaway" were the two big bulls who followed Exact Sciences. I had the close to home contacts through Baird, which ultimately the analyst on EXAS became the Exact CFO for a while, and in Madison. Sailingaway was connected via former work at Morgan Stanley in New York and on Stanley Druckenmiller's trade team.
A lot of people followed us into Exact from about Kevin Conroy's hiring to the USPSTF debacle in 2016. Then everyone hated us for a hot minute. Then they loved us again.
The story.
I found Exact though a mention in the local Business Journal in 2007. I took a tiny stake because of the large unmet need of a non-invasive colon cancer screening tool and I hoped to see a Wisconsin company do great. Of note, "hope" is a horrible investment thesis and I got somewhat lucky here.
The original Exact test wasn't very good, but the successor test from the same root tech, which became Cologuard, was. The hiring of Kevin Conroy as CEO in 2009 was a milestone as he had some chops from a company called Third Wave Technologies which he led to the point of being bought out.
Over 5 years, the company developed Cologuard, took it through testing and clinicals and finally was the first company to get on the FDA and Centers for Medicare & Medicaid Services [CMS] Parallel Review program. The goal was to get the product approved by the FDA and simultaneously approved for payments on Medicare. This eventually happened.
I made my first hunk of money on Exact when I bought calls and added more shares about 4 months ahead of the announcements on the track. Cologuard was ultimately approved and my calls skyrocketed. I closed my calls and sold about half my stock to take profits for my Christmas present.
Less than a year later, Exact was to receive a recommendation from the USPSTF (United States Preventive Service Task Force), but the Chair at the time was a compromised and political individual and gave a very ambiguous set of guidelines. Literally, everyone was confused. He neither recommended nor made it clear that Cologuard was not recommended for use by those 50 and older. That individual found themselves without a job some time later.
The stock cratered to about $5 per share. At about $6 Conroy gave a statement and started buying the stock. I had already bought back my shares at $20 and $12 (which led to the only complaint I have ever got in my career). At $5-6 per share I bought the position back to a double position and added calls.
A short time later, Citron research put out a piece saying to short Exact. I responded directly to Citron on Seeking Alpha:
Citron Is Very Wrong On Exact Sciences
You can see what happened next.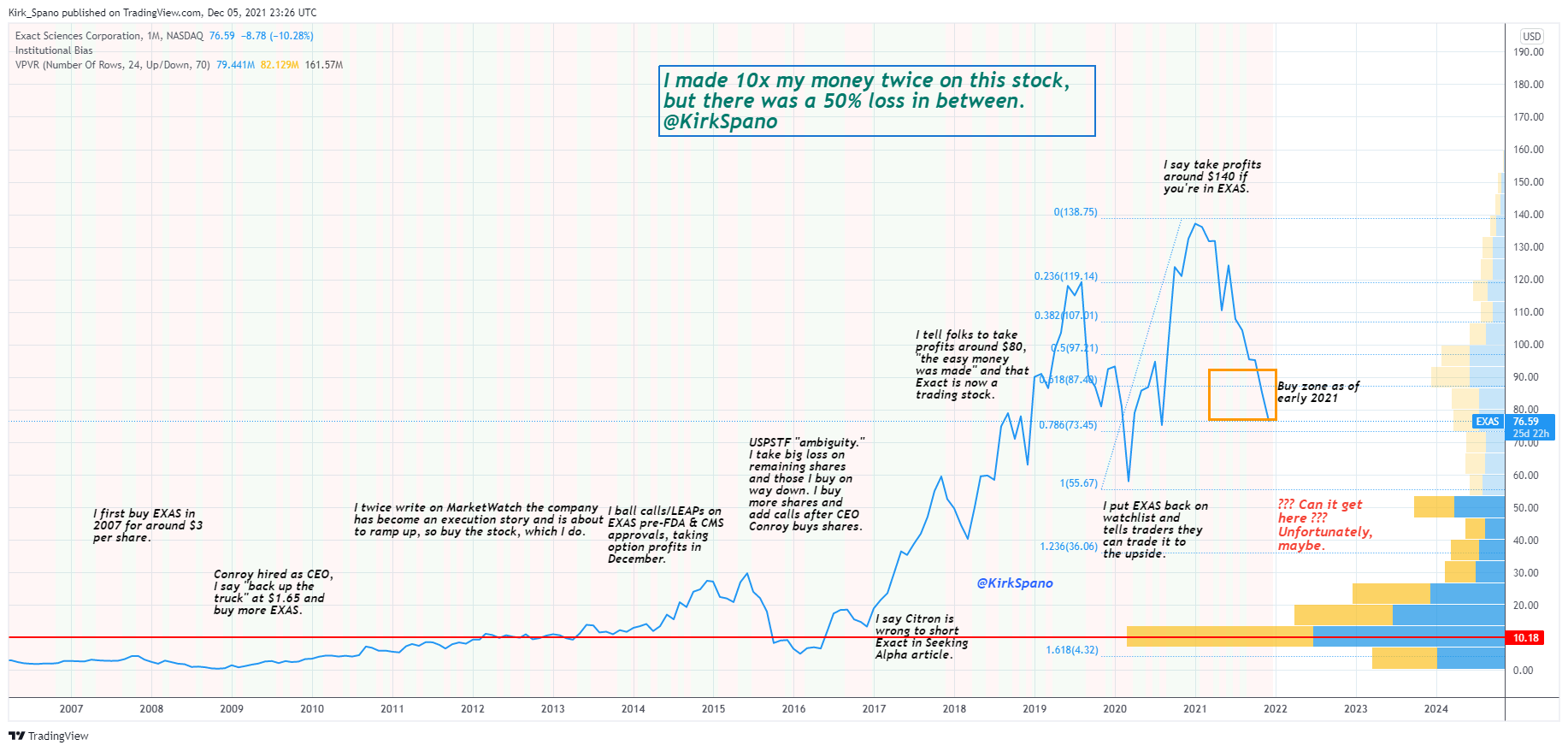 I proceeded road $10 calls/LEAPs I had bought for $2 to spring 2017. For my own account I was 75% in Exact Sciences. I was willing to gamble. That's not a great idea, but, I felt I was 60% likely to be right and make a ton, about 30% likely to break even and only about 10% likely to lose. Sadly, client accounts weren't so aggressive. That's the beauty of managing some or all of your own money, you can be as aggressive or conservative as you want. All advisors have to stay between the lines or we get "regulated."
When the share price hit previous highs around $31, I took a 10-bagger on the LEAPs. For clients, I sold shares back down to a 4% position which had grown well into a teen position. I also sold about half of my shares. I sold the rest of their and my shares when the stock got into the $70s. On Seeking Alpha I said, "the easy money had been made."
Take Profits On Exact Sciences
Over the next year or so folks sniped at me saying, oh, they made so much money buying where I sold. They said I was a schmuck among other things. I could only sigh.
Skip forward to today.
Exact Sciences share price is back to where I said the "easy money" had been made. The stock has had a couple great runs up and a couple down. It has round tripped since I said it would be hard to make "buy and hold" money on the stock and that it was best suited for trading. Sometimes, I do nail them.
So, the question becomes, well, should I buy it here then? I don't think so. In fact, I am removing it from the VSL entirely. Why?
Frankly, the growth with the company is slowing. They will need either a breakthrough product or some sort of strategic transaction to keep growing. It can still be traded, but that's not the type of company I want on the VSL. I want stocks that can consistently outperform over the next 5 years or more. I don't see that with Exact.
Their finances are very tight. Their growth is slowing. And, Conroy desperately wants to keep Exact a Wisconsin company because he has political ambitions.
That is not to say Exact is a bad company. It's like hundreds of others. Slow growth with questionable finances and in need of a shot that might not come. If that shot comes, then great, I'd love to see it happen. But, buying Exact as anything other than a trade is a tough call right now.
Here's a Stock Rover report for some updated info.
I love Exact Sciences. I made nearly a million dollars on them. I want to see them do well. But, it's not projectable right now. It's just too hard a decision to know whether they will succeed higher to another level. So, as Charlie Munger says: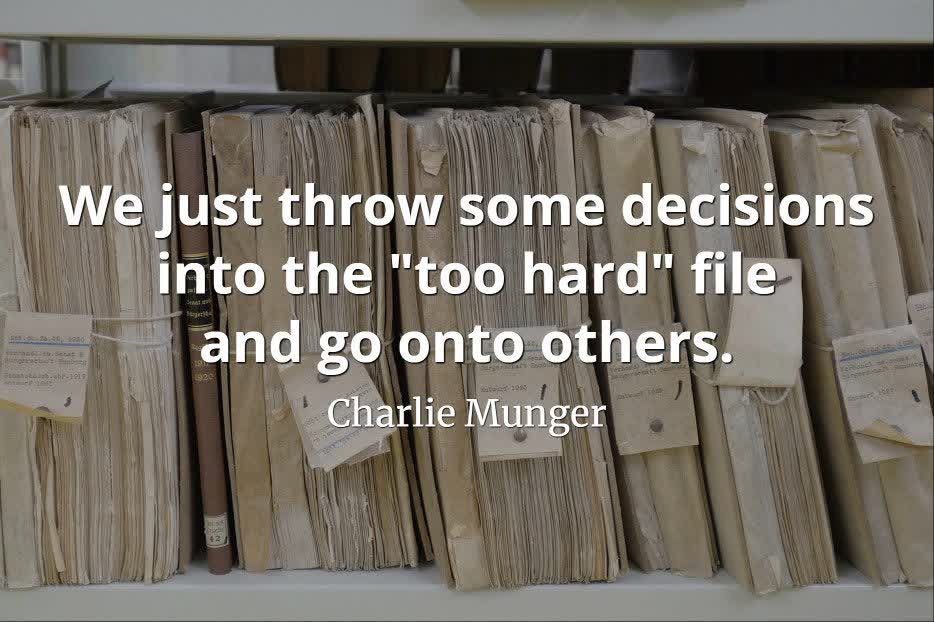 I'll have more soon.
MACD-interruptus
I was working on different charts and studying quant signals for various indicators. I also was working on MACD settings again and the following three charts blew me away. So, I stopped screening stocks for junk financials and decided to show you these.
When using MACD you can change the moving average speeds and signal line. I generally want to use something a little faster than the market to give you a few extra days to get into things given the lag on publishing to reading to acting.
Here's the fast signal for MACD going back to the 1990s.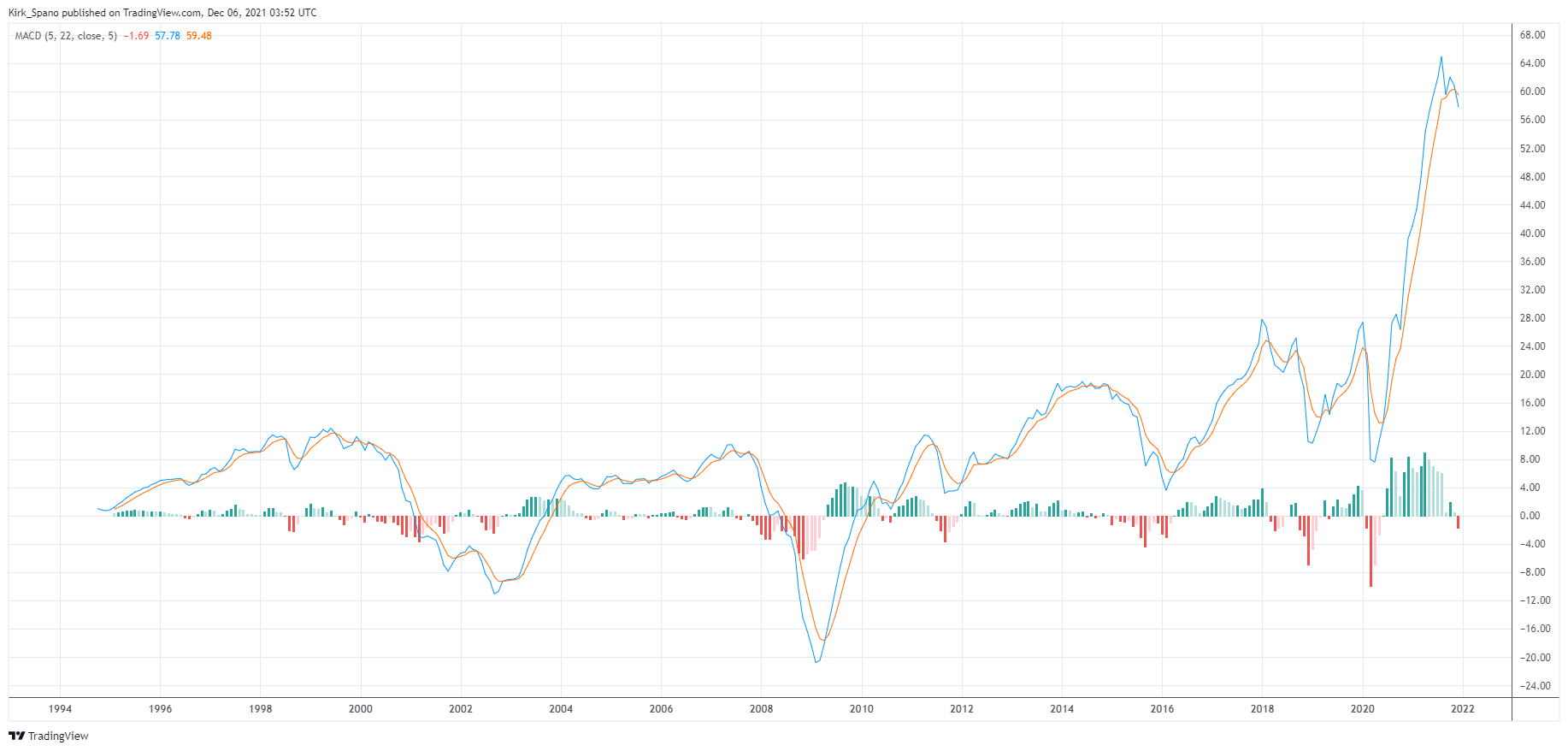 This is close to the standard measure most traders and investors use.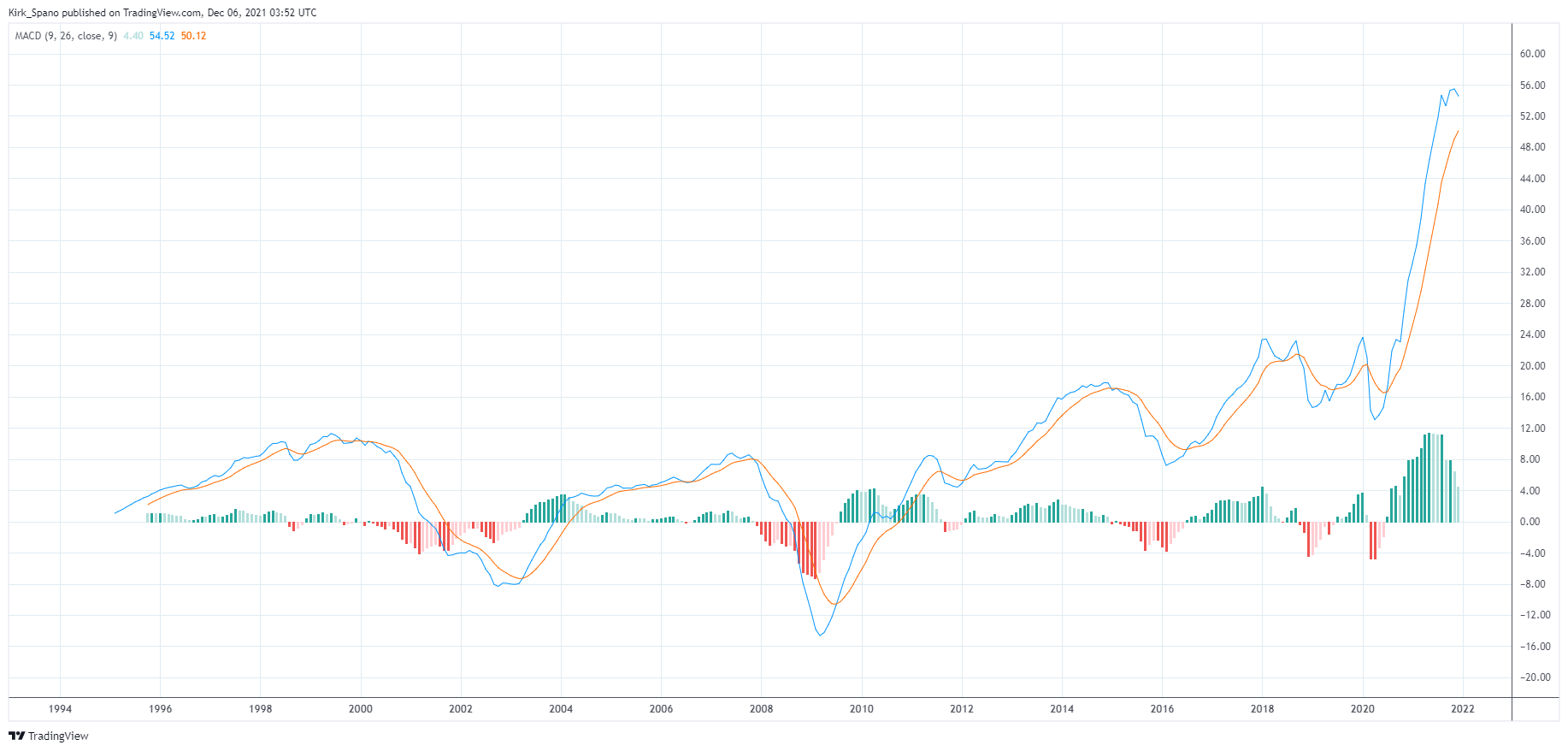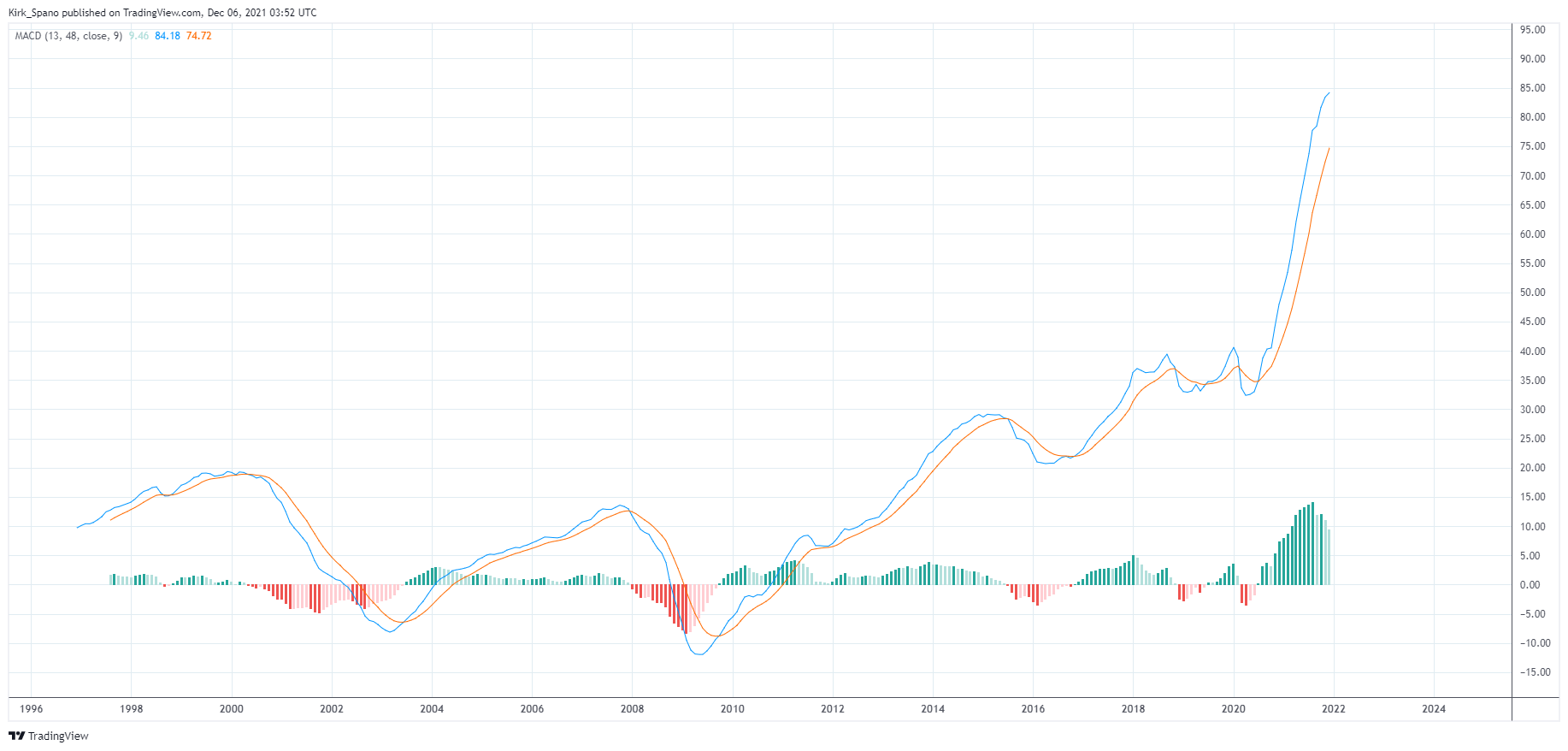 Pretty easy to follow. The fastest MACD signal is already turning over. The normalish MACD signal is just starting to turn over. The slowest MACD signal says you might have another good week or two in me.
Those are all using monthly charts, so long-term in nature, filtering out noise.
Does that right tail concern you at all?
Scares the crap out of me.
With the Fed saying faster taper is most likely, I keep coming back to my reloading the bazooka idea that they want to get this over with quick.
I implore you to get to the very conservative edge of your asset allocation.
I think half in cash is just fine.
And, if it will impact your lifestyle, don't do this if to be speculative, but if your life would truly change if you lost 30-50% against half of your portfolio, then go ahead and go 3/4 cash by proportionately reducing your holdings.
I think what we own has largely be bought near bottoms, so, not so sure we really need to go 3/4 cash, but, like I said, if your life would change losing 50% of 25% or about 12% of your portfolio temporarily, then go ahead and reduce more. I just think it's less necessary if you've been scaling into this year's Plug & Play stocks. If you stubbornly held onto less quality or "I've had it so long" stocks, then, maybe trim those a lot.
We'll talk Monday at noon. Important Stocks of the Week webinar, I'll have Shooter on with some charts.
Disclosure: I/we have no stock, option or similar derivative position in any of the companies mentioned, and no plans to initiate any such positions within the next 72 hours.