Summary
Clean energy is the biggest thing in investing now.
Fast Acquisition wins on its SPAC gamble.
Mental health is a very big deal on multiple levels.
Each week I cover stocks on this quarter's Plug & Play Stocks list, and anything new, that we can consider buying now or soon. We also cover the stocks to trim on profits. Read Using Plug & Play Stocks and Technical Trading Basics: Using Overbought And Oversold Signals To Buy And Sell before buying or selling.
For your own screening, tracking and understanding, I highly recommend:
TradingView for technical analysis, technical screening and charts.
Stock Rover for fundamental screening, tracking and comparisons.
Make sure to view the VSL every week.
Stocks Of The Week
Fast Acquisition (FST): Golden Nugget Gaming (GNOG) was acquired by DraftKings (DKNG) this morning for a roughly 50% premium plus agreements with Golden Nugget and other assets of Tilman Fertitta (Houston Rockets). The deal is all stock with GNOG shareholders receiving .365 shares of DraftKings. Fast Acquisition is bringing Fertitta Entertainment, Inc. public soon. FEI owns approximately 31.625 million shares in Golden Nugget Online Gaming. So, FST will receive over 10 million shares of DraftKings.
You should be thinking Caesars as a comp to Golden Nugget. I have talked about this company several times now. Buy the dips on FST. I has sold August $12.50 cash secured puts hoping to make FST a full 3-4% position. See next RIO article.
FST Stock Price and Chart – NYSE:FST – TradingView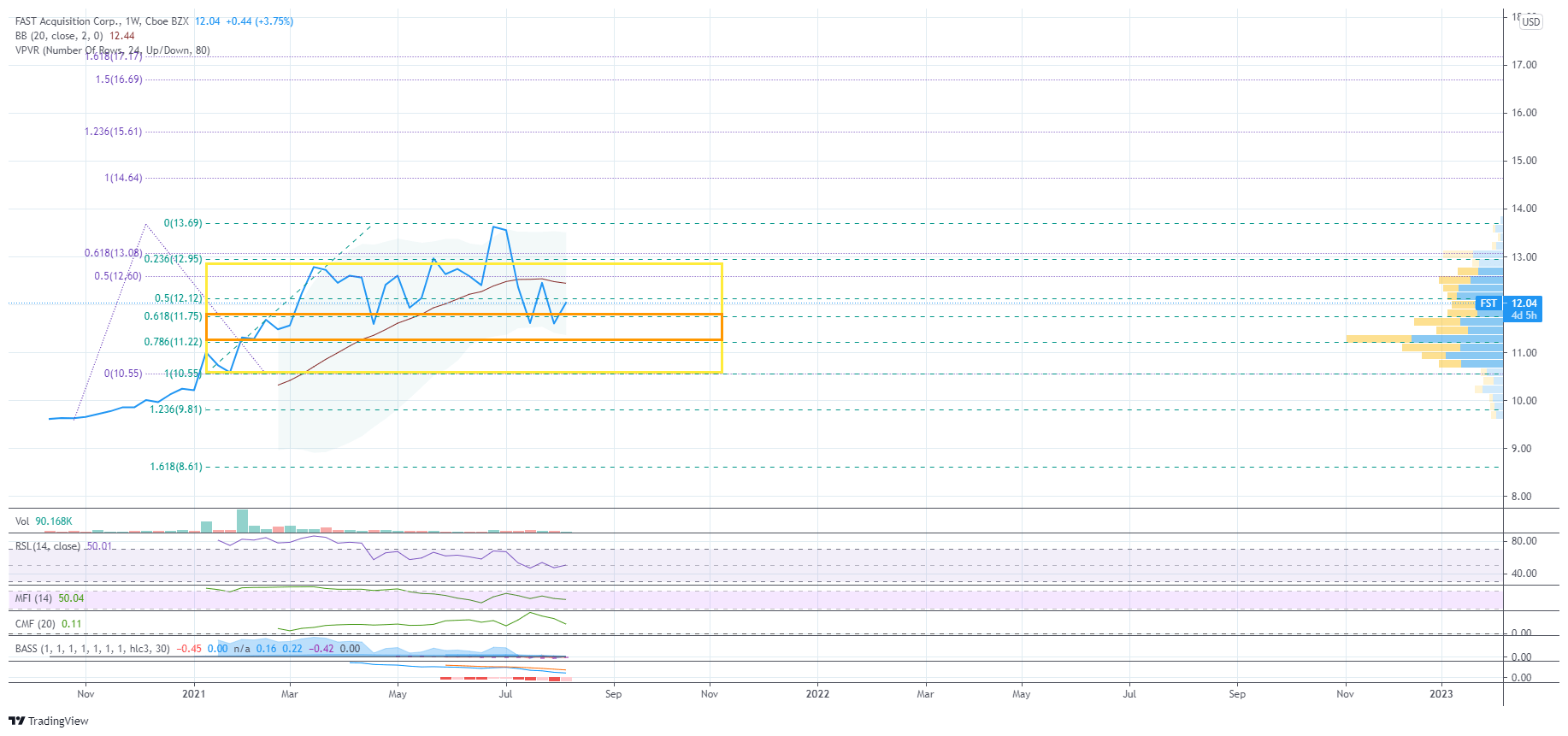 This is what Caesars (CZR) did recently.
CZR Stock Price and Chart – NASDAQ:CZR – TradingView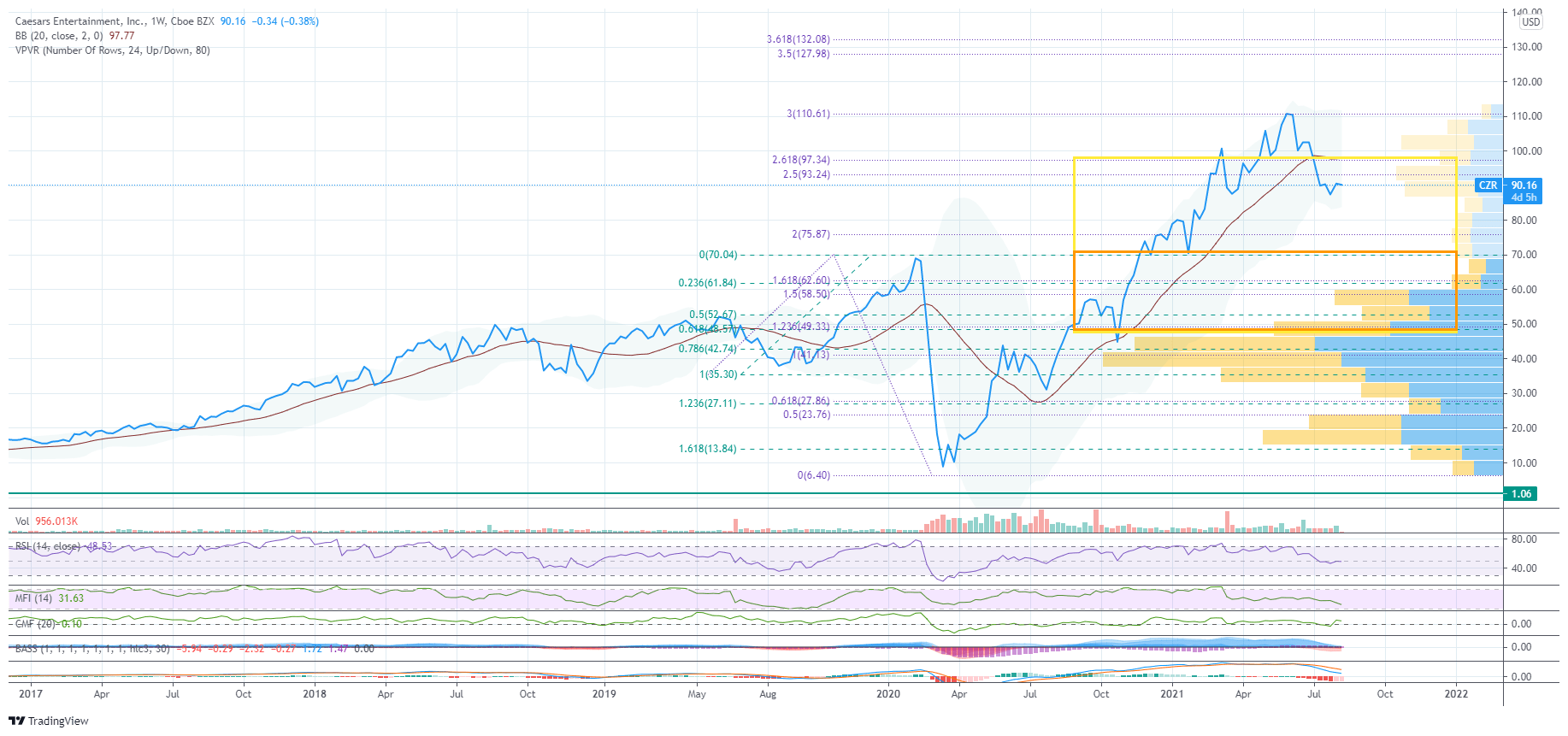 SunRun (RUN) hired Mary Powell, a utility industry veteran from Green Mountain Power, to be its new CEO. Her familiarity with utilities can drive massive business to SunRun for utility grade solar installations. RUN is already the biggest residential installer and a 30% tax credit is likely to run at least 5 years or up to 10 years as asked for by President Biden.
If you saw the new climate report, it's virtually unanimous by scientists now that we are in BIG trouble climate wise. It's driving government policy to the tune of trillions. The bipartisan infrastructure bill and coming reconciliation budget are going to direct hundreds of billions into clean energy.
This shift to clean energy and sustainability is the BIGGEST secular trend of the next decade or two. (That's why I'm using NFTs to fund a sustainable real estate development company early next year.)
My long-term charts on RUN show it should break $200 per share this decade and can make a run at $300 if it goes viral meme Reddit trader crazy. Notice it pulled back to the .618 line and bounced. That's a sign of strength that it didn't continue down to the .786 line.
I plan to sell cash-secured puts any day now that this one has come back to us. See next RIO article. As I discussed in this weekend's webinar, the future of clean energy is NOW. Get in during the 2nd inning.
RUN Stock Price and Chart – NASDAQ:RUN – TradingView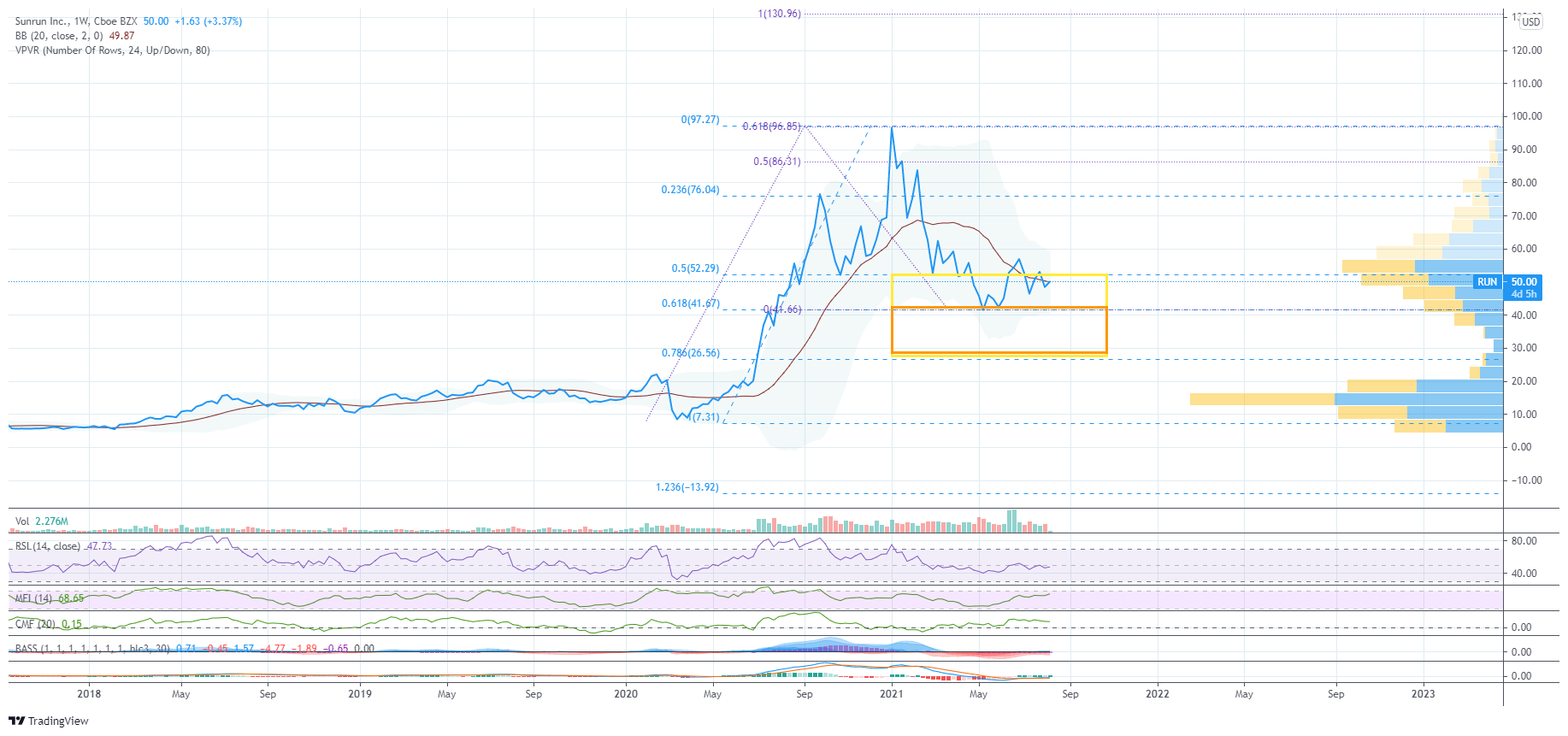 If you haven't watched this weekend's webinar, take the 22 minutes to watch it: https://seekingalpha.com/embed/16085
Aemetis (AMTX) is also a beneficiary of the government's green push. This company is set to be a massive winner in carbon capture (see WorldOil article above).
It hit the screens last week and this week as buys. They keep getting regulatory approvals and revenues are poised to jump. I have a starter position and am selling puts. They're earnings are next week.
Get a piece of this now. A starter and sell a cash-secured put. I like the October $7.50 put to sell. I'll be interviewing the CEO this month right after earnings.
AMTX Stock Price and Chart – NASDAQ:AMTX – TradingView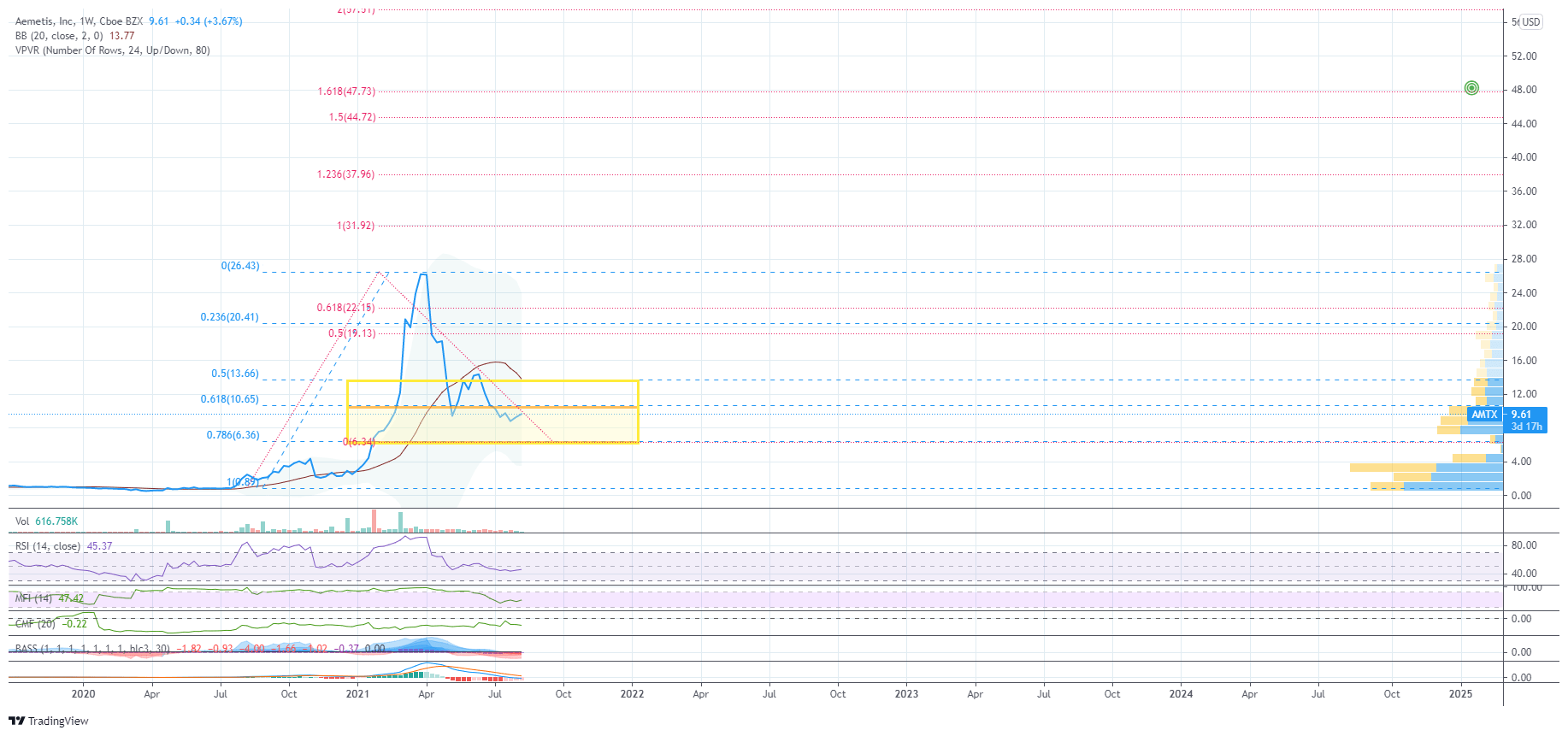 OnTrack (OTRK) continues to plum it's buy zone. It's got a nice base. Weekly RSI is 38. It's a buy and sell cash-secured puts. Mental health is a thing. Improving health outcomes is a thing. Saving government money is a thing. Buy this thing.
OTRK Stock Price and Chart – NASDAQ:OTRK – TradingView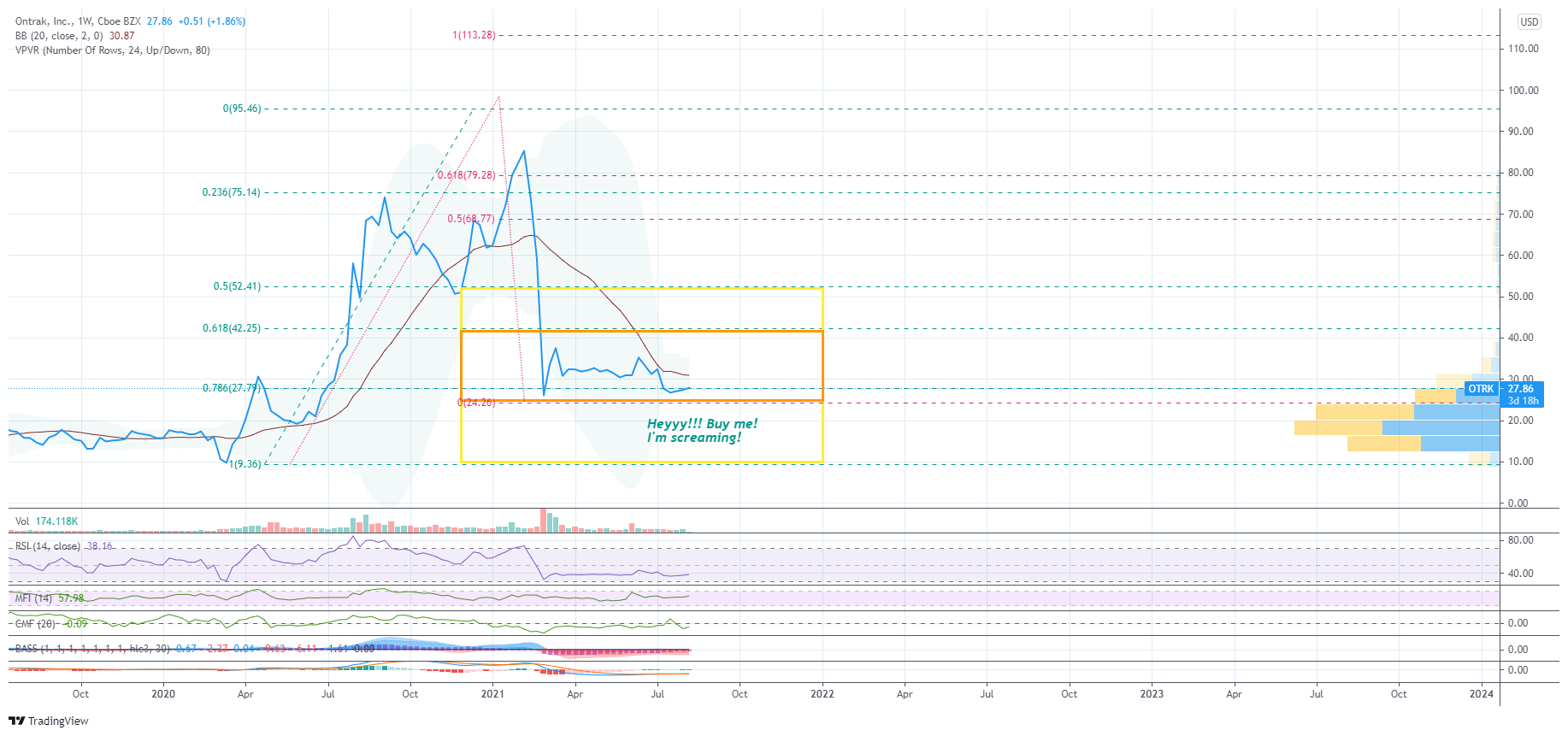 Spectrum Brands (SPB) has come back to us and Barron's gave it a mention. It's not on the Plug & Play because at the time valuation was too high. It's since come back a bit, but not quite enough to be a "gotta have it" stock.
It's not quite oversold either, but keep an eye on it. If it gets to our buy zone, I like it in dividend growth portfolios.
SPB Stock Price and Chart – NYSE:SPB – TradingView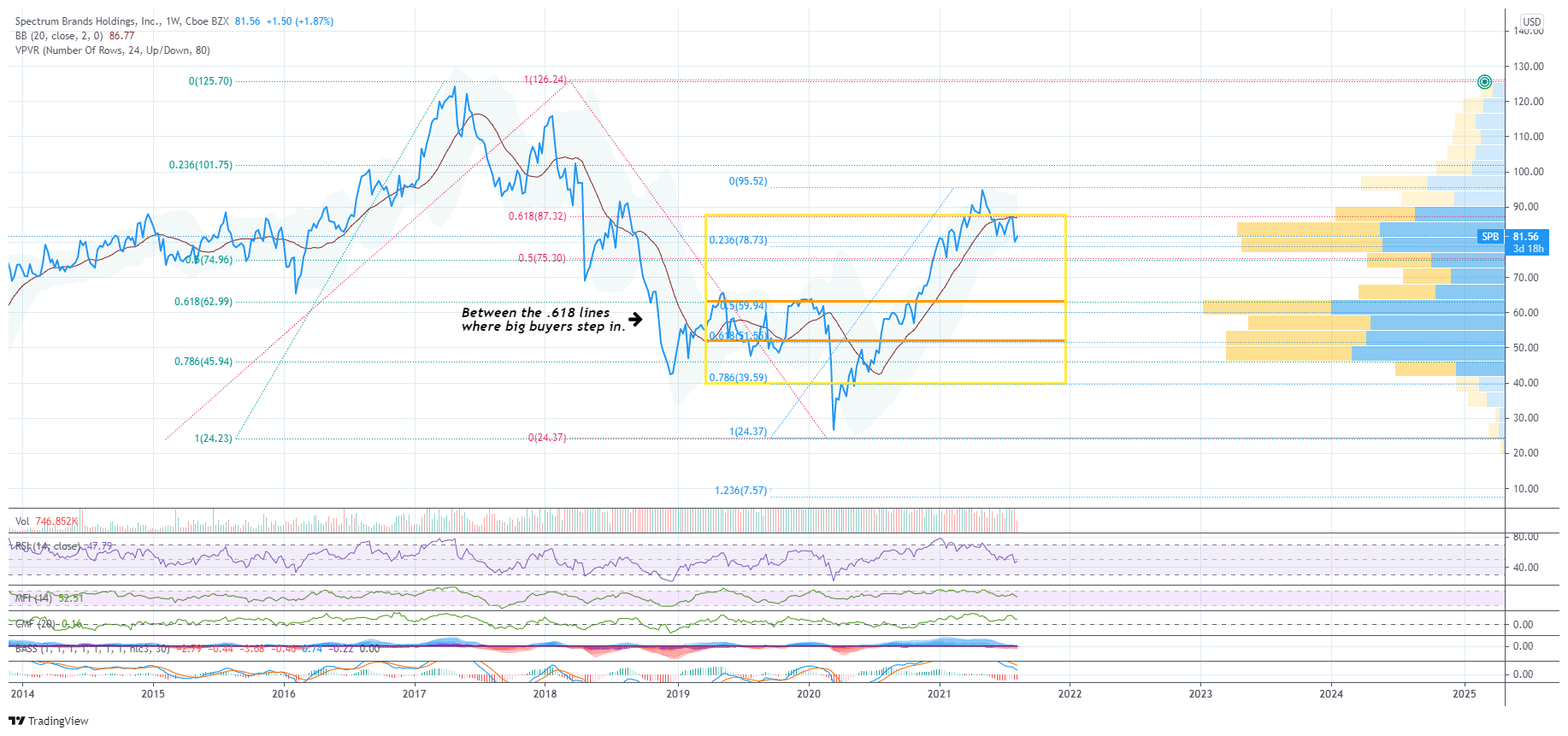 BowX (BOWX) hit the screener this week, but I'm having a hard time putting it in a 20 stock portfolio. Maybe a 50 stock portfolio, but I don't do those, too many moving parts. I think BowX is a candidate for selling puts and calls on given what I think will be a slow rise existence with some chop.
The big issues with BOWX is that Covid is being stubborn and BOWX has a lot of debt. What if there's another lost year on renting spaces?
BOWX is trading at below 3 EV/Revs so, there's plenty of money for debt coverage, but it's still an asset heavy company despite efforts to lighten up. I'm just not sure it'll ever throw off a lot to shareholders. I think it gets removed from Plug & Play next quarter unless it's really cheap, think like $8.
Komatsu (OTCPK:KMTUY) some asked about. It's on the Plug & Play for international diversification to Japan for what that's worth. It is in a massive secular trend, i.e. clean energy. It's seeing good earnings revisions which I told you a few quarters ago would happen. Remember though that it is a very asset heavy company, which makes it subject to capital cycles, i.e. higher interest rates. It sells really big widgets that cost a lot to manufacture, more expensive money is bad for them.
Komatsu is not a company you buy for a ten bagger. A triple would be outstanding and it has that potential, but probably more a 3-5 year double.  It's a cyclical stock within a secular trend. It's ideal for position trading really. Buy it cheap, let it run a year or two, then sell it. 
Disclosure: I/we have a beneficial long position in the shares of OTRK, AMTX, FST either through stock ownership, options, or other derivatives.