The stock market is testing the February correction lows and the S&P 500 (SPY) (VOO) 200-day moving average today. This is a key support level.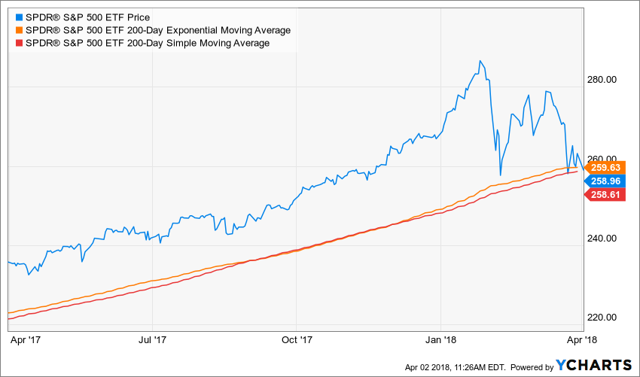 While we could see the first real bear market in a long time, per my chart from a couple months ago, I think the bear sleeps just a little longer.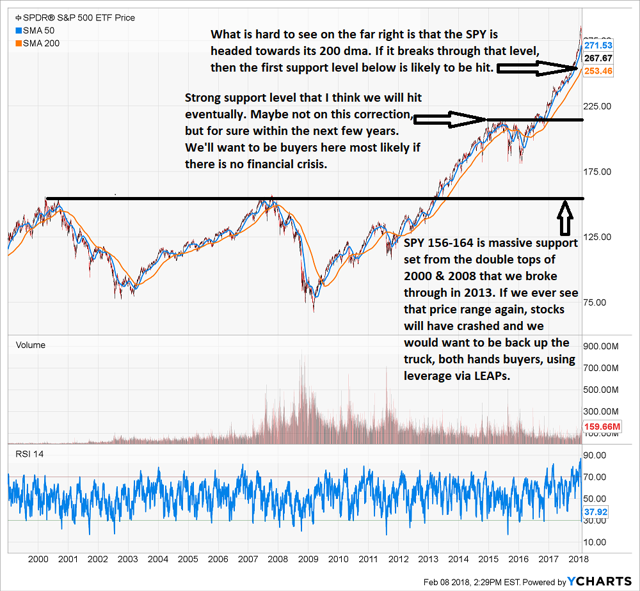 Depending on your risk tolerance, I think now is a time to put some cash to work. Not all of it, but enough to get more exposure to stocks than you had last week – presuming, you have been following my advice and raised some cash the past few months.
I am at 32% cash, with almost half committed to cash-secured puts. I'm going to commit about half of what I have left in cash to more cash-secured puts and leave the rest for buying stocks or LEAPs if the S&P drops to that next support line.
Stocks To Focus On (in order)
We want to focus on the highest quality names during corrections and those stocks that were doing the best. There is no point to shop second tier when everything is on sale. Go with quality and best performers.
Micron (MU) has been a top performer and its business is thriving with backlogs into 2019, new 3D X-Point tech coming and the "smart everything" world needing them. You can set buy limits at $42 and hope it gets there just above its 200-day moving average or sell cash-secured puts.
I am selling the May $50 cash-secured puts for around $3.25 because I want the stock to get put to me or I want the big premium.
Google (GOOG) is right at its 200-day moving average. Remember, we want the baby Googles when they are born over the next decade. Alphabet is a priority stock to get into on corrections. I'm nibbling in with a starter position on GOOG. It has more support around $960 and strong support at $830. I'll hold some cash for buying at those prices too.
PayPal (PYPL) is closing in on its 200-day moving average. This is a winner if there is one. It's payments gateways continue to grow and they have a blockchain initiative coming. If you can get this stock around $70, then you should. Selling cash-secured puts near the money a month or two out is a good strategy too.
Antero Resources (AR), Occidental Petroleum (OXY) and Kinder Morgan (KMI) are all near strong support and worth owning for all the reasons I have covered over and over again. Feel free to sell near the money cash-secured puts for a month or two out, or buy shares. Remember, we have a basket of energy stocks because we are building our own personal ETFs, so don't get to overweight in any one of these names, you want 2-4% of your portfolio in each.
Nutrien (NTR) is the premier fertilizer company on the planet. Both before and after the merger of Potash and Agrium, the company has been consolidating. The down cycle in fertilizer is over or almost over. All the long-term catalysts are positive, even if the market isn't roaring yet. You can try to catch the cycle perfect if you really understand farming, but better early than late on this actual dividend growth stock. You can buy here or sell cash-secured puts near the money a month or two out.
AT&T (T) is very near strong support, though not quite there. I think you can nibble here and sell an at the money cash-secured put for a month or two out to start building a small position. The changes to net neutrality will help AT&T in the "smart everything" world. The Time Warner deal doesn't really matter in my mind. AT&T owns the pipes. Eventually you'll just pay more for bandwidth, that's the real solution to "unplugging."
CenturyLink (CTL) has same things going for it as AT&T in general. I like them as the third big telecom going forward.
Simon Property Group (SPG) has fallen all the way to strong support. We haven't talked much about it, but Simon is in the mall REIT space. In general, that space requires a lot of rehabbing and remodeling. I have been watching the space for a few years, including one Simon Property in Milwaukee. The move towards multi-use malls is underway, complete with residential, services, health clubs, restaurants, as well as, stores. I think these will be huge winners in the future. If you agree, then Simon's very good balance sheet, beaten up price on sentiment and 5% dividend could appeal to you. I pair this with Store Capital (STOR). Both are inflation hedges. You can buy a percent or two of shares or sell a cash-secured put near the money a month or two out.
Mckesson (NYSE:MCK) is going to get caught up in this healthcare merger frenzy eventually. It's worth owning for a while until they get bought out.
Remember, normal positions are 1-4%, mind your asset allocation. For smaller accounts you might go a bit bigger on position sizes to make trades worthwhile.
Disclosure: I am/we are long NTR,MU,GOOG,OXY,AR,KMI.
I wrote this article myself, and it expresses my own opinions. I am not receiving compensation for it. I have no business relationship with any company whose stock is mentioned in this article.
Additional disclosure: I own a Registered Investment Advisor – https://bluemoundassetmanagement.com – however, publish separately from that entity for self-directed investors. Any information, opinions, research or thoughts presented are not specific advice as I do not have full knowledge of your circumstances. All investors ought to take special care to consider risk, as all investments carry the potential for loss. Consulting an investment advisor might be in your best interest before proceeding on any trade or investment.